Now you can skip the checkout line at select Walt Disney World (WDW) stores! Have you have been ready to check out at World of Disney in Disney Springs and still had to wait 30 minutes just to check out?  Well, if you have the My Disney Experience App on your phone, wait no more!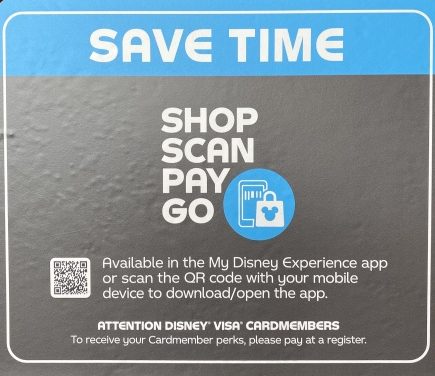 My Disney Experience App – Shop in Store Option
Disney World has a "Shop in Store" option under the plus (+) in the My Disney Experience App.  Below are the steps for how to purchase your items while you are shopping, pay through the app, and then bag them and skip the checkout line, have the cast member verify your purchase in the app as you exit.  It's that easy!!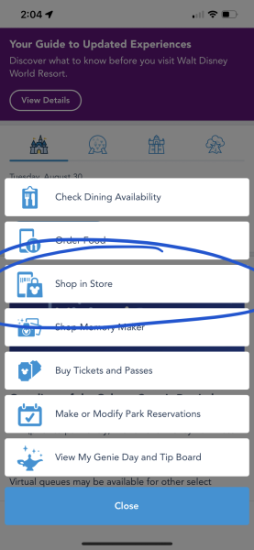 Click the "Shop in Store" option.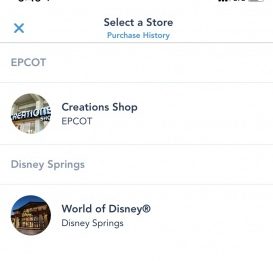 Currently Available in the Theme Parks & Disney Springs
Select the store where you are shopping.  You cannot select a store that is too far away from your current location.  I selected Creations Shop in Epcot for this example.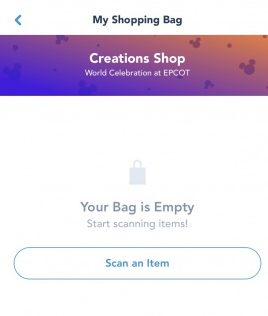 Other locations include:
Emporium at Magic Kingdom
Creations Shop at Epcot
Treasures of Xandar at Epcot
Mickey's of Hollywood at Hollywood Studios
Discovery Trading Company at Animal Kingdom
Island Mercantile at Animal Kingdom
Super Hero Headquarters at Disney Springs
World of Disney at Disney Springs
Get all the news, tips, & tricks for your next Walt Disney World vacation!
Shop and Scan Items
Now shop!  As you decide on an item to purchase, just click "Scan and Item" to add it to your bag.  Continue to scan items you want to buy as you shop until you are ready to finalize and pay for your purchase.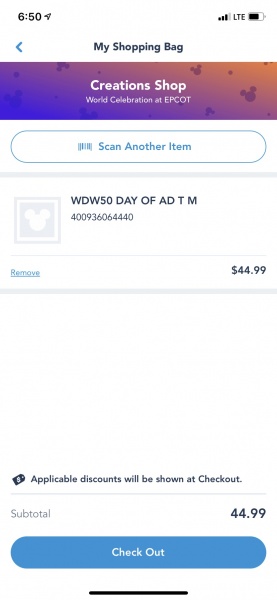 Skip the Checkout Line – Pay and Go
Finally, before you are ready to leave the store, click "Check Out".  This will allow you to enter your payment information.  If you already have a payment method stored, you can just select it.  After you have completed your purchase, a QR code will be displayed on your phone.  Creations had bags at stations throughout the store; I saw bags at the exit at World of Disney.
Now skip the checkout line and bring your bagged and purchased items to the cast member at the store's exit to get verified and you are on your way!
Wave goodbye to just one more queue!
Let me help you plan your next Walt Disney World Vacation!  Follow me on Facebook!
For more Walt Disney World planning information, visit The Magic For Less Travel website.
Similar Posts: