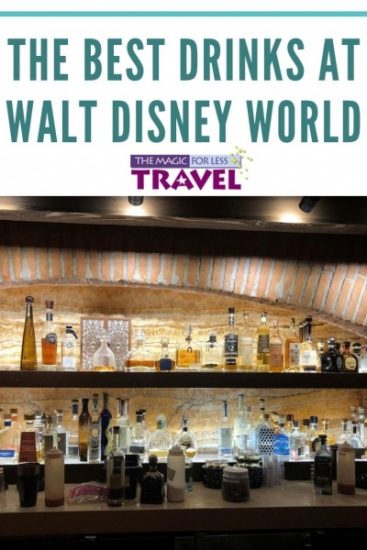 What Are The Best Drinks at Walt Disney World?
With the shorter park hour hours and lower crowd levels, you may find yourself with some extra time to relax at Walt Disney World. With that extra time why don't you pull up a chair and relax with a nice cool drink. There is nothing better than to slow down and enjoy the glorious taste of these drinks during or after a park day. I classified my drinks into the ticket classification system that Walt Disney World used on opening day. Guests paid an admission fee and then purchased ticket books which bundled together attraction type tickets. These attraction type tickets were classified by letters ranging from "A" to "E" tickets. "A" Ticket attractions were typically the calmest and least popular attractions while "E" Ticket attractions were the most exciting and popular. "B" "C" and "D" attractions fell in the middle.
"A" Ticket Drinks
Limoncello Mule – Via Napoli Ristorante e Pizzeria (Epcot)
This Specialty Cocktail blends orange vodka, limoncello, peach purée, orange juice, pineapple juice, lime juice, and ginger beer. The blend of sweet and sour is mixed to perfection and pairs perfectly with one of Via Napoli's famous pizzas! Sometimes it is served with a Hidden Mickey garnish that makes it taste even better!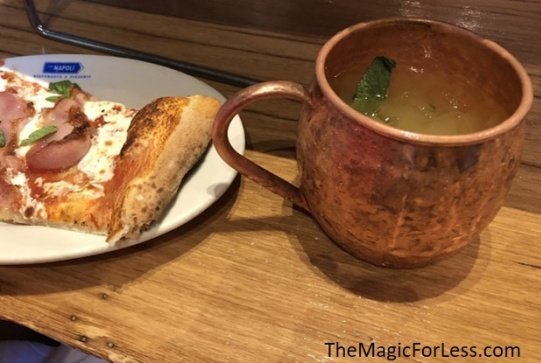 Beer Flight – City Works Eatery and Pour House (Disney Springs)
I'll be honest – I am a beer lover. That said, I tend to drink more of the specialty drinks at Walt Disney World because they are different than I drink at home. However, I couldn't create this list and not have any beer on it. There are a few locations for beer flights at Walt Disney World. My favorite, which has the best selection, is located at City Works Eatery and Pour House in Disney Springs. They have 90 local and global craft beers on tap, some of which rotate. You can select a variety of samplers that are pre-selected or build your own.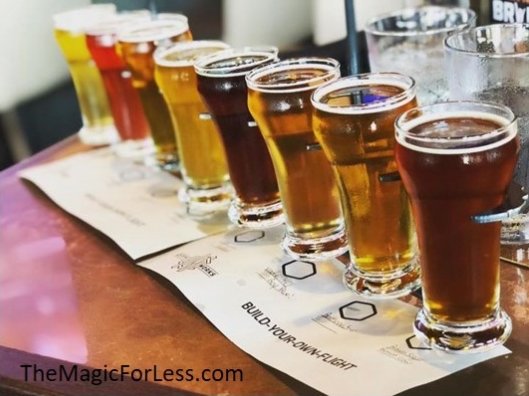 Peanut Butter and Jelly Milkshake – 50s Prime Time Café (Hollywood Studios)
I decided to throw in my favorite non-alcoholic drink on property. Hands down it's a dessert-that-could-be-a-meal splurge at 50s Prime Time Café in Hollywood Studios. This milkshake named after the sandwich tastes more like vanilla milkshake with hints of peanut butter and jelly – no bread here! If only I had Goofy's Peanut Butter and Jelly Pizza from Goofy's Kitchen at the Disneyland Resort to go with this….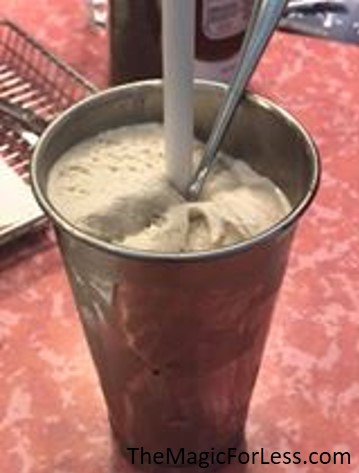 "B" Ticket Drinks
Signature Sangria Flight – Three Bridges Bar and Grill (Disney's Coronado Resort)
Three Bridges is one of my favorite outdoor locations on property. Situated in the middle of Lago Dorado lake, it has amazing atmosphere and a stunning view of Gran Destino Tower. Three Bridges offers a Signature Sangria Flight which is a tasting of the four house-made signature sangrias: White, Rosé, Red, and Sparkling. Each flavor features a prominent wine which is paired with complementary alcohol and flavorings.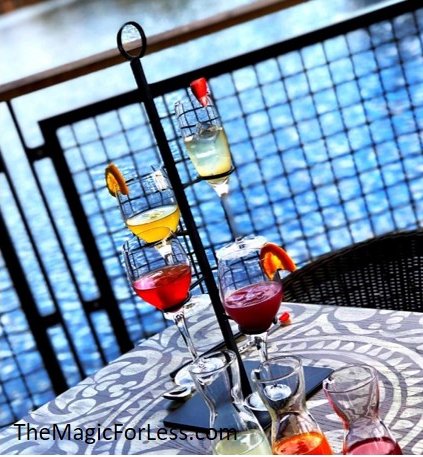 Sweet Tea Shine – Chef Art Smith's Homecomin' (Disney Springs)
My husband is from the south and boy does his love his Sweet Tea! Chef Art Smith certainly hit the mark when he combined sweet tea, lemon, and moonshine and serves them on tap! This tea is not too sweet for a northerner like me and definitely blends the moonshine into the drink so you don't have an overpowering flavor. If sweet tea isn't your favorite, Homecomin' also offers a Moonshine Margarita, Blue Hooch, or Rumshine Punch.  You can also customize a flight with various other moonshines. No dining reservation is needed – you can pick some up from the to-go bar!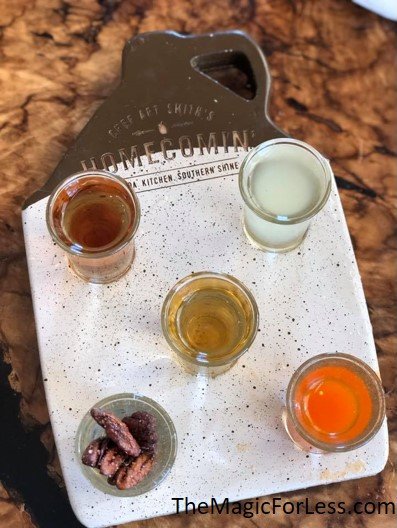 "C" Ticket Drinks
Grand Marnier Slush – Les Vins des Chefs de France (Epcot)
This slushie is perfect for cooling off on a hot summer day by combining Grand Marnier, rum, orange vodka, and orange juice. If you aren't looking for Les Vins des Chefs de France you could miss it as it is just a small kiosk across from Les Chefs de France restaurant. Before you leave home, be sure to practice the French saying "Le Geant Slush" so that you can order the "GIANT" size!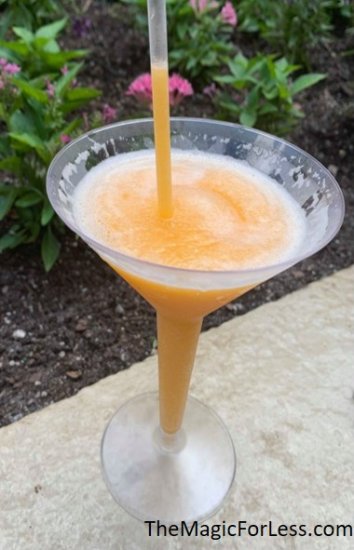 Blueberry Lemon Drop Martini – California Grill (Disney's Contemporary Resort)
The Blueberry Lemon Drop Martini at the California Grill sweetens up a martini just enough to give it a whole new flavor. It's a blend of blueberry vodka, lemon, and pomegranate juice and served with a sugar rim. This is available in the restaurant or for a more casual option enjoy one in the lounge!
"D" Ticket Drinks
UH OA! – Trader Sam's Grog Grotto (Disney' Polynesian Resort)
The best part about Trader Sam's is the experience! The drinks just complete it and the UH OA! calls upon the tiki goddess of disaster. For my favorite here, you shouldn't drink alone – take a friend and order the UH OA! Yes, it has a lot of flavors (multiple rums, a variety of juices and cinnamon) and a steep price tag but you're sharing it and it gets set on fire! You put cinnamon on the flame to create spark and get to chant to UH OA! to see what happens. As a bonus you have the option to take home a souvenir sipper for an additional charge.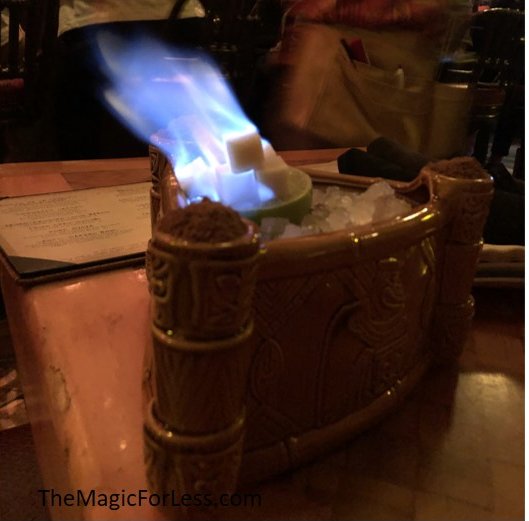 Dagobah Slug Slinger – Oga's Cantina (Hollywood Studios)
Oga's Cantina doesn't disappoint. While you have to order drinks only from the menu, I really enjoy the Dagobah Slug Slinger. It's a combination of part margarita and part mule as it's made of tequila, curaçao, citrus juices, ginger, herbs (by herbs they mean LARGE sprigs of rosemary!), and bitters. A second here is the Fuzzy Tauntaun because I really enjoyed the salty foam.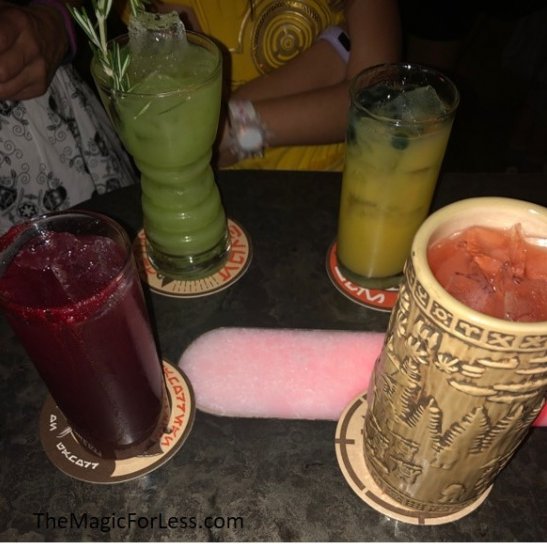 "E" Ticket Drink
Avocado Margarita – La Cava De Tequila (Epcot)
My absolute favorite…can't miss…I must have every trip drink is the Avocado Margarita which can be found in the Mexico Pavilion of Epcot. It's a frozen margarita that melds blanco tequila, melon liqueur, fresh avocado and lime juice with a hibiscus salt rim. I know it sounds strange but the avocado really adds a creaminess to the standard "slushy" texture. It's worth the line that usually forms outside of La Cava del Tequila, that's for sure!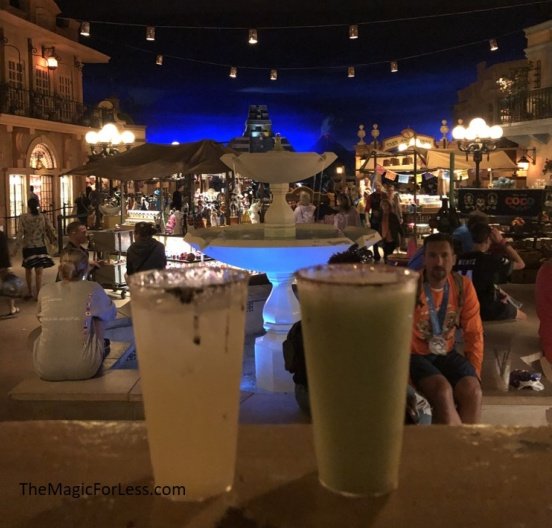 Similar Posts: