Trust your palate!
When one thinks of Disney Cruise Line, they immediately think of kids and family-friendly activities.  However, DCL has some unique things just for adults, including fine dining with Palo and Remy. Palo is the Italian themed restaurant on all four ships (Magic, Wonder, Dream, and Fantasy.) Remy is the exclusive French-themed venue on just the Disney Dream and Disney Fantasy. Basically Remy is Victoria and Albert's (located at Disney's Grand Floridian Resort) on the sea. Remy offers a sea day brunch as well as a dinner, both of which I was able to do with my 21-year-old daughter on our trip before she started her senior year of college.
For years I looked at the Remy menu and wondered if it were something I would enjoy. As someone who regularly cruises and experiences the Chef's Table when it is available, I figured it was time to take the plunge and give the Remy brunch a try before making the dinner commitment. There is an extra charge for this brunch as well as a charge for the champagne pairings and additional gratuity.  (Please tip your servers, because the he fee only covers the meal.) The brunch was a reasonable way to see if this would be something I liked. Remys would also be my daughter's first experience with fancy fine dining as well. My main concern was that it was going to be a 'stuffy' and formal experience. Wrong on stuffy, and the formality was more elegance and class than anything else.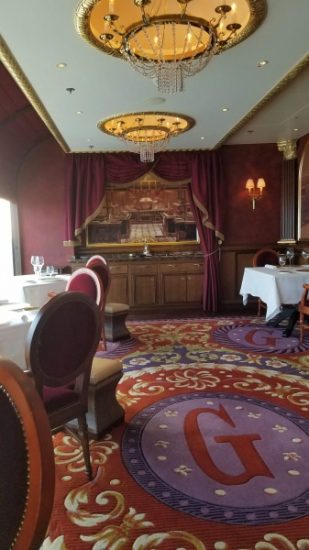 We were able to book this meal in advance through our online cruise planner, but do not despair if you book your Disney Cruise late in the game and don't see an available reservation. The cruise line does not send all reservations out to the online booking system, and there will be options when you board the ship or decide later on in your trip that you want to do the meal. However, these exclusive venues DO sell out regularly! Booking early avoids disappointment if this is important. Check your daily Navigator when you arrive at the port for instructions on where to go for a reservation.
While I made both the Remy brunch and dinner there as well, for this article, we will be discussing the brunch experience. The ship says to allow two hours—and of course, they are right!

Arrival 
We received our invitation to the meal the evening we boarded the ship. On the day of the event, I got a phone call from the venue confirming the dress code, and asking if we had any food allergies. I confirmed that we were aware of the dress code, and no had no allergies, and we were good to go. We had seating at 12:30 pm, which meant an arrival time of 12:10 pm. The Remy brunch is a prix fixe experience with several food courses and an optional champagne pairing.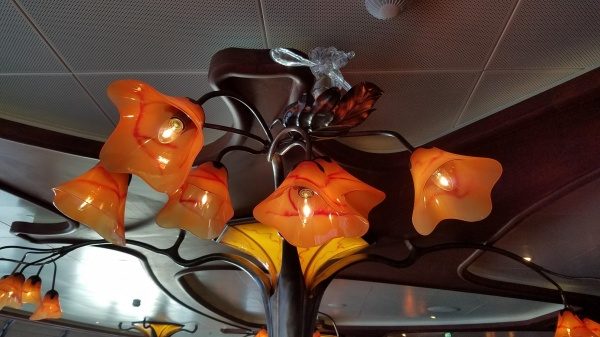 Our meeting place was the Skyline lounge, and there were 8 of us all doing the same time. After everyone in the group had arrived, we were brought in to the restaurant itself. The dining room had already begun serving; as far as I could tell, we were probably the latest seating as we were the last to leave.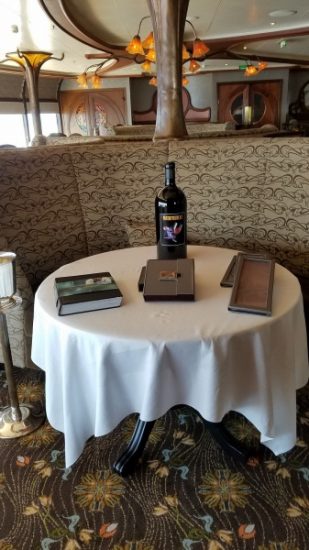 Our first stop was the wine room where the maître d presented our first appetizer and a complimentary glass of champagne. Our appetizer was a well-aged ham from Spain: Jamon Iberico Pata Negra with a complimentary glass of Tattinger Brut la Fracaise champagne. The small bite is best described as a really great, non-salty ham. As someone who usually doesn't care for Prosciutto, I thought this was delicious. Of course, the champagne was terrific!  The resident Sommelier also presented the optional champagne pairings: Lanson Magnum Rosè, Poppery "Pop Gold" '08, and Moet and Chandon ICE. After we finished our small plate, a chef came out to explain what we would be eating and gave the advice to "Trust Your Palate" and to "taste with our mouths and not with our eyes." This is excellent advice, especially for those who may not be accustomed to Chef's Tables or fine dining. Since I enjoy specialty dining events on cruise ships, I found this to be very accurate!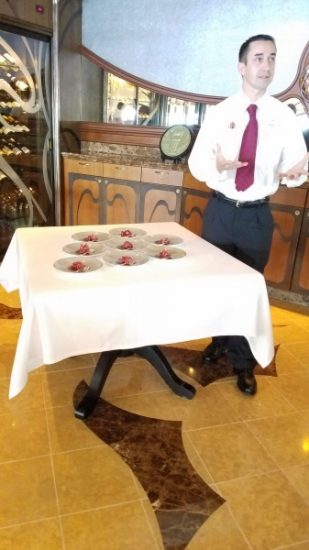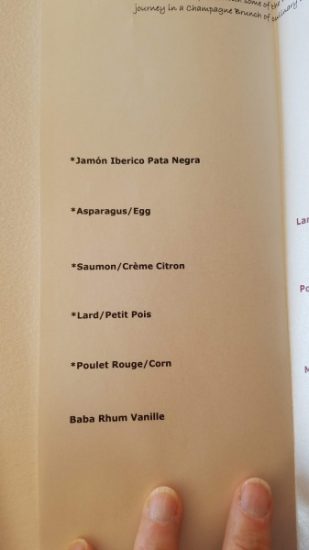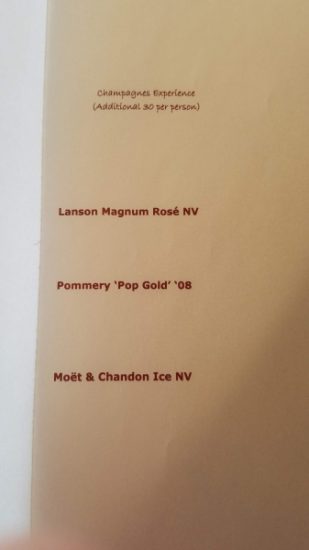 The Meal Itself
We were seated at a lovely table with a view of the sea. All tables at Remy face the sea without needing to squirm around too much for a view. Since we were doing the champagne pairing (she's 21, so why not—plus I was paying!), our Sommelier poured our Landon Magnum Rosè. Our waiter provided us a black truffle brioche with butter and edible gold. I had one piece of bread—I best describe this as having an 'earthy' flavor profile, consistent with the truffle, with the butter. Of course, the butter was amazing, as was the salt the provided on the side. I had my one piece of bread (daughter ate the rest) and enjoyed that champagne.
We were presented our first plate, which was an Asparagus with egg cream dressing—sounds odd, but it was quite tasty. And of course, it was beautifully prepared. There was a little bit of caviar on the plate, and I would have liked to know more about it because it was wasn't salty whatsoever. The egg had been tempered at 40 degrees Celsius—so we were not eating raw eggs on a cruise ship. (Never a good idea!)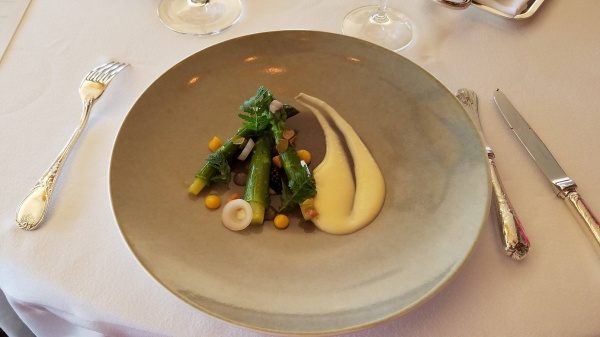 Our next course was Salmon with Crème Citron—basically this is a cooked salmon that looked raw with lemon cream. As someone who enjoys salmon, this was delicious. Per the chef, the salmon had been cooked to retain its color. The lemon crème was amazing.  When paired on the palate, the flavors were delicate and inviting.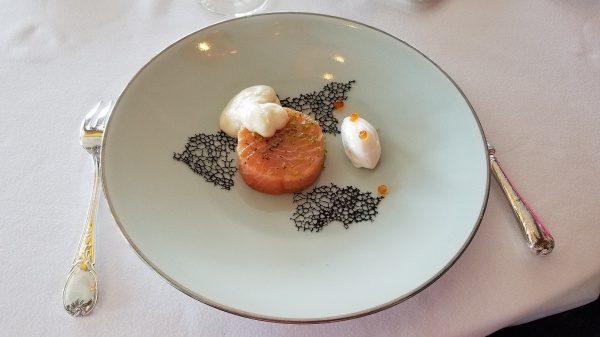 After our salmon was done, our Sommelier came through with our Pommery champagne. I have had Pommery champagne many times—but not this particular variety. Pommery Champagne Pop is sold in little bottles and meant for the ladies to sip on a picnic or at a polo match, or on the beach. I have never been a fan of the pink and blue bottles of Pommery Pop—but this particular vintage was quite good with no harsh bite afterward. Clearly there is a reason why I've never seen this in the supermarket! It was quite good, and it was going to pair well with our next course, which was basically a piece of pork belly with fresh peas.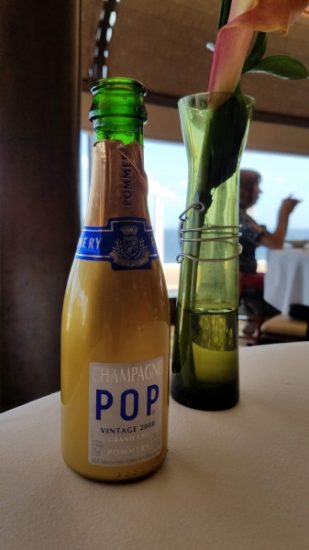 According to our chef, these peas are shelled in the kitchen before the dish being prepared. They did taste incredibly fresh, and I say this as someone who has grown peas in a garden and stood out there in the morning eating them because they were so delicious! The peas were pureed with some left whole, while the pork was cooked and left crispy. I don't care for pork belly unless it is very well cooked with crispy edges—and of course, the chefs here prepared it perfectly. Our accompanying sauce was made with African Sumac berries. (No, not poison sumac which many of you dear readers are thinking of right now!) Had I not known better I would have thought there was fresh nutmeg in it. Regardless of what it was—it was delicious. (Noticing a theme? Trust your palate and not your eyes!)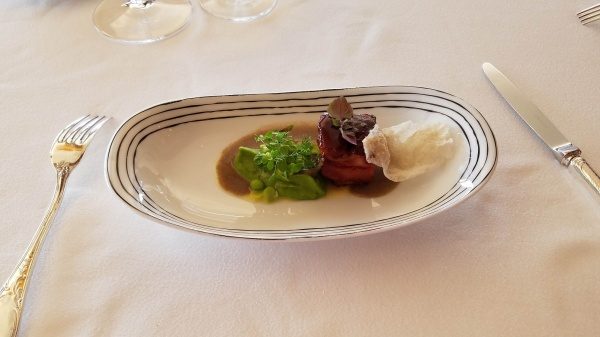 We were still working off our Pommery Pop Gold while our chicken showed up. This was "Poulet Rouge with Corn." In simple terms, the Poulet Rouge is a type of organic free-range chicken from North Carolina with a red neck with cornbread stuffing between the skin and the meat. Not a lot of food here—and I could have eaten more. However, it was great. If I ever had a chance to eat this again, I'd jump at it. The cornbread stuffing was very smooth and on the sweet side. I thought the chicken was tender. The green on the side was spinach, and the yellow was more corn.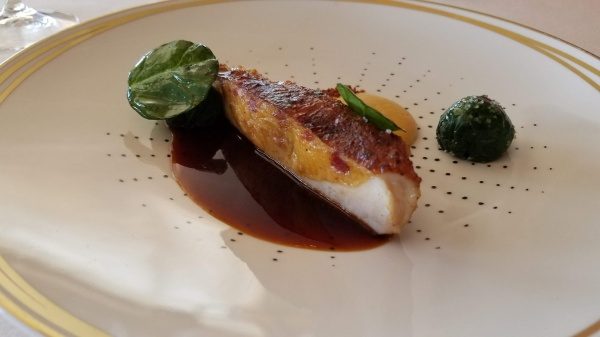 Sadly, our fancy brunch was coming to a close, and our dessert of "Baba Rhum Vanille" would soon be arriving with our final champagne of Moet & Chandon Ice. I have had this particular champagne several times, and it is a super expensive wine cooler. Retailing for about $70 per bottle in most wine stores, it is a partnership between Hennessey and Moet—and a light summer beverage. I admit to being a bit anxious about the Baba Rhum because every other time I've had this dessert, the rum has overpowered everything else on the plate. However, when one does fine dining, one must trust the chef—and "trust the palate" and not the eyes. How true with this dessert!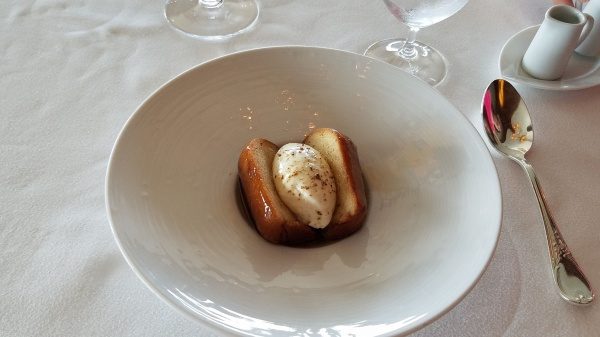 When the chef first explained the meal during our intro, he said the brioche for this dessert was made the day prior and soaked in a rum and sugar syrup overnight and served with a crème and a side of more syrup. This was a great dessert—and no harsh rum flavor anywhere. The brioche was not a huge portion, and the crème was quite tasty. I did add more syrup as it enhanced the flavors.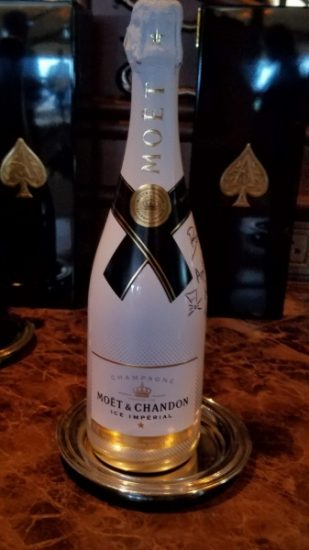 We finished our Moet Ice Champagne and got our coffee and settled up our bill and were presented a small plate of Canalè, which is a pastry from the Bordeaux region of France made with egg whites. Basically it is flavored with rum and vanilla with a soft custard center with a dark and thick crust created by the cooking of the egg whites. This was not a sweet ending to the meal and was sticky, but it was pretty good.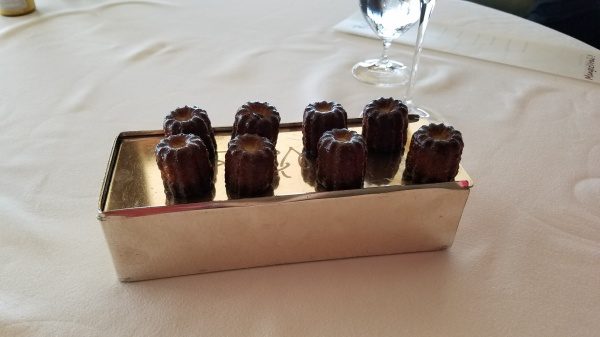 A meal at Remy is truly an event and not just-food. When one does fine dining, it is often about the experience.  Would I do this again?  Yes. The brunch is offered just on sea days, and I thought the price of the meal was reasonable at $60 for our August 2018 cruise. The champagne add-on was another $30, which was basically $10 per glass. (Please note that as of December 2018, there was a price increase to $75 per person.) There is a 15% service charge for the bar staff, and I did provide extra to the staff as the service was superb. We both enjoyed how the maître 'd explained the food and came through to ask how we liked the meal and answered questions. We enjoyed the brunch so much we returned two days later for dinner.
"Is It Worth It?" 
I highly recommend Remy. Most people can get nice Italian food (such as what is available at Palo) at home, But fine French dining with attentive service that isn't overbearing or stuffy is a bit harder to find for most people. For me, Remy was well worth the upcharge.

Similar Posts: