Short on time but want to be long on thrills?  Want to ride Dumbo with your pirate or princess without the wait? Then it may be time for you to have an "Ultimate Day" VIP experience at Walt Disney World.
The "Ultimate Day" tours are the newest in Disney's VIP tour experiences.  In addition to the private VIP tours that have long been offered, you can now choose from two curated experiences offered to a limited number of guests daily: the "Ultimate Day of Thrills" and the "Ultimate Day for Young Families".  Each tour goes to at least three of the four parks in less that one day – a thrill in and of itself – and highlights the best each has to offer, and maximizes your time in a way only Disney can do.  So what are we waiting for? On to the rides!
The "Ultimate Day of Thrills" is exactly what it sounds like.  You ride the "E-ticket" attractions at each of the four parks.  Imagine hitting all three "Mountains" (Space, Splash, and Thunder) with no wait at all! You will also ride the newest coaster at the Magic Kingdom, the Seven Dwarfs Mine Train. Fast Pass+ for this attract frequently books up months in advance, and waits can run well over an hour for this popular new attraction.  Your group will also likely visit some pirates and ghosts as well, before heading out to enjoy the thrills elsewhere.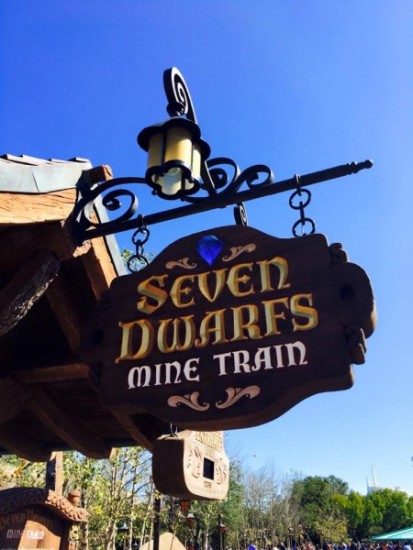 At Disney's Hollywood Studios, you will rock with Aerosmith on Rockin' Roller Coaster, drop til you, well, drop (ha!) at the Twilight Zone Tower of Terror, and awaken the force within on Star Tours.  By this time its well after rope drop.  And anyone who has been to Hollywood Studios knows what this means: the wait for Toy Story Mania is pushing close to two hours.  For your group of Ultimate Thrill seekers? No problem.  Try our best not to make everyone else jealous as you sail on by and walk on.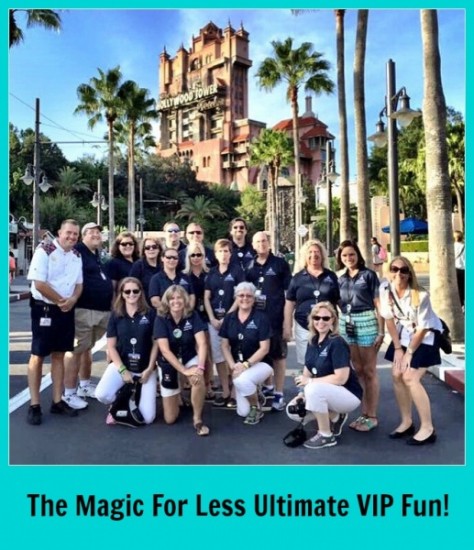 Our Ultimate Thrills VIP tour.  Photo Credit Steve Baker.
Last but not least, you will visit the Animal Kingdom, where you will take an expedition to Everest and go on a rescue mission on Dinosaur.
Thrill seeking making you hungry?  No problem.  You will have lunch at a table service restaurant somewhere in the middle of all of this fun, included in the price of the tour.
Are your little ones to wee for these high flying rides? Feeling a little less than "Thrilled" yourself? Never fear! The "Ultimate Day for Your Families" (or the young at heart, as I always prefer) is here to add some of the purest Disney magic to your day. This tour takes a ride through the stories we've come to love as the best of Disney.
At the Magic Kingdom, you will ride Aladdin's magic carpets, sail the high seas on Pirates of the Caribbean, experience the song we all now have stuck in our heads (sorry!) on It's a Small World, fly with Peter Pan, help Donald try to conduct the orchestra in Mickey's Philharmagic, voyage under the sea in Journey of the Little Mermaid, battle Zerg in Buzz Lightyear's Space Ranger Spin, and more.  Whew, I'm tired jut typing that.  And of course, the granddaddy (grandelephant?) of wait times…Dumbo. Yes.  It's true.  Walk right on.  Feeling VIP enough yet? Just like they say on TV…but wait! There's more!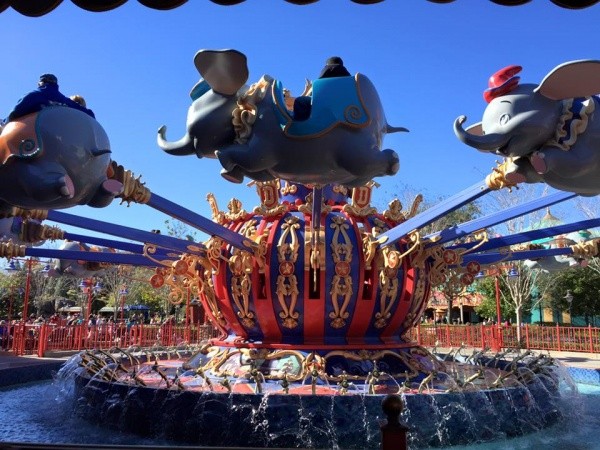 In Disney's Hollywood Studios you will dance with the Disney Junior crew and ride Toy Story Mania with no wait.   At the Animal Kingdom, a safari on Kilimanjaro Safaris awaits, as does the Festival of the Lion King.
And again, somewhere along this magical journey you will dine like the princes and princesses you are at a table service restaurant, all included.  You may also have some opportunities to visit with your favorite characters throughout the day as well.
Ready to go? Yay! Let's give you some details:
Each "Ultimate Day" tour lasts about 7 hours (yes! you get THAT much done in that short of time) and is offered on Tuesdays, Fridays and Sundays only.
Each "Ultimate Day" VIP Tour is $299 per person, plus tax.Each tour includes lunch at a full service (table service) restaurant in one of the parks.
Theme park admission (park hopper ticket) is required for the tour and is not included.
Transportation between the parks will be by private van.
Rides/ experiences are subject to change based on closures, weather, etc. Disney will do their best to make sure you have an EXTRA magical day, but things happen.
Ultimate VIP tours can be booked 180 days in advance and must be cancelled (why? why would you do this?!) 48 hours before the scheduled tour.
These tours are not private, and will be with a very small group of like minded friends.  Private VIP tours are still available, for groups of up to 10, with rates by the hour, 7 hour minimum.
Call (404.514.0007) or email (jacque@themagicforless.com) Jacque Gregory at the Magic For Less Travel to book your Ultimate Day today!
Similar Posts: