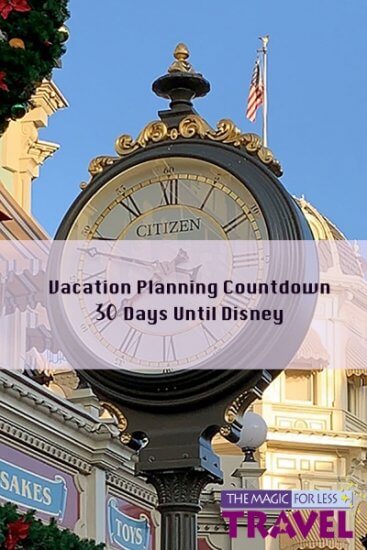 Today marks 30 days until our next Disney vacation. In this post I will list out a few things that we have been doing as a vacation planning countdown while our travel date nears.
Monitor monthly weather outlook for the Orlando area
When planning for my packing needs I continually monitor the weather for the Orlando area. I regularly monitor the monthly and weekly views. This enables me to plan for potential weather shifts such as cold fronts, or rainy seasons.
Make boarding plans for pets
We have a pet dog that will need boarding during our vacation. We have started making those arrangements now to ensure availability during the time of our trip. Additionally, he will need certain shots and a behavioral review to ensure that he can stay at the place where we have chosen to board him. These types of details are things that doing well in advance of your departure date will alleviate any stress as your vacation nears.
Start arranging items for packing needs
Believe it or not I start the packing process at this point. This doesn't need to be a full "in the suitcase" scenario, I just begin arranging things I know I will need on our trip. For example, I start packing our Minnie Mouse ears, MagicBands and overall luggage types that we will use. I also start organizing the types of clothing that I will know we will need; such as pants, jackets and seasonal wear. It's never too early to start planning for all of the clothing you'll need on your vacation.
Arrange airport transportation to your resort
Work with your travel agent to determine the transportation option that best meets the needs of your party.  Do you want need car seats, want direct service?  You will need to submit your flight information to your travel agent so he/she can make the transportation reservations for you. To ensure the booking process is done well in advance of your vacation we recommend completing this process at or before 30 days of your check-in date.
Make any last minute dining or special activity reservations
If you are thinking of adding any special activities to your trip, such as behind the scenes tours, dinner shows or dining reservations, now is the time to make those modifications. At this point, it is recommended that your dining reservations have been made in advance but as you may be fine tuning your touring plans, you may need to make some adjustments. Changes such as this are fairly easy to do within the My Disney Experience app, or contact a travel advisor to help adjust any plans or activities you may want to explore.
Order your MagicBands
MagicBands offer a lot of convenient access and tools for unlocking the magic during your Disney vacation, quite literally! They can be used to unlock your Disney resort hotel room door, tap into the theme parks, charge back to your room,  check in for your Genie+ reservation, and more! MagicBand+ debuted recently so check out what else they can do now!  In addition, these items have been another great collectors item for any Disney enthusiast. They are also a great reminder of your magical vacation(s). You can order MagicBands with pre-made custom designs on them right from the My Disney Experience app. Because the inventory of the designs vary, we recommend ordering them at least 30 days in advance of your vacation.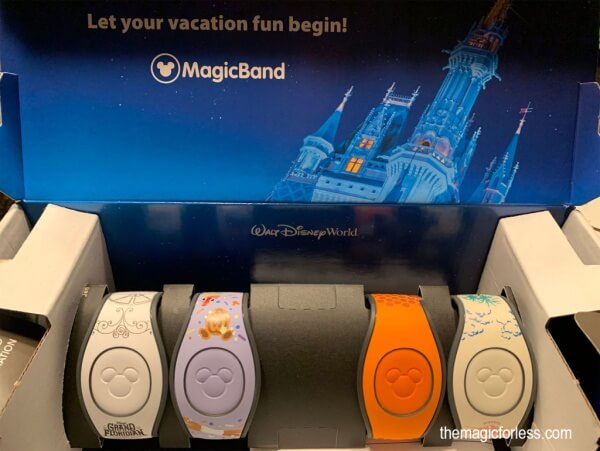 Begin notifying school officials and/or program activities for missed classes or lessons
If your children are involved in extra-curricular activities, now is the time to start the notification of absences. I begin letting my children's school teachers know that they will not be in class during our vacation time. Additionally, I notify instructors for any activities that my children are in, such as dance or swim lessons. This may apply for adults as well. If you can schedule any make up sessions now, it may be helpful to you and your program instructors.
What's Next
What are some other things you and your family does to prepare for your next Disney vacation? If ou are the crafty type, check out these direction to make a countdown chain! And if you need help planning your upcoming vacation, contact us today.
Similar Posts: