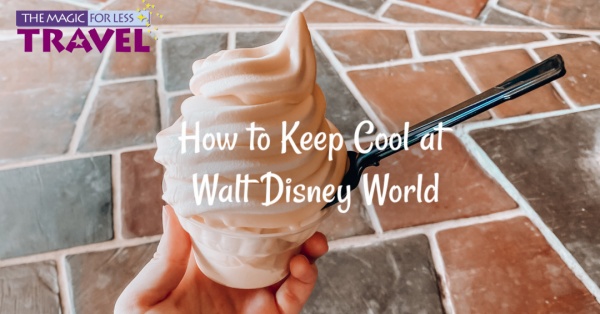 It's so HOT!!!  How do we stay cool and w
ill we survive Walt Disney World in the dead of summer???  
Yes you will and I'll share with you how to do it like a Disney pro.
Summers in Florida are notoriously sweltering and the months of June through September can be almost unbearable if you are not prepared for the heat.  The best defense is offense, so it's always best to be prepared so that you can enjoy your Walt Disney World vacation without wilting.  With that in mind, we've assembled some great ideas on how to beat the Florida heat and stay cool during your visit to Walt Disney World.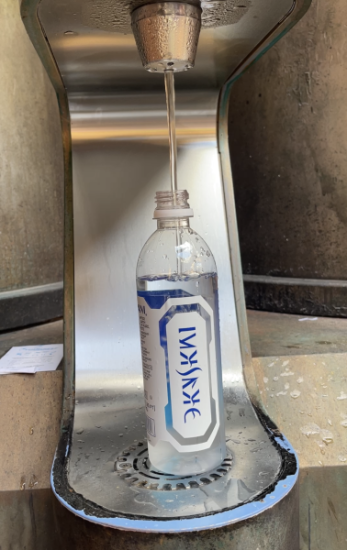 Hydrate and Hydrate Some More!
Water, one of the essential elements for life, is absolutely essential for your summertime (it's Florida, so let's just say anytime) visit.  There are a number of ways to stay hydrated.  You could buy ice cold bottles of water throughout all the Walt Disney World Parks as well as all of the resorts, but the most cost effective and earth friendly way is to carry refillable water containers.  Any of the popular reusable containers will keep your water cold for hours.  Walt Disney World has been integrating contactless, filtered water hydration stations throughout Walt Disney World Parks so that you may easily and safely refill those reusable containers.
Here's where you may find them throughout the Walt Disney World Parks:
Animal Kingdom
Navi River Journey standby queue

Flight of Passage standby queue

Expedition Everest standby queue
Hollywood Studios
Restroom area near the bus stops outside of the gates

Restroom area at Galaxy's Edge

Exit of Smuggler's Run

Slinky Dog Dash standby queue
Epcot
The Odyssey Building

Between Future World and World Showcase
Magic Kingdom
Cosmic Rays Starlight Café
Keep in mind that every hydration station may not be operational at all times. 
Pro Tip:  If you find that your refill water is not cool enough, stop by any quick service location and ask a Cast Member for a free small cup of ice to add to your bottle. 
Go Early and Stay Late
One way to beat the Florida sun is to limit your time out in it.  Plan your vacation so that you are at the park you are visiting for the day right when they open.  Being in the park early will allow you to experience the park before the heat is at its peak.  Lots of families prefer to return to their resort mid day for a dip in the pool to cool off or take a nap in the cool resort room and then return to the parks.  Going back to the park once the sun has gone down is a great way to see it in a different light, especially Star Wars: Galaxy's Edge at Disney's Hollywood Studios and Pandora – The World of Avatar at Disney's Animal Kingdom.  Those two areas are amazing at night.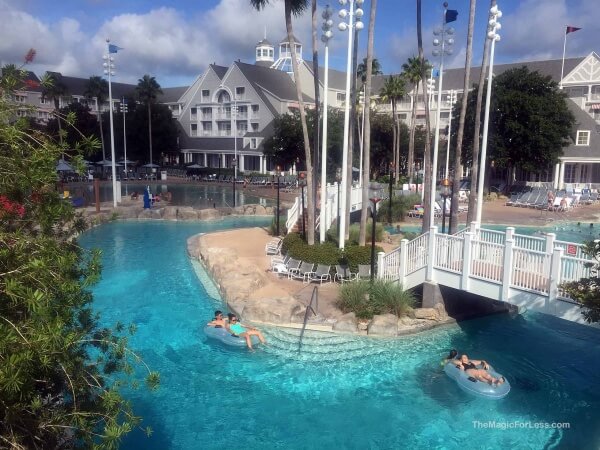 The "Cool" Rides at Disney
If you'd prefer to stay in the park for the entire day, there's lots of rides and areas to get into the air conditioning and out of the sun throughout the Walt Disney World Parks.  Some of the rides have indoor queue areas so you can cool down as you wait. 
Some of our favorite rides to cool down on are:
Animal Kingdom
Dinosaur

Kali River Rapids (only if you like being wet)

Avatar Flight of Passage

Na'vi River Journey

It's Tough to be a Bug!
Hollywood Studios
Mickey & Minnie's Runaway Railway

Toy Story Mania!

Millennium Falcon: Smugglers Run

Muppet*Vision 3D

Star Tours – The Adventures Continue
Epcot
Spaceship Earth (once you are on the ride – the queue is not air conditioned)

Soarin' Around the World

Journey Into Imagination with Figment

Mission: SPACE

Gran Fiesta Tour Starring the Three Caballeros

The American Adventure
Magic Kingdom
Pirates of the Caribbean

Splash Mountain

The Hall of Presidents

Mickey's PhilharMagic

Buzz Lightyear's Space Ranger Spin

Walt Disney's Carousel of Progress

Space Mountain
Of course, all of the indoor shopping areas in each of the Walt Disney World Parks are air conditioned.  Cool off while you get in some retail therapy picking up a souvenir or two and grabbing some gifts along the way. 
Pro Tip:  Take a break from the heat by having a leisurely lunch at a counter-service restaurant or ask your travel agent to make a reservation at a nice table service restaurant.  Just being out of the heat and enjoying a meal with your family in the air conditioning is a great relief. 
You Scream, I Scream, We All Scream for Ice Cream!!
One of our all time favorite ways to stay cool at Walt Disney World is to enjoy a nice cool snack!  The Mickey Ice Cream Bar is the best on a hot summer day.  There are snack carts located throughout the Walt Disney World parks where you can purchase a refreshing ice cream treat. 
Another popular and refreshing treat is the Dole Whip.  You can find the Dole Whip at Aloha Isle in Magic Kingdom, located in Adventureland across from the Magic Carpets of Aladdin.  This delicious treat can also be found at Tamu Tamu Refreshments in the Harambe Village just over the bridge into Africa.
Pro Tip:  For the adults in the group, add some rum to your Dole Whip.  Yummy!!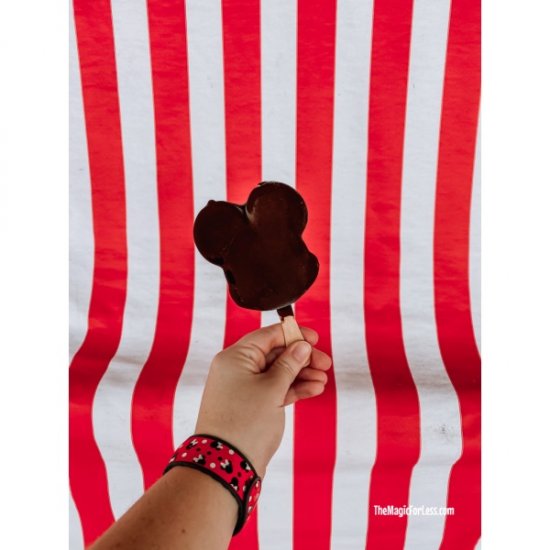 You Gotta Wear Shades
One tried and true way to stay cool is to wear a hat and sunglasses.  Keeping the sun off your face with a wide-brimmed hat and out of your eyes with sunglasses will help prevent heat fatigue during those long days in the parks.  Disney offers a lot of hat options at their shops inside the parks as well as in the resorts.  We know this from experience as one of us inevitably leaves our hat behind. 
And please remember to apply that sunscreen.  A sunburn can quickly ruin a vacation. Sunscreen is sold at resort convenience stores as well as all the Walt Disney World Parks.
Keep Your Cool at Disney, Buckaroo!!
There's a number of little things that can make being out in the Florida heat just a bit more tolerable.  One of the things we take with us each visit in the summer is an adorable hand-held Mickey fan.  This little fan travels nicely in a small backpack and really whips up a breeze on a muggy, hot day.  You can opt for some that hang around your neck too – like these.  During summer time visits I've seen lots of folks with the fans that strap around your neck so that you can go hands free and still feel the breeze.  Don't forget to snap on a battery powered fan to your stroller so the little Buckaroos can keep cool too.
The cooling towel has to be one of the greatest inventions of all time!  This little towel packs a very nice cool punch.  Just dip it into some cold water, ring it out and it will cool you off for hours while it remains dry.  It's a marvel of science!  You can purchase cooling towels just about anywhere but Disney does sell their own version in adorable Disney prints.  You can find them at any of the Disney Resort stores or inside the Disney Parks.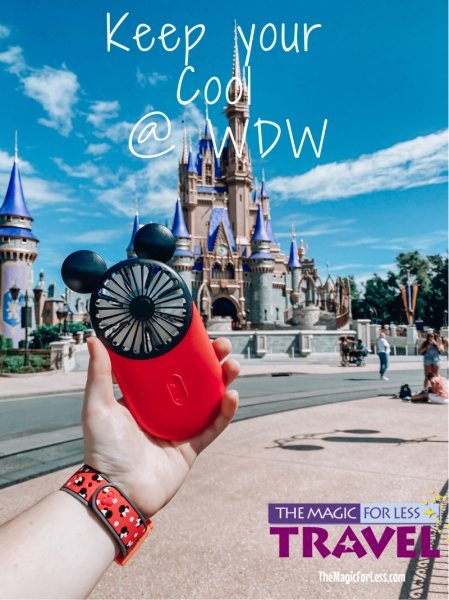 Even with all the preparations, be aware of the signs of heat exhaustion or heat stroke.  If someone in your party is feeling dizzy, faint, nauseous or experiencing excessive sweating or weakness, be sure to take a break and hydrate.  There are first aid stations in each park and the Cast Members are trained to handle such emergencies.  Be aware of your children's health as well.  They may not notice or be able to communicate their distress. 
With some planning and flexibility, your family can have an amazing Walt Disney World vacation during the summer months and come home with lots of fun, and dare I say — COOL, memories.
Similar Posts: