A White Water rafting and Float Trip in Alaska you ask?  Yes, and it is a great experience!  During our recent stop in Juneau Alaska on our Disney Cruise Line vacation.
After meeting in our appointed meeting place and debarking the ship to meet our bus, we took a 30 minute drive to Mendenhall Lake to meet our river guides.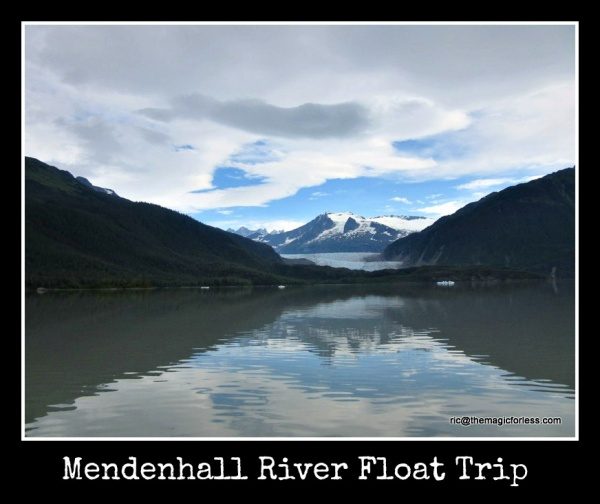 After getting off the bus, we were provided some very fashion forward rubber pants, boots, and a life jacket before being divided up into groups for the rafts.  Each raft held 6 people plus the guide.  We were given safety instruction and then boarded our rubber rafts.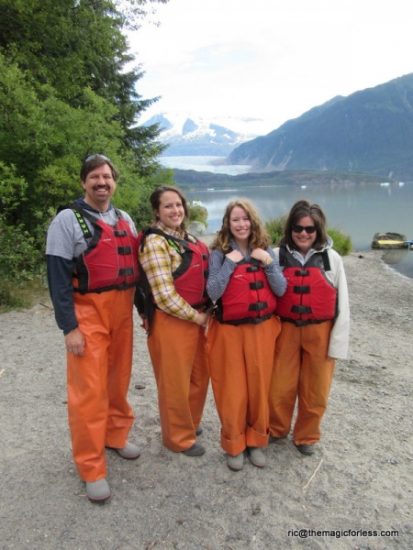 As we went across Mendenhall Lake, our guide gave us information about the lake, the glacier and the surrounding area.  He pointed out wildlife (we saw mostly birds) and he talked about some of the homes along the river, and other interesting items.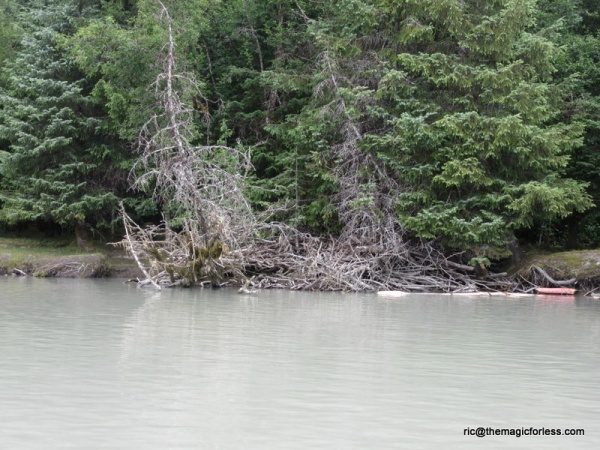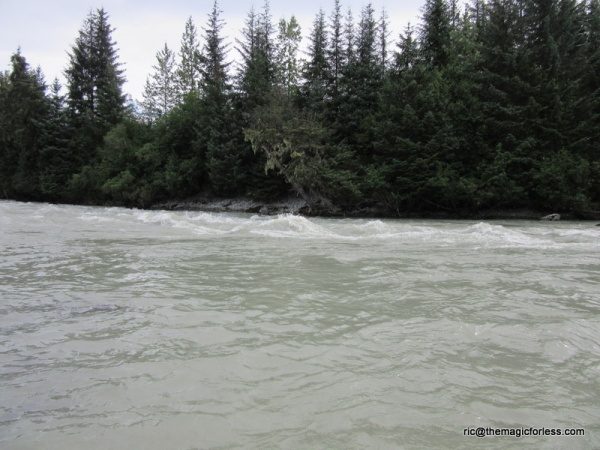 The river was for the most part calm with Class II rapids (Class II:  Easy rapids with smaller waves, clear channels that are obvious without scouting. Some maneuvering might be required) There were some patches of Class III rapids.  (Class III: Rapids with high, irregular waves. Narrow passages that often require precise maneuvering).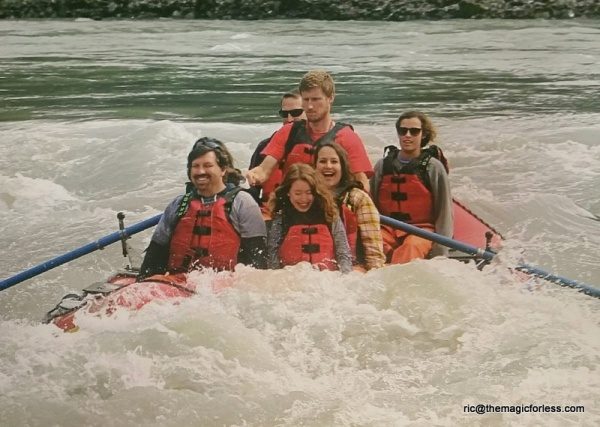 Those of us in the front of the boat did end up getting quite wet with the water that was around 37 degrees Fahrenheit so we learned why we had rubber pants and boots on.   Although the day was grey, the air temperature was nice and we only needed light jackets.
Along the way we saw a section of the riverbank that had been shored up using old junked vehicles to prevent erosion.  We floated past the high school and other sites.  Here is a map of the area where we were for the float trip.


Just before the end of the float trip we saw a Bald Eagle perched right on the side of the bank it was a great site to wrap up our float trip.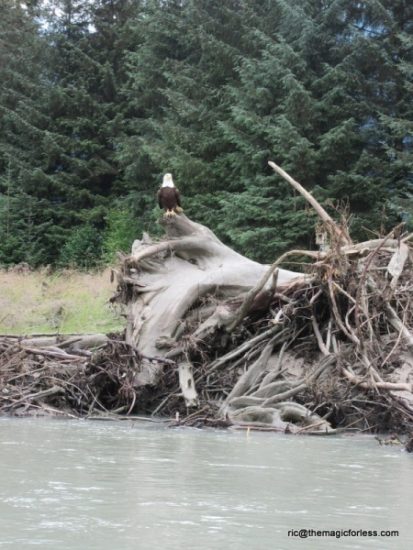 Once we pulled up on the shore, we got out of the rafts and took off our gear and then had snacks of cheese, crackers and sausages along with hot coffee and cider.
We were able to talk more with our guides and each of us received a souvenir photo of our float trip.
We then made a short walk back to the bus and then rode back to the ship (or we could have been dropped off in town to do some shopping).
If you are looking for a great excursion on your next Disney Cruise this was something unique to do in what is typically thought of as a cold climate where you would not be rafting down a river.
If you are interested in booking a cruise to Alaska please contact me and I would be happy to help you find a perfect cruise.
Similar Posts: