Aulani, A Disney Resort & Spa, is the ultimate Disney vacation in paradise. The quality you expect from Disney is simply magnified by the beauty of this destination.  As with any vacation, dining options always play a big part in planning. Your dining options at Aulani will not disappoint!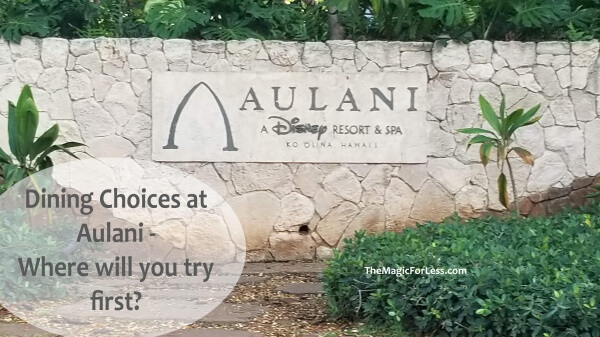 Counter Service Options
Dining options at Aulani offer several counter service choices onsite. Possibly the most popular is Ulu Café. This spot is located perfectly near the Wailana Pool area. There is a refill mug station just outside the main entrance which definitely helps in the popularity of this location. There is a marketplace with pre-packaged foods including dried fruits, nuts, cookies, chips, crackers, candy and more. You can pick up a variety of grab and go options from sandwiches, salads, wraps, and fresh fruit. Made to order options are offered for breakfast, lunch and dinner and include eggs, poke bowls, flatbreads, sustainable fish, rotating dinner plate options, and pizza. There are always plenty of dessert options too so whether you are craving a Mickey Ice Cream, a fancy cupcake, or pineapple dole whip soft serve, your sweet tooth will be satisfied!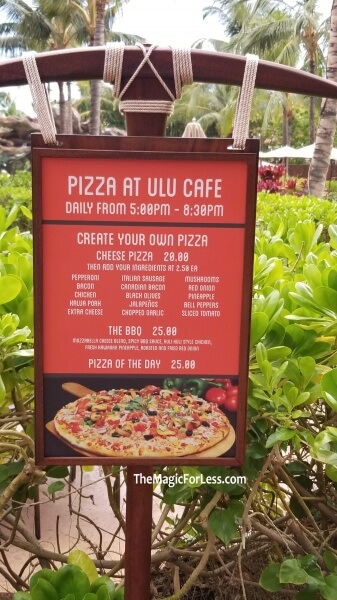 Mama's Snack Shack is a great place to grab lunch while spending the day near the pool or beach. It's located perfectly between the pools, Rainbow Reef, and the beach. The walk up counter allows you to pick up food quickly and take it where every you are headed. While Mama's menu isn't overwhelming, the Ono Sandwich and Coconut Breaded Shrimp are sure to be favorites from this menu! Leave room for dessert though because you are not going to want to skip the macadamia nut and pineapple cupcake!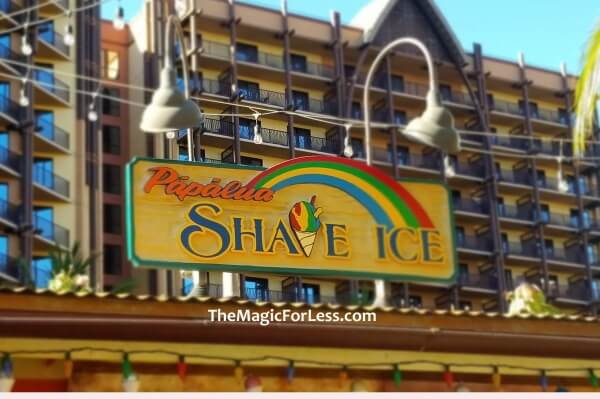 You can't visit Hawaii without having shaved ice at multiple places. You are in luck at Aulani because right next door to Mama's Snack Shack, is Papalua Shave Ice. Shave ice here is unlike what you will find anywhere else on the island though because your shaved ice can be ordered with Mickey ears! There are plenty of flavors to choose from and you won't go wrong with any of them. Make sure you add the sweetened condensed milk!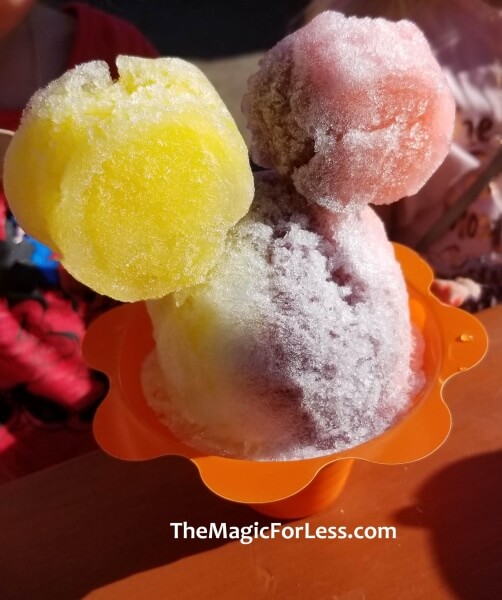 Take the short walk down to play along the beach in front of Aulani and on your way down you'll pass Little 'Opihi's.  A variety of grab and go options here for drinks, light snacks, and frozen treats are perfect for your beach time.
Lounges and Bars
Lounges and Bars can be great dining options at Aulani especially if you just want a quick bite while spending time at the resort.
The 'Olelo  Room is an upscale lounge inspired by the Hawaiian language. Whether you choose to be seated indoors where you can practice your pronunciation with friendly bartenders or enjoy the perfect weather under the stars in the outdoor seating, you'll love visiting this lounge. Live Hawaiian music plays nearby every night, making it the perfect place to relax in paradise. Local ingredients highlight the island inspired appetizers. You'll find something you love on the full drink menu but don't forget to ask about the 'Ike Mua – the special drink of the day.
The Wailana Pool Bar is located next to the adult only pool. This quiet and calm area offers a place for adults only to have a light lunch or drinks by the water.  Excellent service in a serene and beautiful environment is the beauty of this location.
Off the Hook is a much more laid back lounge resembling a Hawaiian fisherman's seaside shake. Whether watching sports on flat screen TV's or sitting on the patio overlooking the ocean appeals to you, you'll find this relaxing spot a nice place to unwind after an afternoon at the pool. During the day you can order sandwiches, wraps, and burgers but in the evening island inspired appetizers that pair well with the tropical cocktails and local beers are the highlights of the menu.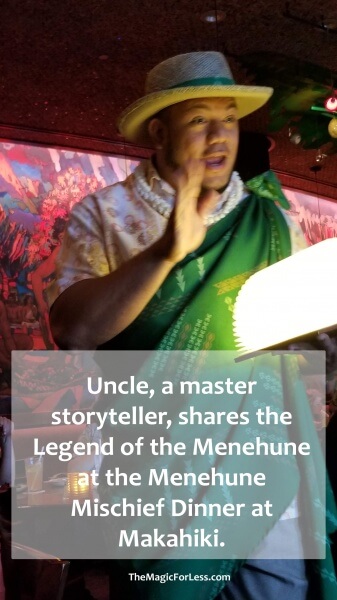 Full Service/Table Service
Makahiki – The Bounty of the Islands is the home of the only character meal offered at Aulani. We aren't sure how this restaurant will look when Aulani reopens but we are excited to see what changes are made for this restaurant. Serving breakfast and dinner as a buffet style restaurant allowed guests to try some new flavors and foods with the island flair while enjoying the celebrations represented at Makahiki.  At breakfast, Auntie invites you to celebrate with her and Disney friends who stop in to share in the celebration.  With a build your own omelet station, traditional Asian offerings, pastries, waffles, fruit, cereal, and many other traditional breakfast items, you'll have no problem starting the day off with a delicious meal. Auntie will play on the ukulele and encourage the keiki to join her to celebrate.   The Menehune Mischief dinner includes Uncle, a master storyteller, who will share the legends of the Menehune with a bit of magic and music. Disney characters will stop by to help tell the story while you enjoy salads, starters, sushi, sustainable seafood, a carving station, and a variety of entrees and sides.  House made desserts and Hawaiian inspired drinks will ensure you have the perfect finishes to your meal. While we aren't sure what changes may take place, we are sure no matter how it opens, it will be a great dining choice at the resort!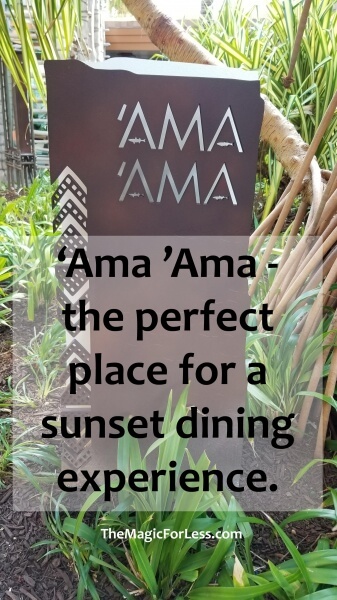 Saving the best for last, that leaves us with 'Ama 'Ama.  The only full service restaurant serving breakfast, lunch, and dinner at Aulani, this elegant dining location will offer you an ocean front experience like no other. Look out across Ko Olina Beach as you eat. In the evening, you can enjoy live music and amazing sunsets in a perfect beach setting. The ambience would be enough to entice you to dine at this restaurant alone but the food is delicious too.  Breakfast will offer the favorites of eggs, pastries, bacon, and waffles but will also offer a variety of island specialties including fresh seafood and local  fruit. While we enjoyed everything we tried, macadamia nut pancakes were a favorite that we still talk about. Lunch choices focus on American favorites with a bit of an island twist featuring sandwiches, salads, soups, and seafood.  There is nothing like dinner at sunset at 'Ama 'Ama though. This is truly the perfect time to dine here with views of the beautiful sunsets and local Hawaiian musicians playing nearby. The dinner menu does change to include seasonal ingredients but highlights seafood, steak, and pasta. Leave room for dessert though because the choices are mouthwatering!
Which ones will you visit?
There are so many delicious dining options at Aulani, that you may find you just don't have enough to try it all.  If you are ready to explore some more though off-site from Aulani, there are plenty of choices within walking distance of Aulani including a number of great selections across the street at the Ko Olina Shopping Center.
Do you have a favorite place to eat or favorite menu item from Aulani?  Share in the comments! We'd love to hear about your favorites!
More questions about your Aulani vacation? I'm happy to help with your planning or you can reach out for a no obligation quote at The Magic For Less Travel.
Similar Posts: