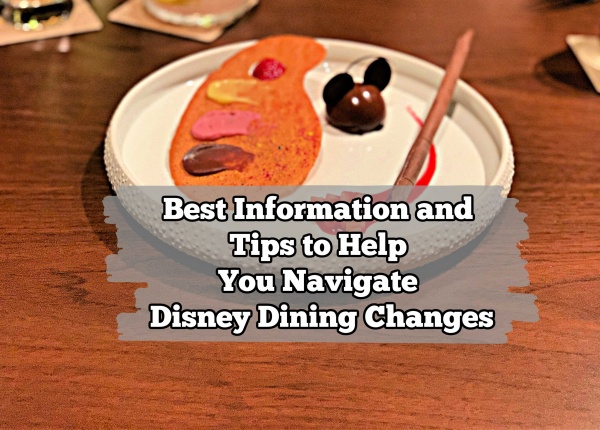 There are some changes to dining at Disney World after the reopening. All restaurants are following the current safety guidelines to ensure the safety of the Guests and Cast Members. In addition, some restaurants may not be open, while others have hours changed. Click here for the complete list of open locations.  Don't worry, Disney is still as magical as ever and there are plenty of wonderful Disney restaurants and even character dining available! Here are a few of the changes to help you plan for your Walt Disney World vacation.
Get free planning assistance from a destination expert from The Magic for Less Travel.  They can make you the hero in your own vacation story! 

Disney Dining Plan After Reopening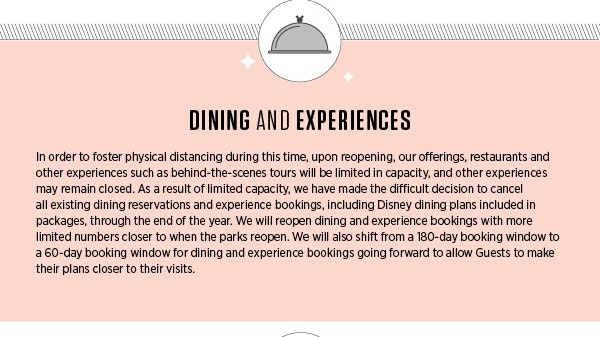 The largest dining change is the suspension of the Disney Dining Plans for the foreseeable future.  Anyone who had already booked a dining plan will see that is has been removed from their Disney package.  You can still book Walt Disney World vacation packages for 2020 and 2021, but the dining plan cannot be added.  We hope to see these packages available again soon!  If they do become available soon,  you can always add them to an existing booked package.
Disney Quick-Service Dining Changes After Reopening

One of the major changes is how to order a quick service meal. It's a change we are excited about.  Now at most quick-service locations, you are asked to place your order using the mobile ordering function through the My Disney Experience app.   The app notifies you when your order is ready.  Then you will enter the restaurant and show your order number through  app. When you have your food you can sit at any of the socially distant tables and enjoy your meal!
How To Use Disney Mobile Ordering
Mobile ordering is easy and convenient!  We show you how to use the mobile ordering function below. In the My Disney Experience app, select the "Order Now" button from the main screen or the plus sign near the bottom of the screen and then choose "Order Food."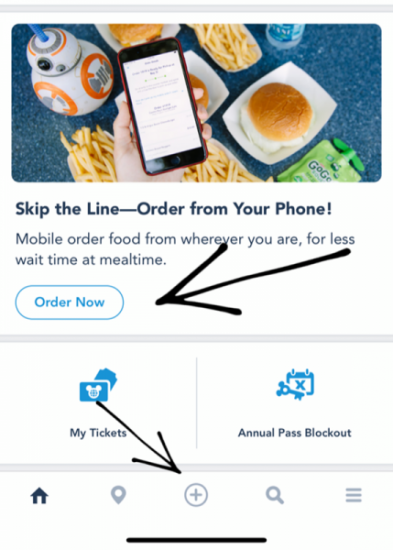 Pick an available restaurant, and choose an arrival window.  At that point, you can see the menu and make your selections. You can even customize certain menu items to your taste. Click on an item to see photos and read more about that item.
When your order is built, click the button at the bottom of the screen to or review your order.  You can modify items and once it is correct, you can continue to checkout. You can pay for your order using a credit card, debit card, Apple Pay, or a Disney gift card.  If you have a credit card saved in your My Disney Experience profile, that method of payment will be available.

Once your order is placed, you will be able to see the pending order with the arrival time on the home screen of your app. Once your arrival window has arrived, you must return to the app and click the "I'm Here, Prepare My Order" button.
Orders cannot be modified after they have been submitted but may be canceled anytime until you tap the "I'm Here, Prepare My Order" button. If you do not tap the "I'm Here, Prepare My Order" button before park closing, your order will automatically be canceled and your payment method will not be charged.
Mobile ordering lets you order food when it is convenient for you and order ahead to save time. Just make sure you check the app to see the locations that are available.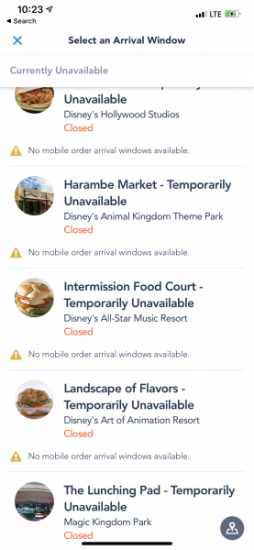 Disney Table Service Dining Changes After Reopening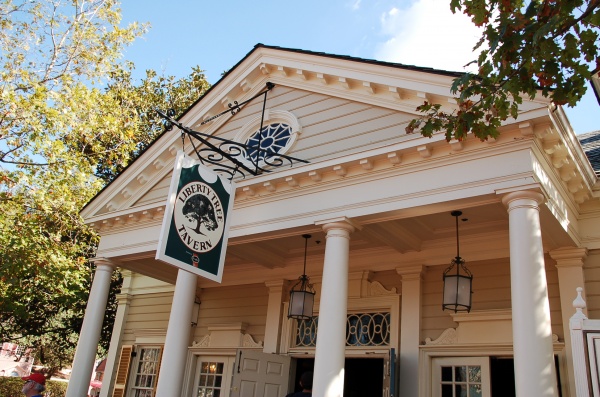 Changes have been made at Table Service Dining as well. Now guests can make their dining reservation 60 days prior to their trip instead of the previous 180 days in advance.  When arriving at any table service location guests will be required to have a temperature screening prior to entry. Anyone with a temperature above 100.4 will need an additional medical assessment and no one from the party will be allowed to be seated.
Table Service Reservations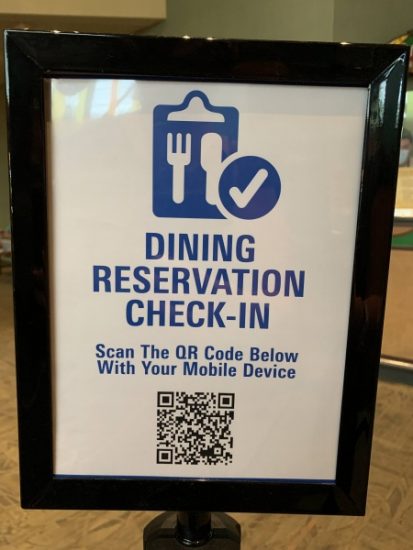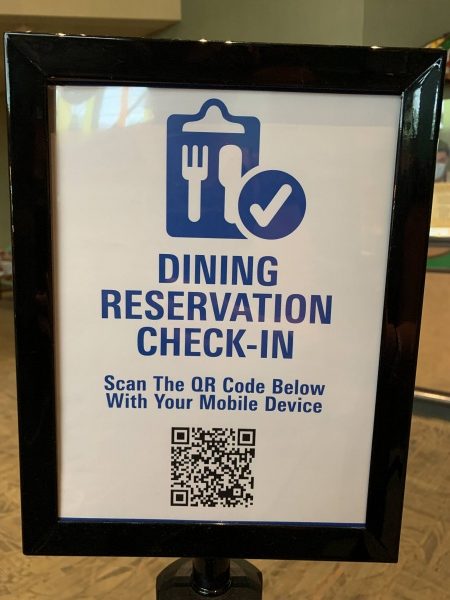 To help with social distancing, many dining locations now offer mobile check-in. Guests can scan a QR code by the entrance, or use their My Disney Experience app to check into their dining reservation. Once they have checked in they can confirm their party size, and be notified when their table is ready. At table service restaurants menus are no longer provided. Instead, guests can scan a QR code to access the menu on their phones.  Buffets like Chef Mickeys are open but in a modified way. Instead of a walk-up buffet, the server brings a family-style platter that guests can request more of any item they prefer. This allows for guests to enjoy some of their favorite Disney meals while still remaining socially distant at their table!
Disney has also introduced the brand new Mobile Dine Walk-Up Waitlist feature which can be found in the My Disney Experience app. The Mobile Dine Walk-Up Waitlist allows Guests the opportunity to quickly view current wait times that are available for restaurants, as well as any potential dining availability at participating Disney-owned, table service restaurants. Guests will then be able to add themselves to the waitlist via the app without needing to interact with a Cast Member.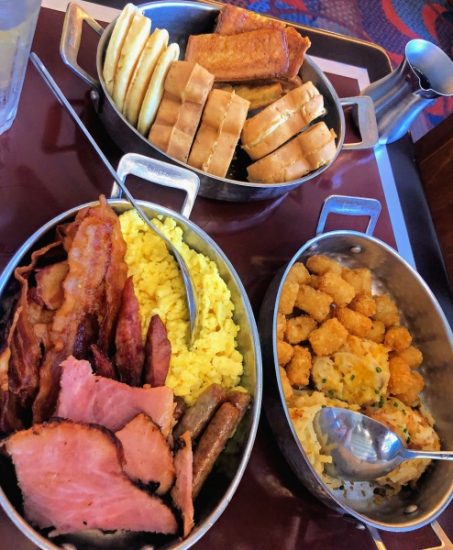 Disney Character Dining
We know that guests love to dine with the characters. Character meals are still available!  They are  being offered at Topolino's Terrace at Riviera Resort, Chef Mickeys at the Disney's Contemporary resort, Hollywood and Vine at Disney's Hollywood Studios, and Garden Grill at Epcot. These are modified experience to ensure physical distance, but you still get to see the characters.
Disney is working hard to make sure your trip still feels just as magical as ever. With their added safety measures guests can feel at ease when they eat at any Disney restaurant. From mobile ordering to character meals, you can feel safe on  your next Disney trip.
Are you interested in visiting Walt Disney World this year or next year?  Contact The Magic for Less Travel, an Authorized Disney Vacation Planner for a no-obligation price quote. A destination expert travel agent can help you plan a vacation based on your wants and needs.  Their fee-free service helps you plan with less stress, less time, and less money.

Similar Posts: