A unique activity that many Disney Cruise Line guests like to participate in are fish extender exchanges.  These exchanges are a great way to get to know other cruise guests, exercise your creativity, enjoy receiving some magic, and explore the ship.
What is a fish extender?
Fish extenders are typically fabric pouches that guests hang from a hook/small shelf outside of each stateroom door.  The hooks can be various shapes, like fish (thus the name), or seahorses, sea stars, and even woodland creatures.  Disney Cruise Line leaves your room keys upon embarkation and other important notices or papers throughout the sailing on this small hook/shelf.
Participating guests bring their own fish extender to hang outside their door.  Fish extenders styles range in everything from beautiful, custom made embroidered extenders to shopping bags.  Typically, a separate pouch that serves as a mailbox for each person is on the extender.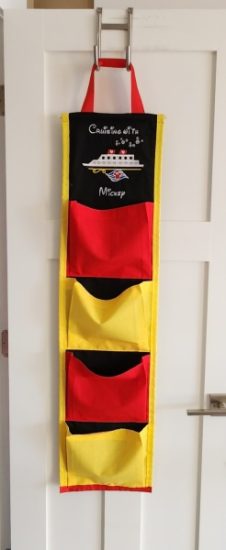 Where do I find a fish extender?
Disney Cruise Line does not sell or provide fish extenders, so this is something you will want to pack with you .  Many guests purchase them on sites like Amazon or Etsy where there is a myriad of options available.  You can purchase blank pouches and personalize them  or buy them with each person's name on their respective pouch.  Check out the same one my friends purchased on Amazon and each made their own!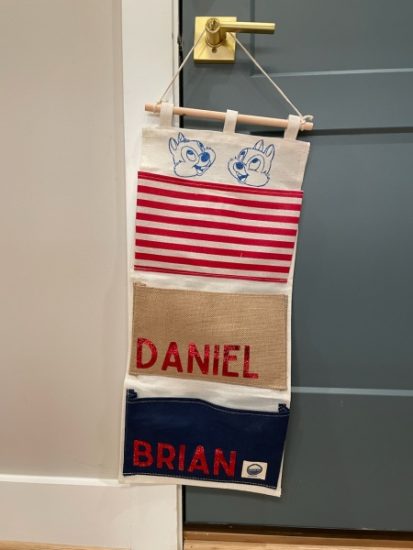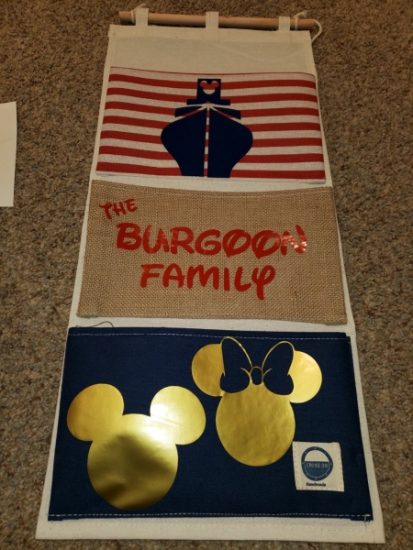 Where do I sign up for a fish extender group?
Social media is a great place to sign up for a fish extender group.  Many Facebook users can search their ship and sail date to find cruise planning groups to join.  Within these groups there are often fish extender exchange groups organized.  The Magic for Less has a fan site, The Mouse for Less, that has a planning community where you can find other cruise passengers too:  The Mouse for Less Community
What do I give to other cruise passengers in their fish extenders?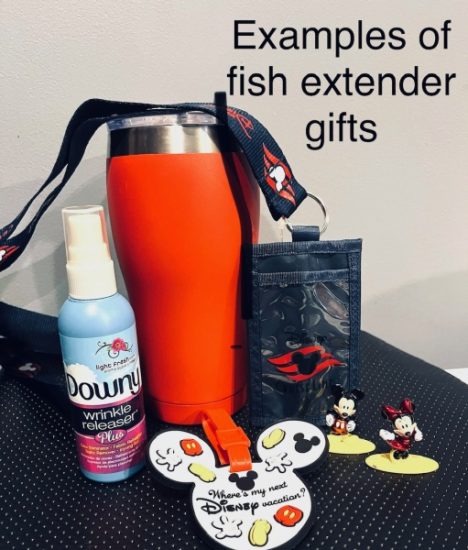 The options for your gifts are endless!  Many people like to create homemade gifts, while others prefer to purchase ready made items.  A quick Google or Etsy search can quickly turn into hours of fun looking for  ideas.  Usually, a ballpark amount spent is a few dollars to $15 per person.  Ask your extender organizer for specific guidelines.  Most cruisers prefer smaller items as they must be packed to take home.
Some fun ideas
candy
ornaments
glow sticks
key chains
small toys for kids,
cups
customized gifts to remember the sailing
Most exchanges ask that you deliver something at least once during the sailing to your recipients, but some people like to give smaller items multiple times throughout the sailing (just remember that means more trips delivering your gifts).
What do I once onboard?
The coordinator of your fish extender group will give a list of the passengers and their staterooms you'll be exchanging with.  Once you're onboard, you can drop off the fish extenders at the staterooms of everyone in your exchange.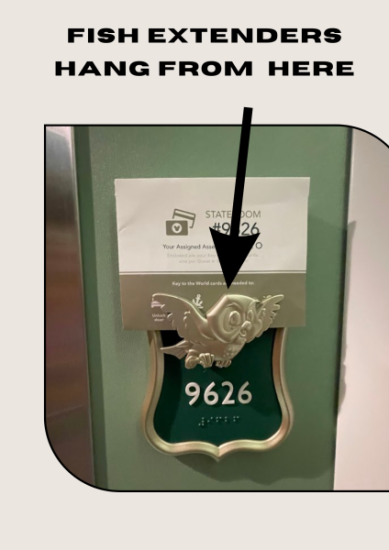 Things to keep in mind
This is a commitment of both time and money. You will spend money on your own fish  extender and for the gifts you take.  It is also time consuming to plan for your exchange.
Each group has different rules, number of participants, types of exchange, etc.
You will need to have space in your luggage to take what you plan to give and bring home what you will be given.
The goal of these groups is to create fun and camaraderie amongst cruisers, so don't stress too much about your planning and have a good time with it!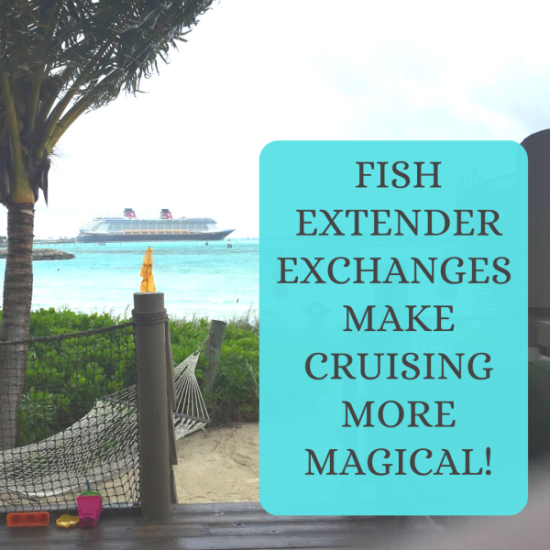 Fish extender exchanges are a super fun way for the family to add more fun to an already amazing cruise!  It is also fun to give gifts and come home with some great souvenirs from new friends.  If you have questions on how to plan your next cruise, contact me or our of agents waiting to help!
Similar Posts: