If you are a fan of cruising the Disney Cruise Line like I am, you are probably aware of the Castaway Club.  Each person who has sailed at least once with Disney Cruise Line is considered a Silver member.  Each cruise after that advances you toward the ultimate goal of Platinum member.  Once you have sailed 10 times, you are considered a Platinum Castaway Club Member and you get some awesome benefits.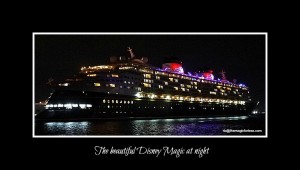 Benefits for All Castaway Club Members
AT-HOME BENEFITS
Insider Exclusives just for members.  Webcasts, info, tips and news.
Early Access to Online Activity Planning.  Advance booking for onboard amenities and shore excursions. 90 days prior to sailing for Silver and 105 for Gold.
ONBOARD BENEFITS
Welcome Back Stateroom Gift.  Be welcomed back with a gift unique to your membership level.

2014 Castaway Club Gift for Platinum Members

Castaway Club Gift on our bed when we arrived
ADDITIONAL PLATINUM BENEFITS
AT-HOME BENEFITS
Early Access to Online Activity Planning.  Advance booking for onboard amenities and shore excursions. 120 days prior to sailing.
Dedicated Phone Number, your direct line for info and assistance.
Early Booking Opportunities.  Be among the first to book the newest itineraries and ships before the general public.
ONBOARD BENEFITS
Priority Check-In at Cruise Terminal.  Enjoy concierge priority check-in at the cruise terminal. Then, receive priority boarding following concierge Guests.
Special Onboard Booking Offer.  While on board, enjoy special savings on future cruises.
Castaway Club Onboard Reception.  Meet and mingle with the ship's officers at a private party on voyages 4-nights and longer. (ours was in Keys)

Keys on the Disney Magic where our Platinum Party was held

Special Merchandise Offering.  Take advantage of special onboard shopping opportunities.
Complimentary Dinner at Palo.  Savor an elegant dinner at Palo for free.

Palo on the Disney Magic
On my recent cruise, I was also give the option to order a plate of fruit, some truffles or sparkling wine from room service.
So, how do you become a Platinum Castaway Club member and get all these benefits?  Contact The Magic for Less Travel at www.themagicforless.com and book your next Disney Cruise.
Similar Posts: