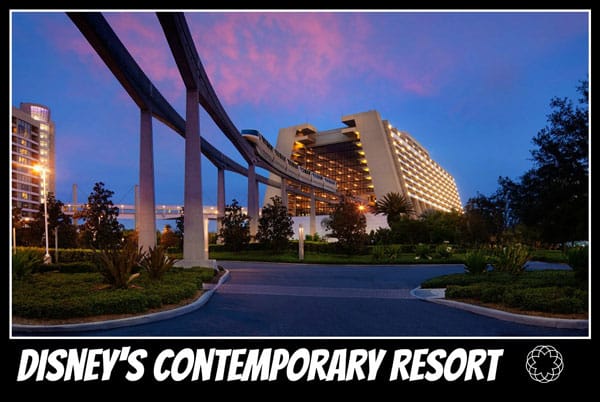 The Masterpiece in the Middle of the Magic
Rising majestically above the nearby Magic Kingdom® Park, the hotel features a monorail concourse right inside the lobby, providing convenient transportation to the Magic Kingdom® Park, Epcot®, Disney's Polynesian Village Resort and Disney's Grand Floridian Resort & Spa. In addition to the tower rooms, adjacent garden rooms away from the hustle and bustle of the main building offer more tranquil accommodations. Recreation includes a sand beach, fitness center, marina, lighted tennis courts, playground and an expansive pool area with a water slide, interactive fountains and jacuzzi. Chef Mickey's Restaurant offers a daily breakfast with Disney Characters, and the award-winning California Grill restaurant on the top level of the tower provides fantastic dining with a panoramic view of the Walt Disney World® Resort.
Room Rates Map

Overview

Discounts Free Quote
Guest Rooms Disney's Contemporary Resort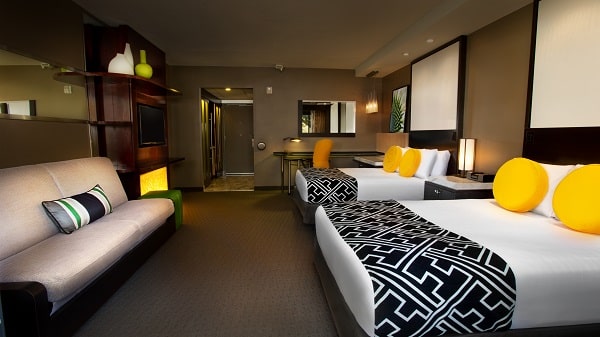 Dining Disney's Contemporary Resort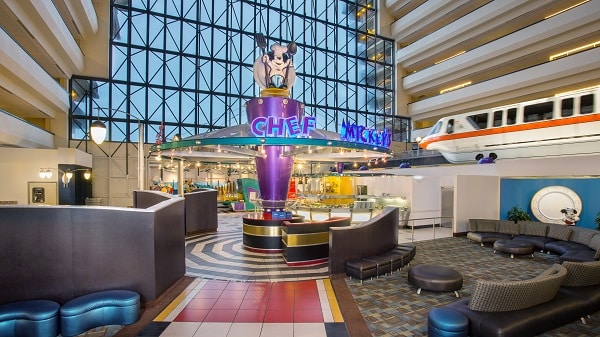 California Grill
Brunch, Dinner
Treat yourself to an award-winning culinary experience and an epic vantage point for brunch or dinner.
California Grill Lounge
Brunch, Dinner
Partake in an aperitif prior to dinner at this namesake restaurant or dine in the lounge as space allows.
Chef Mickey's
Breakfast, Brunch, Dinner
Join Mickey, Minnie and friends for an all-you-care-to-enjoy buffet for breakfast, lunch or dinner.
The Wave… of American Flavors
Breakfast, Lunch, Dinner
Try the latest trends in American cuisine—from local to organic offerings—at this restaurant and lounge.
Highway in the Sky Dine Around
Dinner
Hop on the monorail for a culinary journey at 3 different Disney Resort hotels, including Disney's Contemporary Resort!
Contempo Café
Breakfast, Lunch, Dinner
Catch breakfast, lunch or dinner—not to mention a glimpse of the monorail gliding by overhead!
Contemporary Grounds
Snacks
Jumpstart your day with some java and a pastry—or perhaps a smoothie—at this convenient coffee counter.
The Sand Bar
Bar Service
Plant yourself poolside after picking up something to nosh on from this quick-service bar and lounge.
Outer Rim
Bar Service
Linger at this lovely lounge long after the sun sets over breathtaking Bay Lake.
The Wave Lounge
Bar Service
Enjoy draft beers and small bites in the soft glow of this chic retreat.
Disney Resorts Room Service
Breakfast, Brunch, Dinner, Late Night
With convenient in-room service, you can dine in the comfort of your Disney Resort hotel room.
Disney's Contemporary Resort Recreation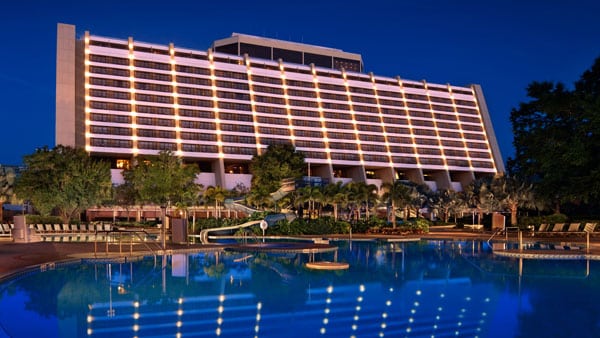 – 2 Pools
Feature Pool:6500 sq ft with water slide and waterfalls
– Interactive water fountains
– 2 whirlpool spas
– Children's playground
– Arcade
– Tennis
– Fishing
– Beach area
– Volleyball
– Jogging trail
– Health club
– Massage/spa services
– Electrical Water Pageant view
Other Services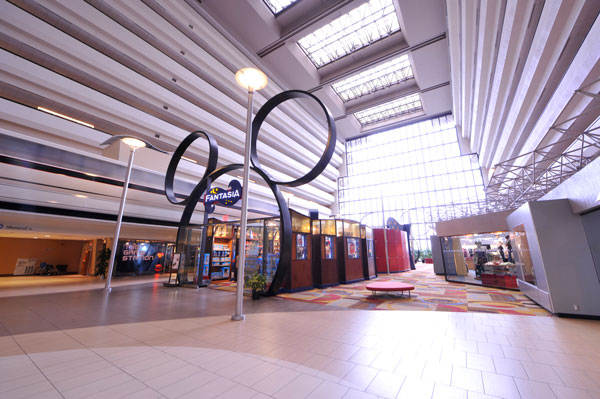 – Disney Resort Benefits
– 7 merchandise shops (gifts, sundries)
– Self service laundry facilities
– Valet laundry service
– Club Level Concierge
– Business Center
– Convention/meeting space
– Salon/barber services
– Valet parking
Check In/Check Out
3:00 PM / 11:00 AM
Address
Disney's Contemporary Resort
4600 North World Drive
Lake Buena Vista, Florida 32830-1000
Kids Programs
Babysitting
Kid's Nite Out, one-on-one in-room childcare. Call (407) 828-0920 or (800) 696-8105.
Spa Services
Get the Gold Medal treatment at the Olympiad Health Club. Whether it's a hard-driving workout or a relaxing massage, our trained staff of health and fitness experts is available to assist you with your health and fitness needs. Call for reservations at (407) 824-3410*, 8:00 am to 8:00 pm daily.
Swedish Relaxation Massage
25, 50 or 75 min.
Enjoy a relaxation massage of traditional long strokes and kneading techniques. This therapy increases circulation, soothes tired muscles and relaxes the body.
Deep Tissue Massage
25, 50 or 75 min.
Our therapists utilize their experience in different techniques to relax you and relieve the symptoms of built up tension in the muscle tissue. This massage uses a Deep Heat oil that penetrates into the body allowing the muscle to relax to a greater level. This is a moderate to firm massage.
Aromatherapy Massage
25, 50 or 75 min.
This massage facilitates ultimate relaxation as the body receives therapeutic benefits from the use of our pure essential oils.
Lavender oil – excellent for deep relaxation and also serves as a soother for sunburned skin.
Birch Amica – great for sore muscle tissues and helps circulation throughout the body. Additional charges for in room service.
Health and Fitness
Personal Training available by appointment.
State of the art strength and cardiovascular equipment including treadmills and bicycles (regular and recumbent). Guest memberships on a Daily, Individual Length of Stay basis, or Family Length of Stay basis includes the use of sauna and steam rooms. Health Club usage is included with any spa service.
Not in the habit of working out? Our fitness attendants are always more than happy to lend a helping hand. We offer structured Personal Training Sessions as an added amenity. To set up an appointment please call at least 24 hours in advance.
Proper workout attire is required to use the facility
Minimum age for working out is 14 years old
Rates at Disney's Contemporary Resort
Disney Contemporary Resort non-discounted guest room rates listed below are per room, per night and vary by arrival date. Prices below do not include applicable taxes. An additional adult charge of $35 per night applies when there are over two adults in a room at Disney's Contemporary Resort. Rates, benefits, and other terms are subject to change without notice.
Visit our Discounts page to see what offers might be available during your stay or request a free quote from one of our travel counselors.
2019 Disney's Contemporary Resort Rates
12.5% tax not included – rates subject to change
September 2019
September 1, 2019
Garden Wing – Standard View – Sleeps 3-5 – $497
Garden Wing – Garden View – Sleeps 3-5 – $535
Garden Wing – Deluxe Room – Sleeps 4 – $660
Main Tower – Bay Lake View – Sleeps 3-5 – $660
Main Tower – Theme Park View – Sleeps 3-5 – $768
Atrium Club Level – Standard Room – Bay Lake View – Sleeps 3 or 5 – $883
Atrium Club Level -Standard room – Theme Park View – Sleeps 3-5 – $970
Concierge Access – Garden Wing – 1 Bedroom Suite – Sleeps 5 – $1,427
Concierge Access – Garden Wing – Hospitality Suite – Sleeps 5 or 7 – $1,600
Concierge Level – 1 Bedroom Suite – Bay Lake View – Sleeps 6 – $1,846
Concierge Level – 2 Bedroom Suite – Bay Lake View – Sleeps 8 – $2,573
September 2-5, 2019
Garden Wing – Standard View – Sleeps 3-5 – $410
Garden Wing – Garden View – Sleeps 3-5 – $415
Garden Wing – Deluxe Room – Sleeps 4 – $496
Main Tower – Bay Lake View – Sleeps 3-5 – $579
Main Tower – Theme Park View – Sleeps 3-5 – $628
Atrium Club Level – Standard Room – Bay Lake View – Sleeps 3 or 5 – $733
Atrium Club Level -Standard room – Theme Park View – Sleeps 3-5 – $788
Concierge Access – Garden Wing – 1 Bedroom Suite – Sleeps 5 – $1,130
Concierge Access – Garden Wing – Hospitality Suite – Sleeps 5 or 7 – $1,190
Concierge Level – 1 Bedroom Suite – Bay Lake View – Sleeps 6 – $1,452
Concierge Level – 2 Bedroom Suite – Bay Lake View – Sleeps 8 – $2,141
September 6-7, 2019
Garden Wing – Standard View – Sleeps 3-5 – $421
Garden Wing – Garden View – Sleeps 3-5 – $463
Garden Wing – Deluxe Room – Sleeps 4 – $540
Main Tower – Bay Lake View – Sleeps 3-5 – $595
Main Tower – Theme Park View – Sleeps 3-5 – $645
Atrium Club Level – Standard Room – Bay Lake View – Sleeps 3 or 5 – $790
Atrium Club Level -Standard room – Theme Park View – Sleeps 3-5 – $849
Concierge Access – Garden Wing – 1 Bedroom Suite – Sleeps 5 – $1,203
Concierge Access – Garden Wing – Hospitality Suite – Sleeps 5 or 7 – $1,254
Concierge Level – 1 Bedroom Suite – Bay Lake View – Sleeps 6 – $1,517
Concierge Level – 2 Bedroom Suite – Bay Lake View – Sleeps 8 – $2,241
September 8-12, 2019
Garden Wing – Standard View – Sleeps 3-5 – $410
Garden Wing – Garden View – Sleeps 3-5 – $415
Garden Wing – Deluxe Room – Sleeps 4 – $496
Main Tower – Bay Lake View – Sleeps 3-5 – $579
Atrium Club Level – Standard Room – Bay Lake View – Sleeps 3 or 5 – $733
Atrium Club Level -Standard room – Theme Park View – Sleeps 3-5 – $788
Concierge Access – Garden Wing – 1 Bedroom Suite – Sleeps 5 – $1,130
Concierge Access – Garden Wing – Hospitality Suite – Sleeps 5 or 7 – $1,190
Concierge Level – 1 Bedroom Suite – Bay Lake View – Sleeps 6 – $1,452
Concierge Level – 2 Bedroom Suite – Bay Lake View – Sleeps 8 – $2,141
September 13-14, 2019
Garden Wing – Standard View – Sleeps 3-5 – $421
Garden Wing – Garden View – Sleeps 3-5 – $463
Garden Wing – Deluxe Room – Sleeps 4 – $540
Main Tower – Bay Lake View – Sleeps 3-5 – $595
Main Tower – Theme Park View – Sleeps 3-5 – $645
Atrium Club Level – Standard Room – Bay Lake View – Sleeps 3 or 5 – $790
Atrium Club Level -Standard room – Theme Park View – Sleeps 3-5 – $849
Concierge Access – Garden Wing – 1 Bedroom Suite – Sleeps 5 – $1,203
Concierge Access – Garden Wing – Hospitality Suite – Sleeps 5 or 7 – $1,254
Concierge Level – 1 Bedroom Suite – Bay Lake View – Sleeps 6 – $1,517
Concierge Level – 2 Bedroom Suite – Bay Lake View – Sleeps 8 – $2,241
September 15-19, 2019
Garden Wing – Standard View – Sleeps 3-5 – $410
Garden Wing – Garden View – Sleeps 3-5 – $415
Garden Wing – Deluxe Room – Sleeps 4 – $496
Main Tower – Bay Lake View – Sleeps 3-5 – $579
Main Tower – Theme Park View – Sleeps 3-5 – $628
Atrium Club Level – Standard Room – Bay Lake View – Sleeps 3 or 5 – $733
Atrium Club Level -Standard room – Theme Park View – Sleeps 3-5 – $788
Concierge Access – Garden Wing – 1 Bedroom Suite – Sleeps 5 – $1,130
Concierge Access – Garden Wing – Hospitality Suite – Sleeps 5 or 7 – $1,190
Concierge Level – 1 Bedroom Suite – Bay Lake View – Sleeps 6 – $1,452
Concierge Level – 2 Bedroom Suite – Bay Lake View – Sleeps 8 – $2,141
September 20-21, 2019
Garden Wing – Standard View – Sleeps 3-5 – $505
Garden Wing – Garden View – Sleeps 3-5 – $532
Garden Wing – Deluxe Room – Sleeps 4 – $650
Main Tower – Bay Lake View – Sleeps 3-5 – $655
Main Tower – Theme Park View – Sleeps 3-5 – $714
Atrium Club Level – Standard Room – Bay Lake View – Sleeps 3 or 5 – $895
Atrium Club Level -Standard room – Theme Park View – Sleeps 3-5 – $1,006
Concierge Access – Garden Wing – 1 Bedroom Suite – Sleeps 5 – $1,540
Concierge Access – Garden Wing – Hospitality Suite – Sleeps 5 or 7 – $1,547
Concierge Level – 1 Bedroom Suite – Bay Lake View – Sleeps 6 – $1,984
Concierge Level – 2 Bedroom Suite – Bay Lake View – Sleeps 8 – $2,895
September 22-26, 2019
Garden Wing – Standard View – Sleeps 3-5 – $432
Garden Wing – Garden View – Sleeps 3-5 – $461
Garden Wing – Deluxe Room – Sleeps 4 – $564
Main Tower – Bay Lake View – Sleeps 3-5 – $612
Main Tower – Theme Park View – Sleeps 3-5 – $654
Atrium Club Level – Standard Room – Bay Lake View – Sleeps 3 or 5 – $758
Atrium Club Level -Standard room – Theme Park View – Sleeps 3-5 – $893
Concierge Access – Garden Wing – 1 Bedroom Suite – Sleeps 5 – $1,259
Concierge Access – Garden Wing – Hospitality Suite – Sleeps 5 or 7 – $1,324
Concierge Level – 1 Bedroom Suite – Bay Lake View – Sleeps 6 – $1,587
Concierge Level – 2 Bedroom Suite – Bay Lake View – Sleeps 8 – $2,412
September 27-28, 2019
Garden Wing – Standard View – Sleeps 3-5 – $505
Garden Wing – Garden View – Sleeps 3-5 – $532
Garden Wing – Deluxe Room – Sleeps 4 – $650
Main Tower – Bay Lake View – Sleeps 3-5 – $655
Main Tower – Theme Park View – Sleeps 3-5 – $714
Atrium Club Level – Standard Room – Bay Lake View – Sleeps 3 or 5 – $895
Atrium Club Level -Standard room – Theme Park View – Sleeps 3-5 – $1,006
Concierge Access – Garden Wing – 1 Bedroom Suite – Sleeps 5 – $1,540
Concierge Access – Garden Wing – Hospitality Suite – Sleeps 5 or 7 – $1,547
Concierge Level – 1 Bedroom Suite – Bay Lake View – Sleeps 6 – $1,984
Concierge Level – 2 Bedroom Suite – Bay Lake View – Sleeps 8 – $2,895
September 29-30, 2019
Garden Wing – Standard View – Sleeps 3-5 – $432
Garden Wing – Garden View – Sleeps 3-5 – $461
Garden Wing – Deluxe Room – Sleeps 4 – $564
Main Tower – Bay Lake View – Sleeps 3-5 – $612
Main Tower – Theme Park View – Sleeps 3-5 – $654
Atrium Club Level – Standard Room – Bay Lake View – Sleeps 3 or 5 – $758
Atrium Club Level -Standard room – Theme Park View – Sleeps 3-5 – $893
Concierge Access – Garden Wing – 1 Bedroom Suite – Sleeps 5 – $1,259
Concierge Access – Garden Wing – Hospitality Suite – Sleeps 5 or 7 – $1,342
Concierge Level – 1 Bedroom Suite – Bay Lake View – Sleeps 6 – $1,587
Concierge Level – 2 Bedroom Suite – Bay Lake View – Sleeps 8 – $2,412
October 2019
October 1-3, 2019
Garden Wing – Standard View – Sleeps 3-5 – $432
Garden Wing – Garden View – Sleeps 3-5 – $461
Garden Wing – Deluxe Room – Sleeps 4 – $564
Main Tower – Bay Lake View – Sleeps 3-5 – $612
Main Tower – Theme Park View – Sleeps 3-5 – $654
Atrium Club Level – Standard Room – Bay Lake View – Sleeps 3 or 5 – $758
Atrium Club Level -Standard room – Theme Park View – Sleeps 3-5 – $893
Concierge Access – Garden Wing – 1 Bedroom Suite – Sleeps 5 – $1,259
Concierge Access – Garden Wing – Hospitality Suite – Sleeps 5 or 7 – $1,342
Concierge Level – 1 Bedroom Suite – Bay Lake View – Sleeps 6 – $1,587
Concierge Level – 2 Bedroom Suite – Bay Lake View – Sleeps 8 – $2,412
October 4-5, 2019
Garden Wing – Standard View – Sleeps 3-5 – $505
Garden Wing – Garden View – Sleeps 3-5 – $532
Garden Wing – Deluxe Room – Sleeps 4 – $650
Main Tower – Bay Lake View – Sleeps 3-5 – $655
Main Tower – Theme Park View – Sleeps 3-5 – $714
Atrium Club Level – Standard Room – Bay Lake View – Sleeps 3 or 5 – $895
Atrium Club Level -Standard room – Theme Park View – Sleeps 3-5 – $1,006
Concierge Access – Garden Wing – 1 Bedroom Suite – Sleeps 5 – $1,540
Concierge Access – Garden Wing – Hospitality Suite – Sleeps 5 or 7 – $1,547
Concierge Level – 1 Bedroom Suite – Bay Lake View – Sleeps 6 – $1,984
Concierge Level – 2 Bedroom Suite – Bay Lake View – Sleeps 8 – $2,895
October 6-10, 2019
Garden Wing – Standard View – Sleeps 3-5 – $432
Garden Wing – Garden View – Sleeps 3-5 – $461
Garden Wing – Deluxe Room – Sleeps 4 – $564
Main Tower – Bay Lake View – Sleeps 3-5 – $612
Main Tower – Theme Park View – Sleeps 3-5 – $654
Atrium Club Level – Standard Room – Bay Lake View – Sleeps 3 or 5 – $758
Atrium Club Level -Standard room – Theme Park View – Sleeps 3-5 – $893
Concierge Access – Garden Wing – 1 Bedroom Suite – Sleeps 5 – $1,259
Concierge Access – Garden Wing – Hospitality Suite – Sleeps 5 or 7 – $1,324
Concierge Level – 1 Bedroom Suite – Bay Lake View – Sleeps 6 – $1,587
Concierge Level – 2 Bedroom Suite – Bay Lake View – Sleeps 8 – $2,412
October 11-13, 2019
Garden Wing – Standard View – Sleeps 3-5 – $473
Garden Wing – Garden View – Sleeps 3-5 – $551
Garden Wing – Deluxe Room – Sleeps 4 – $681
Main Tower – Bay Lake View – Sleeps 3-5 – $698
Main Tower – Theme Park View – Sleeps 3-5 – $758
Atrium Club Level – Standard Room – Bay Lake View – Sleeps 3 or 5 – $928
Atrium Club Level -Standard room – Theme Park View – Sleeps 3-5 – $1,108
Concierge Access – Garden Wing – 1 Bedroom Suite – Sleeps 5 – $1,603
Concierge Access – Garden Wing – Hospitality Suite – Sleeps 5 or 7 – $1,765
Concierge Level – 1 Bedroom Suite – Bay Lake View – Sleeps 6 – $2,095
Concierge Level – 2 Bedroom Suite – Bay Lake View – Sleeps 8 – $3,078
October 14-17, 2019
Garden Wing – Standard View – Sleeps 3-5 – $432
Garden Wing – Garden View – Sleeps 3-5 – $459
Garden Wing – Deluxe Room – Sleeps 4 – $542
Main Tower – Bay Lake View – Sleeps 3-5 – $594
Main Tower – Theme Park View – Sleeps 3-5 – $661
Atrium Club Level – Standard Room – Bay Lake View – Sleeps 3 or 5 – $760
Atrium Club Level -Standard room – Theme Park View – Sleeps 3-5 – $872
Concierge Access – Garden Wing – 1 Bedroom Suite – Sleeps 5 – $1,258
Concierge Access – Garden Wing – Hospitality Suite – Sleeps 5 or 7 – $1,279
Concierge Level – 1 Bedroom Suite – Bay Lake View – Sleeps 6 – $1,536
Concierge Level – 2 Bedroom Suite – Bay Lake View – Sleeps 8 – $2,472
October 18-19, 2019
Garden Wing – Standard View – Sleeps 3-5 – $490
Garden Wing – Garden View – Sleeps 3-5 – $540
Garden Wing – Deluxe Room – Sleeps 4 – $635
Main Tower – Bay Lake View – Sleeps 3-5 – $660
Main Tower – Theme Park View – Sleeps 3-5 – $724
Atrium Club Level – Standard Room – Bay Lake View – Sleeps 3 or 5 – $858
Atrium Club Level -Standard room – Theme Park View – Sleeps 3-5 – $1,034
Concierge Access – Garden Wing – 1 Bedroom Suite – Sleeps 5 – $1,520
Concierge Access – Garden Wing – Hospitality Suite – Sleeps 5 or 7 – $1,610
Concierge Level – 1 Bedroom Suite – Bay Lake View – Sleeps 6 – $1,863
Concierge Level – 2 Bedroom Suite – Bay Lake View – Sleeps 8 – $2,828
October 20-24, 2019
Garden Wing – Standard View – Sleeps 3-5 – $432
Garden Wing – Garden View – Sleeps 3-5 – $459
Garden Wing – Deluxe Room – Sleeps 4 – $542
Main Tower – Bay Lake View – Sleeps 3-5 – $594
Main Tower – Theme Park View – Sleeps 3-5 – $661
Atrium Club Level – Standard Room – Bay Lake View – Sleeps 3 or 5 – $760
Atrium Club Level -Standard room – Theme Park View – Sleeps 3-5 – $872
Concierge Access – Garden Wing – 1 Bedroom Suite – Sleeps 5 – $1,258
Concierge Access – Garden Wing – Hospitality Suite – Sleeps 5 or 7 – $1,279
Concierge Level – 1 Bedroom Suite – Bay Lake View – Sleeps 6 – $1,536
Concierge Level – 2 Bedroom Suite – Bay Lake View – Sleeps 8 – $2,472
October 25-26, 2019
Garden Wing – Standard View – Sleeps 3-5 – $490
Garden Wing – Garden View – Sleeps 3-5 – $540
Garden Wing – Deluxe Room – Sleeps 4 – $635
Main Tower – Bay Lake View – Sleeps 3-5 – $660
Main Tower – Theme Park View – Sleeps 3-5 – $724
Atrium Club Level – Standard Room – Bay Lake View – Sleeps 3 or 5 – $858
Atrium Club Level -Standard room – Theme Park View – Sleeps 3-5 – $1,034
Concierge Access – Garden Wing – 1 Bedroom Suite – Sleeps 5 – $1,520
Concierge Access – Garden Wing – Hospitality Suite – Sleeps 5 or 7 – $1,610
Concierge Level – 1 Bedroom Suite – Bay Lake View – Sleeps 6 – $1,863
Concierge Level – 2 Bedroom Suite – Bay Lake View – Sleeps 8 – $2,828
October 27-31, 2019
Garden Wing – Standard View – Sleeps 3-5 – $432
Garden Wing – Garden View – Sleeps 3-5 – $459
Garden Wing – Deluxe Room – Sleeps 4 – $542
Main Tower – Bay Lake View – Sleeps 3-5 – $594
Main Tower – Theme Park View – Sleeps 3-5 – $661
Atrium Club Level – Standard Room – Bay Lake View – Sleeps 3 or 5 – $760
Atrium Club Level -Standard room – Theme Park View – Sleeps 3-5 – $872
Concierge Access – Garden Wing – 1 Bedroom Suite – Sleeps 5 – $1,258
Concierge Access – Garden Wing – Hospitality Suite – Sleeps 5 or 7 – $1,279
Concierge Level – 1 Bedroom Suite – Bay Lake View – Sleeps 6 – $1,536
Concierge Level – 2 Bedroom Suite – Bay Lake View – Sleeps 8 – $2,472
November 2019
November 1-2, 2019
Garden Wing – Standard View – Sleeps 3-5 – $507
Garden Wing – Garden View – Sleeps 3-5 – $515
Garden Wing – Deluxe Room – Sleeps 4 – $617
Main Tower – Bay Lake View – Sleeps 3-5 – $642
Main Tower – Theme Park View – Sleeps 3-5 – $719
Atrium Club Level – Standard Room – Bay Lake View – Sleeps 3 or 5 – $903
Atrium Club Level -Standard room – Theme Park View – Sleeps 3-5 – $978
Concierge Access – Garden Wing – 1 Bedroom Suite – Sleeps 5 – $1,438
Concierge Access – Garden Wing – Hospitality Suite – Sleeps 5 or 7 – $1,444
Concierge Level – 1 Bedroom Suite – Bay Lake View – Sleeps 6 – $1,733
Concierge Level – 2 Bedroom Suite – Bay Lake View – Sleeps 8 – $2,610
November 3-6, 2019
Garden Wing – Standard View – Sleeps 3-5 – $469
Garden Wing – Garden View – Sleeps 3-5 – $486
Garden Wing – Deluxe Room – Sleeps 4 – $560
Main Tower – Bay Lake View – Sleeps 3-5 – $659
Main Tower – Theme Park View – Sleeps 3-5 – $704
Atrium Club Level – Standard Room – Bay Lake View – Sleeps 3 or 5 – $850
Atrium Club Level -Standard room – Theme Park View – Sleeps 3-5 – $900
Concierge Access – Garden Wing – 1 Bedroom Suite – Sleeps 5 – $1,283
Concierge Access – Garden Wing – Hospitality Suite – Sleeps 5 or 7 – $1,317
Concierge Level – 1 Bedroom Suite – Bay Lake View – Sleeps 6 – $1,629
Concierge Level – 2 Bedroom Suite – Bay Lake View – Sleeps 8 – $2,478
November 7, 2019
Garden Wing – Standard View – Sleeps 3-5 – $479
Garden Wing – Garden View – Sleeps 3-5 – $493
Garden Wing – Deluxe Room – Sleeps 4 – $577
Main Tower – Bay Lake View – Sleeps 3-5 – $657
Main Tower – Theme Park View – Sleeps 3-5 – $708
Atrium Club Level – Standard Room – Bay Lake View – Sleeps 3 or 5 – $864
Atrium Club Level -Standard room – Theme Park View – Sleeps 3-5 – $919
Concierge Access – Garden Wing – 1 Bedroom Suite – Sleeps 5 – $1,324
Concierge Access – Garden Wing – Hospitality Suite – Sleeps 5 or 7 – $1,346
Concierge Level – 1 Bedroom Suite – Bay Lake View – Sleeps 6 – $1,658
Concierge Level – 2 Bedroom Suite – Bay Lake View – Sleeps 8 – $2,518
November 8-10, 2019
Garden Wing – Standard View – Sleeps 3-5 – $504
Garden Wing – Garden View – Sleeps 3-5 – $569
Garden Wing – Deluxe Room – Sleeps 4 – $648
Main Tower – Bay Lake View – Sleeps 3-5 – $699
Main Tower – Theme Park View – Sleeps 3-5 – $773
Atrium Club Level – Standard Room – Bay Lake View – Sleeps 3 or 5 – $890
Atrium Club Level -Standard room – Theme Park View – Sleeps 3-5 – $1,088
Concierge Access – Garden Wing – 1 Bedroom Suite – Sleeps 5 – $1,601
Concierge Access – Garden Wing – Hospitality Suite – Sleeps 5 or 7 – $1,726
Concierge Level – 1 Bedroom Suite – Bay Lake View – Sleeps 6 – $1,993
Concierge Level – 2 Bedroom Suite – Bay Lake View – Sleeps 8 – $2,899
November 11-14, 2019
Garden Wing – Standard View – Sleeps 3-5 – $432
Garden Wing – Garden View – Sleeps 3-5 – $459
Garden Wing – Deluxe Room – Sleeps 4 – $542
Main Tower – Bay Lake View – Sleeps 3-5 – $594
Main Tower – Theme Park View – Sleeps 3-5 – $661
Atrium Club Level – Standard Room – Bay Lake View – Sleeps 3 or 5 – $760
Atrium Club Level -Standard room – Theme Park View – Sleeps 3-5 – $872
Concierge Access – Garden Wing – 1 Bedroom Suite – Sleeps 5 – $1,258
Concierge Access – Garden Wing – Hospitality Suite – Sleeps 5 or 7 – $1,279
Concierge Level – 1 Bedroom Suite – Bay Lake View – Sleeps 6 – $1,536
Concierge Level – 2 Bedroom Suite – Bay Lake View – Sleeps 8 – $2,472
November 15-16, 2019
Garden Wing – Standard View – Sleeps 3-5 – $490
Garden Wing – Garden View – Sleeps 3-5 – $540
Garden Wing – Deluxe Room – Sleeps 4 – $635
Main Tower – Bay Lake View – Sleeps 3-5 – $660
Main Tower – Theme Park View – Sleeps 3-5 – $724
Atrium Club Level – Standard Room – Bay Lake View – Sleeps 3 or 5 – $858
Atrium Club Level -Standard room – Theme Park View – Sleeps 3-5 – $1,034
Concierge Access – Garden Wing – 1 Bedroom Suite – Sleeps 5 – $1,520
Concierge Access – Garden Wing – Hospitality Suite – Sleeps 5 or 7 – $1,610
Concierge Level – 1 Bedroom Suite – Bay Lake View – Sleeps 6 – $1,863
Concierge Level – 2 Bedroom Suite – Bay Lake View – Sleeps 8 – $2,828
November 17-21, 2019
Garden Wing – Standard View – Sleeps 3-5 – $432
Garden Wing – Garden View – Sleeps 3-5 – $459
Garden Wing – Deluxe Room – Sleeps 4 – $542
Main Tower – Bay Lake View – Sleeps 3-5 – $594
Main Tower – Theme Park View – Sleeps 3-5 – $661
Atrium Club Level – Standard Room – Bay Lake View – Sleeps 3 or 5 – $760
Atrium Club Level -Standard room – Theme Park View – Sleeps 3-5 – $872
Concierge Access – Garden Wing – 1 Bedroom Suite – Sleeps 5 – $1,258
Concierge Access – Garden Wing – Hospitality Suite – Sleeps 5 or 7 – $1,279
Concierge Level – 1 Bedroom Suite – Bay Lake View – Sleeps 6 – $1,536
Concierge Level – 2 Bedroom Suite – Bay Lake View – Sleeps 8 – $2,472
November 22-23, 2019
Garden Wing – Standard View – Sleeps 3-5 – $490
Garden Wing – Garden View – Sleeps 3-5 – $540
Garden Wing – Deluxe Room – Sleeps 4 – $635
Main Tower – Bay Lake View – Sleeps 3-5 – $660
Main Tower – Theme Park View – Sleeps 3-5 – $724
Atrium Club Level – Standard Room – Bay Lake View – Sleeps 3 or 5 – $858
Atrium Club Level -Standard room – Theme Park View – Sleeps 3-5 – $1,034
Concierge Access – Garden Wing – 1 Bedroom Suite – Sleeps 5 – $1,520
Concierge Access – Garden Wing – Hospitality Suite – Sleeps 5 or 7 – $1,610
Concierge Level – 1 Bedroom Suite – Bay Lake View – Sleeps 6 – $1,863
Concierge Level – 2 Bedroom Suite – Bay Lake View – Sleeps 8 – $2,828
November 24-25, 2019
Garden Wing – Standard View – Sleeps 3-5 – $432
Garden Wing – Garden View – Sleeps 3-5 – $459
Garden Wing – Deluxe Room – Sleeps 4 – $542
Main Tower – Bay Lake View – Sleeps 3-5 – $594
Main Tower – Theme Park View – Sleeps 3-5 – $661
Atrium Club Level – Standard Room – Bay Lake View – Sleeps 3 or 5 – $760
Atrium Club Level -Standard room – Theme Park View – Sleeps 3-5 – $872
Concierge Access – Garden Wing – 1 Bedroom Suite – Sleeps 5 – $1,258
Concierge Access – Garden Wing – Hospitality Suite – Sleeps 5 or 7 – $1,279
Concierge Level – 1 Bedroom Suite – Bay Lake View – Sleeps 6 – $1,536
Concierge Level – 2 Bedroom Suite – Bay Lake View – Sleeps 8 – $2,472
November 26-29, 2019
Garden Wing – Standard View – Sleeps 3-5 – $520
Garden Wing – Garden View – Sleeps 3-5 – $596
Garden Wing – Deluxe Room – Sleeps 4 – $664
Main Tower – Bay Lake View – Sleeps 3-5 – $718
Main Tower – Theme Park View – Sleeps 3-5 – $798
Atrium Club Level – Standard Room – Bay Lake View – Sleeps 3 or 5 – $932
Atrium Club Level -Standard room – Theme Park View – Sleeps 3-5 – $1,131
Concierge Access – Garden Wing – 1 Bedroom Suite – Sleeps 5 – $1,681
Concierge Access – Garden Wing – Hospitality Suite – Sleeps 5 or 7 – $1,850
Concierge Level – 1 Bedroom Suite – Bay Lake View – Sleeps 6 – $2,128
Concierge Level – 2 Bedroom Suite – Bay Lake View – Sleeps 8 – $2,997
November 30, 2019
Garden Wing – Standard View – Sleeps 3-5 – $490
Garden Wing – Garden View – Sleeps 3-5 – $540
Garden Wing – Deluxe Room – Sleeps 4 – $635
Main Tower – Bay Lake View – Sleeps 3-5 – $660
Main Tower – Theme Park View – Sleeps 3-5 – $724
Atrium Club Level – Standard Room – Bay Lake View – Sleeps 3 or 5 – $858
Atrium Club Level -Standard room – Theme Park View – Sleeps 3-5 – $1,034
Concierge Access – Garden Wing – 1 Bedroom Suite – Sleeps 5 – $1,520
Concierge Access – Garden Wing – Hospitality Suite – Sleeps 5 or 7 – $1,610
Concierge Level – 1 Bedroom Suite – Bay Lake View – Sleeps 6 – $1,863
Concierge Level – 2 Bedroom Suite – Bay Lake View – Sleeps 8 – $2,828
December 2019
December 1-5, 2019
Garden Wing – Standard View – Sleeps 3-5 – $432
Garden Wing – Garden View – Sleeps 3-5 – $459
Garden Wing – Deluxe Room – Sleeps 4 – $542
Main Tower – Bay Lake View – Sleeps 3-5 – $594
Main Tower – Theme Park View – Sleeps 3-5 – $661
Atrium Club Level – Standard Room – Bay Lake View – Sleeps 3 or 5 – $760
Atrium Club Level -Standard room – Theme Park View – Sleeps 3-5 – $872
Concierge Access – Garden Wing – 1 Bedroom Suite – Sleeps 5 – $1,258
Concierge Access – Garden Wing – Hospitality Suite – Sleeps 5 or 7 – $1,279
Concierge Level – 1 Bedroom Suite – Bay Lake View – Sleeps 6 – $1,536
Concierge Level – 2 Bedroom Suite – Bay Lake View – Sleeps 8 – $2,472
December 6-7, 2019
Garden Wing – Standard View – Sleeps 3-5 – $490
Garden Wing – Garden View – Sleeps 3-5 – $540
Garden Wing – Deluxe Room – Sleeps 4 – $635
Main Tower – Bay Lake View – Sleeps 3-5 – $660
Main Tower – Theme Park View – Sleeps 3-5 – $724
Atrium Club Level – Standard Room – Bay Lake View – Sleeps 3 or 5 – $858
Atrium Club Level -Standard room – Theme Park View – Sleeps 3-5 – $1,034
Concierge Access – Garden Wing – 1 Bedroom Suite – Sleeps 5 – $1,520
Concierge Access – Garden Wing – Hospitality Suite – Sleeps 5 or 7 – $1,610
Concierge Level – 1 Bedroom Suite – Bay Lake View – Sleeps 6 – $1,863
Concierge Level – 2 Bedroom Suite – Bay Lake View – Sleeps 8 – $2,828
December 8-11, 2019
Garden Wing – Standard View – Sleeps 3-5 – $474
Garden Wing – Garden View – Sleeps 3-5 – $482
Garden Wing – Deluxe Room – Sleeps 4 – $554
Main Tower – Bay Lake View – Sleeps 3-5 – $611
Main Tower – Theme Park View – Sleeps 3-5 – $678
Atrium Club Level – Standard Room – Bay Lake View – Sleeps 3 or 5 – $842
Atrium Club Level -Standard room – Theme Park View – Sleeps 3-5 – $893
Concierge Access – Garden Wing – 1 Bedroom Suite – Sleeps 5 – $1271
Concierge Access – Garden Wing – Hospitality Suite – Sleeps 5 or 7 – $1,307
Concierge Level – 1 Bedroom Suite – Bay Lake View – Sleeps 6 – $1,617
Concierge Level – 2 Bedroom Suite – Bay Lake View – Sleeps 8 – $2,458
December 12, 2019
Garden Wing – Standard View – Sleeps 3-5 – $474
Garden Wing – Garden View – Sleeps 3-5 – $491
Garden Wing – Deluxe Room – Sleeps 4 – $570
Main Tower – Bay Lake View – Sleeps 3-5 – $633
Main Tower – Theme Park View – Sleeps 3-5 – $689
Atrium Club Level – Standard Room – Bay Lake View – Sleeps 3 or 5 – $855
Atrium Club Level -Standard room – Theme Park View – Sleeps 3-5 – $915
Concierge Access – Garden Wing – 1 Bedroom Suite – Sleeps 5 – $1,311
Concierge Access – Garden Wing – Hospitality Suite – Sleeps 5 or 7 – $1,340
Concierge Level – 1 Bedroom Suite – Bay Lake View – Sleeps 6 – $1,651
Concierge Level – 2 Bedroom Suite – Bay Lake View – Sleeps 8 – $2,495
December 13-14, 2019
Garden Wing – Standard View – Sleeps 3-5 – $527
Garden Wing – Garden View – Sleeps 3-5 – $595
Garden Wing – Deluxe Room – Sleeps 4 – $664
Main Tower – Bay Lake View – Sleeps 3-5 – $766
Main Tower – Theme Park View – Sleeps 3-5 – $818
Atrium Club Level – Standard Room – Bay Lake View – Sleeps 3 or 5 – $1,030
Atrium Club Level -Standard room – Theme Park View – Sleeps 3-5 – $1,081
Concierge Access – Garden Wing – 1 Bedroom Suite – Sleeps 5 – $1,547
Concierge Access – Garden Wing – Hospitality Suite – Sleeps 5 or 7 – $1,614
Concierge Level – 1 Bedroom Suite – Bay Lake View – Sleeps 6 – $1,932
Concierge Level – 2 Bedroom Suite – Bay Lake View – Sleeps 8 – $2,858
December 15-19, 2019
Garden Wing – Standard View – Sleeps 3-5 – $477
Garden Wing – Garden View – Sleeps 3-5 – $534
Garden Wing – Deluxe Room – Sleeps 4 – $599
Main Tower – Bay Lake View – Sleeps 3-5 – $686
Main Tower – Theme Park View – Sleeps 3-5 – $738
Atrium Club Level – Standard Room – Bay Lake View – Sleeps 3 or 5 – $902
Atrium Club Level -Standard room – Theme Park View – Sleeps 3-5 – $987
Concierge Access – Garden Wing – 1 Bedroom Suite – Sleeps 5 – $1,438
Concierge Access – Garden Wing – Hospitality Suite – Sleeps 5 or 7 – $1,506
Concierge Level – 1 Bedroom Suite – Bay Lake View – Sleeps 6 – $1,792
Concierge Level – 2 Bedroom Suite – Bay Lake View – Sleeps 8 – $2,634
December 20-31, 2019
Garden Wing – Standard View – Sleeps 3-5 – $647
Garden Wing – Garden View – Sleeps 3-5 – $706
Garden Wing – Deluxe Room – Sleeps 4 – $746
Main Tower – Bay Lake View – Sleeps 3-5 – $792
Main Tower – Theme Park View – Sleeps 3-5 – $878
Atrium Club Level – Standard Room – Bay Lake View – Sleeps 3 or 5 – $1,010
Atrium Club Level -Standard room – Theme Park View – Sleeps 3-5 – $1,193
Concierge Access – Garden Wing – 1 Bedroom Suite – Sleeps 5 – $1,818
Concierge Access – Garden Wing – Hospitality Suite – Sleeps 5 or 7 – $1,965
Concierge Level – 1 Bedroom Suite – Bay Lake View – Sleeps 6 – $2,265
Concierge Level – 2 Bedroom Suite – Bay Lake View – Sleeps 8 – $3,542
2020 Disney's Contemporary Resort Rates
12.5% tax not included – rates subject to change
January 2020
January 1, 2020
Garden Wing – Standard View – Sleeps 3-5 – $684
Garden Wing – Garden View – Sleeps 3-5 – $728
Garden Wing – Deluxe Room – Sleeps 4 – $766
Main Tower – Bay Lake View – Sleeps 3-5 – $802
Main Tower – Theme Park View – Sleeps 3-5 – $918
Atrium Club Level – Standard Room – Bay Lake View – Sleeps 3 or 5 – $1056
Atrium Club Level -Standard room – Theme Park View – Sleeps 3-5 – $1267
Concierge Access – Garden Wing – 1 Bedroom Suite – Sleeps 5 – $1989
Concierge Access – Garden Wing – Hospitality Suite – Sleeps 5 or 7 – $2147
Concierge Level – 1 Bedroom Suite – Bay Lake View – Sleeps 6 – $2504
Concierge Level – 2 Bedroom Suite – Bay Lake View – Sleeps 8 – $3625
January 2, 2020
Garden Wing – Standard View – Sleeps 3-5 – $445
Garden Wing – Garden View – Sleeps 3-5 – $461
Garden Wing – Deluxe Room – Sleeps 4 – $545
Main Tower – Bay Lake View – Sleeps 3-5 – $628
Main Tower – Theme Park View – Sleeps 3-5 – $701
Atrium Club Level – Standard Room – Bay Lake View – Sleeps 3 or 5 – $811
Atrium Club Level -Standard room – Theme Park View – Sleeps 3-5 – $875
Concierge Access – Garden Wing – 1 Bedroom Suite – Sleeps 5 – $1238
Concierge Access – Garden Wing – Hospitality Suite – Sleeps 5 or 7 – $1297
Concierge Level – 1 Bedroom Suite – Bay Lake View – Sleeps 6 – $1588
Concierge Level – 2 Bedroom Suite – Bay Lake View – Sleeps 8 – $2333
January 3-4, 2020
Garden Wing – Standard View – Sleeps 3-5 – $454
Garden Wing – Garden View – Sleeps 3-5 – $499
Garden Wing – Deluxe Room – Sleeps 4 – $580
Main Tower – Bay Lake View – Sleeps 3-5 – $641
Main Tower – Theme Park View – Sleeps 3-5 – $715
Atrium Club Level – Standard Room – Bay Lake View – Sleeps 3 or 5 – $846
Atrium Club Level -Standard room – Theme Park View – Sleeps 3-5 – $934
Concierge Access – Garden Wing – 1 Bedroom Suite – Sleeps 5 – $1298
Concierge Access – Garden Wing – Hospitality Suite – Sleeps 5 or 7 – $1356
Concierge Level – 1 Bedroom Suite – Bay Lake View – Sleeps 6 – $1635
Concierge Level – 2 Bedroom Suite – Bay Lake View – Sleeps 8 – $2415
January 5, 2020
Garden Wing – Standard View – Sleeps 3-5 – $443
Garden Wing – Garden View – Sleeps 3-5 – $448
Garden Wing – Deluxe Room – Sleeps 4 – $534
Main Tower – Bay Lake View – Sleeps 3-5 – $622
Main Tower – Theme Park View – Sleeps 3-5 – $697
Atrium Club Level – Standard Room – Bay Lake View – Sleeps 3 or 5 – $802
Atrium Club Level -Standard room – Theme Park View – Sleeps 3-5 – $849
Concierge Access – Garden Wing – 1 Bedroom Suite – Sleeps 5 – $1214
Concierge Access – Garden Wing – Hospitality Suite – Sleeps 5 or 7 – $1281
Concierge Level – 1 Bedroom Suite – Bay Lake View – Sleeps 6 – $1574
Concierge Level – 2 Bedroom Suite – Bay Lake View – Sleeps 8 – $2293
January 6-8, 2020
Garden Wing – Standard View – Sleeps 3-5 – $445
Garden Wing – Garden View – Sleeps 3-5 – $461
Garden Wing – Deluxe Room – Sleeps 4 – $545
Main Tower – Bay Lake View – Sleeps 3-5 – $628
Main Tower – Theme Park View – Sleeps 3-5 – $701
Atrium Club Level – Standard Room – Bay Lake View – Sleeps 3 or 5 – $811
Atrium Club Level -Standard room – Theme Park View – Sleeps 3-5 – $875
Concierge Access – Garden Wing – 1 Bedroom Suite – Sleeps 5 – $1238
Concierge Access – Garden Wing – Hospitality Suite – Sleeps 5 or 7 – $1297
Concierge Level – 1 Bedroom Suite – Bay Lake View – Sleeps 6 – $1588
Concierge Level – 2 Bedroom Suite – Bay Lake View – Sleeps 8 – $2333
January 9-11, 2020
Garden Wing – Standard View – Sleeps 3-5 – $533
Garden Wing – Garden View – Sleeps 3-5 – $551
Garden Wing – Deluxe Room – Sleeps 4 – $705
Main Tower – Bay Lake View – Sleeps 3-5 – $729
Main Tower – Theme Park View – Sleeps 3-5 – $801
Atrium Club Level – Standard Room – Bay Lake View – Sleeps 3 or 5 – $968
Atrium Club Level -Standard room – Theme Park View – Sleeps 3-5 – $1099
Concierge Access – Garden Wing – 1 Bedroom Suite – Sleeps 5 – $1534
Concierge Access – Garden Wing – Hospitality Suite – Sleeps 5 or 7 – $1633
Concierge Level – 1 Bedroom Suite – Bay Lake View – Sleeps 6 – $1981
Concierge Level – 2 Bedroom Suite – Bay Lake View – Sleeps 8 – $2765
January 12-15, 2020
Garden Wing – Standard View – Sleeps 3-5 – $443
Garden Wing – Garden View – Sleeps 3-5 – $448
Garden Wing – Deluxe Room – Sleeps 4 – $534
Main Tower – Bay Lake View – Sleeps 3-5 – $622
Main Tower – Theme Park View – Sleeps 3-5 – $697
Atrium Club Level – Standard Room – Bay Lake View – Sleeps 3 or 5 – $802
Atrium Club Level -Standard room – Theme Park View – Sleeps 3-5 – $849
Concierge Access – Garden Wing – 1 Bedroom Suite – Sleeps 5 – $1214
Concierge Access – Garden Wing – Hospitality Suite – Sleeps 5 or 7 – $1281
Concierge Level – 1 Bedroom Suite – Bay Lake View – Sleeps 6 – $1574
Concierge Level – 2 Bedroom Suite – Bay Lake View – Sleeps 8 – $2293
January 16, 2020
Garden Wing – Standard View – Sleeps 3-5 – $445
Garden Wing – Garden View – Sleeps 3-5 – $461
Garden Wing – Deluxe Room – Sleeps 4 – $545
Main Tower – Bay Lake View – Sleeps 3-5 – $628
Main Tower – Theme Park View – Sleeps 3-5 – $701
Atrium Club Level – Standard Room – Bay Lake View – Sleeps 3 or 5 – $811
Atrium Club Level -Standard room – Theme Park View – Sleeps 3-5 – $875
Concierge Access – Garden Wing – 1 Bedroom Suite – Sleeps 5 – $1238
Concierge Access – Garden Wing – Hospitality Suite – Sleeps 5 or 7 – $1297
Concierge Level – 1 Bedroom Suite – Bay Lake View – Sleeps 6 – $1588
Concierge Level – 2 Bedroom Suite – Bay Lake View – Sleeps 8 – $2333
January 17-19, 2020
Garden Wing – Standard View – Sleeps 3-5 – $537
Garden Wing – Garden View – Sleeps 3-5 – $576
Garden Wing – Deluxe Room – Sleeps 4 – $707
Main Tower – Bay Lake View – Sleeps 3-5 – $709
Main Tower – Theme Park View – Sleeps 3-5 – $827
Atrium Club Level – Standard Room – Bay Lake View – Sleeps 3 or 5 – $951
Atrium Club Level -Standard room – Theme Park View – Sleeps 3-5 – $1043
Concierge Access – Garden Wing – 1 Bedroom Suite – Sleeps 5 – $1536
Concierge Access – Garden Wing – Hospitality Suite – Sleeps 5 or 7 – $1356
Concierge Level – 1 Bedroom Suite – Bay Lake View – Sleeps 6 – $1981
Concierge Level – 2 Bedroom Suite – Bay Lake View – Sleeps 8 – $2765
January 20-22, 2020
Garden Wing – Standard View – Sleeps 3-5 – $443
Garden Wing – Garden View – Sleeps 3-5 – $448
Garden Wing – Deluxe Room – Sleeps 4 – $534
Main Tower – Bay Lake View – Sleeps 3-5 – $622
Main Tower – Theme Park View – Sleeps 3-5 – $697
Atrium Club Level – Standard Room – Bay Lake View – Sleeps 3 or 5 – $802
Atrium Club Level -Standard room – Theme Park View – Sleeps 3-5 – $849
Concierge Access – Garden Wing – 1 Bedroom Suite – Sleeps 5 – $1214
Concierge Access – Garden Wing – Hospitality Suite – Sleeps 5 or 7 – $1281
Concierge Level – 1 Bedroom Suite – Bay Lake View – Sleeps 6 – $1574
Concierge Level – 2 Bedroom Suite – Bay Lake View – Sleeps 8 – $2293
January 23, 2020
Garden Wing – Standard View – Sleeps 3-5 – $445
Garden Wing – Garden View – Sleeps 3-5 – $461
Garden Wing – Deluxe Room – Sleeps 4 – $545
Main Tower – Bay Lake View – Sleeps 3-5 – $628
Main Tower – Theme Park View – Sleeps 3-5 – $701
Atrium Club Level – Standard Room – Bay Lake View – Sleeps 3 or 5 – $811
Atrium Club Level -Standard room – Theme Park View – Sleeps 3-5 – $875
Concierge Access – Garden Wing – 1 Bedroom Suite – Sleeps 5 – $1238
Concierge Access – Garden Wing – Hospitality Suite – Sleeps 5 or 7 – $1297
Concierge Level – 1 Bedroom Suite – Bay Lake View – Sleeps 6 – $1588
Concierge Level – 2 Bedroom Suite – Bay Lake View – Sleeps 8 – $2333
January 24-25, 2020
Garden Wing – Standard View – Sleeps 3-5 – $454
Garden Wing – Garden View – Sleeps 3-5 – $499
Garden Wing – Deluxe Room – Sleeps 4 – $580
Main Tower – Bay Lake View – Sleeps 3-5 – $641
Main Tower – Theme Park View – Sleeps 3-5 – $715
Atrium Club Level – Standard Room – Bay Lake View – Sleeps 3 or 5 – $846
Atrium Club Level -Standard room – Theme Park View – Sleeps 3-5 – $934
Concierge Access – Garden Wing – 1 Bedroom Suite – Sleeps 5 – $1298
Concierge Access – Garden Wing – Hospitality Suite – Sleeps 5 or 7 – $1356
Concierge Level – 1 Bedroom Suite – Bay Lake View – Sleeps 6 – $1635
Concierge Level – 2 Bedroom Suite – Bay Lake View – Sleeps 8 – $2415
January 26-29, 2020
Garden Wing – Standard View – Sleeps 3-5 – $443
Garden Wing – Garden View – Sleeps 3-5 – $448
Garden Wing – Deluxe Room – Sleeps 4 – $534
Main Tower – Bay Lake View – Sleeps 3-5 – $622
Main Tower – Theme Park View – Sleeps 3-5 – $697
Atrium Club Level – Standard Room – Bay Lake View – Sleeps 3 or 5 – $802
Atrium Club Level -Standard room – Theme Park View – Sleeps 3-5 – $849
Concierge Access – Garden Wing – 1 Bedroom Suite – Sleeps 5 – $1214
Concierge Access – Garden Wing – Hospitality Suite – Sleeps 5 or 7 – $1281
Concierge Level – 1 Bedroom Suite – Bay Lake View – Sleeps 6 – $1574
Concierge Level – 2 Bedroom Suite – Bay Lake View – Sleeps 8 – $2293
January 30, 2020
Garden Wing – Standard View – Sleeps 3-5 – $445
Garden Wing – Garden View – Sleeps 3-5 – $461
Garden Wing – Deluxe Room – Sleeps 4 – $545
Main Tower – Bay Lake View – Sleeps 3-5 – $628
Main Tower – Theme Park View – Sleeps 3-5 – $701
Atrium Club Level – Standard Room – Bay Lake View – Sleeps 3 or 5 – $811
Atrium Club Level -Standard room – Theme Park View – Sleeps 3-5 – $875
Concierge Access – Garden Wing – 1 Bedroom Suite – Sleeps 5 – $1238
Concierge Access – Garden Wing – Hospitality Suite – Sleeps 5 or 7 – $1297
Concierge Level – 1 Bedroom Suite – Bay Lake View – Sleeps 6 – $1588
Concierge Level – 2 Bedroom Suite – Bay Lake View – Sleeps 8 – $2333
January 31, 2020
Garden Wing – Standard View – Sleeps 3-5 – $454
Garden Wing – Garden View – Sleeps 3-5 – $499
Garden Wing – Deluxe Room – Sleeps 4 – $580
Main Tower – Bay Lake View – Sleeps 3-5 – $641
Main Tower – Theme Park View – Sleeps 3-5 – $715
Atrium Club Level – Standard Room – Bay Lake View – Sleeps 3 or 5 – $846
Atrium Club Level -Standard room – Theme Park View – Sleeps 3-5 – $934
Concierge Access – Garden Wing – 1 Bedroom Suite – Sleeps 5 – $1298
Concierge Access – Garden Wing – Hospitality Suite – Sleeps 5 or 7 – $1356
Concierge Level – 1 Bedroom Suite – Bay Lake View – Sleeps 6 – $1635
Concierge Level – 2 Bedroom Suite – Bay Lake View – Sleeps 8 – $2415
February 2020
February 1, 2020
Garden Wing – Standard View – Sleeps 3-5 – $454
Garden Wing – Garden View – Sleeps 3-5 – $499
Garden Wing – Deluxe Room – Sleeps 4 – $580
Main Tower – Bay Lake View – Sleeps 3-5 – $641
Main Tower – Theme Park View – Sleeps 3-5 – $715
Atrium Club Level – Standard Room – Bay Lake View – Sleeps 3 or 5 – $846
Atrium Club Level -Standard room – Theme Park View – Sleeps 3-5 – $934
Concierge Access – Garden Wing – 1 Bedroom Suite – Sleeps 5 – $1298
Concierge Access – Garden Wing – Hospitality Suite – Sleeps 5 or 7 – $1356
Concierge Level – 1 Bedroom Suite – Bay Lake View – Sleeps 6 – $1635
Concierge Level – 2 Bedroom Suite – Bay Lake View – Sleeps 8 – $2415
February 2-5, 2020
Garden Wing – Standard View – Sleeps 3-5 – $443
Garden Wing – Garden View – Sleeps 3-5 – $448
Garden Wing – Deluxe Room – Sleeps 4 – $534
Main Tower – Bay Lake View – Sleeps 3-5 – $622
Main Tower – Theme Park View – Sleeps 3-5 – $697
Atrium Club Level – Standard Room – Bay Lake View – Sleeps 3 or 5 – $802
Atrium Club Level -Standard room – Theme Park View – Sleeps 3-5 – $849
Concierge Access – Garden Wing – 1 Bedroom Suite – Sleeps 5 – $1214
Concierge Access – Garden Wing – Hospitality Suite – Sleeps 5 or 7 – $1281
Concierge Level – 1 Bedroom Suite – Bay Lake View – Sleeps 6 – $1574
Concierge Level – 2 Bedroom Suite – Bay Lake View – Sleeps 8 – $2293
February 6, 2020
Garden Wing – Standard View – Sleeps 3-5 – $445
Garden Wing – Garden View – Sleeps 3-5 – $461
Garden Wing – Deluxe Room – Sleeps 4 – $545
Main Tower – Bay Lake View – Sleeps 3-5 – $628
Main Tower – Theme Park View – Sleeps 3-5 – $701
Atrium Club Level – Standard Room – Bay Lake View – Sleeps 3 or 5 – $811
Atrium Club Level -Standard room – Theme Park View – Sleeps 3-5 – $875
Concierge Access – Garden Wing – 1 Bedroom Suite – Sleeps 5 – $1238
Concierge Access – Garden Wing – Hospitality Suite – Sleeps 5 or 7 – $1297
Concierge Level – 1 Bedroom Suite – Bay Lake View – Sleeps 6 – $1588
Concierge Level – 2 Bedroom Suite – Bay Lake View – Sleeps 8 – $2333
February 7-8, 2020
Garden Wing – Standard View – Sleeps 3-5 – $454
Garden Wing – Garden View – Sleeps 3-5 – $499
Garden Wing – Deluxe Room – Sleeps 4 – $580
Main Tower – Bay Lake View – Sleeps 3-5 – $641
Main Tower – Theme Park View – Sleeps 3-5 – $715
Atrium Club Level – Standard Room – Bay Lake View – Sleeps 3 or 5 – $846
Atrium Club Level -Standard room – Theme Park View – Sleeps 3-5 – $934
Concierge Access – Garden Wing – 1 Bedroom Suite – Sleeps 5 – $1298
Concierge Access – Garden Wing – Hospitality Suite – Sleeps 5 or 7 – $1356
Concierge Level – 1 Bedroom Suite – Bay Lake View – Sleeps 6 – $1635
Concierge Level – 2 Bedroom Suite – Bay Lake View – Sleeps 8 – $2415
February 9-12, 2020
Garden Wing – Standard View – Sleeps 3-5 – $443
Garden Wing – Garden View – Sleeps 3-5 – $448
Garden Wing – Deluxe Room – Sleeps 4 – $534
Main Tower – Bay Lake View – Sleeps 3-5 – $622
Main Tower – Theme Park View – Sleeps 3-5 – $697
Atrium Club Level – Standard Room – Bay Lake View – Sleeps 3 or 5 – $802
Atrium Club Level -Standard room – Theme Park View – Sleeps 3-5 – $849
Concierge Access – Garden Wing – 1 Bedroom Suite – Sleeps 5 – $1214
Concierge Access – Garden Wing – Hospitality Suite – Sleeps 5 or 7 – $1281
Concierge Level – 1 Bedroom Suite – Bay Lake View – Sleeps 6 – $1574
Concierge Level – 2 Bedroom Suite – Bay Lake View – Sleeps 8 – $2293
February 13, 2020
Garden Wing – Standard View – Sleeps 3-5 – $528
Garden Wing – Garden View – Sleeps 3-5 – $589
Garden Wing – Deluxe Room – Sleeps 4 – $661
Main Tower – Bay Lake View – Sleeps 3-5 – $761
Main Tower – Theme Park View – Sleeps 3-5 – $818
Atrium Club Level – Standard Room – Bay Lake View – Sleeps 3 or 5 – $1012
Atrium Club Level -Standard room – Theme Park View – Sleeps 3-5 – $1109
Concierge Access – Garden Wing – 1 Bedroom Suite – Sleeps 5 – $1570
Concierge Access – Garden Wing – Hospitality Suite – Sleeps 5 or 7 – $1635
Concierge Level – 1 Bedroom Suite – Bay Lake View – Sleeps 6 – $1975
Concierge Level – 2 Bedroom Suite – Bay Lake View – Sleeps 8 – $2899
February 14-16, 2020
Garden Wing – Standard View – Sleeps 3-5 – $582
Garden Wing – Garden View – Sleeps 3-5 – $650
Garden Wing – Deluxe Room – Sleeps 4 – $782
Main Tower – Bay Lake View – Sleeps 3-5 – $842
Main Tower – Theme Park View – Sleeps 3-5 – $896
Atrium Club Level – Standard Room – Bay Lake View – Sleeps 3 or 5 – $1143
Atrium Club Level -Standard room – Theme Park View – Sleeps 3-5 – $1126
Concierge Access – Garden Wing – 1 Bedroom Suite – Sleeps 5 – $1762
Concierge Access – Garden Wing – Hospitality Suite – Sleeps 5 or 7 – $2113
Concierge Level – 1 Bedroom Suite – Bay Lake View – Sleeps 6 – $2432
Concierge Level – 2 Bedroom Suite – Bay Lake View – Sleeps 8 – $3396
February 17-19, 2020
Garden Wing – Standard View – Sleeps 3-5 – $515
Garden Wing – Garden View – Sleeps 3-5 – $571
Garden Wing – Deluxe Room – Sleeps 4 – $645
Main Tower – Bay Lake View – Sleeps 3-5 – $740
Main Tower – Theme Park View – Sleeps 3-5 – $797
Atrium Club Level – Standard Room – Bay Lake View – Sleeps 3 or 5 – $978
Atrium Club Level -Standard room – Theme Park View – Sleeps 3-5 – $1073
Concierge Access – Garden Wing – 1 Bedroom Suite – Sleeps 5 – $1539
Concierge Access – Garden Wing – Hospitality Suite – Sleeps 5 or 7 – $1611
Concierge Level – 1 Bedroom Suite – Bay Lake View – Sleeps 6 – $1927
Concierge Level – 2 Bedroom Suite – Bay Lake View – Sleeps 8 – $2843
February 20-22, 2020
Garden Wing – Standard View – Sleeps 3-5 – $582
Garden Wing – Garden View – Sleeps 3-5 – $650
Garden Wing – Deluxe Room – Sleeps 4 – $782
Main Tower – Bay Lake View – Sleeps 3-5 – $842
Main Tower – Theme Park View – Sleeps 3-5 – $896
Atrium Club Level – Standard Room – Bay Lake View – Sleeps 3 or 5 – $1143
Atrium Club Level -Standard room – Theme Park View – Sleeps 3-5 – $1126
Concierge Access – Garden Wing – 1 Bedroom Suite – Sleeps 5 – $1762
Concierge Access – Garden Wing – Hospitality Suite – Sleeps 5 or 7 – $2113
Concierge Level – 1 Bedroom Suite – Bay Lake View – Sleeps 6 – $2432
Concierge Level – 2 Bedroom Suite – Bay Lake View – Sleeps 8 – $3396
February 23-26, 2020
Garden Wing – Standard View – Sleeps 3-5 – $509
Garden Wing – Garden View – Sleeps 3-5 – $526
Garden Wing – Deluxe Room – Sleeps 4 – $603
Main Tower – Bay Lake View – Sleeps 3-5 – $685
Main Tower – Theme Park View – Sleeps 3-5 – $739
Atrium Club Level – Standard Room – Bay Lake View – Sleeps 3 or 5 – $918
Atrium Club Level -Standard room – Theme Park View – Sleeps 3-5 – $980
Concierge Access – Garden Wing – 1 Bedroom Suite – Sleeps 5 – $1383
Concierge Access – Garden Wing – Hospitality Suite – Sleeps 5 or 7 – $1422
Concierge Level – 1 Bedroom Suite – Bay Lake View – Sleeps 6 – $1763
Concierge Level – 2 Bedroom Suite – Bay Lake View – Sleeps 8 – $2686
February 27, 2020
Garden Wing – Standard View – Sleeps 3-5 – $521
Garden Wing – Garden View – Sleeps 3-5 – $547
Garden Wing – Deluxe Room – Sleeps 4 – $622
Main Tower – Bay Lake View – Sleeps 3-5 – $695
Main Tower – Theme Park View – Sleeps 3-5 – $767
Atrium Club Level – Standard Room – Bay Lake View – Sleeps 3 or 5 – $932
Atrium Club Level -Standard room – Theme Park View – Sleeps 3-5 – $1015
Concierge Access – Garden Wing – 1 Bedroom Suite – Sleeps 5 – $1427
Concierge Access – Garden Wing – Hospitality Suite – Sleeps 5 or 7 – $1461
Concierge Level – 1 Bedroom Suite – Bay Lake View – Sleeps 6 – $1786
Concierge Level – 2 Bedroom Suite – Bay Lake View – Sleeps 8 – $2720
February 28-29, 2020
Garden Wing – Standard View – Sleeps 3-5 – $551
Garden Wing – Garden View – Sleeps 3-5 – $608
Garden Wing – Deluxe Room – Sleeps 4 – $670
Main Tower – Bay Lake View – Sleeps 3-5 – $720
Main Tower – Theme Park View – Sleeps 3-5 – $844
Atrium Club Level – Standard Room – Bay Lake View – Sleeps 3 or 5 – $977
Atrium Club Level -Standard room – Theme Park View – Sleeps 3-5 – $1104
Concierge Access – Garden Wing – 1 Bedroom Suite – Sleeps 5 – $1551
Concierge Access – Garden Wing – Hospitality Suite – Sleeps 5 or 7 – $1554
Concierge Level – 1 Bedroom Suite – Bay Lake View – Sleeps 6 – $1859
Concierge Level – 2 Bedroom Suite – Bay Lake View – Sleeps 8 – $2816
March 2020
March 1-4, 2020
Garden Wing – Standard View – Sleeps 3-5 – $509
Garden Wing – Garden View – Sleeps 3-5 – $526
Garden Wing – Deluxe Room – Sleeps 4 – $603
Main Tower – Bay Lake View – Sleeps 3-5 – $685
Main Tower – Theme Park View – Sleeps 3-5 – $739
Atrium Club Level – Standard Room – Bay Lake View – Sleeps 3 or 5 – $918
Atrium Club Level -Standard room – Theme Park View – Sleeps 3-5 – $980
Concierge Access – Garden Wing – 1 Bedroom Suite – Sleeps 5 – $1383
Concierge Access – Garden Wing – Hospitality Suite – Sleeps 5 or 7 – $1422
Concierge Level – 1 Bedroom Suite – Bay Lake View – Sleeps 6 – $1763
Concierge Level – 2 Bedroom Suite – Bay Lake View – Sleeps 8 – $2686
March 5, 2020
Garden Wing – Standard View – Sleeps 3-5 – $521
Garden Wing – Garden View – Sleeps 3-5 – $547
Garden Wing – Deluxe Room – Sleeps 4 – $622
Main Tower – Bay Lake View – Sleeps 3-5 – $695
Main Tower – Theme Park View – Sleeps 3-5 – $767
Atrium Club Level – Standard Room – Bay Lake View – Sleeps 3 or 5 – $932
Atrium Club Level -Standard room – Theme Park View – Sleeps 3-5 – $1015
Concierge Access – Garden Wing – 1 Bedroom Suite – Sleeps 5 – $1427
Concierge Access – Garden Wing – Hospitality Suite – Sleeps 5 or 7 – $1461
Concierge Level – 1 Bedroom Suite – Bay Lake View – Sleeps 6 – $1786
Concierge Level – 2 Bedroom Suite – Bay Lake View – Sleeps 8 – $2720
March 6-7, 2020
Garden Wing – Standard View – Sleeps 3-5 – $569
Garden Wing – Garden View – Sleeps 3-5 – $640
Garden Wing – Deluxe Room – Sleeps 4 – $711
Main Tower – Bay Lake View – Sleeps 3-5 – $822
Main Tower – Theme Park View – Sleeps 3-5 – $880
Atrium Club Level – Standard Room – Bay Lake View – Sleeps 3 or 5 – $1111
Atrium Club Level -Standard room – Theme Park View – Sleeps 3-5 – $1210
Concierge Access – Garden Wing – 1 Bedroom Suite – Sleeps 5 – $1656
Concierge Access – Garden Wing – Hospitality Suite – Sleeps 5 or 7 – $1724
Concierge Level – 1 Bedroom Suite – Bay Lake View – Sleeps 6 – $2074
Concierge Level – 2 Bedroom Suite – Bay Lake View – Sleeps 8 – $3074
March 8-11, 2020
Garden Wing – Standard View – Sleeps 3-5 – $515
Garden Wing – Garden View – Sleeps 3-5 – $571
Garden Wing – Deluxe Room – Sleeps 4 – $645
Main Tower – Bay Lake View – Sleeps 3-5 – $740
Main Tower – Theme Park View – Sleeps 3-5 – $797
Atrium Club Level – Standard Room – Bay Lake View – Sleeps 3 or 5 – $978
Atrium Club Level -Standard room – Theme Park View – Sleeps 3-5 – $1073
Concierge Access – Garden Wing – 1 Bedroom Suite – Sleeps 5 – $1539
Concierge Access – Garden Wing – Hospitality Suite – Sleeps 5 or 7 – $1611
Concierge Level – 1 Bedroom Suite – Bay Lake View – Sleeps 6 – $1927
Concierge Level – 2 Bedroom Suite – Bay Lake View – Sleeps 8 – $2843
March 12, 2020
Garden Wing – Standard View – Sleeps 3-5 – $528
Garden Wing – Garden View – Sleeps 3-5 – $589
Garden Wing – Deluxe Room – Sleeps 4 – $661
Main Tower – Bay Lake View – Sleeps 3-5 – $761
Main Tower – Theme Park View – Sleeps 3-5 – $818
Atrium Club Level – Standard Room – Bay Lake View – Sleeps 3 or 5 – $1012
Atrium Club Level -Standard room – Theme Park View – Sleeps 3-5 – $1109
Concierge Access – Garden Wing – 1 Bedroom Suite – Sleeps 5 – $1570
Concierge Access – Garden Wing – Hospitality Suite – Sleeps 5 or 7 – $1635
Concierge Level – 1 Bedroom Suite – Bay Lake View – Sleeps 6 – $1975
Concierge Level – 2 Bedroom Suite – Bay Lake View – Sleeps 8 – $2899
March 13-14, 2020
Garden Wing – Standard View – Sleeps 3-5 – $569
Garden Wing – Garden View – Sleeps 3-5 – $640
Garden Wing – Deluxe Room – Sleeps 4 – $711
Main Tower – Bay Lake View – Sleeps 3-5 – $822
Main Tower – Theme Park View – Sleeps 3-5 – $880
Atrium Club Level – Standard Room – Bay Lake View – Sleeps 3 or 5 – $1111
Atrium Club Level -Standard room – Theme Park View – Sleeps 3-5 – $1210
Concierge Access – Garden Wing – 1 Bedroom Suite – Sleeps 5 – $1656
Concierge Access – Garden Wing – Hospitality Suite – Sleeps 5 or 7 – $1724
Concierge Level – 1 Bedroom Suite – Bay Lake View – Sleeps 6 – $2074
Concierge Level – 2 Bedroom Suite – Bay Lake View – Sleeps 8 – $3074
March 15-18, 2020
Garden Wing – Standard View – Sleeps 3-5 – $515
Garden Wing – Garden View – Sleeps 3-5 – $571
Garden Wing – Deluxe Room – Sleeps 4 – $645
Main Tower – Bay Lake View – Sleeps 3-5 – $740
Main Tower – Theme Park View – Sleeps 3-5 – $797
Atrium Club Level – Standard Room – Bay Lake View – Sleeps 3 or 5 – $978
Atrium Club Level -Standard room – Theme Park View – Sleeps 3-5 – $1073
Concierge Access – Garden Wing – 1 Bedroom Suite – Sleeps 5 – $1539
Concierge Access – Garden Wing – Hospitality Suite – Sleeps 5 or 7 – $1611
Concierge Level – 1 Bedroom Suite – Bay Lake View – Sleeps 6 – $1927
Concierge Level – 2 Bedroom Suite – Bay Lake View – Sleeps 8 – $2843
March 19, 2020
Garden Wing – Standard View – Sleeps 3-5 – $528
Garden Wing – Garden View – Sleeps 3-5 – $589
Garden Wing – Deluxe Room – Sleeps 4 – $661
Main Tower – Bay Lake View – Sleeps 3-5 – $761
Main Tower – Theme Park View – Sleeps 3-5 – $818
Atrium Club Level – Standard Room – Bay Lake View – Sleeps 3 or 5 – $1012
Atrium Club Level -Standard room – Theme Park View – Sleeps 3-5 – $1109
Concierge Access – Garden Wing – 1 Bedroom Suite – Sleeps 5 – $1570
Concierge Access – Garden Wing – Hospitality Suite – Sleeps 5 or 7 – $1635
Concierge Level – 1 Bedroom Suite – Bay Lake View – Sleeps 6 – $1975
Concierge Level – 2 Bedroom Suite – Bay Lake View – Sleeps 8 – $2899
March 20-21, 2020
Garden Wing – Standard View – Sleeps 3-5 – $569
Garden Wing – Garden View – Sleeps 3-5 – $640
Garden Wing – Deluxe Room – Sleeps 4 – $711
Main Tower – Bay Lake View – Sleeps 3-5 – $822
Main Tower – Theme Park View – Sleeps 3-5 – $880
Atrium Club Level – Standard Room – Bay Lake View – Sleeps 3 or 5 – $1111
Atrium Club Level -Standard room – Theme Park View – Sleeps 3-5 – $1210
Concierge Access – Garden Wing – 1 Bedroom Suite – Sleeps 5 – $1656
Concierge Access – Garden Wing – Hospitality Suite – Sleeps 5 or 7 – $1724
Concierge Level – 1 Bedroom Suite – Bay Lake View – Sleeps 6 – $2074
Concierge Level – 2 Bedroom Suite – Bay Lake View – Sleeps 8 – $3074
March 22-25, 2020
Garden Wing – Standard View – Sleeps 3-5 – $509
Garden Wing – Garden View – Sleeps 3-5 – $526
Garden Wing – Deluxe Room – Sleeps 4 – $603
Main Tower – Bay Lake View – Sleeps 3-5 – $685
Main Tower – Theme Park View – Sleeps 3-5 – $739
Atrium Club Level – Standard Room – Bay Lake View – Sleeps 3 or 5 – $918
Atrium Club Level -Standard room – Theme Park View – Sleeps 3-5 – $980
Concierge Access – Garden Wing – 1 Bedroom Suite – Sleeps 5 – $1383
Concierge Access – Garden Wing – Hospitality Suite – Sleeps 5 or 7 – $1422
Concierge Level – 1 Bedroom Suite – Bay Lake View – Sleeps 6 – $1763
Concierge Level – 2 Bedroom Suite – Bay Lake View – Sleeps 8 – $2686
March 26, 2020
Garden Wing – Standard View – Sleeps 3-5 – $521
Garden Wing – Garden View – Sleeps 3-5 – $547
Garden Wing – Deluxe Room – Sleeps 4 – $622
Main Tower – Bay Lake View – Sleeps 3-5 – $695
Main Tower – Theme Park View – Sleeps 3-5 – $767
Atrium Club Level – Standard Room – Bay Lake View – Sleeps 3 or 5 – $932
Atrium Club Level -Standard room – Theme Park View – Sleeps 3-5 – $1015
Concierge Access – Garden Wing – 1 Bedroom Suite – Sleeps 5 – $1427
Concierge Access – Garden Wing – Hospitality Suite – Sleeps 5 or 7 – $1461
Concierge Level – 1 Bedroom Suite – Bay Lake View – Sleeps 6 – $1786
Concierge Level – 2 Bedroom Suite – Bay Lake View – Sleeps 8 – $2720
March 27-28, 2020
Garden Wing – Standard View – Sleeps 3-5 – $551
Garden Wing – Garden View – Sleeps 3-5 – $608
Garden Wing – Deluxe Room – Sleeps 4 – $670
Main Tower – Bay Lake View – Sleeps 3-5 – $720
Main Tower – Theme Park View – Sleeps 3-5 – $844
Atrium Club Level – Standard Room – Bay Lake View – Sleeps 3 or 5 – $977
Atrium Club Level -Standard room – Theme Park View – Sleeps 3-5 – $1104
Concierge Access – Garden Wing – 1 Bedroom Suite – Sleeps 5 – $1551
Concierge Access – Garden Wing – Hospitality Suite – Sleeps 5 or 7 – $1554
Concierge Level – 1 Bedroom Suite – Bay Lake View – Sleeps 6 – $1859
Concierge Level – 2 Bedroom Suite – Bay Lake View – Sleeps 8 – $2816
March 29-31, 2020
Garden Wing – Standard View – Sleeps 3-5 – $515
Garden Wing – Garden View – Sleeps 3-5 – $571
Garden Wing – Deluxe Room – Sleeps 4 – $645
Main Tower – Bay Lake View – Sleeps 3-5 – $740
Main Tower – Theme Park View – Sleeps 3-5 – $797
Atrium Club Level – Standard Room – Bay Lake View – Sleeps 3 or 5 – $978
Atrium Club Level -Standard room – Theme Park View – Sleeps 3-5 – $1073
Concierge Access – Garden Wing – 1 Bedroom Suite – Sleeps 5 – $1539
Concierge Access – Garden Wing – Hospitality Suite – Sleeps 5 or 7 – $1611
Concierge Level – 1 Bedroom Suite – Bay Lake View – Sleeps 6 – $1927
Concierge Level – 2 Bedroom Suite – Bay Lake View – Sleeps 8 – $2843
April 2020
April 1, 2020
Garden Wing – Standard View – Sleeps 3-5 – $515
Garden Wing – Garden View – Sleeps 3-5 – $571
Garden Wing – Deluxe Room – Sleeps 4 – $645
Main Tower – Bay Lake View – Sleeps 3-5 – $740
Main Tower – Theme Park View – Sleeps 3-5 – $797
Atrium Club Level – Standard Room – Bay Lake View – Sleeps 3 or 5 – $978
Atrium Club Level -Standard room – Theme Park View – Sleeps 3-5 – $1073
Concierge Access – Garden Wing – 1 Bedroom Suite – Sleeps 5 – $1539
Concierge Access – Garden Wing – Hospitality Suite – Sleeps 5 or 7 – $1611
Concierge Level – 1 Bedroom Suite – Bay Lake View – Sleeps 6 – $1927
Concierge Level – 2 Bedroom Suite – Bay Lake View – Sleeps 8 – $2843
April 2, 2020
Garden Wing – Standard View – Sleeps 3-5 – $528
Garden Wing – Garden View – Sleeps 3-5 – $589
Garden Wing – Deluxe Room – Sleeps 4 – $661
Main Tower – Bay Lake View – Sleeps 3-5 – $761
Main Tower – Theme Park View – Sleeps 3-5 – $818
Atrium Club Level – Standard Room – Bay Lake View – Sleeps 3 or 5 – $1012
Atrium Club Level -Standard room – Theme Park View – Sleeps 3-5 – $1109
Concierge Access – Garden Wing – 1 Bedroom Suite – Sleeps 5 – $1570
Concierge Access – Garden Wing – Hospitality Suite – Sleeps 5 or 7 – $1635
Concierge Level – 1 Bedroom Suite – Bay Lake View – Sleeps 6 – $1975
Concierge Level – 2 Bedroom Suite – Bay Lake View – Sleeps 8 – $2899
April 3-4, 2020
Garden Wing – Standard View – Sleeps 3-5 – $569
Garden Wing – Garden View – Sleeps 3-5 – $640
Garden Wing – Deluxe Room – Sleeps 4 – $711
Main Tower – Bay Lake View – Sleeps 3-5 – $822
Main Tower – Theme Park View – Sleeps 3-5 – $880
Atrium Club Level – Standard Room – Bay Lake View – Sleeps 3 or 5 – $1111
Atrium Club Level -Standard room – Theme Park View – Sleeps 3-5 – $1210
Concierge Access – Garden Wing – 1 Bedroom Suite – Sleeps 5 – $1656
Concierge Access – Garden Wing – Hospitality Suite – Sleeps 5 or 7 – $1724
Concierge Level – 1 Bedroom Suite – Bay Lake View – Sleeps 6 – $2074
Concierge Level – 2 Bedroom Suite – Bay Lake View – Sleeps 8 – $3074
April 5-10, 2020
Garden Wing – Standard View – Sleeps 3-5 – $581
Garden Wing – Garden View – Sleeps 3-5 – $691
Garden Wing – Deluxe Room – Sleeps 4 – $766
Main Tower – Bay Lake View – Sleeps 3-5 – $831
Main Tower – Theme Park View – Sleeps 3-5 – $927
Atrium Club Level – Standard Room – Bay Lake View – Sleeps 3 or 5 – $1131
Atrium Club Level -Standard room – Theme Park View – Sleeps 3-5 – $1240
Concierge Access – Garden Wing – 1 Bedroom Suite – Sleeps 5 – $1838
Concierge Access – Garden Wing – Hospitality Suite – Sleeps 5 or 7 – $1967
Concierge Level – 1 Bedroom Suite – Bay Lake View – Sleeps 6 – $2270
Concierge Level – 2 Bedroom Suite – Bay Lake View – Sleeps 8 – $3190
April 11, 2020
Garden Wing – Standard View – Sleeps 3-5 – $569
Garden Wing – Garden View – Sleeps 3-5 – $640
Garden Wing – Deluxe Room – Sleeps 4 – $711
Main Tower – Bay Lake View – Sleeps 3-5 – $822
Main Tower – Theme Park View – Sleeps 3-5 – $880
Atrium Club Level – Standard Room – Bay Lake View – Sleeps 3 or 5 – $1111
Atrium Club Level -Standard room – Theme Park View – Sleeps 3-5 – $1210
Concierge Access – Garden Wing – 1 Bedroom Suite – Sleeps 5 – $1656
Concierge Access – Garden Wing – Hospitality Suite – Sleeps 5 or 7 – $1724
Concierge Level – 1 Bedroom Suite – Bay Lake View – Sleeps 6 – $2074
Concierge Level – 2 Bedroom Suite – Bay Lake View – Sleeps 8 – $3074
April 12-14, 2020
Garden Wing – Standard View – Sleeps 3-5 – $515
Garden Wing – Garden View – Sleeps 3-5 – $571
Garden Wing – Deluxe Room – Sleeps 4 – $645
Main Tower – Bay Lake View – Sleeps 3-5 – $740
Main Tower – Theme Park View – Sleeps 3-5 – $797
Atrium Club Level – Standard Room – Bay Lake View – Sleeps 3 or 5 – $978
Atrium Club Level -Standard room – Theme Park View – Sleeps 3-5 – $1073
Concierge Access – Garden Wing – 1 Bedroom Suite – Sleeps 5 – $1539
Concierge Access – Garden Wing – Hospitality Suite – Sleeps 5 or 7 – $1611
Concierge Level – 1 Bedroom Suite – Bay Lake View – Sleeps 6 – $1927
Concierge Level – 2 Bedroom Suite – Bay Lake View – Sleeps 8 – $2843
April 15-18, 2020
Garden Wing – Standard View – Sleeps 3-5 – $581
Garden Wing – Garden View – Sleeps 3-5 – $691
Garden Wing – Deluxe Room – Sleeps 4 – $766
Main Tower – Bay Lake View – Sleeps 3-5 – $831
Main Tower – Theme Park View – Sleeps 3-5 – $927
Atrium Club Level – Standard Room – Bay Lake View – Sleeps 3 or 5 – $1131
Atrium Club Level -Standard room – Theme Park View – Sleeps 3-5 – $1240
Concierge Access – Garden Wing – 1 Bedroom Suite – Sleeps 5 – $1838
Concierge Access – Garden Wing – Hospitality Suite – Sleeps 5 or 7 – $1967
Concierge Level – 1 Bedroom Suite – Bay Lake View – Sleeps 6 – $2270
Concierge Level – 2 Bedroom Suite – Bay Lake View – Sleeps 8 – $3190
April 19-21, 2020
Garden Wing – Standard View – Sleeps 3-5 – $509
Garden Wing – Garden View – Sleeps 3-5 – $528
Garden Wing – Deluxe Room – Sleeps 4 – $603
Main Tower – Bay Lake View – Sleeps 3-5 – $680
Main Tower – Theme Park View – Sleeps 3-5 – $769
Atrium Club Level – Standard Room – Bay Lake View – Sleeps 3 or 5 – $914
Atrium Club Level -Standard room – Theme Park View – Sleeps 3-5 – $983
Concierge Access – Garden Wing – 1 Bedroom Suite – Sleeps 5 – $1369
Concierge Access – Garden Wing – Hospitality Suite – Sleeps 5 or 7 – $1415
Concierge Level – 1 Bedroom Suite – Bay Lake View – Sleeps 6 – $1769
Concierge Level – 2 Bedroom Suite – Bay Lake View – Sleeps 8 – $2684
April 23, 2020
Garden Wing – Standard View – Sleeps 3-5 – $515
Garden Wing – Garden View – Sleeps 3-5 – $542
Garden Wing – Deluxe Room – Sleeps 4 – $621
Main Tower – Bay Lake View – Sleeps 3-5 – $689
Main Tower – Theme Park View – Sleeps 3-5 – $788
Atrium Club Level – Standard Room – Bay Lake View – Sleeps 3 or 5 – $930
Atrium Club Level -Standard room – Theme Park View – Sleeps 3-5 – $1015
Concierge Access – Garden Wing – 1 Bedroom Suite – Sleeps 5 – $1417
Concierge Access – Garden Wing – Hospitality Suite – Sleeps 5 or 7 – $1458
Concierge Level – 1 Bedroom Suite – Bay Lake View – Sleeps 6 – $1795
Concierge Level – 2 Bedroom Suite – Bay Lake View – Sleeps 8 – $2716
April 24-25, 2020
Garden Wing – Standard View – Sleeps 3-5 – $548
Garden Wing – Garden View – Sleeps 3-5 – $581
Garden Wing – Deluxe Room – Sleeps 4 – $668
Main Tower – Bay Lake View – Sleeps 3-5 – $718
Main Tower – Theme Park View – Sleeps 3-5 – $840
Atrium Club Level – Standard Room – Bay Lake View – Sleeps 3 or 5 – $971
Atrium Club Level -Standard room – Theme Park View – Sleeps 3-5 – $1112
Concierge Access – Garden Wing – 1 Bedroom Suite – Sleeps 5 – $1549
Concierge Access – Garden Wing – Hospitality Suite – Sleeps 5 or 7 – $1567
Concierge Level – 1 Bedroom Suite – Bay Lake View – Sleeps 6 – $1876
Concierge Level – 2 Bedroom Suite – Bay Lake View – Sleeps 8 – $2796
April 26-29, 2020
Garden Wing – Standard View – Sleeps 3-5 – $509
Garden Wing – Garden View – Sleeps 3-5 – $528
Garden Wing – Deluxe Room – Sleeps 4 – $603
Main Tower – Bay Lake View – Sleeps 3-5 – $680
Main Tower – Theme Park View – Sleeps 3-5 – $769
Atrium Club Level – Standard Room – Bay Lake View – Sleeps 3 or 5 – $914
Atrium Club Level -Standard room – Theme Park View – Sleeps 3-5 – $983
Concierge Access – Garden Wing – 1 Bedroom Suite – Sleeps 5 – $1369
Concierge Access – Garden Wing – Hospitality Suite – Sleeps 5 or 7 – $1415
Concierge Level – 1 Bedroom Suite – Bay Lake View – Sleeps 6 – $1769
Concierge Level – 2 Bedroom Suite – Bay Lake View – Sleeps 8 – $2684
April 30, 2020
Garden Wing – Standard View – Sleeps 3-5 – $519
Garden Wing – Garden View – Sleeps 3-5 – $542
Garden Wing – Deluxe Room – Sleeps 4 – $621
Main Tower – Bay Lake View – Sleeps 3-5 – $689
Main Tower – Theme Park View – Sleeps 3-5 – $788
Atrium Club Level – Standard Room – Bay Lake View – Sleeps 3 or 5 – $930
Atrium Club Level -Standard room – Theme Park View – Sleeps 3-5 – $1015
Concierge Access – Garden Wing – 1 Bedroom Suite – Sleeps 5 – $1417
Concierge Access – Garden Wing – Hospitality Suite – Sleeps 5 or 7 – $1458
Concierge Level – 1 Bedroom Suite – Bay Lake View – Sleeps 6 – $1795
Concierge Level – 2 Bedroom Suite – Bay Lake View – Sleeps 8 – $2716
May 2020
May 1-2, 2020
Garden Wing – Standard View – Sleeps 3-5 – $548
Garden Wing – Garden View – Sleeps 3-5 – $581
Garden Wing – Deluxe Room – Sleeps 4 – $668
Main Tower – Bay Lake View – Sleeps 3-5 – $718
Main Tower – Theme Park View – Sleeps 3-5 – $840
Atrium Club Level – Standard Room – Bay Lake View – Sleeps 3 or 5 – $971
Atrium Club Level -Standard room – Theme Park View – Sleeps 3-5 – $1112
Concierge Access – Garden Wing – 1 Bedroom Suite – Sleeps 5 – $1549
Concierge Access – Garden Wing – Hospitality Suite – Sleeps 5 or 7 – $1567
Concierge Level – 1 Bedroom Suite – Bay Lake View – Sleeps 6 – $1876
Concierge Level – 2 Bedroom Suite – Bay Lake View – Sleeps 8 – $2796
May 3-6, 2020
Garden Wing – Standard View – Sleeps 3-5 – $509
Garden Wing – Garden View – Sleeps 3-5 – $528
Garden Wing – Deluxe Room – Sleeps 4 – $603
Main Tower – Bay Lake View – Sleeps 3-5 – $680
Main Tower – Theme Park View – Sleeps 3-5 – $769
Atrium Club Level – Standard Room – Bay Lake View – Sleeps 3 or 5 – $914
Atrium Club Level -Standard room – Theme Park View – Sleeps 3-5 – $983
Concierge Access – Garden Wing – 1 Bedroom Suite – Sleeps 5 – $1369
Concierge Access – Garden Wing – Hospitality Suite – Sleeps 5 or 7 – $1415
Concierge Level – 1 Bedroom Suite – Bay Lake View – Sleeps 6 – $1769
Concierge Level – 2 Bedroom Suite – Bay Lake View – Sleeps 8 – $2684
May 7, 2020
Garden Wing – Standard View – Sleeps 3-5 – $519
Garden Wing – Garden View – Sleeps 3-5 – $542
Garden Wing – Deluxe Room – Sleeps 4 – $621
Main Tower – Bay Lake View – Sleeps 3-5 – $689
Main Tower – Theme Park View – Sleeps 3-5 – $788
Atrium Club Level – Standard Room – Bay Lake View – Sleeps 3 or 5 – $930
Atrium Club Level -Standard room – Theme Park View – Sleeps 3-5 – $1015
Concierge Access – Garden Wing – 1 Bedroom Suite – Sleeps 5 – $1417
Concierge Access – Garden Wing – Hospitality Suite – Sleeps 5 or 7 – $1458
Concierge Level – 1 Bedroom Suite – Bay Lake View – Sleeps 6 – $1795
Concierge Level – 2 Bedroom Suite – Bay Lake View – Sleeps 8 – $2716
May 8-9, 2020
Garden Wing – Standard View – Sleeps 3-5 – $548
Garden Wing – Garden View – Sleeps 3-5 – $581
Garden Wing – Deluxe Room – Sleeps 4 – $668
Main Tower – Bay Lake View – Sleeps 3-5 – $718
Main Tower – Theme Park View – Sleeps 3-5 – $840
Atrium Club Level – Standard Room – Bay Lake View – Sleeps 3 or 5 – $971
Atrium Club Level -Standard room – Theme Park View – Sleeps 3-5 – $1112
Concierge Access – Garden Wing – 1 Bedroom Suite – Sleeps 5 – $1549
Concierge Access – Garden Wing – Hospitality Suite – Sleeps 5 or 7 – $1567
Concierge Level – 1 Bedroom Suite – Bay Lake View – Sleeps 6 – $1876
Concierge Level – 2 Bedroom Suite – Bay Lake View – Sleeps 8 – $2796
May 10-13, 2020
Garden Wing – Standard View – Sleeps 3-5 – $509
Garden Wing – Garden View – Sleeps 3-5 – $528
Garden Wing – Deluxe Room – Sleeps 4 – $603
Main Tower – Bay Lake View – Sleeps 3-5 – $680
Main Tower – Theme Park View – Sleeps 3-5 – $769
Atrium Club Level – Standard Room – Bay Lake View – Sleeps 3 or 5 – $914
Atrium Club Level -Standard room – Theme Park View – Sleeps 3-5 – $983
Concierge Access – Garden Wing – 1 Bedroom Suite – Sleeps 5 – $1369
Concierge Access – Garden Wing – Hospitality Suite – Sleeps 5 or 7 – $1415
Concierge Level – 1 Bedroom Suite – Bay Lake View – Sleeps 6 – $1769
Concierge Level – 2 Bedroom Suite – Bay Lake View – Sleeps 8 – $2684
May 14, 2020
Garden Wing – Standard View – Sleeps 3-5 – $519
Garden Wing – Garden View – Sleeps 3-5 – $542
Garden Wing – Deluxe Room – Sleeps 4 – $621
Main Tower – Bay Lake View – Sleeps 3-5 – $689
Main Tower – Theme Park View – Sleeps 3-5 – $788
Atrium Club Level – Standard Room – Bay Lake View – Sleeps 3 or 5 – $930
Atrium Club Level -Standard room – Theme Park View – Sleeps 3-5 – $1015
Concierge Access – Garden Wing – 1 Bedroom Suite – Sleeps 5 – $1417
Concierge Access – Garden Wing – Hospitality Suite – Sleeps 5 or 7 – $1458
Concierge Level – 1 Bedroom Suite – Bay Lake View – Sleeps 6 – $1795
Concierge Level – 2 Bedroom Suite – Bay Lake View – Sleeps 8 – $2716
May 15-16, 2020
Garden Wing – Standard View – Sleeps 3-5 – $548
Garden Wing – Garden View – Sleeps 3-5 – $581
Garden Wing – Deluxe Room – Sleeps 4 – $668
Main Tower – Bay Lake View – Sleeps 3-5 – $718
Main Tower – Theme Park View – Sleeps 3-5 – $840
Atrium Club Level – Standard Room – Bay Lake View – Sleeps 3 or 5 – $971
Atrium Club Level -Standard room – Theme Park View – Sleeps 3-5 – $1112
Concierge Access – Garden Wing – 1 Bedroom Suite – Sleeps 5 – $1549
Concierge Access – Garden Wing – Hospitality Suite – Sleeps 5 or 7 – $1567
Concierge Level – 1 Bedroom Suite – Bay Lake View – Sleeps 6 – $1876
Concierge Level – 2 Bedroom Suite – Bay Lake View – Sleeps 8 – $2796
May 17-20, 2020
Garden Wing – Standard View – Sleeps 3-5 – $509
Garden Wing – Garden View – Sleeps 3-5 – $528
Garden Wing – Deluxe Room – Sleeps 4 – $603
Main Tower – Bay Lake View – Sleeps 3-5 – $680
Main Tower – Theme Park View – Sleeps 3-5 – $769
Atrium Club Level – Standard Room – Bay Lake View – Sleeps 3 or 5 – $914
Atrium Club Level -Standard room – Theme Park View – Sleeps 3-5 – $983
Concierge Access – Garden Wing – 1 Bedroom Suite – Sleeps 5 – $1369
Concierge Access – Garden Wing – Hospitality Suite – Sleeps 5 or 7 – $1415
Concierge Level – 1 Bedroom Suite – Bay Lake View – Sleeps 6 – $1769
Concierge Level – 2 Bedroom Suite – Bay Lake View – Sleeps 8 – $2684
May 21, 2020
Garden Wing – Standard View – Sleeps 3-5 – $519
Garden Wing – Garden View – Sleeps 3-5 – $542
Garden Wing – Deluxe Room – Sleeps 4 – $621
Main Tower – Bay Lake View – Sleeps 3-5 – $689
Main Tower – Theme Park View – Sleeps 3-5 – $788
Atrium Club Level – Standard Room – Bay Lake View – Sleeps 3 or 5 – $930
Atrium Club Level -Standard room – Theme Park View – Sleeps 3-5 – $1015
Concierge Access – Garden Wing – 1 Bedroom Suite – Sleeps 5 – $1417
Concierge Access – Garden Wing – Hospitality Suite – Sleeps 5 or 7 – $1458
Concierge Level – 1 Bedroom Suite – Bay Lake View – Sleeps 6 – $1795
Concierge Level – 2 Bedroom Suite – Bay Lake View – Sleeps 8 – $2716
May 22-24, 2020
Garden Wing – Standard View – Sleeps 3-5 – $566
Garden Wing – Garden View – Sleeps 3-5 – $605
Garden Wing – Deluxe Room – Sleeps 4 – $718
Main Tower – Bay Lake View – Sleeps 3-5 – $754
Main Tower – Theme Park View – Sleeps 3-5 – $831
Atrium Club Level – Standard Room – Bay Lake View – Sleeps 3 or 5 – $1027
Atrium Club Level -Standard room – Theme Park View – Sleeps 3-5 – $1143
Concierge Access – Garden Wing – 1 Bedroom Suite – Sleeps 5 – $1639
Concierge Access – Garden Wing – Hospitality Suite – Sleeps 5 or 7 – $1737
Concierge Level – 1 Bedroom Suite – Bay Lake View – Sleeps 6 – $2092
Concierge Level – 2 Bedroom Suite – Bay Lake View – Sleeps 8 – $3050
May 25-28, 2020
Garden Wing – Standard View – Sleeps 3-5 – $496
Garden Wing – Garden View – Sleeps 3-5 – $541
Garden Wing – Deluxe Room – Sleeps 4 – $612
Main Tower – Bay Lake View – Sleeps 3-5 – $692
Main Tower – Theme Park View – Sleeps 3-5 – $760
Atrium Club Level – Standard Room – Bay Lake View – Sleeps 3 or 5 – $902
Atrium Club Level -Standard room – Theme Park View – Sleeps 3-5 – $962
Concierge Access – Garden Wing – 1 Bedroom Suite – Sleeps 5 – $1338
Concierge Access – Garden Wing – Hospitality Suite – Sleeps 5 or 7 – $1400
Concierge Level – 1 Bedroom Suite – Bay Lake View – Sleeps 6 – $1710
Concierge Level – 2 Bedroom Suite – Bay Lake View – Sleeps 8 – $2660
May 29-30, 2020
Garden Wing – Standard View – Sleeps 3-5 – $502
Garden Wing – Garden View – Sleeps 3-5 – $539
Garden Wing – Deluxe Room – Sleeps 4 – $596
Main Tower – Bay Lake View – Sleeps 3-5 – $693
Main Tower – Theme Park View – Sleeps 3-5 – $761
Atrium Club Level – Standard Room – Bay Lake View – Sleeps 3 or 5 – $902
Atrium Club Level -Standard room – Theme Park View – Sleeps 3-5 – $979
Concierge Access – Garden Wing – 1 Bedroom Suite – Sleeps 5 – $1353
Concierge Access – Garden Wing – Hospitality Suite – Sleeps 5 or 7 – $1403
Concierge Level – 1 Bedroom Suite – Bay Lake View – Sleeps 6 – $1756
Concierge Level – 2 Bedroom Suite – Bay Lake View – Sleeps 8 – $2658
May 31, 2020
Garden Wing – Standard View – Sleeps 3-5 – $496
Garden Wing – Garden View – Sleeps 3-5 – $541
Garden Wing – Deluxe Room – Sleeps 4 – $612
Main Tower – Bay Lake View – Sleeps 3-5 – $692
Main Tower – Theme Park View – Sleeps 3-5 – $760
Atrium Club Level – Standard Room – Bay Lake View – Sleeps 3 or 5 – $902
Atrium Club Level -Standard room – Theme Park View – Sleeps 3-5 – $962
Concierge Access – Garden Wing – 1 Bedroom Suite – Sleeps 5 – $1338
Concierge Access – Garden Wing – Hospitality Suite – Sleeps 5 or 7 – $1400
Concierge Level – 1 Bedroom Suite – Bay Lake View – Sleeps 6 – $1710
Concierge Level – 2 Bedroom Suite – Bay Lake View – Sleeps 8 – $2660
June 2020
June 1-4, 2020
Garden Wing – Standard View – Sleeps 3-5 – $496
Garden Wing – Garden View – Sleeps 3-5 – $541
Garden Wing – Deluxe Room – Sleeps 4 – $612
Main Tower – Bay Lake View – Sleeps 3-5 – $692
Main Tower – Theme Park View – Sleeps 3-5 – $760
Atrium Club Level – Standard Room – Bay Lake View – Sleeps 3 or 5 – $902
Atrium Club Level -Standard room – Theme Park View – Sleeps 3-5 – $962
Concierge Access – Garden Wing – 1 Bedroom Suite – Sleeps 5 – $1338
Concierge Access – Garden Wing – Hospitality Suite – Sleeps 5 or 7 – $1400
Concierge Level – 1 Bedroom Suite – Bay Lake View – Sleeps 6 – $1710
Concierge Level – 2 Bedroom Suite – Bay Lake View – Sleeps 8 – $2660
June 5-6, 2020
Garden Wing – Standard View – Sleeps 3-5 – $502
Garden Wing – Garden View – Sleeps 3-5 – $539
Garden Wing – Deluxe Room – Sleeps 4 – $596
Main Tower – Bay Lake View – Sleeps 3-5 – $693
Main Tower – Theme Park View – Sleeps 3-5 – $761
Atrium Club Level – Standard Room – Bay Lake View – Sleeps 3 or 5 – $902
Atrium Club Level -Standard room – Theme Park View – Sleeps 3-5 – $979
Concierge Access – Garden Wing – 1 Bedroom Suite – Sleeps 5 – $1353
Concierge Access – Garden Wing – Hospitality Suite – Sleeps 5 or 7 – $1403
Concierge Level – 1 Bedroom Suite – Bay Lake View – Sleeps 6 – $1756
Concierge Level – 2 Bedroom Suite – Bay Lake View – Sleeps 8 – $2658
June 7-11, 2020
Garden Wing – Standard View – Sleeps 3-5 – $496
Garden Wing – Garden View – Sleeps 3-5 – $541
Garden Wing – Deluxe Room – Sleeps 4 – $612
Main Tower – Bay Lake View – Sleeps 3-5 – $692
Main Tower – Theme Park View – Sleeps 3-5 – $760
Atrium Club Level – Standard Room – Bay Lake View – Sleeps 3 or 5 – $902
Atrium Club Level -Standard room – Theme Park View – Sleeps 3-5 – $962
Concierge Access – Garden Wing – 1 Bedroom Suite – Sleeps 5 – $1338
Concierge Access – Garden Wing – Hospitality Suite – Sleeps 5 or 7 – $1400
Concierge Level – 1 Bedroom Suite – Bay Lake View – Sleeps 6 – $1710
Concierge Level – 2 Bedroom Suite – Bay Lake View – Sleeps 8 – $2660
June 12-13, 2020
Garden Wing – Standard View – Sleeps 3-5 – $502
Garden Wing – Garden View – Sleeps 3-5 – $539
Garden Wing – Deluxe Room – Sleeps 4 – $596
Main Tower – Bay Lake View – Sleeps 3-5 – $693
Main Tower – Theme Park View – Sleeps 3-5 – $761
Atrium Club Level – Standard Room – Bay Lake View – Sleeps 3 or 5 – $902
Atrium Club Level -Standard room – Theme Park View – Sleeps 3-5 – $979
Concierge Access – Garden Wing – 1 Bedroom Suite – Sleeps 5 – $1353
Concierge Access – Garden Wing – Hospitality Suite – Sleeps 5 or 7 – $1403
Concierge Level – 1 Bedroom Suite – Bay Lake View – Sleeps 6 – $1756
Concierge Level – 2 Bedroom Suite – Bay Lake View – Sleeps 8 – $2658
June 14-18, 2020
Garden Wing – Standard View – Sleeps 3-5 – $496
Garden Wing – Garden View – Sleeps 3-5 – $541
Garden Wing – Deluxe Room – Sleeps 4 – $612
Main Tower – Bay Lake View – Sleeps 3-5 – $692
Main Tower – Theme Park View – Sleeps 3-5 – $760
Atrium Club Level – Standard Room – Bay Lake View – Sleeps 3 or 5 – $902
Atrium Club Level -Standard room – Theme Park View – Sleeps 3-5 – $962
Concierge Access – Garden Wing – 1 Bedroom Suite – Sleeps 5 – $1338
Concierge Access – Garden Wing – Hospitality Suite – Sleeps 5 or 7 – $1400
Concierge Level – 1 Bedroom Suite – Bay Lake View – Sleeps 6 – $1710
Concierge Level – 2 Bedroom Suite – Bay Lake View – Sleeps 8 – $2660
June 19-20, 2020
Garden Wing – Standard View – Sleeps 3-5 – $502
Garden Wing – Garden View – Sleeps 3-5 – $539
Garden Wing – Deluxe Room – Sleeps 4 – $596
Main Tower – Bay Lake View – Sleeps 3-5 – $693
Main Tower – Theme Park View – Sleeps 3-5 – $761
Atrium Club Level – Standard Room – Bay Lake View – Sleeps 3 or 5 – $902
Atrium Club Level -Standard room – Theme Park View – Sleeps 3-5 – $979
Concierge Access – Garden Wing – 1 Bedroom Suite – Sleeps 5 – $1353
Concierge Access – Garden Wing – Hospitality Suite – Sleeps 5 or 7 – $1403
Concierge Level – 1 Bedroom Suite – Bay Lake View – Sleeps 6 – $1756
Concierge Level – 2 Bedroom Suite – Bay Lake View – Sleeps 8 – $2658
June 21-25, 2020
Garden Wing – Standard View – Sleeps 3-5 – $496
Garden Wing – Garden View – Sleeps 3-5 – $541
Garden Wing – Deluxe Room – Sleeps 4 – $612
Main Tower – Bay Lake View – Sleeps 3-5 – $692
Main Tower – Theme Park View – Sleeps 3-5 – $760
Atrium Club Level – Standard Room – Bay Lake View – Sleeps 3 or 5 – $902
Atrium Club Level -Standard room – Theme Park View – Sleeps 3-5 – $962
Concierge Access – Garden Wing – 1 Bedroom Suite – Sleeps 5 – $1338
Concierge Access – Garden Wing – Hospitality Suite – Sleeps 5 or 7 – $1400
Concierge Level – 1 Bedroom Suite – Bay Lake View – Sleeps 6 – $1710
Concierge Level – 2 Bedroom Suite – Bay Lake View – Sleeps 8 – $2660
June 26-27, 2020
Garden Wing – Standard View – Sleeps 3-5 – $502
Garden Wing – Garden View – Sleeps 3-5 – $539
Garden Wing – Deluxe Room – Sleeps 4 – $596
Main Tower – Bay Lake View – Sleeps 3-5 – $693
Main Tower – Theme Park View – Sleeps 3-5 – $761
Atrium Club Level – Standard Room – Bay Lake View – Sleeps 3 or 5 – $902
Atrium Club Level -Standard room – Theme Park View – Sleeps 3-5 – $979
Concierge Access – Garden Wing – 1 Bedroom Suite – Sleeps 5 – $1353
Concierge Access – Garden Wing – Hospitality Suite – Sleeps 5 or 7 – $1403
Concierge Level – 1 Bedroom Suite – Bay Lake View – Sleeps 6 – $1756
Concierge Level – 2 Bedroom Suite – Bay Lake View – Sleeps 8 – $2658
June 28-30, 2020
Garden Wing – Standard View – Sleeps 3-5 – $496
Garden Wing – Garden View – Sleeps 3-5 – $541
Garden Wing – Deluxe Room – Sleeps 4 – $612
Main Tower – Bay Lake View – Sleeps 3-5 – $692
Main Tower – Theme Park View – Sleeps 3-5 – $760
Atrium Club Level – Standard Room – Bay Lake View – Sleeps 3 or 5 – $902
Atrium Club Level -Standard room – Theme Park View – Sleeps 3-5 – $962
Concierge Access – Garden Wing – 1 Bedroom Suite – Sleeps 5 – $1338
Concierge Access – Garden Wing – Hospitality Suite – Sleeps 5 or 7 – $1400
Concierge Level – 1 Bedroom Suite – Bay Lake View – Sleeps 6 – $1710
Concierge Level – 2 Bedroom Suite – Bay Lake View – Sleeps 8 – $2660
July 2020
July 1, 2020
Garden Wing – Standard View – Sleeps 3-5 – $496
Garden Wing – Garden View – Sleeps 3-5 – $541
Garden Wing – Deluxe Room – Sleeps 4 – $612
Main Tower – Bay Lake View – Sleeps 3-5 – $692
Main Tower – Theme Park View – Sleeps 3-5 – $760
Atrium Club Level – Standard Room – Bay Lake View – Sleeps 3 or 5 – $902
Atrium Club Level -Standard room – Theme Park View – Sleeps 3-5 – $962
Concierge Access – Garden Wing – 1 Bedroom Suite – Sleeps 5 – $1338
Concierge Access – Garden Wing – Hospitality Suite – Sleeps 5 or 7 – $1400
Concierge Level – 1 Bedroom Suite – Bay Lake View – Sleeps 6 – $1710
Concierge Level – 2 Bedroom Suite – Bay Lake View – Sleeps 8 – $2660
July 2-4, 2020
Garden Wing – Standard View – Sleeps 3-5 – $528
Garden Wing – Garden View – Sleeps 3-5 – $566
Garden Wing – Deluxe Room – Sleeps 4 – $626
Main Tower – Bay Lake View – Sleeps 3-5 – $728
Main Tower – Theme Park View – Sleeps 3-5 – $800
Atrium Club Level – Standard Room – Bay Lake View – Sleeps 3 or 5 – $948
Atrium Club Level -Standard room – Theme Park View – Sleeps 3-5 – $1028
Concierge Access – Garden Wing – 1 Bedroom Suite – Sleeps 5 – $1421
Concierge Access – Garden Wing – Hospitality Suite – Sleeps 5 or 7 – $1474
Concierge Level – 1 Bedroom Suite – Bay Lake View – Sleeps 6 – $1844
Concierge Level – 2 Bedroom Suite – Bay Lake View – Sleeps 8 – $2791
July 5-9, 2020
Garden Wing – Standard View – Sleeps 3-5 – $485
Garden Wing – Garden View – Sleeps 3-5 – $521
Garden Wing – Deluxe Room – Sleeps 4 – $566
Main Tower – Bay Lake View – Sleeps 3-5 – $632
Main Tower – Theme Park View – Sleeps 3-5 – $687
Atrium Club Level – Standard Room – Bay Lake View – Sleeps 3 or 5 – $877
Atrium Club Level -Standard room – Theme Park View – Sleeps 3-5 – $940
Concierge Access – Garden Wing – 1 Bedroom Suite – Sleeps 5 – $1318
Concierge Access – Garden Wing – Hospitality Suite – Sleeps 5 or 7 – $1384
Concierge Level – 1 Bedroom Suite – Bay Lake View – Sleeps 6 – $1692
Concierge Level – 2 Bedroom Suite – Bay Lake View – Sleeps 8 – $2538
July 10-11, 2020
Garden Wing – Standard View – Sleeps 3-5 – $471
Garden Wing – Garden View – Sleeps 3-5 – $524
Garden Wing – Deluxe Room – Sleeps 4 – $565
Main Tower – Bay Lake View – Sleeps 3-5 – $633
Main Tower – Theme Park View – Sleeps 3-5 – $688
Atrium Club Level – Standard Room – Bay Lake View – Sleeps 3 or 5 – $880
Atrium Club Level -Standard room – Theme Park View – Sleeps 3-5 – $937
Concierge Access – Garden Wing – 1 Bedroom Suite – Sleeps 5 – $1320
Concierge Access – Garden Wing – Hospitality Suite – Sleeps 5 or 7 – $1407
Concierge Level – 1 Bedroom Suite – Bay Lake View – Sleeps 6 – $1702
Concierge Level – 2 Bedroom Suite – Bay Lake View – Sleeps 8 – $2486
July 12-16, 2020
Garden Wing – Standard View – Sleeps 3-5 – $485
Garden Wing – Garden View – Sleeps 3-5 – $521
Garden Wing – Deluxe Room – Sleeps 4 – $566
Main Tower – Bay Lake View – Sleeps 3-5 – $632
Main Tower – Theme Park View – Sleeps 3-5 – $687
Atrium Club Level – Standard Room – Bay Lake View – Sleeps 3 or 5 – $877
Atrium Club Level -Standard room – Theme Park View – Sleeps 3-5 – $940
Concierge Access – Garden Wing – 1 Bedroom Suite – Sleeps 5 – $1318
Concierge Access – Garden Wing – Hospitality Suite – Sleeps 5 or 7 – $1384
Concierge Level – 1 Bedroom Suite – Bay Lake View – Sleeps 6 – $1692
Concierge Level – 2 Bedroom Suite – Bay Lake View – Sleeps 8 – $2538
July 17-18, 2020
Garden Wing – Standard View – Sleeps 3-5 – $471
Garden Wing – Garden View – Sleeps 3-5 – $524
Garden Wing – Deluxe Room – Sleeps 4 – $565
Main Tower – Bay Lake View – Sleeps 3-5 – $633
Main Tower – Theme Park View – Sleeps 3-5 – $688
Atrium Club Level – Standard Room – Bay Lake View – Sleeps 3 or 5 – $880
Atrium Club Level -Standard room – Theme Park View – Sleeps 3-5 – $937
Concierge Access – Garden Wing – 1 Bedroom Suite – Sleeps 5 – $1320
Concierge Access – Garden Wing – Hospitality Suite – Sleeps 5 or 7 – $1407
Concierge Level – 1 Bedroom Suite – Bay Lake View – Sleeps 6 – $1702
Concierge Level – 2 Bedroom Suite – Bay Lake View – Sleeps 8 – $2486
July 19-23, 2020
Garden Wing – Standard View – Sleeps 3-5 – $485
Garden Wing – Garden View – Sleeps 3-5 – $521
Garden Wing – Deluxe Room – Sleeps 4 – $566
Main Tower – Bay Lake View – Sleeps 3-5 – $632
Main Tower – Theme Park View – Sleeps 3-5 – $687
Atrium Club Level – Standard Room – Bay Lake View – Sleeps 3 or 5 – $877
Atrium Club Level -Standard room – Theme Park View – Sleeps 3-5 – $940
Concierge Access – Garden Wing – 1 Bedroom Suite – Sleeps 5 – $1318
Concierge Access – Garden Wing – Hospitality Suite – Sleeps 5 or 7 – $1384
Concierge Level – 1 Bedroom Suite – Bay Lake View – Sleeps 6 – $1692
Concierge Level – 2 Bedroom Suite – Bay Lake View – Sleeps 8 – $2538
July 24-25, 2020
Garden Wing – Standard View – Sleeps 3-5 – $471
Garden Wing – Garden View – Sleeps 3-5 – $524
Garden Wing – Deluxe Room – Sleeps 4 – $565
Main Tower – Bay Lake View – Sleeps 3-5 – $633
Main Tower – Theme Park View – Sleeps 3-5 – $688
Atrium Club Level – Standard Room – Bay Lake View – Sleeps 3 or 5 – $880
Atrium Club Level -Standard room – Theme Park View – Sleeps 3-5 – $937
Concierge Access – Garden Wing – 1 Bedroom Suite – Sleeps 5 – $1320
Concierge Access – Garden Wing – Hospitality Suite – Sleeps 5 or 7 – $1407
Concierge Level – 1 Bedroom Suite – Bay Lake View – Sleeps 6 – $1702
Concierge Level – 2 Bedroom Suite – Bay Lake View – Sleeps 8 – $2486
July 26-30, 2020
Garden Wing – Standard View – Sleeps 3-5 – $485
Garden Wing – Garden View – Sleeps 3-5 – $521
Garden Wing – Deluxe Room – Sleeps 4 – $566
Main Tower – Bay Lake View – Sleeps 3-5 – $632
Main Tower – Theme Park View – Sleeps 3-5 – $687
Atrium Club Level – Standard Room – Bay Lake View – Sleeps 3 or 5 – $877
Atrium Club Level -Standard room – Theme Park View – Sleeps 3-5 – $940
Concierge Access – Garden Wing – 1 Bedroom Suite – Sleeps 5 – $1318
Concierge Access – Garden Wing – Hospitality Suite – Sleeps 5 or 7 – $1384
Concierge Level – 1 Bedroom Suite – Bay Lake View – Sleeps 6 – $1692
Concierge Level – 2 Bedroom Suite – Bay Lake View – Sleeps 8 – $2538
July 31, 2020
Garden Wing – Standard View – Sleeps 3-5 – $471
Garden Wing – Garden View – Sleeps 3-5 – $524
Garden Wing – Deluxe Room – Sleeps 4 – $565
Main Tower – Bay Lake View – Sleeps 3-5 – $633
Main Tower – Theme Park View – Sleeps 3-5 – $688
Atrium Club Level – Standard Room – Bay Lake View – Sleeps 3 or 5 – $880
Atrium Club Level -Standard room – Theme Park View – Sleeps 3-5 – $937
Concierge Access – Garden Wing – 1 Bedroom Suite – Sleeps 5 – $1320
Concierge Access – Garden Wing – Hospitality Suite – Sleeps 5 or 7 – $1407
Concierge Level – 1 Bedroom Suite – Bay Lake View – Sleeps 6 – $1702
Concierge Level – 2 Bedroom Suite – Bay Lake View – Sleeps 8 – $2486
August 2020
August 1, 2020
Garden Wing – Standard View – Sleeps 3-5 – $471
Garden Wing – Garden View – Sleeps 3-5 – $524
Garden Wing – Deluxe Room – Sleeps 4 – $565
Main Tower – Bay Lake View – Sleeps 3-5 – $633
Main Tower – Theme Park View – Sleeps 3-5 – $688
Atrium Club Level – Standard Room – Bay Lake View – Sleeps 3 or 5 – $880
Atrium Club Level -Standard room – Theme Park View – Sleeps 3-5 – $937
Concierge Access – Garden Wing – 1 Bedroom Suite – Sleeps 5 – $1320
Concierge Access – Garden Wing – Hospitality Suite – Sleeps 5 or 7 – $1407
Concierge Level – 1 Bedroom Suite – Bay Lake View – Sleeps 6 – $1702
Concierge Level – 2 Bedroom Suite – Bay Lake View – Sleeps 8 – $2486
August 2-6, 2020
Garden Wing – Standard View – Sleeps 3-5 – $485
Garden Wing – Garden View – Sleeps 3-5 – $521
Garden Wing – Deluxe Room – Sleeps 4 – $566
Main Tower – Bay Lake View – Sleeps 3-5 – $632
Main Tower – Theme Park View – Sleeps 3-5 – $687
Atrium Club Level – Standard Room – Bay Lake View – Sleeps 3 or 5 – $877
Atrium Club Level -Standard room – Theme Park View – Sleeps 3-5 – $940
Concierge Access – Garden Wing – 1 Bedroom Suite – Sleeps 5 – $1318
Concierge Access – Garden Wing – Hospitality Suite – Sleeps 5 or 7 – $1384
Concierge Level – 1 Bedroom Suite – Bay Lake View – Sleeps 6 – $1692
Concierge Level – 2 Bedroom Suite – Bay Lake View – Sleeps 8 – $2538
August 7-8, 2020
Garden Wing – Standard View – Sleeps 3-5 – $471
Garden Wing – Garden View – Sleeps 3-5 – $524
Garden Wing – Deluxe Room – Sleeps 4 – $565
Main Tower – Bay Lake View – Sleeps 3-5 – $633
Main Tower – Theme Park View – Sleeps 3-5 – $688
Atrium Club Level – Standard Room – Bay Lake View – Sleeps 3 or 5 – $880
Atrium Club Level -Standard room – Theme Park View – Sleeps 3-5 – $937
Concierge Access – Garden Wing – 1 Bedroom Suite – Sleeps 5 – $1320
Concierge Access – Garden Wing – Hospitality Suite – Sleeps 5 or 7 – $1407
Concierge Level – 1 Bedroom Suite – Bay Lake View – Sleeps 6 – $1702
Concierge Level – 2 Bedroom Suite – Bay Lake View – Sleeps 8 – $2486
August 9-13, 2020
Garden Wing – Standard View – Sleeps 3-5 – $485
Garden Wing – Garden View – Sleeps 3-5 – $521
Garden Wing – Deluxe Room – Sleeps 4 – $566
Main Tower – Bay Lake View – Sleeps 3-5 – $632
Main Tower – Theme Park View – Sleeps 3-5 – $687
Atrium Club Level – Standard Room – Bay Lake View – Sleeps 3 or 5 – $877
Atrium Club Level -Standard room – Theme Park View – Sleeps 3-5 – $940
Concierge Access – Garden Wing – 1 Bedroom Suite – Sleeps 5 – $1318
Concierge Access – Garden Wing – Hospitality Suite – Sleeps 5 or 7 – $1384
Concierge Level – 1 Bedroom Suite – Bay Lake View – Sleeps 6 – $1692
Concierge Level – 2 Bedroom Suite – Bay Lake View – Sleeps 8 – $2538
August 14-15, 2020
Garden Wing – Standard View – Sleeps 3-5 – $471
Garden Wing – Garden View – Sleeps 3-5 – $524
Garden Wing – Deluxe Room – Sleeps 4 – $565
Main Tower – Bay Lake View – Sleeps 3-5 – $633
Main Tower – Theme Park View – Sleeps 3-5 – $688
Atrium Club Level – Standard Room – Bay Lake View – Sleeps 3 or 5 – $880
Atrium Club Level -Standard room – Theme Park View – Sleeps 3-5 – $937
Concierge Access – Garden Wing – 1 Bedroom Suite – Sleeps 5 – $1320
Concierge Access – Garden Wing – Hospitality Suite – Sleeps 5 or 7 – $1407
Concierge Level – 1 Bedroom Suite – Bay Lake View – Sleeps 6 – $1702
Concierge Level – 2 Bedroom Suite – Bay Lake View – Sleeps 8 – $2486
August 16-20, 2020
Garden Wing – Standard View – Sleeps 3-5 – $485
Garden Wing – Garden View – Sleeps 3-5 – $521
Garden Wing – Deluxe Room – Sleeps 4 – $566
Main Tower – Bay Lake View – Sleeps 3-5 – $632
Main Tower – Theme Park View – Sleeps 3-5 – $687
Atrium Club Level – Standard Room – Bay Lake View – Sleeps 3 or 5 – $877
Atrium Club Level -Standard room – Theme Park View – Sleeps 3-5 – $940
Concierge Access – Garden Wing – 1 Bedroom Suite – Sleeps 5 – $1318
Concierge Access – Garden Wing – Hospitality Suite – Sleeps 5 or 7 – $1384
Concierge Level – 1 Bedroom Suite – Bay Lake View – Sleeps 6 – $1692
Concierge Level – 2 Bedroom Suite – Bay Lake View – Sleeps 8 – $2538
August 21-22, 2020
Garden Wing – Standard View – Sleeps 3-5 – $464
Garden Wing – Garden View – Sleeps 3-5 – $506
Garden Wing – Deluxe Room – Sleeps 4 – $588
Main Tower – Bay Lake View – Sleeps 3-5 – $650
Main Tower – Theme Park View – Sleeps 3-5 – $705
Atrium Club Level – Standard Room – Bay Lake View – Sleeps 3 or 5 – $864
Atrium Club Level -Standard room – Theme Park View – Sleeps 3-5 – $928
Concierge Access – Garden Wing – 1 Bedroom Suite – Sleeps 5 – $1306
Concierge Access – Garden Wing – Hospitality Suite – Sleeps 5 or 7 – $1364
Concierge Level – 1 Bedroom Suite – Bay Lake View – Sleeps 6 – $1657
Concierge Level – 2 Bedroom Suite – Bay Lake View – Sleeps 8 – $2439
August 23-27, 2020
Garden Wing – Standard View – Sleeps 3-5 – $452
Garden Wing – Garden View – Sleeps 3-5 – $457
Garden Wing – Deluxe Room – Sleeps 4 – $539
Main Tower – Bay Lake View – Sleeps 3-5 – $631
Main Tower – Theme Park View – Sleeps 3-5 – $686
Atrium Club Level – Standard Room – Bay Lake View – Sleeps 3 or 5 – $796
Atrium Club Level -Standard room – Theme Park View – Sleeps 3-5 – $863
Concierge Access – Garden Wing – 1 Bedroom Suite – Sleeps 5 – $1228
Concierge Access – Garden Wing – Hospitality Suite – Sleeps 5 or 7 – $1297
Concierge Level – 1 Bedroom Suite – Bay Lake View – Sleeps 6 – $1586
Concierge Level – 2 Bedroom Suite – Bay Lake View – Sleeps 8 – $2331
August 28-29, 2020
Garden Wing – Standard View – Sleeps 3-5 – $464
Garden Wing – Garden View – Sleeps 3-5 – $506
Garden Wing – Deluxe Room – Sleeps 4 – $588
Main Tower – Bay Lake View – Sleeps 3-5 – $650
Main Tower – Theme Park View – Sleeps 3-5 – $705
Atrium Club Level – Standard Room – Bay Lake View – Sleeps 3 or 5 – $864
Atrium Club Level -Standard room – Theme Park View – Sleeps 3-5 – $928
Concierge Access – Garden Wing – 1 Bedroom Suite – Sleeps 5 – $1306
Concierge Access – Garden Wing – Hospitality Suite – Sleeps 5 or 7 – $1364
Concierge Level – 1 Bedroom Suite – Bay Lake View – Sleeps 6 – $1657
Concierge Level – 2 Bedroom Suite – Bay Lake View – Sleeps 8 – $2439
August 30-31, 2020
Garden Wing – Standard View – Sleeps 3-5 – $452
Garden Wing – Garden View – Sleeps 3-5 – $457
Garden Wing – Deluxe Room – Sleeps 4 – $539
Main Tower – Bay Lake View – Sleeps 3-5 – $631
Main Tower – Theme Park View – Sleeps 3-5 – $686
Atrium Club Level – Standard Room – Bay Lake View – Sleeps 3 or 5 – $796
Atrium Club Level -Standard room – Theme Park View – Sleeps 3-5 – $863
Concierge Access – Garden Wing – 1 Bedroom Suite – Sleeps 5 – $1228
Concierge Access – Garden Wing – Hospitality Suite – Sleeps 5 or 7 – $1297
Concierge Level – 1 Bedroom Suite – Bay Lake View – Sleeps 6 – $1586
Concierge Level – 2 Bedroom Suite – Bay Lake View – Sleeps 8 – $2331
September 2020
September 1, 2020
Garden Wing – Standard View – Sleeps 3-5 – $507
Garden Wing – Garden View – Sleeps 3-5 – $548
Garden Wing – Deluxe Room – Sleeps 4 – $674
Main Tower – Bay Lake View – Sleeps 3-5 – $675
Main Tower – Theme Park View – Sleeps 3-5 – $786
Atrium Club Level – Standard Room – Bay Lake View – Sleeps 3 or 5 – $904
Atrium Club Level -Standard room – Theme Park View – Sleeps 3-5 – $992
Concierge Access – Garden Wing – 1 Bedroom Suite – Sleeps 5 – $1,455
Concierge Access – Garden Wing – Hospitality Suite – Sleeps 5 or 7 – $1,631
Concierge Level – 1 Bedroom Suite – Bay Lake View – Sleeps 6 – $1,882
Concierge Level – 2 Bedroom Suite – Bay Lake View – Sleeps 8 – $2,624
September 2-5, 2020
Garden Wing – Standard View – Sleeps 3-5 – $421
Garden Wing – Garden View – Sleeps 3-5 – $426
Garden Wing – Deluxe Room – Sleeps 4 – $505
Main Tower – Bay Lake View – Sleeps 3-5 – $590
Main Tower – Theme Park View – Sleeps 3-5 – $641
Atrium Club Level – Standard Room – Bay Lake View – Sleeps 3 or 5 – $746
Atrium Club Level -Standard room – Theme Park View – Sleeps 3-5 – $806
Concierge Access – Garden Wing – 1 Bedroom Suite – Sleeps 5 – $1,153
Concierge Access – Garden Wing – Hospitality Suite – Sleeps 5 or 7 – $1,217
Concierge Level – 1 Bedroom Suite – Bay Lake View – Sleeps 6 – $1,485
Concierge Level – 2 Bedroom Suite – Bay Lake View – Sleeps 8 – $2,190
September 6-7, 2020
Garden Wing – Standard View – Sleeps 3-5 – $432
Garden Wing – Garden View – Sleeps 3-5 – $473
Garden Wing – Deluxe Room – Sleeps 4 – $551
Main Tower – Bay Lake View – Sleeps 3-5 – $608
Main Tower – Theme Park View – Sleeps 3-5 – $659
Atrium Club Level – Standard Room – Bay Lake View – Sleeps 3 or 5 – $807
Atrium Club Level -Standard room – Theme Park View – Sleeps 3-5 – $867
Concierge Access – Garden Wing – 1 Bedroom Suite – Sleeps 5 – $1,227
Concierge Access – Garden Wing – Hospitality Suite – Sleeps 5 or 7 – $1,281
Concierge Level – 1 Bedroom Suite – Bay Lake View – Sleeps 6 – $1,550
Concierge Level – 2 Bedroom Suite – Bay Lake View – Sleeps 8 – $2,291
September 8-12, 2020
Garden Wing – Standard View – Sleeps 3-5 – $421
Garden Wing – Garden View – Sleeps 3-5 – $426
Garden Wing – Deluxe Room – Sleeps 4 – $505
Main Tower – Bay Lake View – Sleeps 3-5 – $590
Main Tower – Theme Park View – Sleeps 3-5 – $641
Atrium Club Level – Standard Room – Bay Lake View – Sleeps 3 or 5 – $746
Atrium Club Level -Standard room – Theme Park View – Sleeps 3-5 – $806
Concierge Access – Garden Wing – 1 Bedroom Suite – Sleeps 5 – $1,153
Concierge Access – Garden Wing – Hospitality Suite – Sleeps 5 or 7 – $1,217
Concierge Level – 1 Bedroom Suite – Bay Lake View – Sleeps 6 – $1,585
Concierge Level – 2 Bedroom Suite – Bay Lake View – Sleeps 8 – $2,190
September 13-14, 2020
Garden Wing – Standard View – Sleeps 3-5 – $432
Garden Wing – Garden View – Sleeps 3-5 – $473
Garden Wing – Deluxe Room – Sleeps 4 – $551
Main Tower – Bay Lake View – Sleeps 3-5 – $608
Main Tower – Theme Park View – Sleeps 3-5 – $659
Atrium Club Level – Standard Room – Bay Lake View – Sleeps 3 or 5 – $807
Atrium Club Level -Standard room – Theme Park View – Sleeps 3-5 – $867
Concierge Access – Garden Wing – 1 Bedroom Suite – Sleeps 5 – $1,227
Concierge Access – Garden Wing – Hospitality Suite – Sleeps 5 or 7 – $1.281
Concierge Level – 1 Bedroom Suite – Bay Lake View – Sleeps 6 – $1,550
Concierge Level – 2 Bedroom Suite – Bay Lake View – Sleeps 8 – $2,291
September 15-19, 2020
Garden Wing – Standard View – Sleeps 3-5 – $421
Garden Wing – Garden View – Sleeps 3-5 – $426
Garden Wing – Deluxe Room – Sleeps 4 – $505
Main Tower – Bay Lake View – Sleeps 3-5 – $590
Main Tower – Theme Park View – Sleeps 3-5 – $641
Atrium Club Level – Standard Room – Bay Lake View – Sleeps 3 or 5 – $746
Atrium Club Level -Standard room – Theme Park View – Sleeps 3-5 – $806
Concierge Access – Garden Wing – 1 Bedroom Suite – Sleeps 5 – $1,153
Concierge Access – Garden Wing – Hospitality Suite – Sleeps 5 or 7 – $1,217
Concierge Level – 1 Bedroom Suite – Bay Lake View – Sleeps 6 – $1,485
Concierge Level – 2 Bedroom Suite – Bay Lake View – Sleeps 8 – $2,190
September 20-21, 2020
Garden Wing – Standard View – Sleeps 3-5 – $523
Garden Wing – Garden View – Sleeps 3-5 – $549
Garden Wing – Deluxe Room – Sleeps 4 – $671
Main Tower – Bay Lake View – Sleeps 3-5 – $675
Main Tower – Theme Park View – Sleeps 3-5 – $735
Atrium Club Level – Standard Room – Bay Lake View – Sleeps 3 or 5 – $924
Atrium Club Level -Standard room – Theme Park View – Sleeps 3-5 – $1,038
Concierge Access – Garden Wing – 1 Bedroom Suite – Sleeps 5 – $1,582
Concierge Access – Garden Wing – Hospitality Suite – Sleeps 5 or 7 – $1.592
Concierge Level – 1 Bedroom Suite – Bay Lake View – Sleeps 6 – $2,046
Concierge Level – 2 Bedroom Suite – Bay Lake View – Sleeps 8 – $2,985
September 22-26, 2020
Garden Wing – Standard View – Sleeps 3-5 – $447
Garden Wing – Garden View – Sleeps 3-5 – $475
Garden Wing – Deluxe Room – Sleeps 4 – $582
Main Tower – Bay Lake View – Sleeps 3-5 – $630
Main Tower – Theme Park View – Sleeps 3-5 – $674
Atrium Club Level – Standard Room – Bay Lake View – Sleeps 3 or 5 – $780
Atrium Club Level -Standard room – Theme Park View – Sleeps 3-5 – $919
Concierge Access – Garden Wing – 1 Bedroom Suite – Sleeps 5 – $1,293
Concierge Access – Garden Wing – Hospitality Suite – Sleeps 5 or 7 – $1,363
Concierge Level – 1 Bedroom Suite – Bay Lake View – Sleeps 6 – $1,632
Concierge Level – 2 Bedroom Suite – Bay Lake View – Sleeps 8 – $2,486
September 27-28, 2020
Garden Wing – Standard View – Sleeps 3-5 – $423
Garden Wing – Garden View – Sleeps 3-5 – $549
Garden Wing – Deluxe Room – Sleeps 4 – $671
Main Tower – Bay Lake View – Sleeps 3-5 – $675
Main Tower – Theme Park View – Sleeps 3-5 – $735
Atrium Club Level – Standard Room – Bay Lake View – Sleeps 3 or 5 – $924
Atrium Club Level -Standard room – Theme Park View – Sleeps 3-5 – $1,038
Concierge Access – Garden Wing – 1 Bedroom Suite – Sleeps 5 – $1,582
Concierge Access – Garden Wing – Hospitality Suite – Sleeps 5 or 7 – $1,592
Concierge Level – 1 Bedroom Suite – Bay Lake View – Sleeps 6 – $2,046
Concierge Level – 2 Bedroom Suite – Bay Lake View – Sleeps 8 – $2,985
September 29-30, 2020
Garden Wing – Standard View – Sleeps 3-5 – $447
Garden Wing – Garden View – Sleeps 3-5 – $475
Garden Wing – Deluxe Room – Sleeps 4 – $582
Main Tower – Bay Lake View – Sleeps 3-5 – $630
Main Tower – Theme Park View – Sleeps 3-5 – $674
Atrium Club Level – Standard Room – Bay Lake View – Sleeps 3 or 5 – $780
Atrium Club Level -Standard room – Theme Park View – Sleeps 3-5 – $919
Concierge Access – Garden Wing – 1 Bedroom Suite – Sleeps 5 – $1,293
Concierge Access – Garden Wing – Hospitality Suite – Sleeps 5 or 7 – $1,363
Concierge Level – 1 Bedroom Suite – Bay Lake View – Sleeps 6 – $1,632
Concierge Level – 2 Bedroom Suite – Bay Lake View – Sleeps 8 – $2,486
October 2020
October 1, 2020
Garden Wing – Standard View – Sleeps 3-5 – $501
Garden Wing – Garden View – Sleeps 3-5 – $528
Garden Wing – Deluxe Room – Sleeps 4 – $646
Main Tower – Bay Lake View – Sleeps 3-5 – $686
Main Tower – Theme Park View – Sleeps 3-5 – $739
Atrium Club Level – Standard Room – Bay Lake View – Sleeps 3 or 5 – $873
Atrium Club Level -Standard room – Theme Park View – Sleeps 3-5 – $1017
Concierge Access – Garden Wing – 1 Bedroom Suite – Sleeps 5 – $1458
Concierge Access – Garden Wing – Hospitality Suite – Sleeps 5 or 7 – $1515
Concierge Level – 1 Bedroom Suite – Bay Lake View – Sleeps 6 – $1850
Concierge Level – 2 Bedroom Suite – Bay Lake View – Sleeps 8 – $2789
October 2-3, 2020
Garden Wing – Standard View – Sleeps 3-5 – $561
Garden Wing – Garden View – Sleeps 3-5 – $588
Garden Wing – Deluxe Room – Sleeps 4 – $718
Main Tower – Bay Lake View – Sleeps 3-5 – $722
Main Tower – Theme Park View – Sleeps 3-5 – $787
Atrium Club Level – Standard Room – Bay Lake View – Sleeps 3 or 5 – $989
Atrium Club Level -Standard room – Theme Park View – Sleeps 3-5 – $1114
Concierge Access – Garden Wing – 1 Bedroom Suite – Sleeps 5 – $1686
Concierge Access – Garden Wing – Hospitality Suite – Sleeps 5 or 7 – $1702
Concierge Level – 1 Bedroom Suite – Bay Lake View – Sleeps 6 – $2180
Concierge Level – 2 Bedroom Suite – Bay Lake View – Sleeps 8 – $3183
October 4-7, 2020
Garden Wing – Standard View – Sleeps 3-5 – $480
Garden Wing – Garden View – Sleeps 3-5 – $508
Garden Wing – Deluxe Room – Sleeps 4 – $622
Main Tower – Bay Lake View – Sleeps 3-5 – $674
Main Tower – Theme Park View – Sleeps 3-5 – $722
Atrium Club Level – Standard Room – Bay Lake View – Sleeps 3 or 5 – $834
Atrium Club Level -Standard room – Theme Park View – Sleeps 3-5 – $984
Concierge Access – Garden Wing – 1 Bedroom Suite – Sleeps 5 – $1382
Concierge Access – Garden Wing – Hospitality Suite – Sleeps 5 or 7 – $1452
Concierge Level – 1 Bedroom Suite – Bay Lake View – Sleeps 6 – $1739
Concierge Level – 2 Bedroom Suite – Bay Lake View – Sleeps 8 – $2657
October 8, 2020
Garden Wing – Standard View – Sleeps 3-5 – $501
Garden Wing – Garden View – Sleeps 3-5 – $528
Garden Wing – Deluxe Room – Sleeps 4 – $646
Main Tower – Bay Lake View – Sleeps 3-5 – $686
Main Tower – Theme Park View – Sleeps 3-5 – $739
Atrium Club Level – Standard Room – Bay Lake View – Sleeps 3 or 5 – $873
Atrium Club Level -Standard room – Theme Park View – Sleeps 3-5 – $1017
Concierge Access – Garden Wing – 1 Bedroom Suite – Sleeps 5 – $1458
Concierge Access – Garden Wing – Hospitality Suite – Sleeps 5 or 7 – $1515
Concierge Level – 1 Bedroom Suite – Bay Lake View – Sleeps 6 – $1850
Concierge Level – 2 Bedroom Suite – Bay Lake View – Sleeps 8 – $2789
October 9-11, 2020
Garden Wing – Standard View – Sleeps 3-5 – $524
Garden Wing – Garden View – Sleeps 3-5 – $613
Garden Wing – Deluxe Room – Sleeps 4 – $755
Main Tower – Bay Lake View – Sleeps 3-5 – $773
Main Tower – Theme Park View – Sleeps 3-5 – $844
Atrium Club Level – Standard Room – Bay Lake View – Sleeps 3 or 5 – $1029
Atrium Club Level -Standard room – Theme Park View – Sleeps 3-5 – $1232
Concierge Access – Garden Wing – 1 Bedroom Suite – Sleeps 5 – $1773
Concierge Access – Garden Wing – Hospitality Suite – Sleeps 5 or 7 – $1956
Concierge Level – 1 Bedroom Suite – Bay Lake View – Sleeps 6 – $2317
Concierge Level – 2 Bedroom Suite – Bay Lake View – Sleeps 8 – $3398
October 12-14, 2020
Garden Wing – Standard View – Sleeps 3-5 – $477
Garden Wing – Garden View – Sleeps 3-5 – $508
Garden Wing – Deluxe Room – Sleeps 4 – $598
Main Tower – Bay Lake View – Sleeps 3-5 – $651
Main Tower – Theme Park View – Sleeps 3-5 – $726
Atrium Club Level – Standard Room – Bay Lake View – Sleeps 3 or 5 – $837
Atrium Club Level -Standard room – Theme Park View – Sleeps 3-5 – $959
Concierge Access – Garden Wing – 1 Bedroom Suite – Sleeps 5 – $1381
Concierge Access – Garden Wing – Hospitality Suite – Sleeps 5 or 7 – $1403
Concierge Level – 1 Bedroom Suite – Bay Lake View – Sleeps 6 – $1685
Concierge Level – 2 Bedroom Suite – Bay Lake View – Sleeps 8 – $2709
October 15, 2020
Garden Wing – Standard View – Sleeps 3-5 – $494
Garden Wing – Garden View – Sleeps 3-5 – $531
Garden Wing – Deluxe Room – Sleeps 4 – $624
Main Tower – Bay Lake View – Sleeps 3-5 – $670
Main Tower – Theme Park View – Sleeps 3-5 – $744
Atrium Club Level – Standard Room – Bay Lake View – Sleeps 3 or 5 – $865
Atrium Club Level -Standard room – Theme Park View – Sleeps 3-5 – $1004
Concierge Access – Garden Wing – 1 Bedroom Suite – Sleeps 5 – $1452
Concierge Access – Garden Wing – Hospitality Suite – Sleeps 5 or 7 – $1495
Concierge Level – 1 Bedroom Suite – Bay Lake View – Sleeps 6 – $1778
Concierge Level – 2 Bedroom Suite – Bay Lake View – Sleeps 8 – $2808
October 16-17, 2020
Garden Wing – Standard View – Sleeps 3-5 – $544
Garden Wing – Garden View – Sleeps 3-5 – $597
Garden Wing – Deluxe Room – Sleeps 4 – $699
Main Tower – Bay Lake View – Sleeps 3-5 – $725
Main Tower – Theme Park View – Sleeps 3-5 – $840
Atrium Club Level – Standard Room – Bay Lake View – Sleeps 3 or 5 – $966
Atrium Club Level -Standard room – Theme Park View – Sleeps 3-5 – $1061
Concierge Access – Garden Wing – 1 Bedroom Suite – Sleeps 5 – $1546
Concierge Access – Garden Wing – Hospitality Suite – Sleeps 5 or 7 – $1702
Concierge Level – 1 Bedroom Suite – Bay Lake View – Sleeps 6 – $2000
Concierge Level – 2 Bedroom Suite – Bay Lake View – Sleeps 8 – $2787
October 18-21, 2020
Garden Wing – Standard View – Sleeps 3-5 – $477
Garden Wing – Garden View – Sleeps 3-5 – $508
Garden Wing – Deluxe Room – Sleeps 4 – $598
Main Tower – Bay Lake View – Sleeps 3-5 – $651
Main Tower – Theme Park View – Sleeps 3-5 – $726
Atrium Club Level – Standard Room – Bay Lake View – Sleeps 3 or 5 – $837
Atrium Club Level -Standard room – Theme Park View – Sleeps 3-5 – $959
Concierge Access – Garden Wing – 1 Bedroom Suite – Sleeps 5 – $1381
Concierge Access – Garden Wing – Hospitality Suite – Sleeps 5 or 7 – $1403
Concierge Level – 1 Bedroom Suite – Bay Lake View – Sleeps 6 – $1685
Concierge Level – 2 Bedroom Suite – Bay Lake View – Sleeps 8 – $2709
October 22, 2020
Garden Wing – Standard View – Sleeps 3-5 – $494
Garden Wing – Garden View – Sleeps 3-5 – $531
Garden Wing – Deluxe Room – Sleeps 4 – $624
Main Tower – Bay Lake View – Sleeps 3-5 – $670
Main Tower – Theme Park View – Sleeps 3-5 – $744
Atrium Club Level – Standard Room – Bay Lake View – Sleeps 3 or 5 – $865
Atrium Club Level -Standard room – Theme Park View – Sleeps 3-5 – $1004
Concierge Access – Garden Wing – 1 Bedroom Suite – Sleeps 5 – $1452
Concierge Access – Garden Wing – Hospitality Suite – Sleeps 5 or 7 – $1495
Concierge Level – 1 Bedroom Suite – Bay Lake View – Sleeps 6 – $1778
Concierge Level – 2 Bedroom Suite – Bay Lake View – Sleeps 8 – $2808
October 23-24, 2020
Garden Wing – Standard View – Sleeps 3-5 – $544
Garden Wing – Garden View – Sleeps 3-5 – $597
Garden Wing – Deluxe Room – Sleeps 4 – $699
Main Tower – Bay Lake View – Sleeps 3-5 – $725
Main Tower – Theme Park View – Sleeps 3-5 – $840
Atrium Club Level – Standard Room – Bay Lake View – Sleeps 3 or 5 – $966
Atrium Club Level -Standard room – Theme Park View – Sleeps 3-5 – $1061
Concierge Access – Garden Wing – 1 Bedroom Suite – Sleeps 5 – $1546
Concierge Access – Garden Wing – Hospitality Suite – Sleeps 5 or 7 – $1702
Concierge Level – 1 Bedroom Suite – Bay Lake View – Sleeps 6 – $2000
Concierge Level – 2 Bedroom Suite – Bay Lake View – Sleeps 8 – $2787
October 25-28, 2020
Garden Wing – Standard View – Sleeps 3-5 – $477
Garden Wing – Garden View – Sleeps 3-5 – $508
Garden Wing – Deluxe Room – Sleeps 4 – $598
Main Tower – Bay Lake View – Sleeps 3-5 – $651
Main Tower – Theme Park View – Sleeps 3-5 – $726
Atrium Club Level – Standard Room – Bay Lake View – Sleeps 3 or 5 – $837
Atrium Club Level -Standard room – Theme Park View – Sleeps 3-5 – $959
Concierge Access – Garden Wing – 1 Bedroom Suite – Sleeps 5 – $1381
Concierge Access – Garden Wing – Hospitality Suite – Sleeps 5 or 7 – $1403
Concierge Level – 1 Bedroom Suite – Bay Lake View – Sleeps 6 – $1685
Concierge Level – 2 Bedroom Suite – Bay Lake View – Sleeps 8 – $2709
October 29, 2020
Garden Wing – Standard View – Sleeps 3-5 – $494
Garden Wing – Garden View – Sleeps 3-5 – $531
Garden Wing – Deluxe Room – Sleeps 4 – $624
Main Tower – Bay Lake View – Sleeps 3-5 – $670
Main Tower – Theme Park View – Sleeps 3-5 – $744
Atrium Club Level – Standard Room – Bay Lake View – Sleeps 3 or 5 – $865
Atrium Club Level -Standard room – Theme Park View – Sleeps 3-5 – $1004
Concierge Access – Garden Wing – 1 Bedroom Suite – Sleeps 5 – $1452
Concierge Access – Garden Wing – Hospitality Suite – Sleeps 5 or 7 – $1495
Concierge Level – 1 Bedroom Suite – Bay Lake View – Sleeps 6 – $1778
Concierge Level – 2 Bedroom Suite – Bay Lake View – Sleeps 8 – $2808
October 30-31, 2020
Garden Wing – Standard View – Sleeps 3-5 – $563
Garden Wing – Garden View – Sleeps 3-5 – $568
Garden Wing – Deluxe Room – Sleeps 4 – $680
Main Tower – Bay Lake View – Sleeps 3-5 – $709
Main Tower – Theme Park View – Sleeps 3-5 – $795
Atrium Club Level – Standard Room – Bay Lake View – Sleeps 3 or 5 – $998
Atrium Club Level -Standard room – Theme Park View – Sleeps 3-5 – $1081
Concierge Access – Garden Wing – 1 Bedroom Suite – Sleeps 5 – $1583
Concierge Access – Garden Wing – Hospitality Suite – Sleeps 5 or 7 – $1593
Concierge Level – 1 Bedroom Suite – Bay Lake View – Sleeps 6 – $1898
Concierge Level – 2 Bedroom Suite – Bay Lake View – Sleeps 8 – $2864
November 2020
November 1-4, 2020
Garden Wing – Standard View – Sleeps 3-5 – $520
Garden Wing – Garden View – Sleeps 3-5 – $536
Garden Wing – Deluxe Room – Sleeps 4 – $615
Main Tower – Bay Lake View – Sleeps 3-5 – $724
Main Tower – Theme Park View – Sleeps 3-5 – $776
Atrium Club Level – Standard Room – Bay Lake View – Sleeps 3 or 5 – $939
Atrium Club Level -Standard room – Theme Park View – Sleeps 3-5 – $992
Concierge Access – Garden Wing – 1 Bedroom Suite – Sleeps 5 – $1417
Concierge Access – Garden Wing – Hospitality Suite – Sleeps 5 or 7 – $1449
Concierge Level – 1 Bedroom Suite – Bay Lake View – Sleeps 6 – $1773
Concierge Level – 2 Bedroom Suite – Bay Lake View – Sleeps 8 – $2719
November 5-7, 2020
Garden Wing – Standard View – Sleeps 3-5 – $558
Garden Wing – Garden View – Sleeps 3-5 – $629
Garden Wing – Deluxe Room – Sleeps 4 – $713
Main Tower – Bay Lake View – Sleeps 3-5 – $769
Main Tower – Theme Park View – Sleeps 3-5 – $855
Atrium Club Level – Standard Room – Bay Lake View – Sleeps 3 or 5 – $983
Atrium Club Level -Standard room – Theme Park View – Sleeps 3-5 – $1199
Concierge Access – Garden Wing – 1 Bedroom Suite – Sleeps 5 – $1765
Concierge Access – Garden Wing – Hospitality Suite – Sleeps 5 or 7 – $1904
Concierge Level – 1 Bedroom Suite – Bay Lake View – Sleeps 6 – $2190
Concierge Level – 2 Bedroom Suite – Bay Lake View – Sleeps 8 – $3179
November 8-11, 2020
Garden Wing – Standard View – Sleeps 3-5 – $477
Garden Wing – Garden View – Sleeps 3-5 – $508
Garden Wing – Deluxe Room – Sleeps 4 – $598
Main Tower – Bay Lake View – Sleeps 3-5 – $651
Main Tower – Theme Park View – Sleeps 3-5 – $726
Atrium Club Level – Standard Room – Bay Lake View – Sleeps 3 or 5 – $837
Atrium Club Level -Standard room – Theme Park View – Sleeps 3-5 – $959
Concierge Access – Garden Wing – 1 Bedroom Suite – Sleeps 5 – $1381
Concierge Access – Garden Wing – Hospitality Suite – Sleeps 5 or 7 – $1403
Concierge Level – 1 Bedroom Suite – Bay Lake View – Sleeps 6 – $1685
Concierge Level – 2 Bedroom Suite – Bay Lake View – Sleeps 8 – $2709
November 12, 2020
Garden Wing – Standard View – Sleeps 3-5 – $494
Garden Wing – Garden View – Sleeps 3-5 – $531
Garden Wing – Deluxe Room – Sleeps 4 – $624
Main Tower – Bay Lake View – Sleeps 3-5 – $670
Main Tower – Theme Park View – Sleeps 3-5 – $744
Atrium Club Level – Standard Room – Bay Lake View – Sleeps 3 or 5 – $865
Atrium Club Level -Standard room – Theme Park View – Sleeps 3-5 – $1004
Concierge Access – Garden Wing – 1 Bedroom Suite – Sleeps 5 – $1452
Concierge Access – Garden Wing – Hospitality Suite – Sleeps 5 or 7 – $1495
Concierge Level – 1 Bedroom Suite – Bay Lake View – Sleeps 6 – $1778
Concierge Level – 2 Bedroom Suite – Bay Lake View – Sleeps 8 – $2808
November 13-14, 2020
Garden Wing – Standard View – Sleeps 3-5 – $544
Garden Wing – Garden View – Sleeps 3-5 – $597
Garden Wing – Deluxe Room – Sleeps 4 – $699
Main Tower – Bay Lake View – Sleeps 3-5 – $725
Main Tower – Theme Park View – Sleeps 3-5 – $797
Atrium Club Level – Standard Room – Bay Lake View – Sleeps 3 or 5 – $947
Atrium Club Level -Standard room – Theme Park View – Sleeps 3-5 – $1137
Concierge Access – Garden Wing – 1 Bedroom Suite – Sleeps 5 – $1662
Concierge Access – Garden Wing – Hospitality Suite – Sleeps 5 or 7 – $1769
Concierge Level – 1 Bedroom Suite – Bay Lake View – Sleeps 6 – $2055
Concierge Level – 2 Bedroom Suite – Bay Lake View – Sleeps 8 – $3104
November 15-18, 2020
Garden Wing – Standard View – Sleeps 3-5 – $477
Garden Wing – Garden View – Sleeps 3-5 – $508
Garden Wing – Deluxe Room – Sleeps 4 – $598
Main Tower – Bay Lake View – Sleeps 3-5 – $651
Main Tower – Theme Park View – Sleeps 3-5 – $726
Atrium Club Level – Standard Room – Bay Lake View – Sleeps 3 or 5 – $837
Atrium Club Level -Standard room – Theme Park View – Sleeps 3-5 – $959
Concierge Access – Garden Wing – 1 Bedroom Suite – Sleeps 5 – $1381
Concierge Access – Garden Wing – Hospitality Suite – Sleeps 5 or 7 – $1403
Concierge Level – 1 Bedroom Suite – Bay Lake View – Sleeps 6 – $1685
Concierge Level – 2 Bedroom Suite – Bay Lake View – Sleeps 8 – $2709
November 19, 2020
Garden Wing – Standard View – Sleeps 3-5 – $494
Garden Wing – Garden View – Sleeps 3-5 – $531
Garden Wing – Deluxe Room – Sleeps 4 – $624
Main Tower – Bay Lake View – Sleeps 3-5 – $670
Main Tower – Theme Park View – Sleeps 3-5 – $744
Atrium Club Level – Standard Room – Bay Lake View – Sleeps 3 or 5 – $865
Atrium Club Level -Standard room – Theme Park View – Sleeps 3-5 – $1004
Concierge Access – Garden Wing – 1 Bedroom Suite – Sleeps 5 – $1452
Concierge Access – Garden Wing – Hospitality Suite – Sleeps 5 or 7 – $1495
Concierge Level – 1 Bedroom Suite – Bay Lake View – Sleeps 6 – $1778
Concierge Level – 2 Bedroom Suite – Bay Lake View – Sleeps 8 – $2808
November 20-21, 2020
Garden Wing – Standard View – Sleeps 3-5 – $544
Garden Wing – Garden View – Sleeps 3-5 – $597
Garden Wing – Deluxe Room – Sleeps 4 – $699
Main Tower – Bay Lake View – Sleeps 3-5 – $725
Main Tower – Theme Park View – Sleeps 3-5 – $797
Atrium Club Level – Standard Room – Bay Lake View – Sleeps 3 or 5 – $947
Atrium Club Level -Standard room – Theme Park View – Sleeps 3-5 – $1137
Concierge Access – Garden Wing – 1 Bedroom Suite – Sleeps 5 – $1662
Concierge Access – Garden Wing – Hospitality Suite – Sleeps 5 or 7 – $1769
Concierge Level – 1 Bedroom Suite – Bay Lake View – Sleeps 6 – $2005
Concierge Level – 2 Bedroom Suite – Bay Lake View – Sleeps 8 – $3104
November 22-23, 2020
Garden Wing – Standard View – Sleeps 3-5 – $477
Garden Wing – Garden View – Sleeps 3-5 – $508
Garden Wing – Deluxe Room – Sleeps 4 – $598
Main Tower – Bay Lake View – Sleeps 3-5 – $651
Main Tower – Theme Park View – Sleeps 3-5 – $726
Atrium Club Level – Standard Room – Bay Lake View – Sleeps 3 or 5 – $837
Atrium Club Level -Standard room – Theme Park View – Sleeps 3-5 – $959
Concierge Access – Garden Wing – 1 Bedroom Suite – Sleeps 5 – $1381
Concierge Access – Garden Wing – Hospitality Suite – Sleeps 5 or 7 – $1403
Concierge Level – 1 Bedroom Suite – Bay Lake View – Sleeps 6 – $1685
Concierge Level – 2 Bedroom Suite – Bay Lake View – Sleeps 8 – $2709
November 24-27, 2020
Garden Wing – Standard View – Sleeps 3-5 – $579
Garden Wing – Garden View – Sleeps 3-5 – $656
Garden Wing – Deluxe Room – Sleeps 4 – $734
Main Tower – Bay Lake View – Sleeps 3-5 – $789
Main Tower – Theme Park View – Sleeps 3-5 – $880
Atrium Club Level – Standard Room – Bay Lake View – Sleeps 3 or 5 – $1026
Atrium Club Level -Standard room – Theme Park View – Sleeps 3-5 – $1246
Concierge Access – Garden Wing – 1 Bedroom Suite – Sleeps 5 – $1845
Concierge Access – Garden Wing – Hospitality Suite – Sleeps 5 or 7 – $2024
Concierge Level – 1 Bedroom Suite – Bay Lake View – Sleeps 6 – $2331
Concierge Level – 2 Bedroom Suite – Bay Lake View – Sleeps 8 – $3286
November 28, 2020
Garden Wing – Standard View – Sleeps 3-5 – $544
Garden Wing – Garden View – Sleeps 3-5 – $597
Garden Wing – Deluxe Room – Sleeps 4 – $699
Main Tower – Bay Lake View – Sleeps 3-5 – $725
Main Tower – Theme Park View – Sleeps 3-5 – $797
Atrium Club Level – Standard Room – Bay Lake View – Sleeps 3 or 5 – $947
Atrium Club Level -Standard room – Theme Park View – Sleeps 3-5 – $1137
Concierge Access – Garden Wing – 1 Bedroom Suite – Sleeps 5 – $1662
Concierge Access – Garden Wing – Hospitality Suite – Sleeps 5 or 7 – $1769
Concierge Level – 1 Bedroom Suite – Bay Lake View – Sleeps 6 – $2055
Concierge Level – 2 Bedroom Suite – Bay Lake View – Sleeps 8 – $3104
November 29-30, 2020
Garden Wing – Standard View – Sleeps 3-5 – $477
Garden Wing – Garden View – Sleeps 3-5 – $508
Garden Wing – Deluxe Room – Sleeps 4 – $598
Main Tower – Bay Lake View – Sleeps 3-5 – $651
Main Tower – Theme Park View – Sleeps 3-5 – $726
Atrium Club Level – Standard Room – Bay Lake View – Sleeps 3 or 5 – $837
Atrium Club Level -Standard room – Theme Park View – Sleeps 3-5 – $959
Concierge Access – Garden Wing – 1 Bedroom Suite – Sleeps 5 – $1381
Concierge Access – Garden Wing – Hospitality Suite – Sleeps 5 or 7 – $1403
Concierge Level – 1 Bedroom Suite – Bay Lake View – Sleeps 6 – $1685
Concierge Level – 2 Bedroom Suite – Bay Lake View – Sleeps 8 – $2709
December 2020
December 1-2, 2020
Garden Wing – Standard View – Sleeps 3-5 – $477
Garden Wing – Garden View – Sleeps 3-5 – $508
Garden Wing – Deluxe Room – Sleeps 4 – $598
Main Tower – Bay Lake View – Sleeps 3-5 – $651
Main Tower – Theme Park View – Sleeps 3-5 – $726
Atrium Club Level – Standard Room – Bay Lake View – Sleeps 3 or 5 – $837
Atrium Club Level -Standard room – Theme Park View – Sleeps 3-5 – $959
Concierge Access – Garden Wing – 1 Bedroom Suite – Sleeps 5 – $1381
Concierge Access – Garden Wing – Hospitality Suite – Sleeps 5 or 7 – $1403
Concierge Level – 1 Bedroom Suite – Bay Lake View – Sleeps 6 – $1685
Concierge Level – 2 Bedroom Suite – Bay Lake View – Sleeps 8 – $2709
December 3, 2020
Garden Wing – Standard View – Sleeps 3-5 – $494
Garden Wing – Garden View – Sleeps 3-5 – $531
Garden Wing – Deluxe Room – Sleeps 4 – $624
Main Tower – Bay Lake View – Sleeps 3-5 – $670
Main Tower – Theme Park View – Sleeps 3-5 – $744
Atrium Club Level – Standard Room – Bay Lake View – Sleeps 3 or 5 – $865
Atrium Club Level -Standard room – Theme Park View – Sleeps 3-5 – $1004
Concierge Access – Garden Wing – 1 Bedroom Suite – Sleeps 5 – $1452
Concierge Access – Garden Wing – Hospitality Suite – Sleeps 5 or 7 – $1495
Concierge Level – 1 Bedroom Suite – Bay Lake View – Sleeps 6 – $1778
Concierge Level – 2 Bedroom Suite – Bay Lake View – Sleeps 8 – $2808
December 4-5, 2020
Garden Wing – Standard View – Sleeps 3-5 – $544
Garden Wing – Garden View – Sleeps 3-5 – $597
Garden Wing – Deluxe Room – Sleeps 4 – $699
Main Tower – Bay Lake View – Sleeps 3-5 – $725
Main Tower – Theme Park View – Sleeps 3-5 – $797
Atrium Club Level – Standard Room – Bay Lake View – Sleeps 3 or 5 – $947
Atrium Club Level -Standard room – Theme Park View – Sleeps 3-5 – $1137
Concierge Access – Garden Wing – 1 Bedroom Suite – Sleeps 5 – $1662
Concierge Access – Garden Wing – Hospitality Suite – Sleeps 5 or 7 – $1769
Concierge Level – 1 Bedroom Suite – Bay Lake View – Sleeps 6 – $2055
Concierge Level – 2 Bedroom Suite – Bay Lake View – Sleeps 8 – $3104
December 6-9, 2020
Garden Wing – Standard View – Sleeps 3-5 – $511
Garden Wing – Garden View – Sleeps 3-5 – $530
Garden Wing – Deluxe Room – Sleeps 4 – $609
Main Tower – Bay Lake View – Sleeps 3-5 – $690
Main Tower – Theme Park View – Sleeps 3-5 – $747
Atrium Club Level – Standard Room – Bay Lake View – Sleeps 3 or 5 – $926
Atrium Club Level -Standard room – Theme Park View – Sleeps 3-5 – $983
Concierge Access – Garden Wing – 1 Bedroom Suite – Sleeps 5 – $1389
Concierge Access – Garden Wing – Hospitality Suite – Sleeps 5 or 7 – $1433
Concierge Level – 1 Bedroom Suite – Bay Lake View – Sleeps 6 – $1767
Concierge Level – 2 Bedroom Suite – Bay Lake View – Sleeps 8 – $2694
December 10, 2020
Garden Wing – Standard View – Sleeps 3-5 – $524
Garden Wing – Garden View – Sleeps 3-5 – $541
Garden Wing – Deluxe Room – Sleeps 4 – $625
Main Tower – Bay Lake View – Sleeps 3-5 – $694
Main Tower – Theme Park View – Sleeps 3-5 – $760
Atrium Club Level – Standard Room – Bay Lake View – Sleeps 3 or 5 – $942
Atrium Club Level -Standard room – Theme Park View – Sleeps 3-5 – $1008
Concierge Access – Garden Wing – 1 Bedroom Suite – Sleeps 5 – $1433
Concierge Access – Garden Wing – Hospitality Suite – Sleeps 5 or 7 – $1473
Concierge Level – 1 Bedroom Suite – Bay Lake View – Sleeps 6 – $1795
Concierge Level – 2 Bedroom Suite – Bay Lake View – Sleeps 8 – $2747
December 11-12, 2020
Garden Wing – Standard View – Sleeps 3-5 – $586
Garden Wing – Garden View – Sleeps 3-5 – $654
Garden Wing – Deluxe Room – Sleeps 4 – $730
Main Tower – Bay Lake View – Sleeps 3-5 – $841
Main Tower – Theme Park View – Sleeps 3-5 – $902
Atrium Club Level – Standard Room – Bay Lake View – Sleeps 3 or 5 – $1134
Atrium Club Level -Standard room – Theme Park View – Sleeps 3-5 – $1189
Concierge Access – Garden Wing – 1 Bedroom Suite – Sleeps 5 – $1694
Concierge Access – Garden Wing – Hospitality Suite – Sleeps 5 or 7 – $1773
Concierge Level – 1 Bedroom Suite – Bay Lake View – Sleeps 6 – $2110
Concierge Level – 2 Bedroom Suite – Bay Lake View – Sleeps 8 – $3120
December 13-17, 2020
Garden Wing – Standard View – Sleeps 3-5 – $528
Garden Wing – Garden View – Sleeps 3-5 – $586
Garden Wing – Deluxe Room – Sleeps 4 – $659
Main Tower – Bay Lake View – Sleeps 3-5 – $753
Main Tower – Theme Park View – Sleeps 3-5 – $814
Atrium Club Level – Standard Room – Bay Lake View – Sleeps 3 or 5 – $988
Atrium Club Level -Standard room – Theme Park View – Sleeps 3-5 – $1083
Concierge Access – Garden Wing – 1 Bedroom Suite – Sleeps 5 – $1570
Concierge Access – Garden Wing – Hospitality Suite – Sleeps 5 or 7 – $1650
Concierge Level – 1 Bedroom Suite – Bay Lake View – Sleeps 6 – $1962
Concierge Level – 2 Bedroom Suite – Bay Lake View – Sleeps 8 – $2893
December 18-24, 2020
Garden Wing – Standard View – Sleeps 3-5 – $715
Garden Wing – Garden View – Sleeps 3-5 – $774
Garden Wing – Deluxe Room – Sleeps 4 – $818
Main Tower – Bay Lake View – Sleeps 3-5 – $869
Main Tower – Theme Park View – Sleeps 3-5 – $967
Atrium Club Level – Standard Room – Bay Lake View – Sleeps 3 or 5 – $1112
Atrium Club Level -Standard room – Theme Park View – Sleeps 3-5 – $1302
Concierge Access – Garden Wing – 1 Bedroom Suite – Sleeps 5 – $1993
Concierge Access – Garden Wing – Hospitality Suite – Sleeps 5 or 7 – $2152
Concierge Level – 1 Bedroom Suite – Bay Lake View – Sleeps 6 – $2485
Concierge Level – 2 Bedroom Suite – Bay Lake View – Sleeps 8 – $3894
December 25-31, 2020
Garden Wing – Standard View – Sleeps 3-5 – $737
Garden Wing – Garden View – Sleeps 3-5 – $798
Garden Wing – Deluxe Room – Sleeps 4 – $843
Main Tower – Bay Lake View – Sleeps 3-5 – $896
Main Tower – Theme Park View – Sleeps 3-5 – $997
Atrium Club Level – Standard Room – Bay Lake View – Sleeps 3 or 5 – $1146
Atrium Club Level -Standard room – Theme Park View – Sleeps 3-5 – $1342
Concierge Access – Garden Wing – 1 Bedroom Suite – Sleeps 5 – $2053
Concierge Access – Garden Wing – Hospitality Suite – Sleeps 5 or 7 – $2217
Concierge Level – 1 Bedroom Suite – Bay Lake View – Sleeps 6 – $2560
Concierge Level – 2 Bedroom Suite – Bay Lake View – Sleeps 8 – $4011