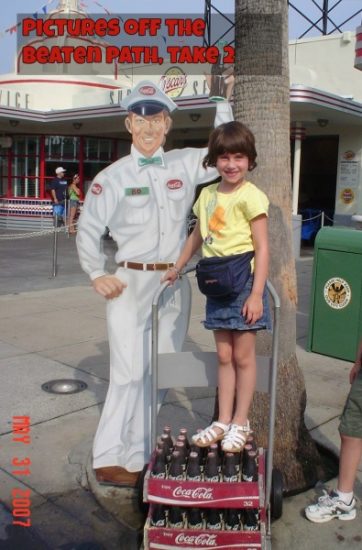 In my last blog, Create a Vacation Tradition with Pictures, I talked about finding those off-the-beaten-path areas to recreate memories of past trips.  Now that my kids are older, I miss those days when they were little.  You can call these a picture version of a growth chart.  It's always fun to reminisce by looking through old photos of past vacations.  Plus, that also helps with those Disney blues, when we can't be in the Happiest Place on Earth.
Because those pictures with Minnie Mouse in Sir Mickey's were so cute, I found another fun one to recreate, whenever we go to Hollywood Studios, formerly Disney's MGM Studios.  Bo, the Coke delivery man is always waiting to greet guests just after entering the park.  He hasn't really changed much over the last 10+ years, like Minnie Mouse and her dresses at Sir Mickey's.  One thing has changed.  While you once saw his daily delivery next to him, that is no longer to be found.  I'm sure we all can see why Disney probably removed that part of this fun display. As I look back on this, I know my daughter was careful taking that step up, but I'd be more worried about me tripping over it because I didn't realize it was sticking out.  I think Disney made a good call with that one.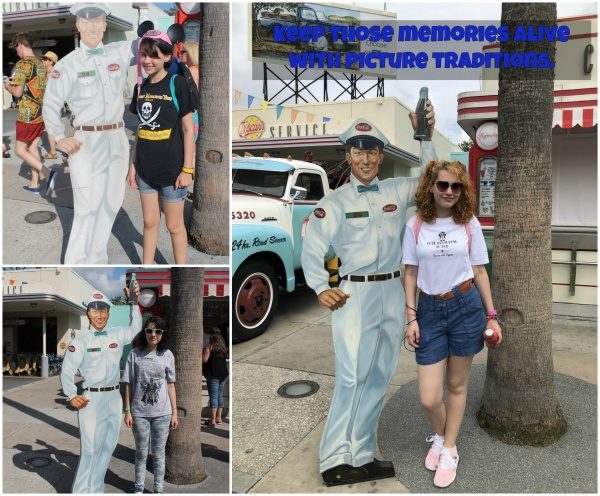 I love that there are Disney Photopass photographers all throughout the parks to capture your vacation memories.  But, I also love adding my own twist to things.  You can make requests of the Disney photographers, however they must stay in their designated areas and have some limitations.  Next time you head to a Disney park, try finding that cute little area for a picture of your family.  If it's your first time and aren't sure when you'll be back, dream big!  If you've visited before, dig through those photos and find those special ones to recreate.  You'll have a ton of fun doing it!
I'd love to help you plan your next Disney vacation!  Contact me for a free, no-obligation quote https://www.themagicforless.com/request-free-no-obligation-quote/?ldsrc=TMFL-TMFLJulieD
Similar Posts: