Eating healthy while at Walt Disney world can be done while avoiding many theme park pitfalls.  Amusement  parks are known for their mass-produced burgers, fries, and sugar laden treats.  While Walt Disney World does have its fair share of these types of foods, there is so much more.  On the up side, they are also known for a huge variety of dining options.  Staying on track with  seasonal festivals  offering guests tastes of deliciousness from around the world to 5-star rated Victoria and Alberts, does not have to be a chore. Life is about moderation, unless medically necessary, why completely deprive yourself from an occasional indulgence?
Whether you are watching what you eat for medical reasons,  as a lifestyle, or just do not like to overindulge. With a little work you can eat healthy AND enjoy much that Disney dining has to offer.  I wanted to check out some indulgences on a recent trip, in order to get a balance I had to make a plan with healthy choices.
Planning ahead
Having a plan with dining options is a good start to knowing your options ahead of time.  Looking online  you can find menus to almost all restaurants,  to know ahead those with the options that best meet your dietary needs.  Our sister site The Mouse for Less, has a great  list of menus.    Planning does not need to limit your options.  Are you indecisive when knowing that you want to eat today let alone next week or 6 months in advance?  That is okay,  if you are planning on spending the day at the Magic Kingdom, narrow down your best choices to two or three.  By keeping things a little more loosely planned you still have plenty of room for options.
Laden with extra calories sodas and sweetened beverages can easily be eliminated.  You can easily replace sugary drinks with a water bottle which not only saves calories but keeps you hydrated.  Not a fan of plain water?  Stop bay a quick service restaurant and they will happily provide free ice water.  Bringing along packets of Crystal lite or other water enhancer and you are all set.
Quick Service
While many may think that the term quick service is just fast fried foods, Disney has a gone above and beyond to not be that type of restaurant.  Disney understands the desire of many to eat healthy.  Even with it comes to children, they have included healthy eating options with Mickey Check meals.  Mickey Check meals give kids the option to make healthy choices of vegetables and fruits in place of French fries.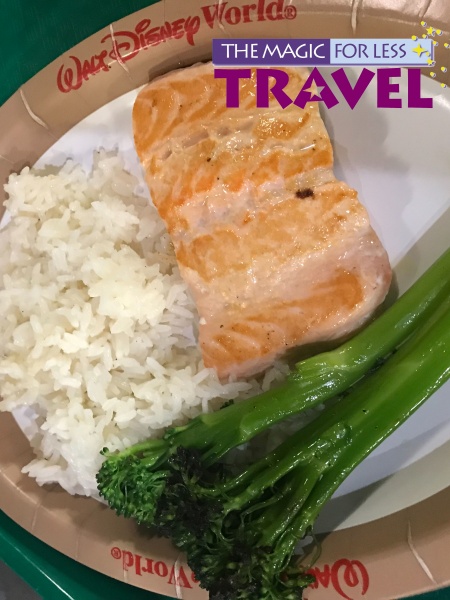 One of my favorite quick service locations is the Landscape of Flavors food court at Disney's Art of Animation resort.  For breakfast I love the simplicity of fruit, yogurt, or oatmeal, to fill me up without overdoing it.  For lunch and dinner options of grilled fish, salads, or plant-based entrees are available.  While dining options do change, taking a little time prior to your trip can save plenty of calories.  Just want something small?  Order a kids meal, the Mickey Check meals offer healthy smaller portions.  Here is a helpful tip, check out the Mickey Check meals and then see if there is something similar on the main menu.
Table Service and Lounges
By planning ahead with Advanced Dining Reservations at Table Service restaurants you have plenty of time to look at the menus before your reservation.  Don't be afraid to ask for sauces or dressings on the side, most times they are happy to accommodate.    While adults can usually order items off the kids menu at Table Service restaurants you will  be charged as an adult.  One of my favorite Table Services is  Be Our Guest Restaurant.  The ratatouille is full of great vegetables that fill you up!  In Epcot Table Service restaurants abound, perhaps a lite quick service lunch will leave more options open for dinner.  Do not feel the need to order a full entree if what you really want is an appetizer and soup or salad.
Lounges such as Geyser Point at Disney's Wilderness Lodge offer some great lite options in an atmosphere that boasts relaxation.  The Smoked Turkey Sandwich with apple slaw was exactly the right choice in the middle of a hot busy day.  While it comes with chips or fries these can either be omitted.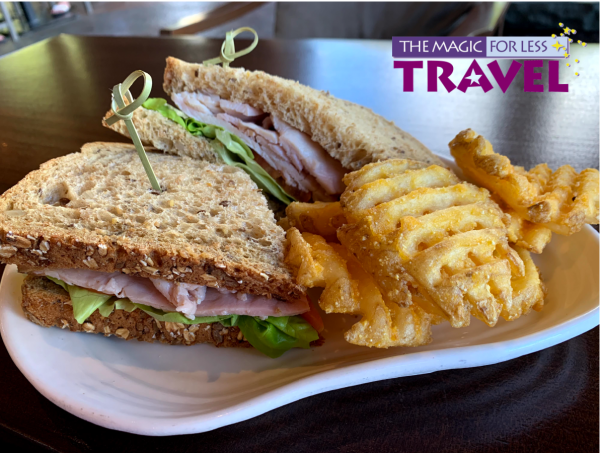 Buffets
When eating healthy, you may try to avoid buffets.  However, buffets in Walt Disney World oftentimes we are more about the experience than the food.  I rarely hear anyone say they want to go to Chef Mickey's for the food, Mickey is main deal here!  It is easy to get wrapped up in wanting to get your money's worth, don't!  Salads, fruits and vegetables are your friends at buffets.   At Chef Mickey's the carving station has great fresh carved meats with no added sauces and cocktail shrimp are always a good choice.
Indulgences and snacks
I think snacks are where the real goods are.  In the Magic Kingdom, Liberty Square Market has an amazing selection of fresh fruits, vegetables, and yogurt.  Over in Hollywood Studios,  Anaheim Produce Market has an equally awesome selection of the same.  In Animal Kingdom, the Harambe Fruit Market is a great option for freshness.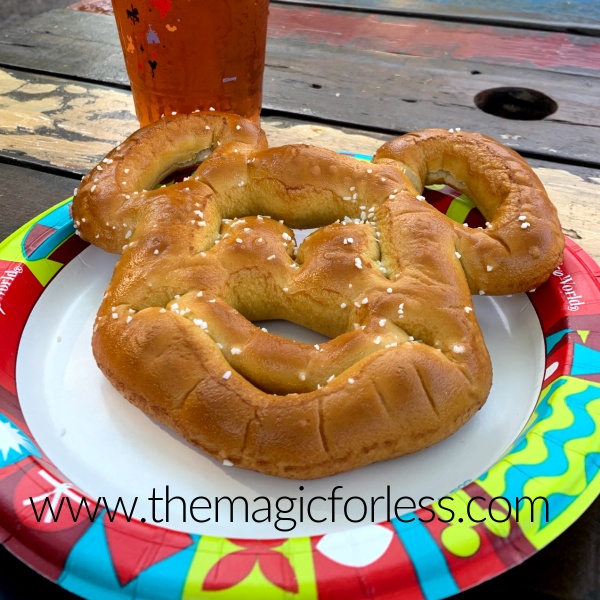 Balance is key to eating healthy and can allow for a daily indulgence.  I have a few that I love, while simple as it may be, a Mickey Pretzel with cheese dip is one of my favorites.  During festivals there are always a large selection of tastes to tempt your tastebuds.  Some prefer savory items, I am a sweets girl thru and thru.  For the 2020 Holiday Season, one of my indulgences was a Let it Snow cookie from Pecos Bill Saloon.  This was no plain cookie, it was a taco shaped cookie filled with a chocolate mousse and a whipped cream that tasted like Christmas.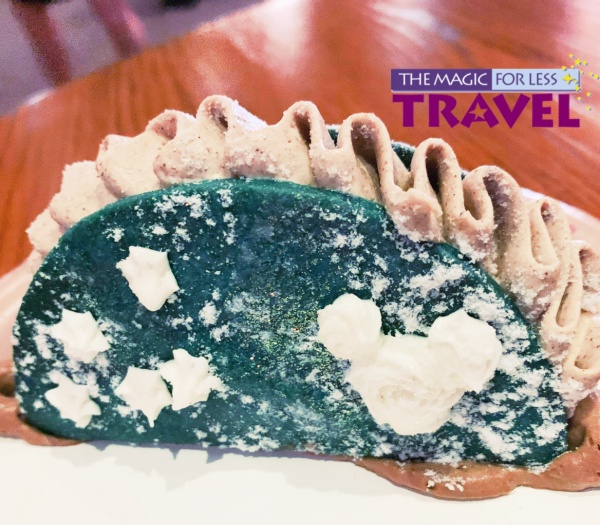 Plan Your Vacation Today
Thinking about your next trip?  Reach out to one of the travel planners at The Magic For Less Travel or email me at sue@themagicforless.com go get started!  Our quotes carry no-obligation!
Similar Posts: