Dining experiences are one of the most fun parts of a Disney vacation, and an important part!  Disney is always changing things and adding new attractions and dining venues, and while we don't always like change… you have to admit the changes are one reason we keep going back to Walt Disney World again and again!  Jungle Navigation Co. LTD. Skipper Canteen opened in Magic Kingdom almost 3 years ago (December 2015), but 3 years is not that long ago, I still consider it a new dining choice.
It was around lunch time and I was hungry, (imagine the horror that I had not planned where to eat ahead of time)!  I do like to wing it sometimes, and this particular day I was glad I did!   I was in Adventure Land and walked up to Skipper Canteen, they sat me within 5 minutes.  When I walked into the restaurant I already knew it was a good choice.  The design and decor left no room for boredom, I wasn't sure where to look first.
The detail has been carried out to perfection, as Disney does so well.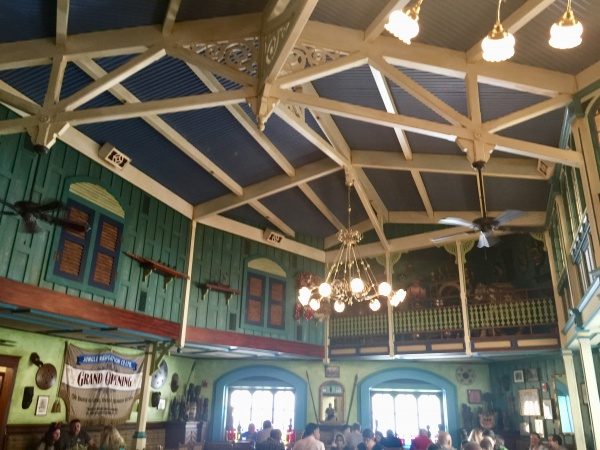 In true Disney fashion, the menu is themed to match the decor.   To start you will find items such as "Jungle Green Salad", "Ginger's "Croc" of Hot-and-Sour Soup" and "Falls Family Falafel".  Entree selections include "Perkins Thai Noodles" , "Sankuru Sadie's Seafood Stew", "Dr. Falls Signature Grilled Steak", to name a few.  You can find the complete Skipper Canteen menu on The Mouse For Less.
I ordered the Shiriki Noodle Salad, which was enough food for me for lunch, and at $11.00 was quite reasonable, and delicious!  Since the table service restaurants at Magic Kingdom now also offer wine and beer I couldn't pass up the chance to have my first ever alcoholic beverage at Magic Kingdom.  I did limit myself to one because this is a family Park after all!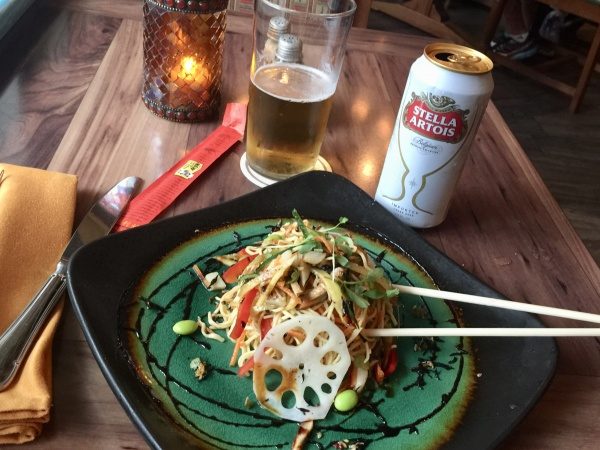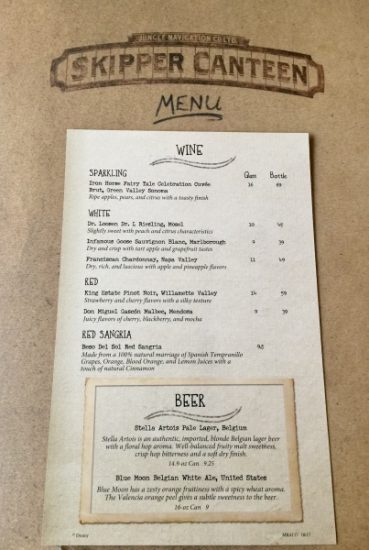 Take time to walk around and check out the detail, read some of the titles of the books too.   (I'm not going to give it away, you will have to go see for yourself).  You will not be sorry you took the time.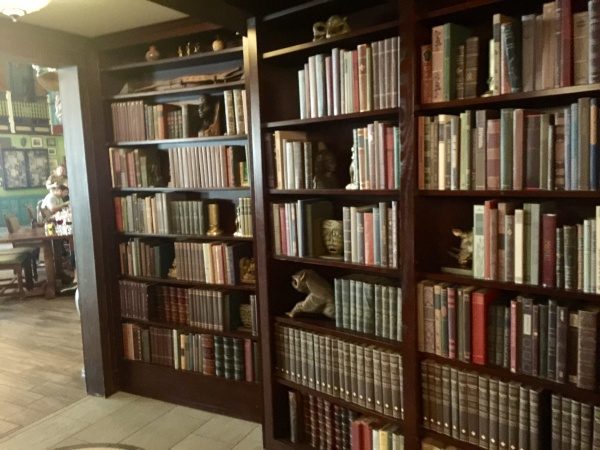 Overall it was a great dining experience, delicious lunch, and great service!  The servers have the personality of your tour guide on Jungle Cruise (a little more toned down, but fun!)!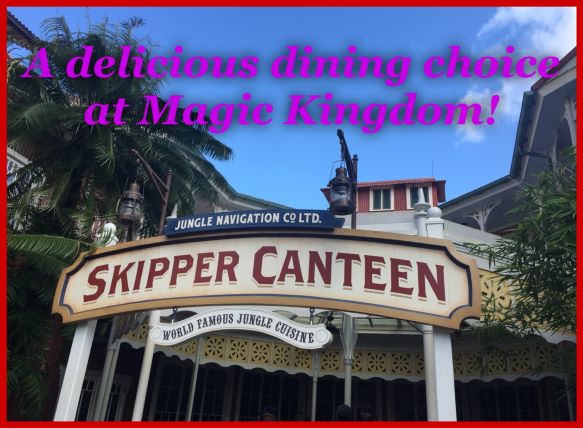 Next time you are at Magic Kingdom, put Jungle Navigation Co. LTD Skipper Canteen on your list for dining choices. Opened for Lunch and Dinner, and is one table service credit on the dining plan.  Contact me to plan your next Magical Disney vacation!  https://www.themagicforless.com/about-us/meet-our-agents/laura-augenti/
Similar Posts: