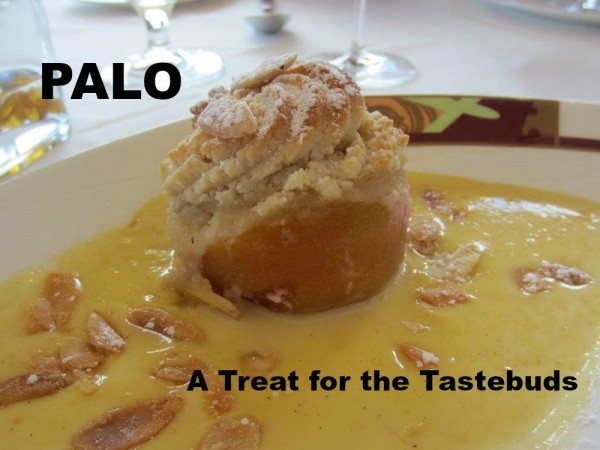 I had the great fortune to experience Palo's brunch menu on a trip in January 2014 and wanted to share that with my husband on our most recent trip aboard the Disney Dream.  We were celebrating some pretty big birthdays (50 for each of us) as well as a missed opportunity to celebrate our 20th anniversary last year.  I made the reservation but didn't really tell him what to expect other than the clothes and shoes he needed to consider bringing.
Palo (and Remy) are adult only restaurants aboard the Disney Cruise Line.  That fact alone can make this a great experience for couple, adults, groups of adults or anyone wanting a quiet moment away from the little Mouseketeers.  The décor is elegant, everyone is dressed up a bit and the restaurants are tucked away in a quiet spot aboard ship.
I made our reservation on the day that our shore excursion window opened.  The reservations do go quickly but some seating times might still be available when you board the ship so do check with Guest Services if you want to try this experience.  Brunch and dinner options are available.  I opted for brunch so that our teenagers could sleep in and then hang out together when they decided to get something to eat.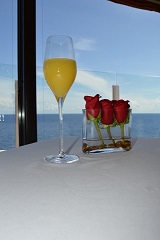 As soon as you walk in, you are well cared for at each step of the process.  We were seated at a lovely table and the view of the ocean blue was not only relaxing but awesome to take in while we ate.  Our server greeted us and brought us a lovely mimosa to start our meal.  Cheers to our 50th birthdays!
Aboard the Disney Dream, the Palo brunch table is exquisitely presented and we were given a tour by our server of each of the stations whether seafood, pastry, dessert or hot items.  We were left in the capable hands of those who were stationed at the serving tables and they helped us choose items and plated them for us.  This elegant touch took a bit for me to get used to since I felt perfectly capable of serving myself and didn't want to appear that I was eating too much but with Disney's attention to hygiene, I'm sure that played a role.  I didn't feel at any time though that I was being judged for what I was choosing and in fact, they kept encouraging me to try everything!
We started with a nice selection of cold items, fruit and the famous cinnamon buns.  You haven't lived until you've tried one of those!  We ordered some eggs Julia from our server to share and one other hot dish to share as well so that we could each try a bit.  Delicious pizza selections were also available but by the time we were finished eating, we knew there just wasn't going to be any room left and we wanted to sample some of the desserts.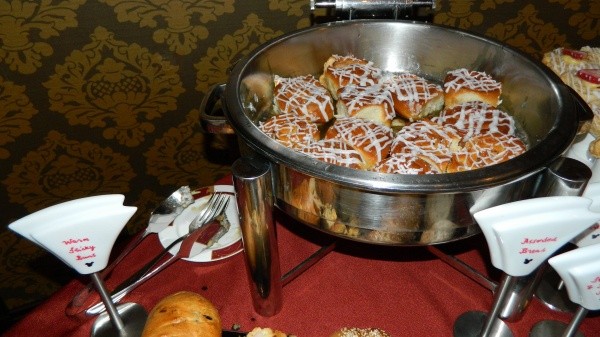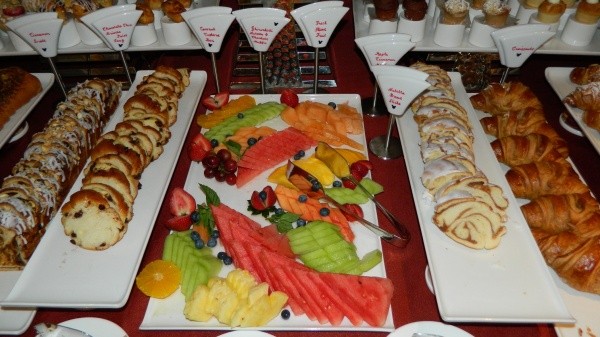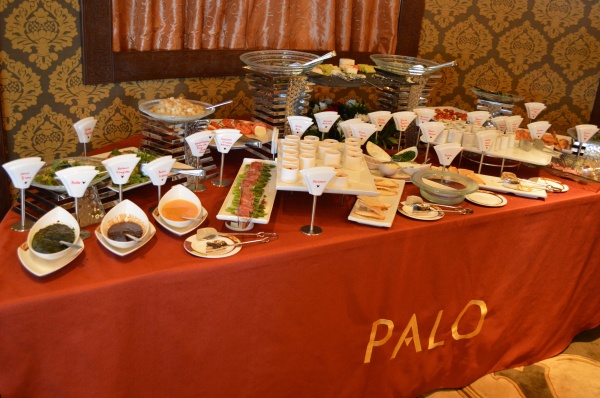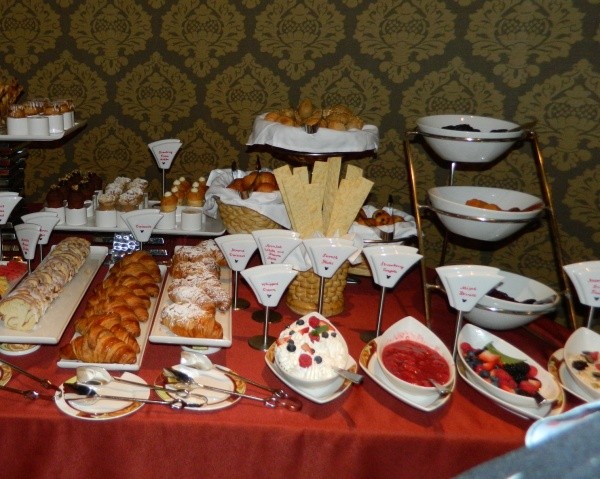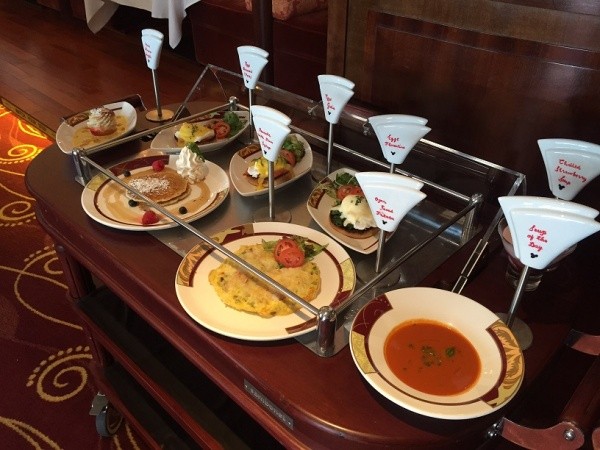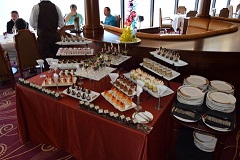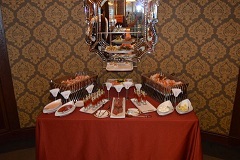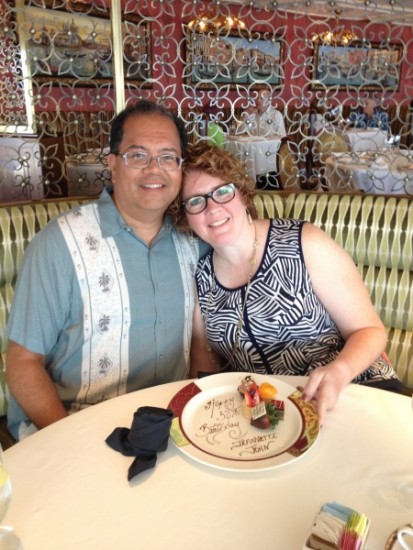 We had just finished choosing a small selection of dessert items when our server brought over a lovely dish to honor our birthdays.  It was beautifully done and shortly after, the chef came by to see if we had enjoyed our meals.  I almost couldn't talk because my mouth was still full of dessert!
At the end of our meal when we could eat no more, we were presented with a small wallet with a slip for our surcharge.  The adult only restaurants do charge a small surcharge for these restaurants and we both felt that it was well worth it for the experience.  It is not a gratuity and that makes the next decision a bit challenging.  How much do you leave for the server who provided such outstanding and exclusive service?  We spoke with several other diners that we knew later that night and we concluded that the gratuity should be commensurate with what you might leave for a champagne brunch or elegant dinner where you live.  What would that be worth?  Where I live, a champagne brunch might be about $35 – $50 per person so we tipped according to what we would leave for that type of event.  For an elegant dinner, we'd estimate higher.  It's up to you and we did not feel pressured at all when signing the check.
If you want a truly unique and special moment, consider dining at either Palo or Remy for a brunch or dinner option or if you can handle it, try both!  I can help you book that special Disney Cruise Line vacation.  Contact me for a free no obligation quote or request a quote from The Magic For Less Travel!
Similar Posts: