Overview
Touring Magic Kingdom has so much to offer that I actually make checklists for my must dos. This is my favorite theme park at Walt Disney World, and there is no better feeling than walking into the park under those large railroad archways and being greeted by my favorite Walt Disney quote, characters, and the whimsical music that awaits you from the Main Street U.S.A Trolley Show. If you are still contemplating how to plan your Magic Kingdom visit and don't know where to start, keep reading to learn how to plus your Magic Kingdom touring plan! Touring Magic Kingdom is so much fun and you will not be disappointed!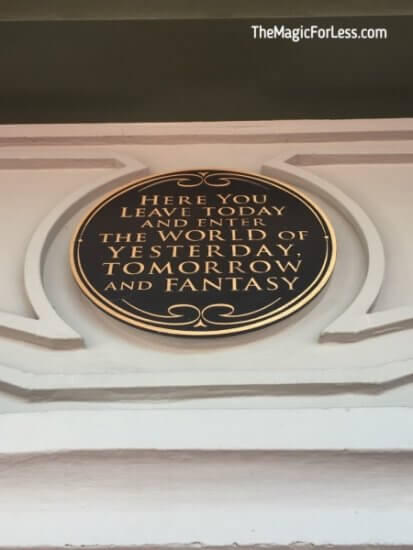 Main St U.S.A
Harmony Barber Shop
Your Magic Kingdom journey begins on Main Street U.S.A. One of the many fun things Main Street U.S.A has to offer for little ones, is 'My First Haircut' at the Harmony Barbershop. Your little tike will be entertained with toys and fun while a trained cast member gives them their first haircut. They are then rewarded with a certificate and an embroidered Mickey Mouse hat and parents can keep a lock of hair as a keepsake. This is a great way to make your child's first haircut more memorable and not so scary for them.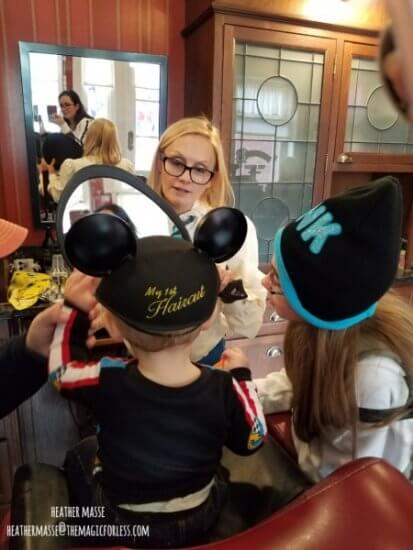 More Main Street
Moving further down Main Street U.S.A, you'll find different shops, restaurants that include Starbucks for the caffeine dosage you parents may need and smells of the Main Street Bakery gives you no choice but to go inside and explore what they have to offer and you might even be able to see these talented bakers in action. There's something for everyone.
Cinderella Castle 
The greatest part in this blogger's opinion when walking down Main Street U.S.A is the view. Cinderella's Castle is nothing less than magnificent! To gaze upon the castle from the top of Main Street U.S.A is one of the most beautiful sites to see in any of the theme parks. The street is lined with light posts, Victorian style business fronts, music, scents and cast members greeting you all along the way. Photo Pass photographers are lined up at a minimum of 4 different viewing points to take your picture in front of this beautiful castle. Trust me you are not going to want to miss this picture opportunity!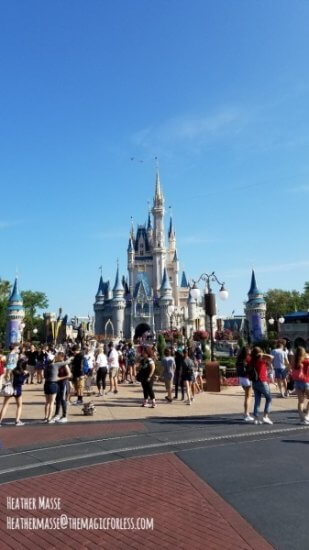 Fantasyland
Walking Through the Story
Each land within Magic Kingdom transports you into a world unlike you've ever seen. Fantasyland, Liberty Square, Tomorrowland, Adventureland and Frontierland. While there are several ways to enter Fantasyland, my favorite path is straight through Cinderella's Castle. When you walk through Cinderella's Castle to enter Fantasyland, you are not just walking through the castle, you are walking through the story of Cinderella.
This is a must in my 'how to plus your Magic Kingdom touring plan!' The walls inside this walkway were transformed into intricate mosaic works of art that tells the story of Cinderella. This is a must see and should definitely be on the top of your checklist like it is mine. Expect some stops during this walkway as the beautiful mosaic tiles call for the attention it deserves causing many to stop and study the artwork.
Classic Disney Stories Brought to Life
Once you enter Fantasyland you are greeted with the majestic and detailed Prince Charming's carousel! (Do not pass up a chance to ride this carousel!) Fantasyland will also give you some of the more classic rides that Walt Disney World is known for, It's a Small World and Peter Pan's Flight. The must do ride from this land is Seven Dwarfs Mine Train, my family never misses it. This ride takes you through the story of Snow White and the Seven Dwarfs, and even gives you a closer look at the dwarfs in their glory mining gems! This coaster is perfect for anyone who loves a not so scary thrill ride and loves to whistle while they work.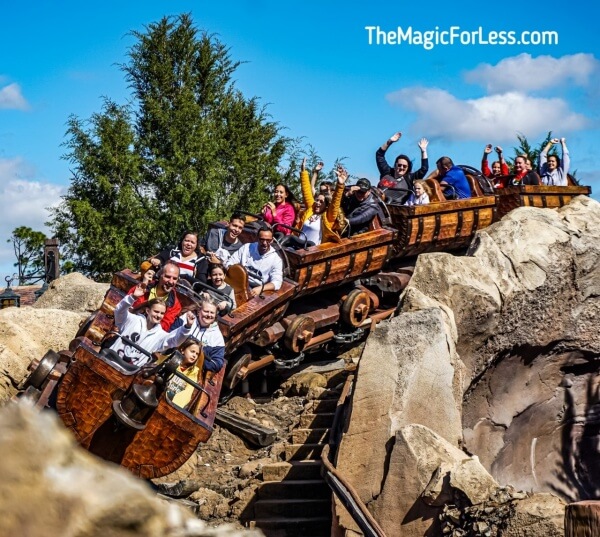 Hidden Pasquals
As you pass, It's a Small World, you'll find a fun Tangled themed rest area with cellphone charging stations and bathrooms. If you need to take a rest, this is the spot. You'll get to see Rapunzel's tower and a unique PhotoPass spot that is best to take advantage of in the evening! This creative area will also provide you with some fun with the hidden Pascal's game. Your family will enjoy a scavenger hunt to locate the many Pascals hidden throughout the Tangled area,. Make sure to search up high!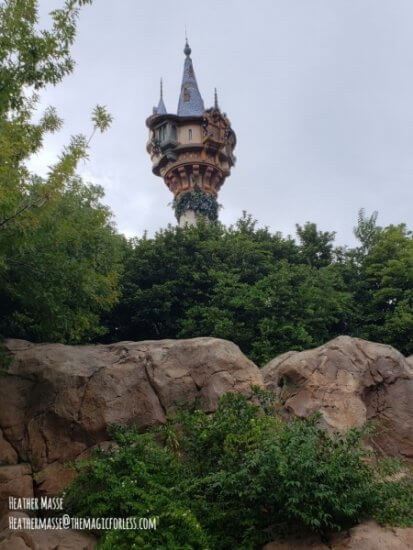 Tomorrowland
Buzz Lightyear's Space Ranger Spin
To the right of Fantasyland but before Cinderella's Castle, you are transported to a futuristic world, Tomorrowland. Here you'll be able to shoot down Zurg with Buzz Lightyear on Buzz Lightyear's Space Rangers Sping.  Next you can blast off into space on the classic Space Mountain or race around Tomorrowland Speedway. My favorite part of Tomorrowland is a fun experience for kids of all ages, Monster's Inc Laugh Floor! Be certain to visit this experience to relax, cool down and have some fun all at the same time while you are entertained with a comedy show given by the members of Monster's Inc and help them collect laughs!
The PeopleMover
For those that just want to take a leisure ride and take in the beautiful sites that Magic Kingdom has to offer, The Tomorrowland Transit Authority PeopleMover is where you want to be. This calming ride will give you an aerial view of Tomorrowland and Cinderella's Castle. (Have your cameras ready!)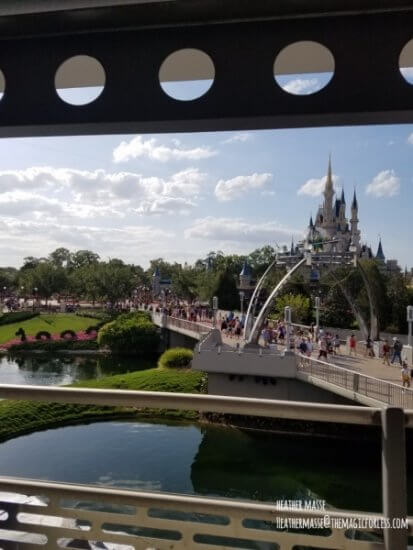 Liberty Square
A Snack Not to Miss!
Liberty Square, located on the opposite side of Fantasyland just past the Tangled rest area, brings you to colonial America. The Hall of Presidents is a must see for all you historians (and kids not in school). Also be sure to cruise the river with the Town Square Riverboat. When it's time for a snack and to take a break from touring Magic Kingdom, Sleepy Hollow is one of the best places with the delicious Nutella, fresh fruit filled waffle. (A definite checklist item.)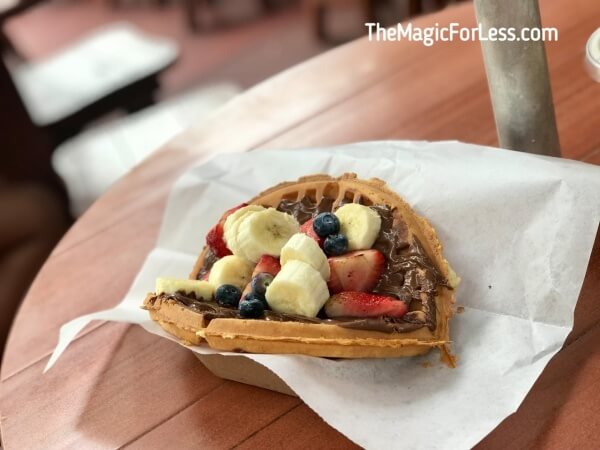 Haunted Mansion
Haunted Mansion is also located in this area – my favorite ride! Where else would you be able to find ghosts dancing and having a party in a graveyard. I always make sure to have time for this ride…sometimes twice. This happens to also be a great PhotoPass spot when you exit the ride with the Haunted Mansion as your background.  Don't forget to ask for magic shots to get a special surprise in your downloaded photo.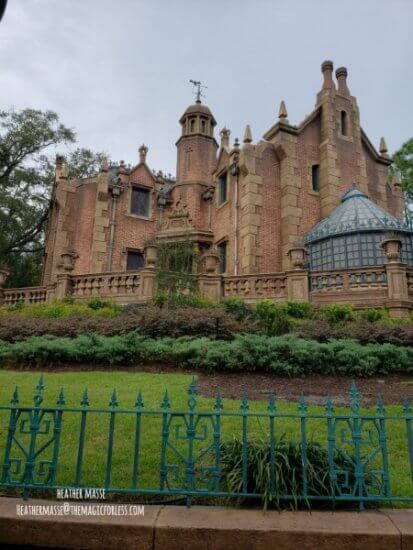 Frontierland
Splash Mountain
Exiting Liberty Square, you enter Frontierland. This land offers a country setting atmosphere that everyone will love. Frontierland is also home to the ever-popular Splash Mountain! This is the perfect ride if you love thrill rides and need to cool off from the Florida heat. After gliding through the Southern theming of the ride (soon to be The Princess and the Frog theming), you are splashed down into a wave of water.  Don't forget to smile for the on-ride camera.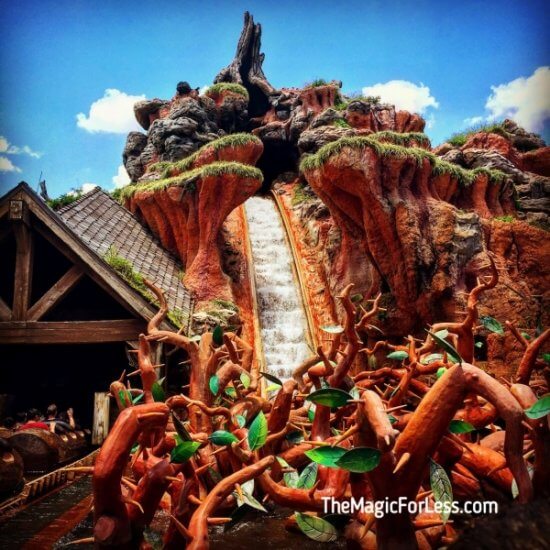 Country Bear Jamboree
If thrill rides are not your thing, you can comfortably enjoy a delicious snack from the Frontier Trading Post while taking in the western, country scenery and catch one of the fun filled parades. Now calling all Country Bears fans, and soon to be fans, because you are not going to want to miss The Country Bears Jamboree ! Here you will be entertained with the comedy styles and music of the Country Bear band.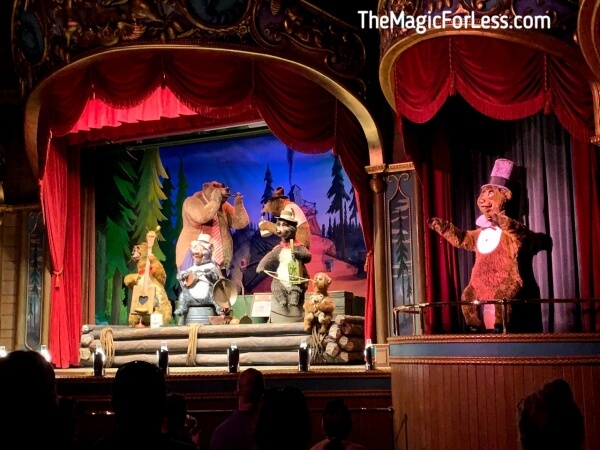 Adventureland
Adventure Awaits!
Frontierland merges perfectly with the theming of Adventureland which is where you'll find yourself next. This is perhaps one of my two favorite areas of Magic Kingdom (Main St U.SA being my other). This area will give you the sense of being part of tropical experiences featuring Walt Disney's Enchanted Tiki Room, the must have very popular refreshing Dole Whip at Aloha Isle, and a ride on a magic carpet on The Magic Carpets of Aladdin ride.  Watch out for the camels, they spit!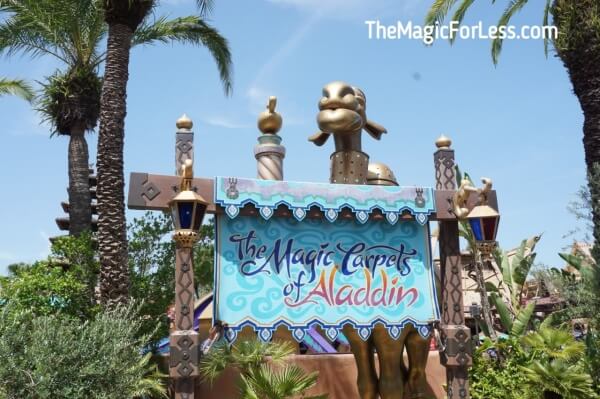 Pirates of the Carribean
Adventureland is also home to Pirates of the Caribbean. The décor and smells of this section make you feel as if you are a citizen of a swashbuckling town. You're little one will want to be transformed into a fellow pirate, empress or even mermaid at The Pirates League. And of course, The Pirates of the Caribbean ride is a must do for every visit! You'll be taken through the adventures of Jack Sparrow and his crew with a ship war, a visit to ports and even catch a glimpse of the famous pirate himself basking in all his gold.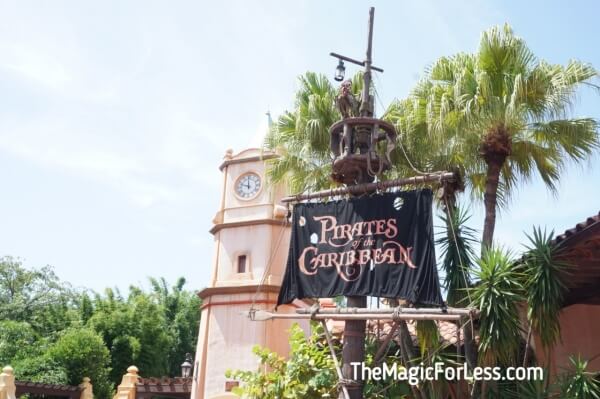 Pirate Adventure
I think, and my kids agree, one of the most fun activities of Adventureland is the pirate treasure hunt, A Pirate's Adventure: Treasures of the Seven Seas. Kids help Captain Jack Sparrow in a series of interactive hunts for hidden secrets and treasure throughout Adventureland. Visit the Crow's Nest to get started and report back after each hunt has been successfully completed. Your little pirates will be rewarded with each one with a special treasure card and an extra special surprise after the second hunt! This hunt really adds to the fun of touring Magic Kingdom!!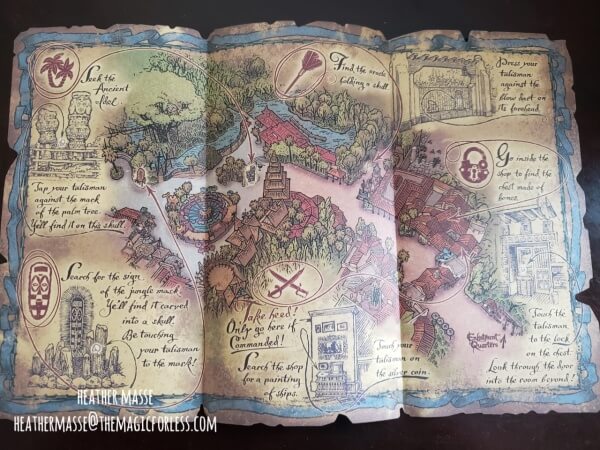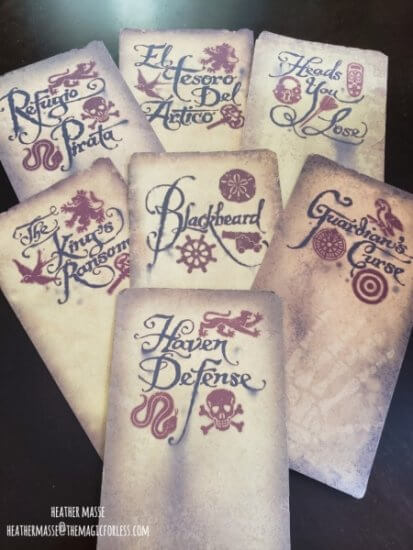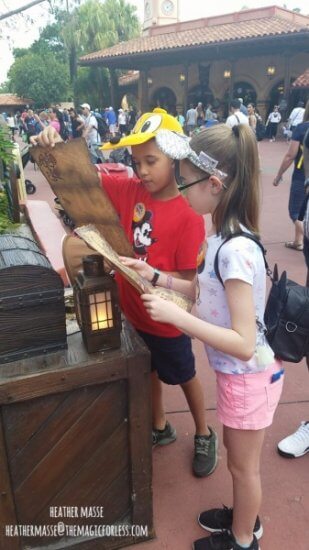 While this blog only highlights some of the great options Magic Kingdom has to offer, there is so much more!  If you are interested in learning more, you can contact The Magic For Less Travel.
Please check the Know Before You Go Site for Current Offerings and Experiences.
Similar Posts: