This was our second cruise on the Disney Wonder to Alaska. We loved the first one we took so much we decided to do it again.  We went on the last sailing of the year, on August 31 to September 7, 2015.  We arrived 2 days early and stayed at the Best Western Plus Chateau Granville Hotel & Suites. With a generous exchange rate, the price was very nice for a 1 bedroom suite. The hotel was in a very convenient part of town, many restaurants and close to the hop on, hop off tour bus. Plus they had a cruise special that included a continental breakfast and transportation to the cruise port.
Our cabin was the same as the last time. Great space and room enough to not feel cramped. We had a verandah that was perfect for viewing the glacier at Tracy Arm. It was incredibly windy that day. You needed to watch your children closely.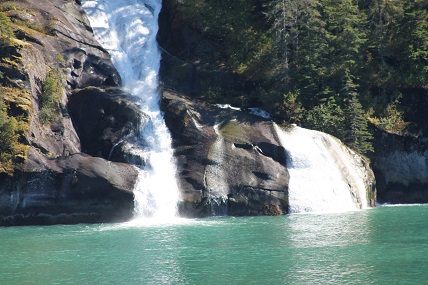 Our first excursion in Skagway was Takshanuk Mountain Trail by Kawasaki ATV Mules. We left the ship and took a bus to the dock where we took a 40 minute boat ride to Haines, AK. It is a very quaint little town. From there we took a bus to the place the ATV's were kept. We stopped at a rustic cabin for refreshments and headed up the mountain. There was so much to take pictures of. The scenery was spectacular. We were able to sample wild blueberries, delicious. Our final destination was 1500 feet to view the Chilkoot Lake and the Upper Lynn Canal. We did not see any Bears, Deer, etc. but it was worth the drive to see the views. We returned to the cabin for a meal of BBQ chicken and halibut. Very tasty. Then we headed back down the trail. Was sad to see it end. I wish we would have been able to investigate the town a bit, but there was not time for that. It was $199.00 per person and I think it was worth the price.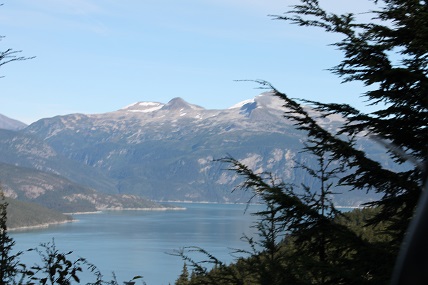 The next day we were in Juneau were we did an excursion that included learning about photography, very timely for my husband who had a newer camera. It was Alaska's Whales & Glaciers Photo Safari tour. We started out by a 30 minute shuttle ride to the Trail of Time near the Mendenhall Glacier. We enjoyed a forested walk through the trail to the glacier. We saw a stream where salmon were still swimming upstream.  We also saw some bear scat, but no bears.  Not sure if that is good or bad, lol.  Many lovely flowers and trees, and a perfect temperature for the walk.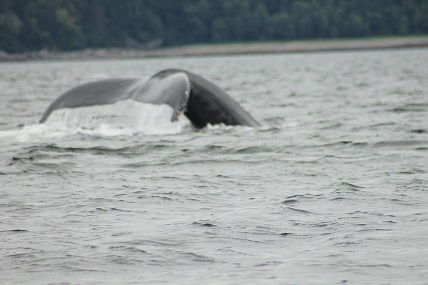 Then we re-boarded the shuttle for a short ride to Auke Bay. The boat left me a pin nervous as it was much smaller than the one we were on two years ago.  But it proved to be safe enough.  We saw many whales, but were not as close as our last time, which considering the size of the boat was probably a good thing.  We also saw some sea lions and bald eagles.
We headed back to the bus and our guide went over a few more things. At the end we received a DVD, which I have not viewed yet.  It was a bit pricey, but comparable to the excursions they have for whale watching.  The price for this was $210.00 per person.
Our next day was in Ketchikan where we opted to just go into town and walk around and shop. Great prices are in the shops on the final Disney sailing of the season.  We would probably have sunnier, warmer weather earlier in the season, but we really enjoy this time of year.
Once again, I highly recommend this cruise. We had awesome dining servers, cabin attendants and great company with us.
Our first Disney Wonder Alaska Cruise
https://www.themagicforless.com/disney-vacations/disney-cruise-line/
Similar Posts: