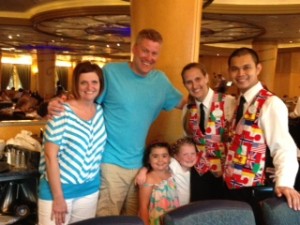 Friends sometime ask me why I return to Disney destinations time-and-time again.  The answer to this is quite simple – I know I'm going to have an excellent adventure on each trip!  Our recent Spring Break cruise on the Disney Wonder was no exception.  It had been over a decade since I had sailed on the Classic ships of the Disney Cruise Line fleet, but we were not disappointed in the least.  We loved the intimacy and ease-of-navigation of the Wonder during our cruise!  Our trip really proved that you can't go wrong with any of the ships in the Disney Cruise Line fleet!
My wife Pam, my daughter Mallory who is five-years-old, and I departed from the Port of Miami on Monday, March 25 after spending two nights at Disney's Art of Animation Resort Pre-cruise.  The drive down from Orlando was long and uneventful, but make sure that you have plenty of cash for tolls.  We paid over $20.00 each way on the Florida Turnpike in tolls!   However, once we arrived at the Port, getting on the Wonder was a breeze.  Some nice porters unloaded our car for us, we parked in the parking garage across the street ($95 for 5 days) and walked into the terminal.  I must admit that I prefer Port Canaveral a bit more than Miami, just due to it's smaller size and more "Disney feel", but Miami wasn't bad.  Before we knew it, they were announcing the "Rahlmann Family" onboard and they were ushering us to lunch!  Instead of the sit-down meal at Parrot Cay, we chose to head to the top deck to Beach Blanket Buffet since the weather was beautiful!  There we sat with great food, wonderful Florisa sunshine, and a view of the skyline of Miami that couldn't be beat!  We then checked out our stateroom, which was on Deck 7 with a wonderful verandah!  Mallory loved her little seat out there!  The one thing that we did miss on the Wonder was the under-bed-storage.  On the Dream and Fantasy, you can get most of your empty suitcases under that bed, which helps with your organization in your room.  It wasn't a major deal, however.
As you know, two of the highlights of any cruise are the dining and entertainment experiences.  We had great experiences with both on the Disney Wonder.  We rotated through Parrot Cay, which has a Caribbean-island feel, Triton's with it's French-inspired cuisine, and finally Animator's Palate with a celebration of the magic of Disney animation!  I actually preferred Animator's Palate on the Wonder to the Disney Dream, because the atmosphere is very "Disney", and there was an awesome surprise at the end of the meal!   Of course, your servers rotate with you each evening to the new dining adventure, and our servers Jack and Marie were incredible!  They really made us feel like royalty!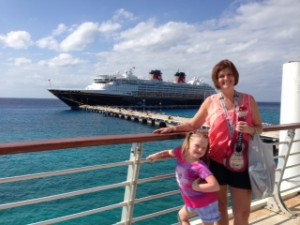 Each night after dinner, we headed to the Walt Disney Theater for a great show! I really enjoyed the "Golden Mickey's" (and got to meet Ensign Benson later in the cruise!), but the show that really had my heart was "Disney Dreams."   This show was won awards for the best show on any cruise ship at sea, and I can really see why!  It brings all of the imagination of a child and the magic of Disney into an hour-long production, sprinkled with some Pixie Dust.  It is not be be missed!
We visited the ports of Grand Cayman and Cozumel on this 5-Night Western Caribbean itinerary.  With the seas a bit rough heading into Grand Cayman, we had to tender from the south end of the island and catch a bus into Georgetown.  This was handled very well by Disney Cruise Line as they gave us free vouchers to catch the bus into Grand Cayman to do some shopping, and while waiting for the tender back to the ship, they were passing out chocolate-chip cookies to all!  (The other passengers on other lines looked longingly at our goods!)  In Cozumel, we docked and had a beautiful day.  After some shopping in the plaza, we caught a cab and headed to Paradise Beach.  This place was amazing!  For $2.00 per person, you get to use their facilities, including beach loungers, umbrellas, a beautiful pool, showers and restrooms, and more!  You can pay $12.00 per person extra to have access to their water-play activities like slides and kayaks out in the ocean!  We are definitely heading back here!
If you ever get a chance to sail on any of the ships of the Disney Cruise Line, I would encourage you to do so.  The service and level of entertainment is unmatched.  The Disney Wonder really felt like a family, and we can't wait to have a family reunion soon!
Hear more about this wonderful Disney Cruise on the Be Our Guest Podcast this Friday, April 12, 2013!  Visit us at www.beourguestpodcast.podbean.com or just search "Be Our Guest WDW Podcast" on iTunes and Stitcher Smart Radio!
Similar Posts: