Storybook Dining With Snow White at Disney's Wilderness Lodge is now open!
In September 2018, the Disney Parks Blog announced a new Storybook Dining experience with Snow White at Artist Point in Wilderness Lodge, which would begin on Sunday, December 16, 2018. Many in the internet Disney fan community were in a tizzy about the change, but personally I thought it was a great idea. Artist Point was notorious for not being full, and most of the time you could even get a walk-up. However, at two credits for one meal on Disney's Dining Plan, and "Signature Restaurant" pricing, it just didn't resonate with families. Although I had been there a few times over the years, this was not a place where the menu appealed to me, so I just didn't go. The change from Fine Dining to a character meal means that Disney's Wilderness Lodge will be the only "Deluxe" level property without a more sophisticated dining experience. (Artist Point is not open for breakfast or lunch.)
Since I had a December trip in the works, I started stalking the online dining system for reservations to this new meal. It did take a few weeks to book, but as a party of two, tables often pop up closer to check-in. Score one for perseverance and idly staring at screens all day, and I was able to secure a reservation for opening night. Initially, I did not book a dining plan, but once I started running the financials for meals on this trip, Storybook Dining at Artist Point tipped me into the Disney Dining Plan territory. This was also going to be the last trip I would probably take with my daughter, who would be graduating college in a few months and embarking on her professional career as a mechanical engineer. She's been my Disney Buddy for a long time now, and I didn't want to subject her to just sandwiches and salads for a few days. Opening day pricing for this meal is $55 per adult and $33 for children ages 3-9. This total we need to add a tax of 6.5% and gratuity of 18-20%. It is on par with pricing at Akershus Royal Banquet Hall in Epcot's Norway so the pricing is not anything unusual. Although this is an opening day meal reservation, I wasn't too worried as it is not a new restaurant.  I was expecting experienced staff and characters who knew their way around, and with two of us even if we had to wait a bit, it wouldn't be horrible.
The Venue
After great success with Disney busses, we were very early to our reservation. They were not able to seat us early but they did take my cell phone number and told me it was likely we'd be close to our original time, which was 8:15 pm. 
We headed to the Territory Lounge at Wilderness Lodge and had a couple of cocktails. They were delicious, and for those of you who are mourning the passing of the "old" Artist Point menu, you'll find the mushroom bisque, salmon, and the cobbler right here.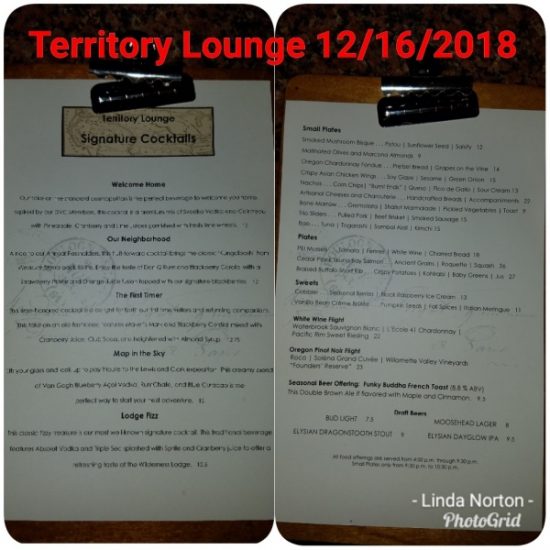 At 8:10 p,m we headed out of the lounge back to the podium. They weren't quite ready for us, so we sat in the lobby for a bit. It was 8:40 pm when we got the text to proceed to our table–which was tucked behind a support beam which now looked like a tree. Seriously it was probably the worst table in the place as we could not see any of the characters coming in, but someone had to get it, and as long as they didn't forget my food, it wasn't a big deal.
Looking around the dining room, it didn't change too much, except they added tree branches to the support poles. They did a great job on the flip of this restaurant, and even better, the servers are all still there. Our server had been there for ten years, and she said they were only off for three weeks during the changeover, and it was a nice vacation. She was pretty quick, and we got drinks and water, and food came out within 10 minutes–but no characters.
As I looked around, I thought to have Snow White and her Storybook Friends in here was a great fit. Disney left the views of woods and the courtyard at Wilderness Lodge, and it still felt very airy even with the addition of woodland features.  The tables and chairs appear to be the sam,e, and there was plenty of space between the tables. Although we were tucked behind a pol,e there was plenty of room for guests, staff, and characters to walk around.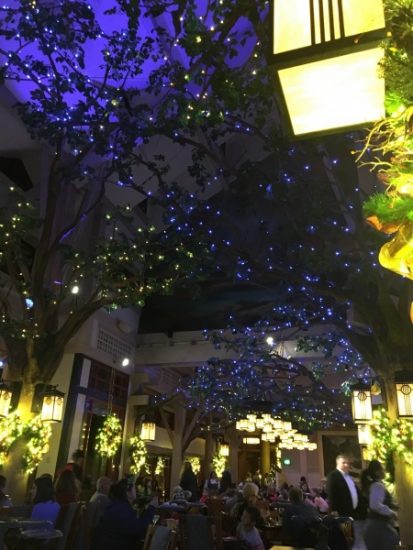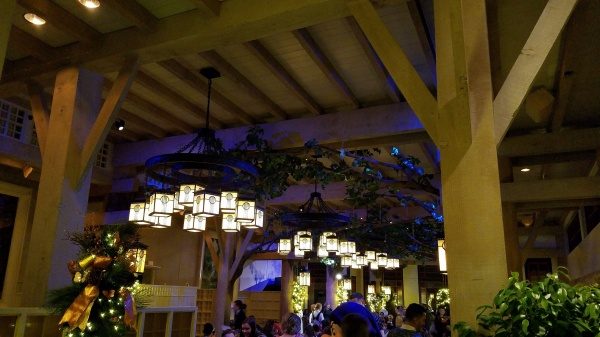 As we were seated, the moving characters were already working the room; the Evil Queen was stationary. We saw Snow White, Dopey, and Grumpy visiting other tables–but they then left. Snow White and the Evil Queen are the only ones who speak; Dopey and Grumpy sign autograph books and pose for photos. For those of you who are new to character dining, they do not sit and eat with you: they stop at your table and engage in some chitchat, pose for a photo and sign your book, and move on to the next table in the route.
The Menu
The new menu at Artist Point is quite nice, with plenty of options for everyone. Like its Storybook Dining cousin at Akershus, this meal starts with a shared appetizer, individual entree, and a shared dessert.  You also get a beverage such as a fountain drink or iced tea or brewed coffee. On Disney's Dining Plan, one adult beverage is included for guests age 21+ with proper ID (and don't forget it–because they check), and there is an excellent selection of beer, wine, and cocktails. While there are not massive amounts of entree choices (its Disney and not Applebee's), you will find the usual chicken, fish/seafood, vegetarian, beef, and something else. In this case, the "something else" is a veal shank.
Here's the opening night menu, December 16, 2018. Lousy photos, but the lighting at my table was horrible. Can't explain that yellow-shadow but you can see what they are offering: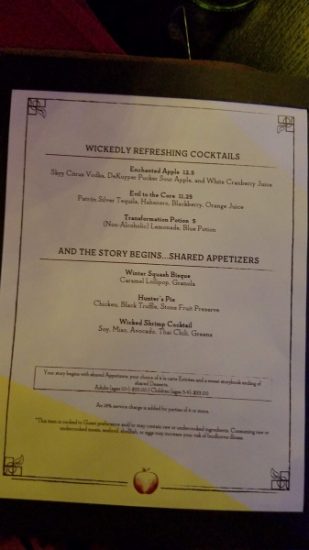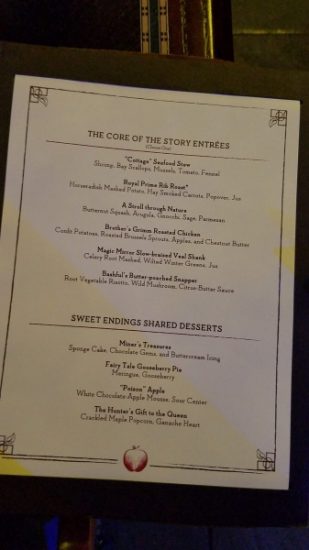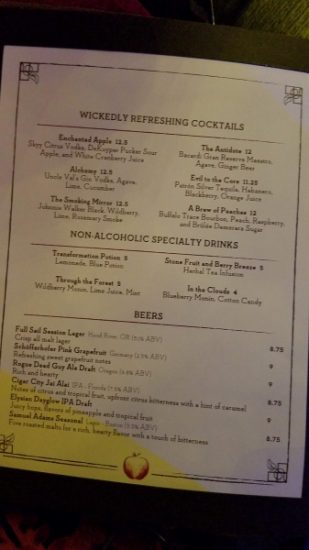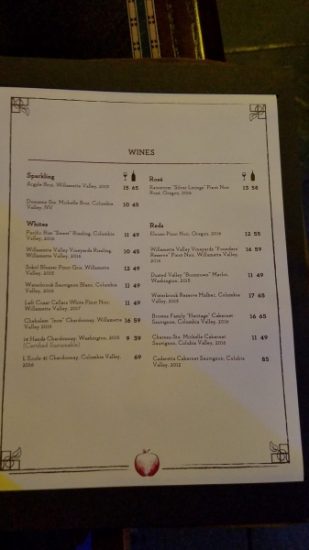 Our server took our drink and entree orders. My daughter selected the Brother's Grimm Roasted Chicken (Confit Potatoes, Roasted Brussels Sprouts, Apples, and Chestnut Butter), and I had Bashful's butter-poached Snapper  (Root Vegetable Risotto, Wild Mushroom, Citrus-Butter Sauce.) While I like vegetarian meals when I travel, the one they had didn't do too much for me as I don't care for gnocchi, and I am super picky about prime rib needing to be cooked to well done. I mean really cooked and not red or pink. Since I really didn't want to send anything back, it was just easier to order the fish. I do not eat veal or mussels, so the other two entrees were out. The children's menu is called "Grumpy's Grub," which has a mix of healthy selections and the typical chicken tenders found just about everywhere at Disney these days. Children ages 3-9 will be able to select from Prime Rib, a vegetarian Steam Bun, pasta, and chicken besides those chicken tenders. There is no hot dog or hamburger.
Since we were on Disney's Dining Plan and that pricey adult beverage is part of the plan (we get one and no refills–I asked!), I decided to have the "Evil to the Core"  ($11.25): silver tequila, habanero, blackberry, and orange juice. My daughter selected the "Enchanted Apple" ($12.50):  Skyy Citrus Vodka, DeKuyper Pucker Sour Apple, and White Cranberry Juice. I really enjoyed my cocktail, and she liked hers. Alas, I was not able to taste her drink as I seem to have an allergic reaction to most vodkas, Skyy specifically, and need to stay away from them. My drink had a little spicy kick to it, and I would have it again… and again… and again. It was delicious.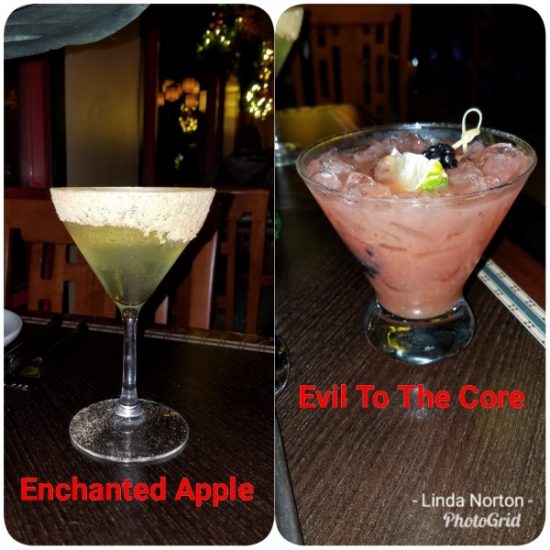 Round 1:  The Appetizers
The appetizer plate is shared with the whole table. Disney said they would be "whimsical" and  "seasonal" so expect them to change. Opening night, we find Winter Squash Bisque, Hunter's Pie, and Wicked Shrimp Cocktail. We found the bisque to be sweet, and it was served with a little piece of marshmallow on a wooden pick.  The Hunter's Pie was a small meat pie with chicken and black truffle, which was served with "Stone Preserve."  For those of you who don't know what this is, it is a jam/jelly made from Stone Fruits.  "Stone Fruits" have a stone for a pit such as peaches, nectarines, plums, cherries, apricots. I loved this Hunter's Pie and would order it if I ever saw it on a menu somewhere. I don't understand the necessity for the preserves, but they were tasty. I neither saw nor tasted any truffles.
The "shrimp cocktail" was one piece of shrimp per person with a bunch of greens on it—no typical cocktail sauce with horseradish. The twist here is it is Asian themed with soy, miso, avocado, and Thai chili. I tasted nothing except for shrimp and greens. Maybe they forgot the sauce or extras?  Who knows.
Round 2:  The Entrees
We ordered the chicken and the snapper, and our food arrived pretty quickly.  Too quickly as we had not finished our appetizers and the cocktails were virtually untouched after their initial sip.
I liked my fish, and it was the right size portion, but I thought it was odd as there appeared to be a salad on top of it. Once I ate the greens, I found the rest of the meal–but it was all white, and I couldn't tell what was in each bite. The citrus butter sauce was tart but in a good way. Since I like lemons, limes, and grapefruit, this was right up my alley. However, I could see where some people might find the flavors to be strong. I would order this again.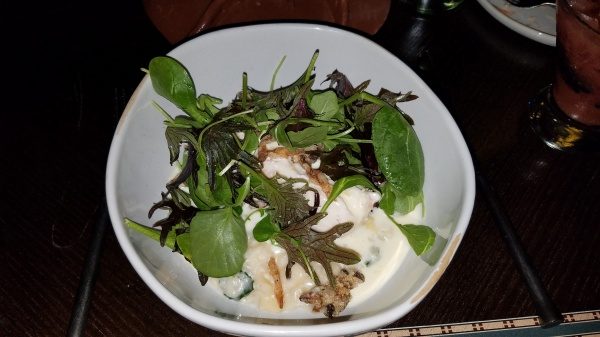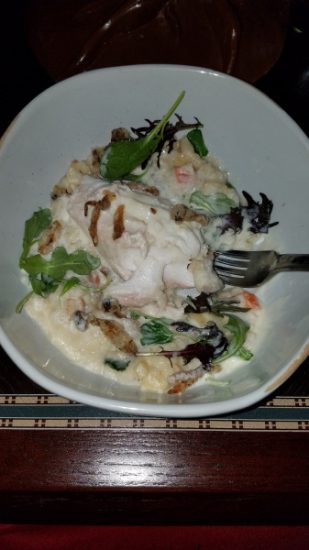 My daughter found the chicken to be delicious. She said, "this is the best-prepared chicken I've ever had." She said the skin was crispy and the meat was juicy and tender–but cooked. She is still talking about how yummy it was.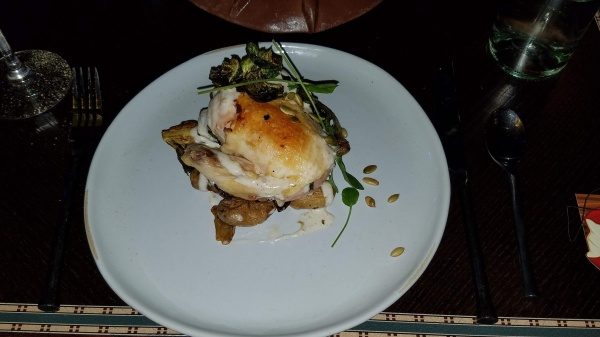 With both of us members of the clean plate club, there were still no characters heading our way. Our server cleared our plates, and we were finally able to enjoy those cocktails.
Round 3:  Dessert… and characters!
Finally, as our dessert was arriving, the characters were announced into the dining room. Like Akershus, there are seatings, and the characters come in and work a specific section. Snow White was first, and she came into the music of "With a Smile and a Song" from her movie. She did a choreographed routine (which was spot-on perfect, in my opinion), and then she began visiting tables. About 10 minutes later, Grumpy and Dopey came out to "Whistle While You Work."  As the characters are announced, the lights in the trees come on. It was nice and it got my attention.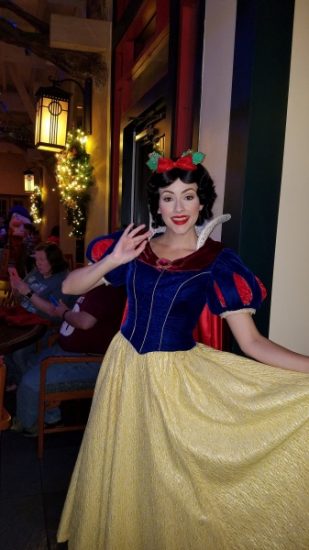 The Evil Queen does not walk around the tables but instead meets with guests after dinner–or if you just go up there. She was standing in the center of the room against a wall, and while the restaurant stayed full and busy, the lines were never horrible at this late hour. Moving her elsewhere would make for a better traffic flow; however, I don't know where they would put her without disrupting an entire section. (This is where we have to trust Disney.)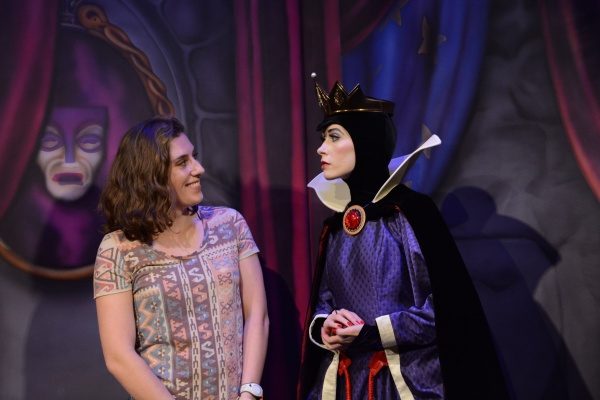 The photos in Disney's promotional materials showed some very interesting desserts, and the finale of the meal did not disappoint. They told us we had the following:
"Poison" Apple; Fairy Tale Gooseberry Pie; a sponge cake with chocolate gems and buttercream icing called Miner's Treasures; and The Hunter's Gift to the Queen, which features cracked maple popcorn with a ganache heart. Remember, the desserts are shared, so you don't have to choose—you get one of each!
So let us deconstruct that dessert presentation.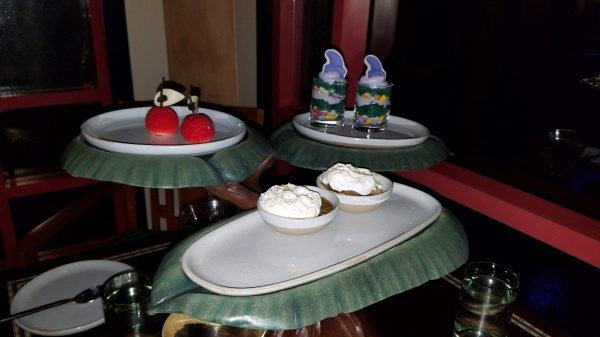 The Gooseberry pie was very good. Tart, but good. I could have skipped the meringue and would recommend they consider a crumble as a topping. A brown sugar/oatmeal topping would add some sweetness. The Poison Apple was delicious–and about two bites. I broke into the apple's sugar crust, and the inside was a sort of mousse, and it was tasty. Now the Sponge Cake… well, I could have had that from any supermarket. In the little glass are some chunks of chocolate rocks. I did not care for this and didn't eat it all.
After we were done with our desserts, our server returned with "The Hunter's Gift to the Queen."  These were a couple of filled chocolate hearts on salted caramel corn. It was pretty good and "just enough."  The presentation was in a box that had dry ice underneath. The effect was cool–but unnecessary. It was hard to see the dry ice, and she was in and out of there so fast I couldn't figure it out. Thankfully the photo below shows the effect, which looks like smoke.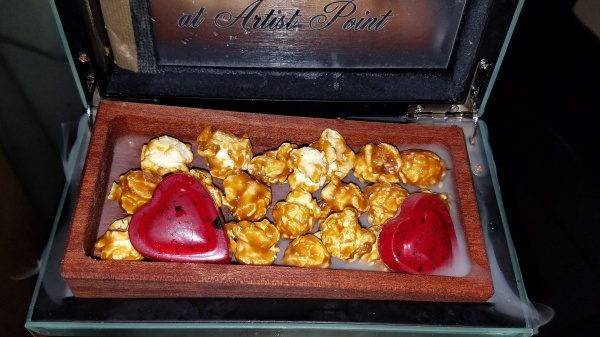 The Characters
This is a character meal, and in typical Disney fashion, there are characters walking on a set path with the exception of the Evil Queen, who is in one spot. Although we were seated late, we had our check within an hour. I thought it was odd to get the food before the characters arrived, but the plus side here is we were done eating before they showed up. I am sure this is likely due to opening day, and timing as not everyone was waiting for characters as long as us.
The Cost 
At one Table Service credit on Disney's Dining Plan, this was a great deal and a really good meal. But to pay for it?  YIKES!!!  As I mentioned earlier, this is the meal that tipped me into a dining plan for this trip. However, with the price of meals at Disney these days, the dining plan is making more sense. Would I have had a $12 cocktail (or two) had I not been on a dining plan?  Absolutely not. But it was nice to have the option.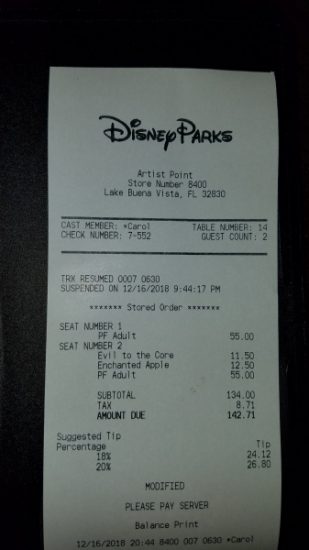 Overall Opinion
I am not among the people who think Disney should never change and evolve. Walt Disney himself was a businessman, and he wanted to make money. Putting Snow White and friends at Wilderness Lodge is a great fit even if it leaves a "deluxe" level resort without a signature dining experience. This is not a true "princess meal" like Cinderella's Royal Table or Akershus, and I can see an entire family enjoying this meal as the characters here aren't too girly. The only thing I would have liked to see was them incorporating some of the Artist Point menu items such as the mushroom soup and the cobbler. Since the menu is supposedly seasonal, we may see these items in the future. As an aside–besides adding in tree branches, they didn't do too much decorating or painting as the Artist Point artwork is still high on the walls. I ignored it–but it was there.
The food was delicious, and for a three-course meal, it was "just right." There was no breadbasket to fill up on before the meal and no waiting around for food. Downloading appetizers and desserts to individual plates might be tiresome, and I did see another table of bloggers tip over some food on their display platter. So there is some coordination to be done with everyone dining. Three characters in the dining room with the fourth stationery makes sense in this location.
Will I go back? Yes, but only if I do a dining plan!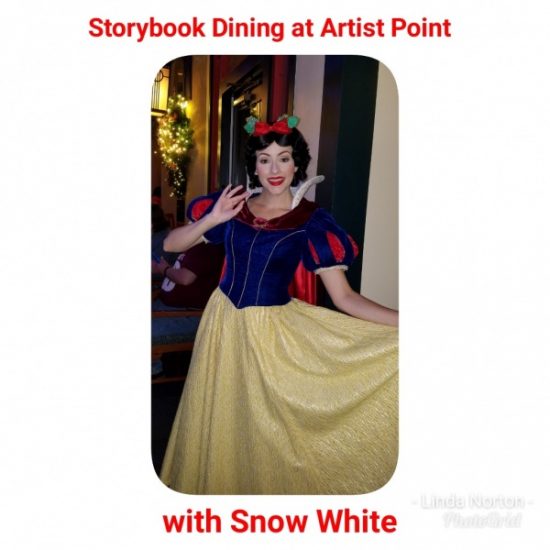 Similar Posts: