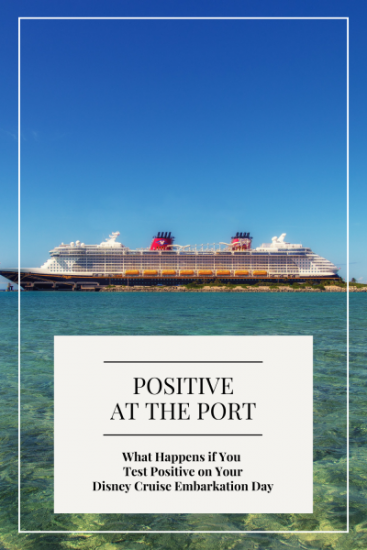 What Happens if You End Up Testing Positive for Covid at the Port on Your Disney Cruise Embarkation Day
To celebrate the start of 2022, we decided to go on a short Disney Cruise Line out of Galveston. Our family is vaccinated and the adults are boostered. Still as a family of 4, with the prevalence of Omicron this holiday season, we did not know if the odds would "be ever in our favor."

We wanted testing to be a non-traumatic event, so we coached the kids that it would be a-ok if one of us tested positive at the port (because if one of us tested positive it was totally going to be a kid and I did not want them thinking they had ruined the family trip.) Our back up plan in the event of a positive port test was to come home and watch Encanto (which we had been purposefully NOT watching on Disney+ so that we could watch it for the first time in the Buena Vista Theater on the Wonder) and order pizza.

To preface this, we live within a 1-hour drive of the Galveston port. If this cruise would have included flights, we would have tested at home before departing to the airport. Since we were in driving distance, we decided to forgo unrequired at home testing and all were feeling healthy.
Embarkation Day
Fast forward to embarkation day. We drive to the port and park. Our family can see the Disney Wonder at the port and she looks great! Now we get in line for our 11am port arrival time. Next we go through testing; we go through security and on to the test results waiting lounge where an usher is directing families in our arrival time bracket to separated groups of chairs (one family group to one chair group). After about 30 min, the families around us began to get their results. Some gave spirited and relieved cheers when they were cleared to board – it is definitely a bit stressful.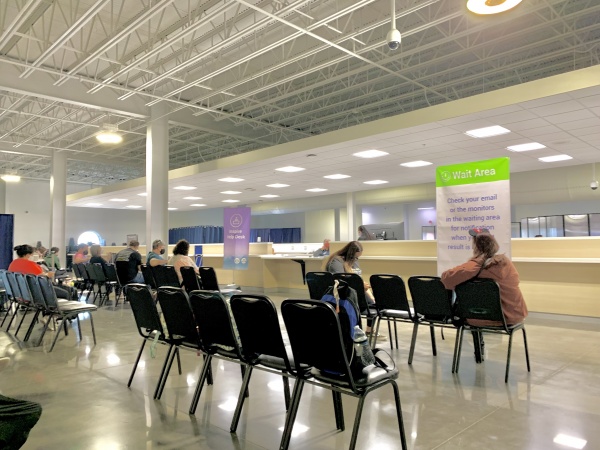 Our family and the family in front of us had a bit of a delay (just a few minutes) getting our results compared to the families around us. We got a voicemail from Inspire (see the pic of the garbled voice to text translation; the recording was much better), the onsite testing group, and the results monitor displaying our reservation ID said to proceed "to the Inspire Service Desk" instead of to proceed to "Boarding". Uh-oh – was one of our tests inconclusive or was one of us positive?!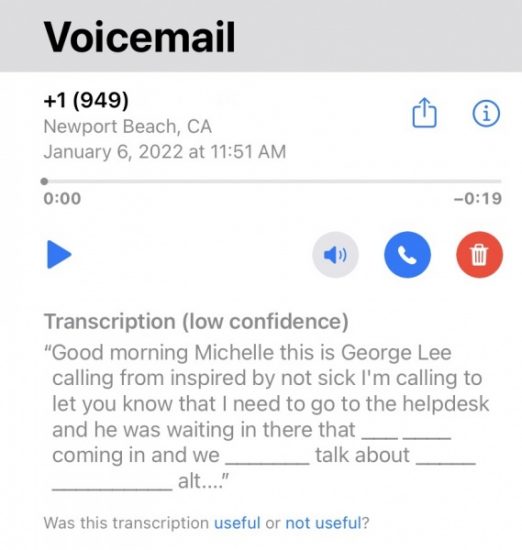 The Consultation and Testing Positive at the Port 
We proceeded to the Inspire service desk which as just a few steps away. They were speaking with someone in front of us and another family was queued behind us. The woman managing the Inspire desk looked up our reservation and asked us to follow her to a set of consultation booths located at one end of the test results waiting area. Once in our booth, a physician came in shortly after and ID'd us then let us know that one member of our party had indeed tested positive for Covid…and it was me!! What a bummer!! (Insert parental guilt here.) We took a moment to notice that it was not just us, the other booths had other families in them going through the exact same thing!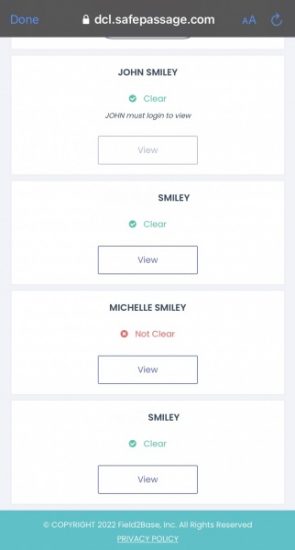 After the physician left, a member of the Disney Cruise Line  operations team came right in to speak with us. He regretfully said that we would not be allowed to board the ship and that Disney would be happy to either refund our full cruise fare to the original form of payment or to issue us a Future Cruise Credit. We opted for the refund, and were provided with a letter of documentation stating this.
What Happened Next 
The operation teams member also asked a few questions. 
Were we traveling with anyone else (we were not), if we had any checked bags (we did not – it was a short 4-night cruise),
How did we get to the port (we drove and were parked nearby)
if we would like a shuttle back to our car (we declined as it was only about 3 blocks away and it was a beautiful day).
And so, with anticlimactic fare, we rolled our bags back to our car, drove home, ordered pizza and watched Encanto.
The Take Away
All of this is to say, if this happens to you, you are not alone – just add it to the list of exciting vacation stories that you will tell for years to come, have a plan B of what you will do in case someone pops up positive (at home if you are flying or at the port if you are driving), and use your newly acquired staycation quarantine or isolation time to plan your next trip!

And consider travel insurance!
Get all the news, tips, & tricks for your next Walt Disney World vacation!
Similar Posts: