A visit to Walt Disney World is on most people's mind at some point.  We are here to share with you the top ten reasons to visit Walt Disney World during its 50th anniversary celebration!  These next 18 months are packed full of magic, new experiences, and fun like we've never seen.  In no particular order, below we share those top ten reasons to visit Walt Disney World during its 50th anniversary celebration!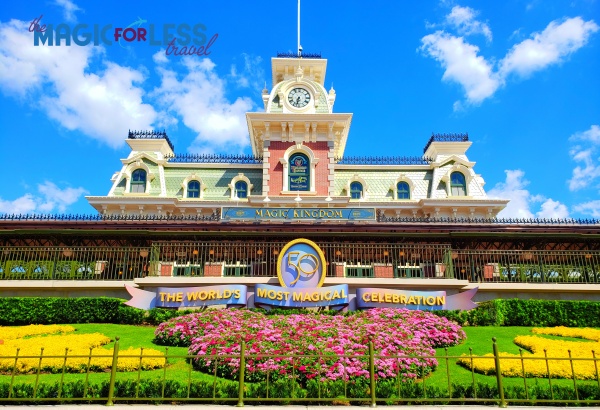 Top Ten Reasons to Visit Walt Disney World During its 50th Anniversary Celebration!
Beacons of Magic
Walt Disney World's four theme park icons are well known and loved.  For the 50th anniversary, they have gotten an extra dose of pixie dust to become Beacons of Magic!  These icons are shining, glittering, and dazzling like you've never seen!  Cinderella Castle, Spaceship Earth, the Hollywood Tower Hotel, and the Tree of Life will shimmer each evening.  Check your My Disney Experience Account for times each evening.  These transformations are really what Disney magic is all about and something you won't want to miss.  They are sure to create some of the most magical memories on your trip!
Stardust shines through panels at Spaceship Earth.
Disney Enchantment
No one does fireworks and nighttime spectaculars like Walt Disney World and they have outdone even themselves for this celebration!  Disney's Enchantment debuted on October 1st and has already warmed the hearts of guests.  The show combines the Disney music we know and love, enhanced lighting, gorgeous fireworks and new to the Magic Kingdom nighttime shows – projections that extend from the Castle all the way down Main Street!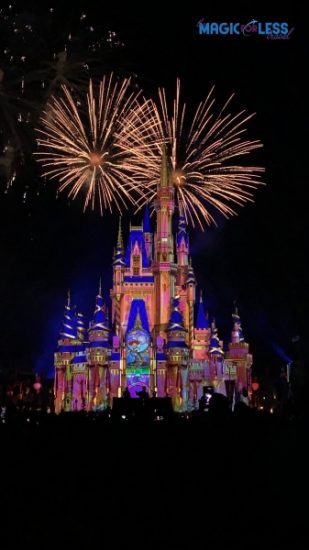 Harmonious
Epcot welcomed a new nighttime spectacular as well that is bigger than anything the park has ever seen!  Harmonious takes place in the World Showcase Lagoons and guests all around the World Showcase can experience the show. It is a celebration of Disney music that inspires people worldwide and the stories and songs that unite us. The show will utilize new technical advancements that incorporates pyrotechnics, choreographed moving fountains, lighting and media in new ways. Harmonious will also include new interpretations of classic Disney songs. These will be performed in ways you've never heard before, reimagined in more than a dozen languages by a diverse group of 240 artists from around the world.
Gold & EARidescent Magic around the Walt Disney World Resort
EARidescent costumes, name tags, and merchandise have arrived and they are shimmering like never before!  Mickey, Minnie, and their friends are donning new costumes to mark this special celebration!  Cast Members are proudly wearing their iconic name tags with a new EARidescent glow to them.  Around the entire resort property, Disney is celebrating with fifty (yes 50!) new golden sculptures of your favorite characters.
Let us know in the comments below if you find all 50 or which sculpture is your favorite!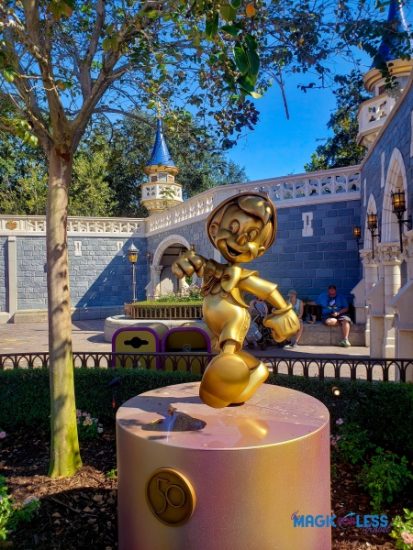 50th Anniversary Celebration Sips and Bites
Where you prefer sweet, salty, cold, hot, or something in between, Disney has you covered with this stellar line up of celebration food and beverage items!  You can find exclusive champagne flights, limited edition Mickey bars, special burgers, churros, and sundaes and so much more during the anniversary celebration. Check out this blog for a complete list of these goodies!  What are you most looking forward to having?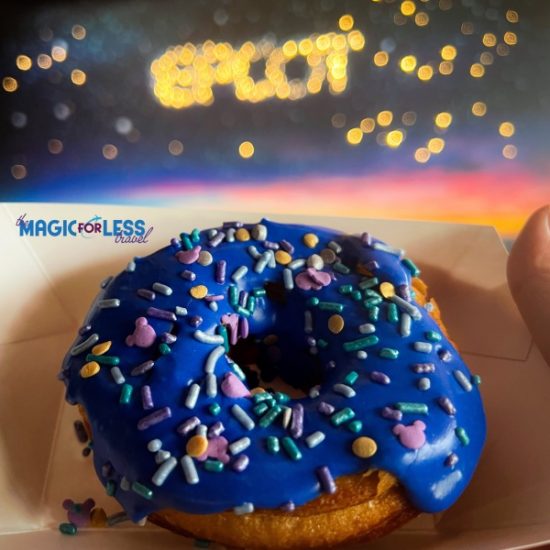 Looking for more tips & tricks and news for your next Walt Disney World vacation? Sign up for our newsletter! 
Space 220 and Steakhouse 71
While we're on the subject of food, let's talk about the two newest dining locations that have opened.  Space 220 at Epcot and Steakhouse 71 at Disney's Contemporary Resort join the fabulous lineup of Disney dining locations.
Space 220
Once you step inside Space 220—featuring a celestial panorama from a space station—you'll begin your journey and board a special space elevator that will ascend to the stars! Along the way, viewports will give you an aerial view of Epcot as you travel high above the planet. As you dine, peer out and enjoy amazing daytime and nighttime views of Earth from 220 miles up.  The Space 220 menu can be found here and check out this recent review from our friends at The Mouse For Less!   YouTube video contains spoilers. 😉
Steakhouse 71
Steakhouse 71 has opened in what was previously The Wave restaurant space, and named for the year the Contemporary Resort opened!  You'll be able to enjoy breakfast, lunch, and dinner in this casual but sleek steakhouse.  Menu items pay homage to Walt Disney himself with The Steakhouse 71 Feast or Walt's Prime Rib Hash for breakfast and French Onion Soup, Prime Rib, 6-oz Filet Mignon or Dry-aged Bone-In Pork Chop for lunch or dinner. You can check out the menu here.  We apologize for hunger pains this may inspire!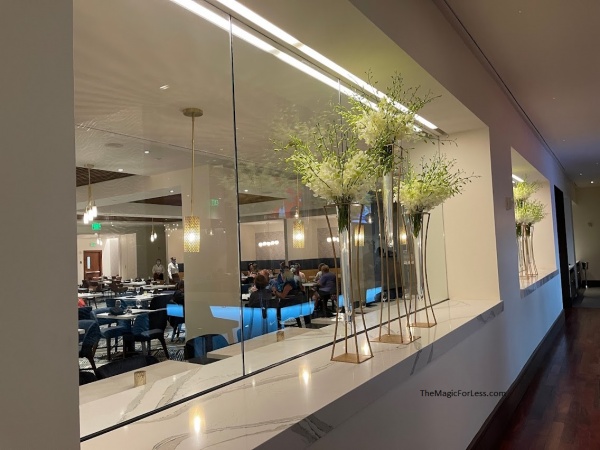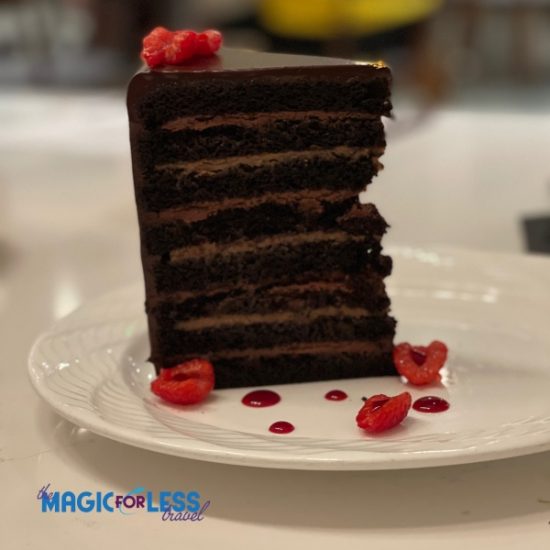 New Attractions: Remy's Ratatouille Adventure and Guardians of the Galaxy: Cosmic Rewind
Remy's Ratatouille Adventure
As if we didn't love the France pavilion in Epcot already, it has been expanded to house this delicious new attraction.  In Remy's Ratatouille Adventure,  you'll feel like you've shrunk to the size of Chef Remy as you scurry through Gusteau's famous restaurant on a wild adventure for the whole family (no height requirement!).  You can experience by joining a virtual queue in your MyDisneyExperience app! You'll also be able to enjoy the newly opened La Crêperie de Paris serving up both sweet and savory crepes!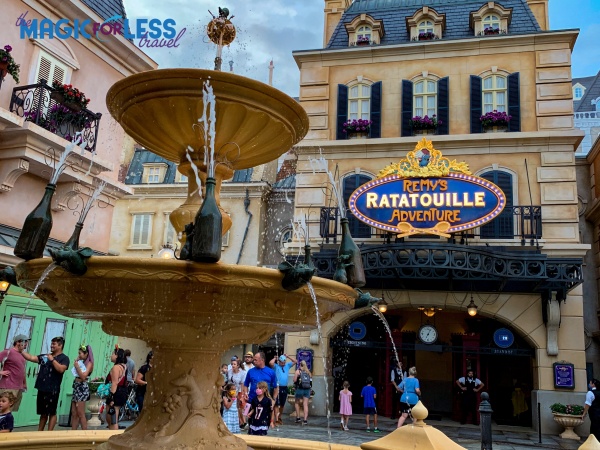 Guardians of the Galaxy: Cosmic Rewind
And whether or not you are a Marvel fan, you'll want to experience this new attraction coming in 2022!  Guardians of the Galaxy: Cosmic Rewind will be a family-friendly adventure, featuring a totally new type of roller coaster experience known as a storycoaster. The attraction will rotate 360 degrees so you're always focused on all the action. Not only that, but Guardians of the Galaxy: Cosmic Rewind will also feature the first reverse launch on a coaster in Disney history.  Plus it is one of the longest enclosed coasters in the world!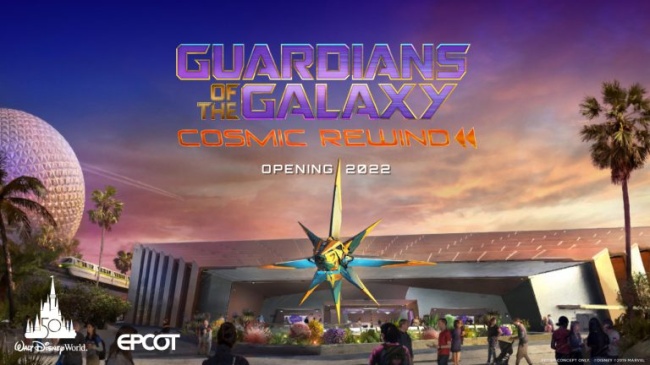 Newly Re-Imagined Rooms at Disney's Polynesian Village Resort and Disney's Contemporary Resort
Disney's Polynesian Village Resort
We know you are going to love these newly rethemed rooms as much as we are!  At Disney's Polynesian Resort, guest rooms have been transformed.  The make-over has resulted in a fun, efficient, and Disney-kissed, Moana-themed rooms.  The room tour below speaks for itself!
Disney's Contemporary Resort
Disney's Contemporary Resort rooms have also received a new look in the tower!  Garden wing rooms will be reimagined next but we are in love with this new look!  You'll feel like a part of the Parr Family with these Incredible-themed rooms.  They are sleek, modern, and still so comfortable.  Check out these Incredible rooms!
Which new room will you be staying in?
MagicBand+
MagicBands debuted in 2013 making tasks like opening your door, entering a park, getting in a FastPass queue, purchasing food or merchandise and more so easy!  In 2022, the MagicBand+ will debut and do all of these thing and so much more. MagicBand+ will allow you to interact in and experience the parks like never before!  Find out what we know here and stay tuned for more details.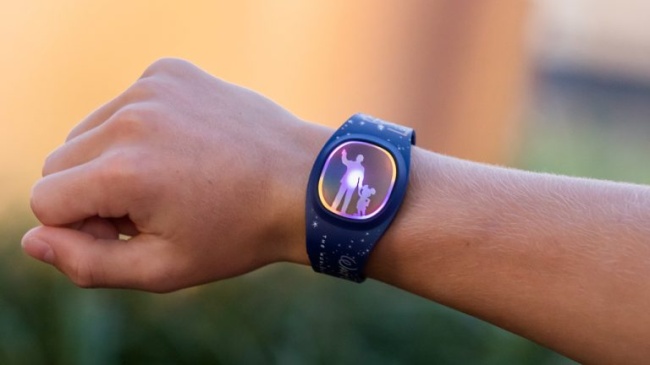 Early theme park entry and extended evening hours
If you still don't know, "rope dropping" (getting to a park before the posted opening time) Disney theme parks guarantees guests some of the lowest wait times of the day for attractions.  Now, all guests staying onsite at Walt Disney World resorts can take advantage of Early Theme Park Entry – entering any of the four theme parks, one half hour early everyday!   This is a huge benefit!  Check out all the attractions you can experience during Early Theme Park Entry.  And, guests staying at select Walt Disney World resorts, also benefit from Extended Evening Hours.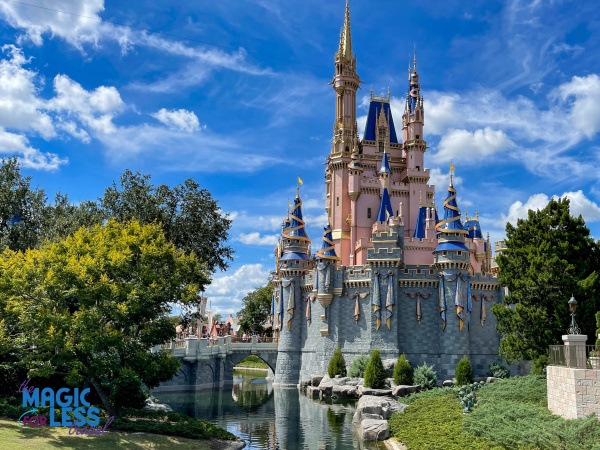 How can you be a part of Walt Disney World's 50th Anniversary Celebration?
Reach out to one of our agents at The Magic For Less Travel.  They'll give you the expert guidance and tools to move beyond the one-size-fits-all approach to vacation planning – at no charge!  They can help you save both time and money – there are some great discounts available!
Similar Posts: