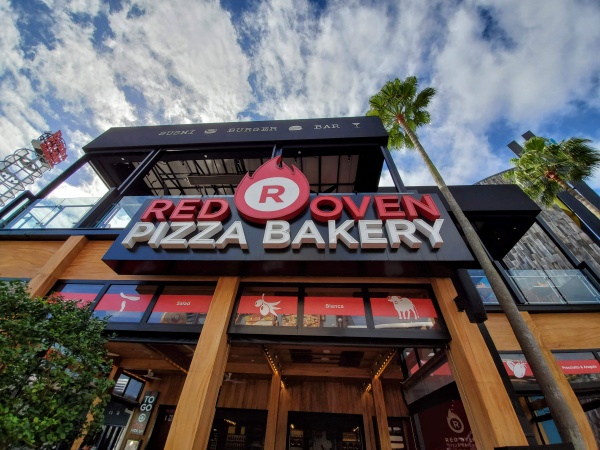 The CityWalk Quick Service Dining options at Universal Orlando include many reasonably priced dining locations.  These options make this  a somewhat 'affordable' theme park destination . While there are still plenty of table service restaurants, such as Toothsome Chocolate Emporium, Bigfire, and Margaritaville, there are many good places where you can grab a quick meal.
Red Oven Pizza Bakery
We will start with one of our personal favorites at Universal Citywalk:  Red Oven Pizza Bakery.  We really enjoy the place and no trip to Orlando is complete for me without one of their yummy Margherita pizzas.  One of these pizzas can serve two people for a reasonable cost.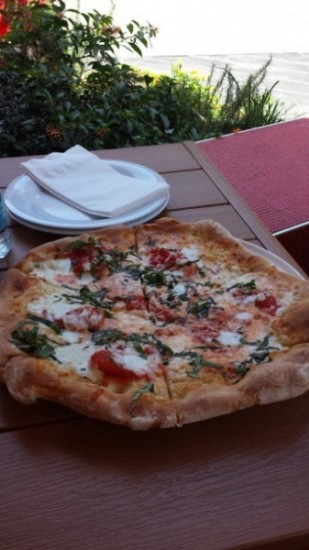 Breadbox Handcrafted Sandwiches
If you walk upstairs, you will find The Bread Box. This location focuses on sandwiches, and also has salads and soup.  You can find cold sandwiches like tomato mozzarella and turkey, but also the BTLA which is bacon, tomato, arugula and avocado on Texas toast!  You can get your sandwich served with a side of tots and it doesn't get much better than that. Don't miss their Bread Box Melts which include a BBQ brisket melt and a Nashville hot chicken sandwich.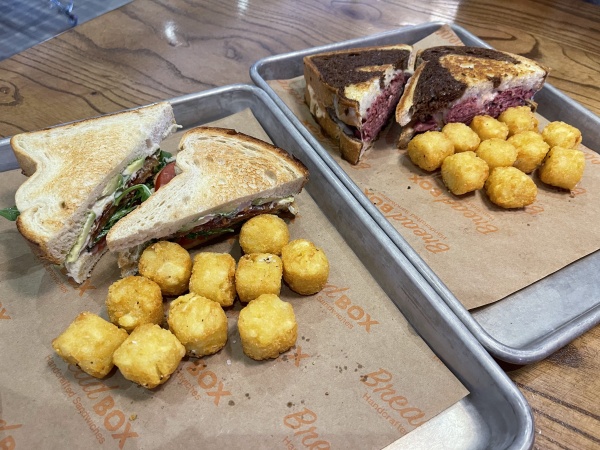 Voodoo Doughnut
They say that good things come in pink boxes and we have to agree.  Voodoo Doughnut features a hug array of creative doughnuts.  You can find doughnuts with bacon and maple, Captain Crunch and even a PB&J.  In addition, there are also more "typical" doughnut flavors too.  They even have vegan doughnut options.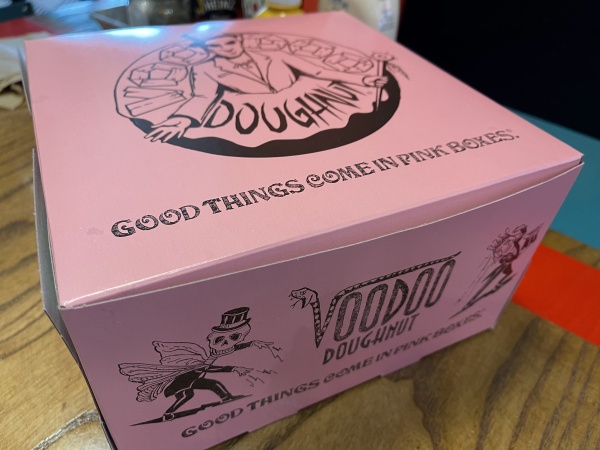 Get all the news, tips, & tricks for your next Walt Disney World vacation!
Moe's BK Burger Bar and Panda Express
Also at the Top of the Walk is Moe's Southwest Grill, BK Burger Bar, and Panda Express–which all occupy the same general area.   A good time to dine in one of these places is between 1-3pm as you're going to avoid a whole lot of people.
Moe's and Panda Express have their typical menus like you would find back home. However, it  may be  a bit more expensive than what you would pay at home.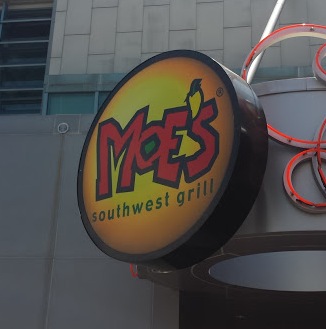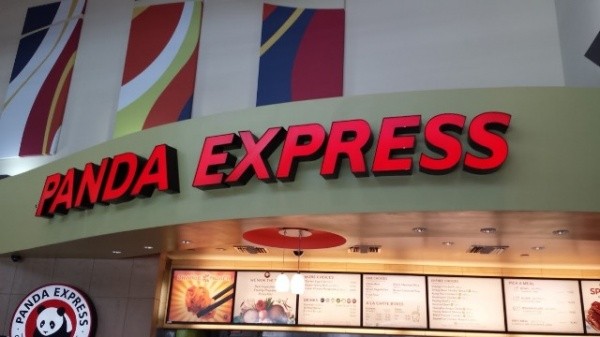 Having burger withdrawal?  Well, there is also a BK Burger Bar located up here too.  You can build your own Whopper from a list of toppings.
You're still having it your way but probably paying more for it than you would at home.
Hot Dog Hall of Fame
Another location downstairs, is the Hot Dog Hall of Fame.  The premise here is they serve hotdogs found at ballparks throughout the United States.  Dine on famous dogs from New York, Boston, San Fransisco, and more. The Chicago with poppy-seed bun, yellow mustard, neon relish, pickle spear, onions, tomatoes and celery salt is a favorite.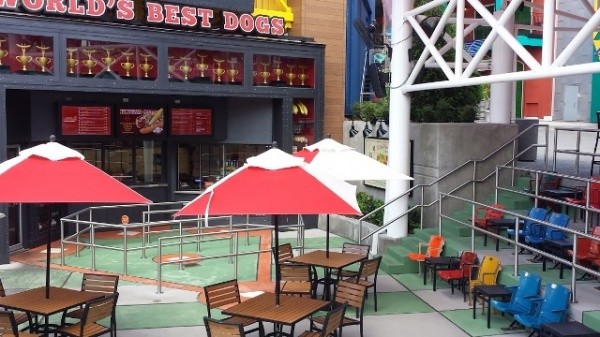 Snack Locations
Also on CityWalk is Cold Stone Creamery, where you have items mixed into super premium ice cream.

Not to be outdone in the indulgent snack department, we also have a Cinnabon.  We must confess that Cinnabon cinnamon rolls have a certain appeal.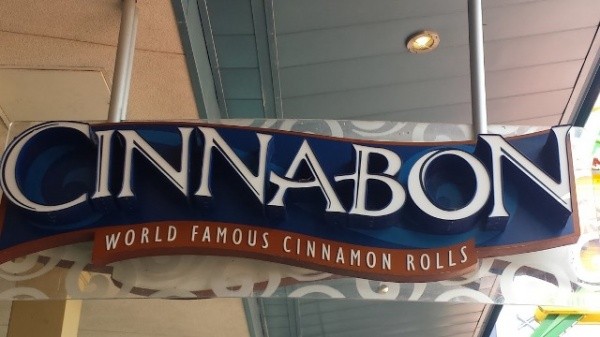 Starbucks
Finally, rounding out our list of quick service dining options is Starbucks.  The one at  CityWalk is pretty nice and serves sandwiches and pastries–just like at home.  Price wise, I don't think its a whole lot more than what I pay at home either.  Plus I can use my app and collect stars for rewards.  You can not redeem your stars at the theme park locations but its nice to still be able to collect them.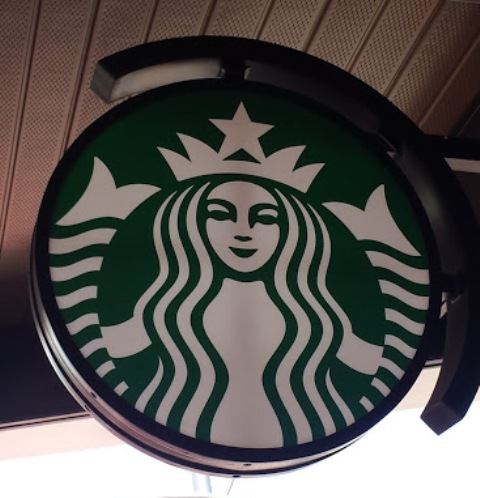 As  we have shown there are a number of choices for Quick Service dining at Universal's Citywalk.  You know our favorite.  What is yours?
Ready to plan a Universal Orlando Resort vacation?
Let The Magic for Less Travel, an Univesal Orlando Specialist and UPreferred travel agency,  do the work for you. Enjoy fee-free concierge vacation planning services. The Magic for Less Travel will help you find the best published or unpublished rates for your vacation and will be your partner in planning to help you save time, money and stress.  Let The Magic for Less Travel help you make some magical vacation memories!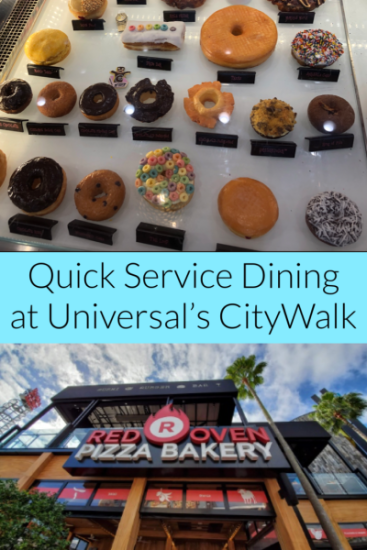 Similar Posts: