Universal Orlando – CityWalk Quick Service Dining Options
The Citywalk at Universal Orlando has done a lot of expanding since 2012 and several reasonably priced dining locations have been added, thus making this a somewhat 'affordable' theme park destination for families. While there are still plenty of table service restaurants that have been around for a long time, such as Bubba Gump Shrimp Company, Margaritaville, Emeril's, there are many good places that don't necessarily serve hamburgers
Where I will start is my personal favorite at Universal Citywalk:  Red Oven Pizza Bakery, which I wrote about previously (click here.)  I still love the place and no trip to Orlando is complete for me without one of their yummy Margherita pizzas.  One of these pizzas can serve two people for $12 (June 2015 prices), and if not, there is no shortage of snack opportunities.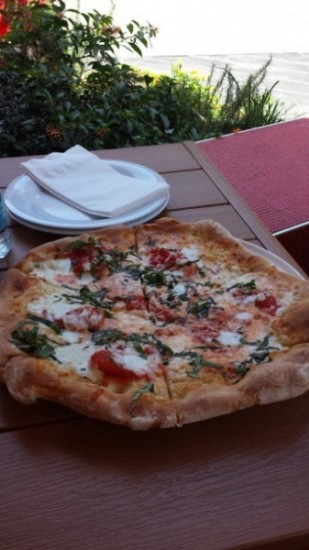 If you don't want pizza, how about heading upstairs to the Top of the Walk area for sushi.   Fusion Sushi and Saki Bar will make you a fresh roll while you wait.  Price wise its a bargain too, and pretty tasty.  Although it is sort of hidden upstairs at the CityWalk, you'll find it.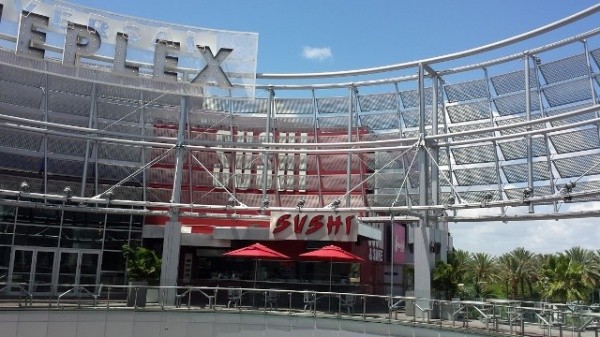 Here's the Fusion Sushi menu.  I like how they organized it so even a sushi rookie can find something to try. My sushi tip for rookies is to try a cooked roll first, and then graduate to Spicy Tuna. Don't like something on a particular roll, such as avocado?  Ask for it to be omitted.  Most sushi chefs are happy to accommodate.

Also at the Top of the Walk is Moe's Southwest Grill, BK Burger Bar, and Panda Express–which all occupy the same general area.  Unfortunately this means it is usually very chaotic during traditional meal periods and when the parks let out at night.  A good time to dine in one of these places is between 1-3pm as you're going to avoid a whole lot of people.
Moe's and Panda Express have their typical menus like you would find back home, but probably a bit more expensive (remember you're in a tourist zone and while these are reasonably priced options for this area, its still likely more expensive than what you would pay at home.)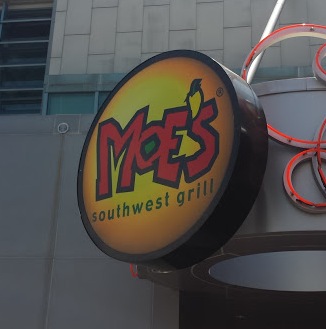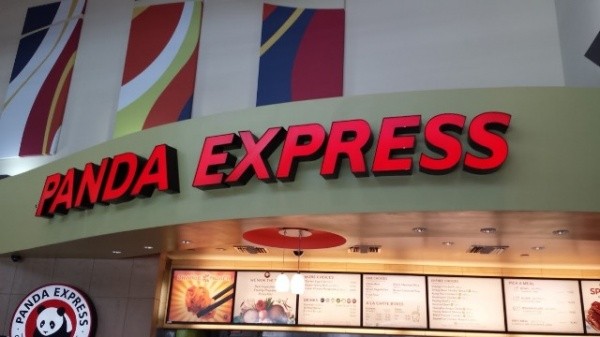 Having burger withdrawal?  Well, there is a BK Burger Bar located up here too.  Seems like you can build your own Whopper from a list of toppings.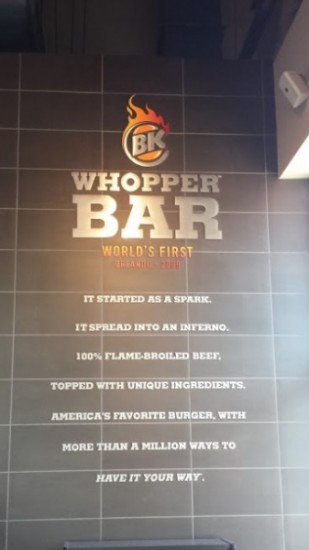 You're stil having it your way but probably paying more for it than you would at home. That being said, its pretty much the only quick service hamburger you're going to get on the CityWalk.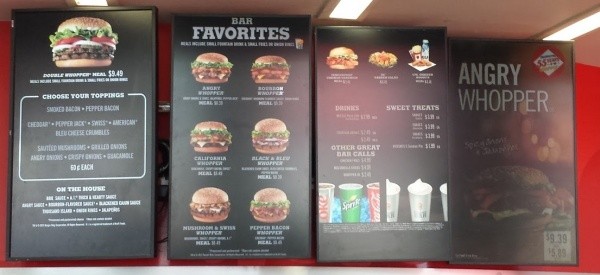 Also upstairs on the CityWalk is The Bread Box.  To me, this place was added to compete with Earl of Sandwich in Downtown Disney.  Unfortunately they seem to have missed the mark in both price and flavor as nothing beats Earl's in my opinion.  I found the Bread Box not to my taste and am "one and done" .  You may view the menu from Universal here: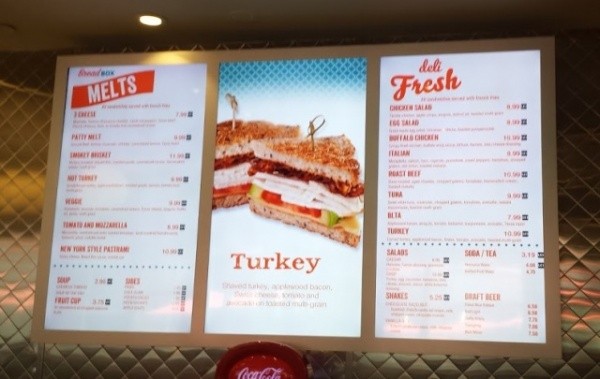 Also upstairs is Menchie's frozen yogurt.  Expect your standard Fro-Yo place where you pay by the ounce ($.59/ounce June 2015 prices).
Heading back downstairs, and off the beaten path towards Antojito's (you probably will never find the place if you didn't know it was there) is the Hot Dog Hall of Fame.  The premise here is they serve hotdogs found at ballparks throughout the United States.  New York, Boston, San Fransicso…  you can order it.  Another place where I am 'one and done' but only because I don't like hotdogs.  In all of my visits to the CityWalk I have never seen more than five people at this place.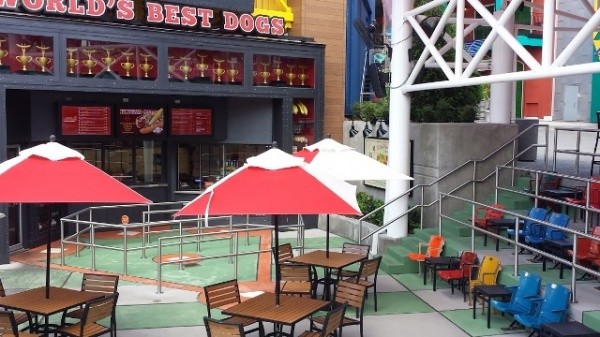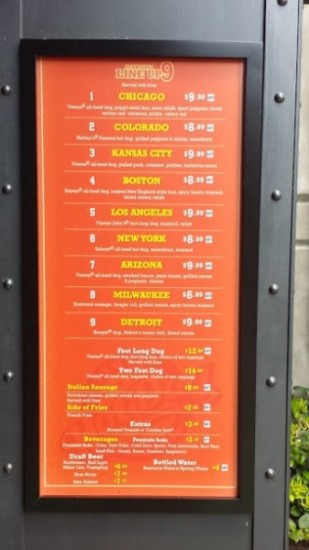 Also on the CityWalk is Cold Stone Creamery, where you have items mixed into super premium ice cream.


Not to be outdone in the indulgent snack department, we also have a Cinnabon.  I must confess that I love Cinnabon cinnamon rolls.  At least I used to love them until I found out how much fat and sugar I was consuming when I ate one!  Thankfully they have some smaller items which are an occasional indulgence for me, such as CinnaStix and a Minibon.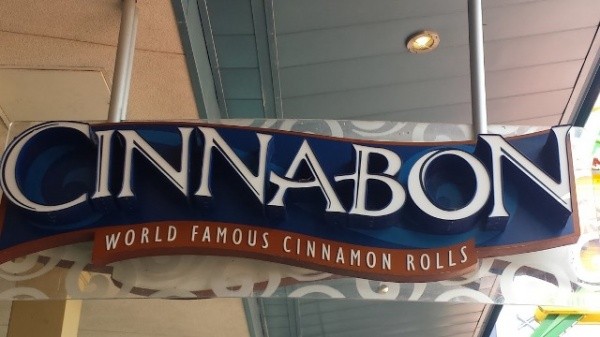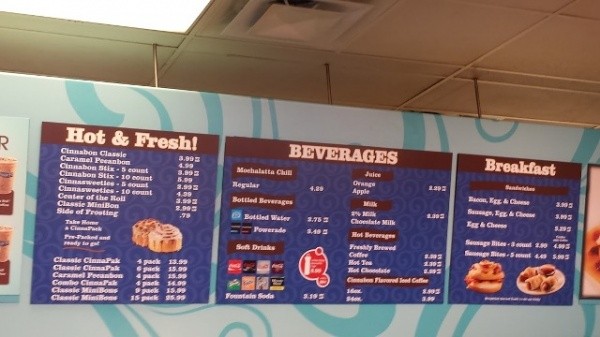 And rounding out our list of quick service dining options is Starbucks.  The one on the CityWalk is pretty nice and serves sandwiches and pastries–just like at home.  Price wise, I don't think its a whole lot more than what I pay at home either.  Plus I can use my app and collect stars for rewards.  You can not redeem your stars at the theme park locations but its nice to still be able to collect them.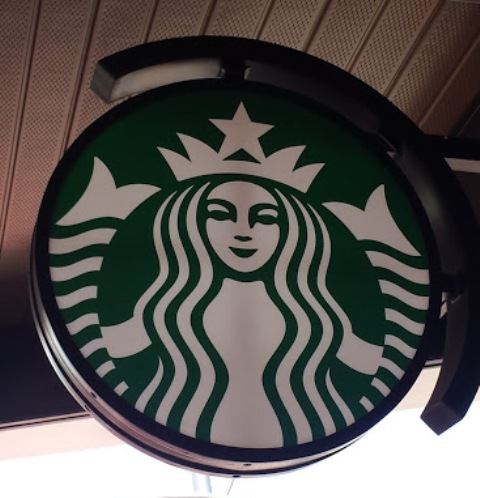 So there you have it… a summary of Quick Service dining at Universal's Citywalk.  You know my favorite.  What is yours?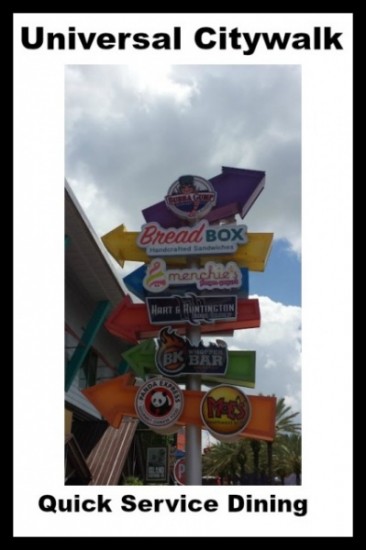 Similar Posts: