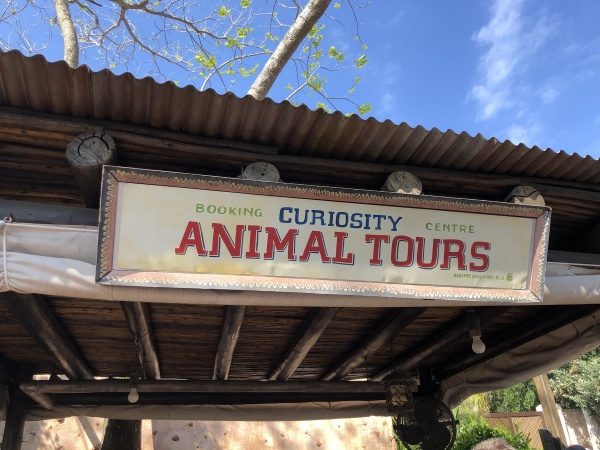 How close have you been to a Rhino?  At Disney's Animal Kingdom you can touch a White Rhino!  This is one of the Backstage Animal tours designed to educate and delight!
The tour begins at the tour check in kiosk just outside the entrance to Kilimanjaro Safaris.  Be sure to check in 15 minutes early!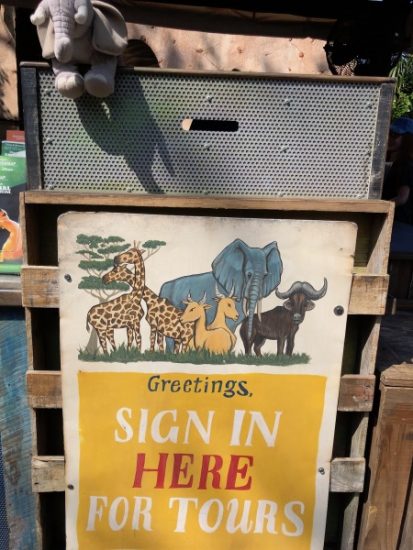 The experience is amazing, but because it is "backstage" no photos are allowed.  You will be guided backstage to an air conditioned bus in the night time home of the safari buses.  Along the drive to the Rhino barn, your driver may tell you about how the Magic Kingdom can fit into just one attraction at Animal Kingdom, Kilimanjaro Safari.  You will also pass the home of topiaries when they are not on display during the Flower and Garden Festival.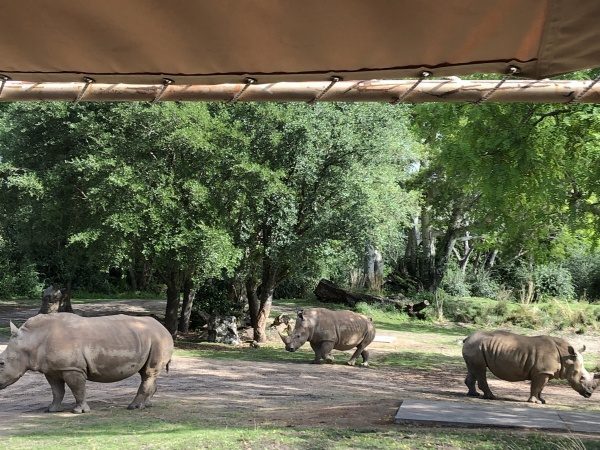 As you arrive at the Rhino barn, your guide is waiting.  You will go inside the barn and learn about the wonderful accommodations provided to the Rhinos.  It even has skylights to let air and sun in!  There is a mural describing the types of rhinos.  Animal Kingdom has White and Black Rhinos.  The diagrams on the wall show how much larger a White Rhino is over the Black Rhino.  Did you know the White Rhinos have wide lips to help them eat grass off the ground?  Black Rhinos have more of a beak-like shape to pick up sticks.
After learning about the barn and the Rhino's routines, you will go around the back to a paddock. There you will meet a rhinoceros up close.  I met Dugan!  Dugan is a 23 year old male brought to the Animal Kingdom for breeding.  Dugan came right on over and the group goes up a few at a time to touch him.  It was amazing!  And, there is a hand washing station for when your turn is done.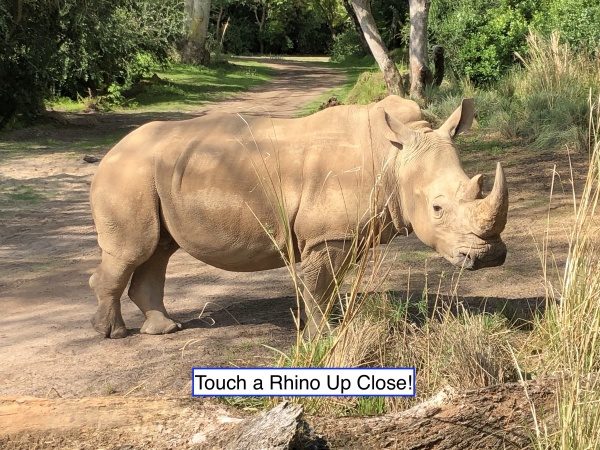 I could really see the love and devotion the guide has for Dugan.  She talked about him as if he was one of her children.  They love these animals and learn each of their personalities.  Yes, rhinos have personality!  She especially enjoyed sharing Dugan's reactions to experiencing female rhinos for the first time.  He is still learning is way around them and their personalities!
The Up Close with Rhinos Tour is an hour long and very affordable at $40; and even less if you have an annual pass or are a Disney Vacation Club member.  For more information click here!
Similar Posts: