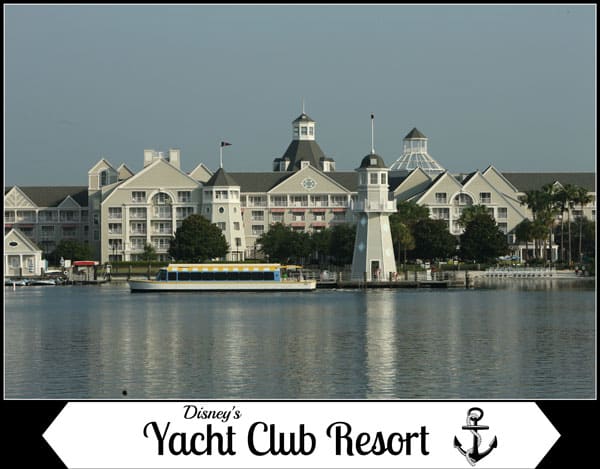 Drift Through New England Seaside Splendor
Classic surroundings capture the essence of a New England yacht club at this upscale resort. Its comfy chairs, hardwood floors and shafts of sunlight streaming into a welcoming lobby invite you to linger. Here you'll enjoy luxurious accommodations as well as delightful amenities shared with Disney's Beach Club Resort — a sandbottom pool, health club, and full service marina. There's even a beachfront promenade with direct access to Epcot® as well as the unique shops and restaurants at Disney's BoardWalk Resort.
Map

Overview

Discounts Free Quote
Services and Amenities
– Room Service
– Guest Services desk
– Health club and spa
– Babysitting and child services
– Pak-n-Play Crib available
– Convenient self-parking
– Valet parking available for a nominal fee
– Rooms and facilities for Guests with disabilities
– Laundry facilities/services
– Meeting and banquet facilities
– Business Center
– Barber and beauty shop
– Satellite TV
– Wireless (Wi-Fi) Internet Access
Check In/Check Out
3:00 PM / 11:00 AM
Address
1700 EPCOT Resort Boulevard
ake Buena Vista, Florida 32830
Rooms
– 621 guest rooms
– Rooms for guests with disabilities and non-smoking rooms are available
– Standard View/Standard Rooms offer view of the parking or wooded areas.
– Water, Pool View/Standard Rooms offer views of the pool area.
– Water, Pool View/Deluxe Rooms offer views of the pool area, Crescent Lake and the Boardwalk.
– Garden View/Deluxe Rooms offer views of the resorts beautifully landscaped areas.
– All Guest Rooms have two queen-size beds, one queen-size bed and bunk beds or one king-size bed (Deluxe rooms may also include a daybed), table and chairs, ceiling fan, private balcony, vanity area with two sinks and a bathroom.
– Guest Room amenities include in-room wall safe, voice mail, data port on phone, refrigerator and coffee maker. Hair dryer, iron and ironing board are available upon request.
– Concierge level rooms include personalized front desk and Guest services, turn down service, refrigerator and coffee maker. Lounge offers Continental breakfast, midday snacks, refreshment, hors d' oevres, evening cordials and dessert.
Babysitting
Kid's Nite Out, one-on-one in-room childcare. Call (407) 828-0920 or (800) 696-8105.
Spa Services
All hands on deck for a health and fitness regimen that guarantees that you are in Ship Shape! Within walking distance from Disney's Beach Club Resort, the Ship Shape Health Club not only offers state-of-the-art workout equipment but spa services to pamper those that prefer rest and relaxation while on deck. Our trained staff of health and fitness experts is available to assist you with your health and fitness needs. Call for reservations at (407) 938-3256*, 8:00 am to 8:00 pm daily.
Swedish Relaxation Massage
25, 50 or 75 min.
Enjoy a relaxation massage of traditional long strokes and kneading techniques. This therapy increases circulation, soothes tired muscles and relaxes the body.
Deep Tissue Massage
25, 50 or 75 min.
Our therapists utilize their experience in different techniques to relax you and relieve the symptoms of built up tension in the muscle tissue. This massage uses a Deep Heat oil that penetrates into the body allowing the muscle to relax to a greater level. This is a moderate to firm massage.
Aromatherapy Massage
25, 50 or 75 min.
This massage facilitates ultimate relaxation as the body receives therapeutic benefits from the use of our pure essential oils.
Lavender oil – excellent for deep relaxation and also serves as a soother for sunburned skin.
Birch Amica – great for sore muscle tissues and helps circulation throughout the body. Additional charges for in room service.
Health and Fitness
Personal Training available by appointment.
State of the art strength and cardiovascular equipment including treadmills and bicycles (regular and recumbent). Guest memberships on a Daily, Individual Length of Stay basis, or Family Length of Stay basis includes the use of sauna and steam rooms. Health Club usage is included with any spa service.
Not in the habit of working out? Disney's fitness attendants are always more than happy to lend a helping hand offering structured Personal Training Sessions as an added amenity. To set up an appointment please call at least 24 hours in advance. Proper workout attire is required to use the facility. Minimum age for working out is 14 years old.
Request a Free No Obligation Vacation Quote
Rates at Disney's Yacht Club Resort
Disney's Yacht Club Resort non-discounted rates listed below are per room, per night and vary by arrival date. Prices below do not include applicable taxes. An additional adult charge of $25 per night applies when there are over two adults in a room at Disney's Yacht Club Resort. Rates, benefits, and other terms are subject to change without notice.
Visit our Discounts page to see what offers might be available during your stay or request a free quote from one of our travel counselors.
2021 Disney's Yacht Club Resort Rates
Prices below do not include 12.5% tax. Rates are subject to change.
2022 Disney's Yacht Club Resort Rates
Disney has not released 2022 rates at Disney's Yacht Club Resort. You can request a quote now, and your travel counselor will contact you when prices are available to book.