My favorite thing to do at Walt Disney World, after the rides and eating, is shopping!  Here are what I consider to be the 10 best Walt Disney World souvenirs.
Ears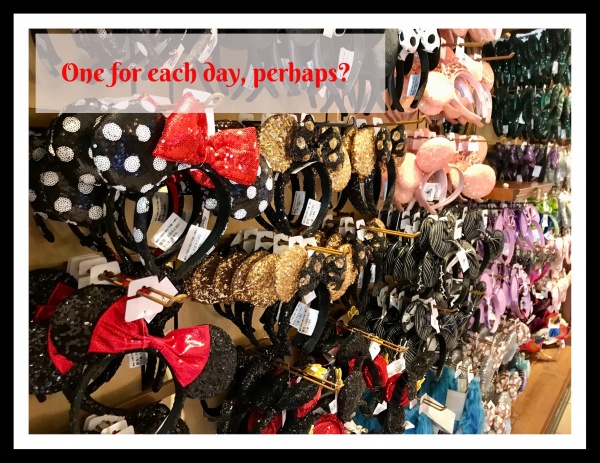 You knew this would have to be the first souvenir, right?  There are so many fabulous ears, from traditional Mickey ears, the popular headband Minnie ears, to all of your favorite characters and colors!  In addition, there are even some that light up, like the popular Star Wars ears!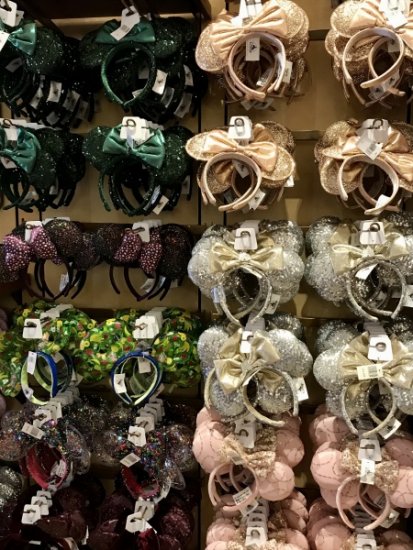 Coffee Mugs, Dishes, and Other Home Goods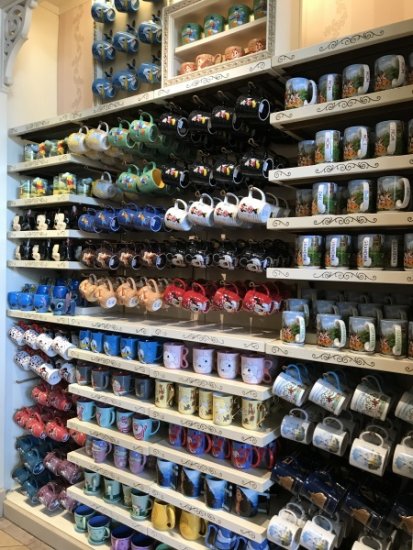 I love a great cup of coffee…but, a great cup of coffee in a WDW mug…just tastes better!  The mugs at WDW are so fun and so numerous, you might need some extra cabinet space for all your favorites! Do you love coffee too?  If so, check out this video about some great coffee options throughout Walt Disney World!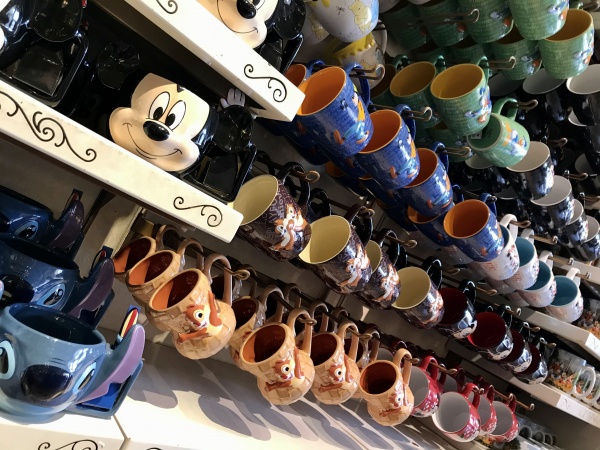 Disney also has Mickey dishes and other home goods, too!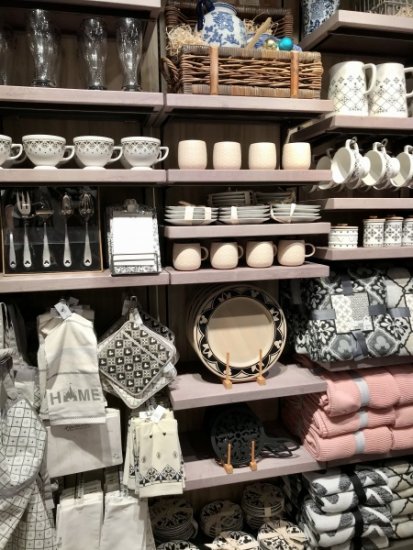 Stuffed Friends and Toys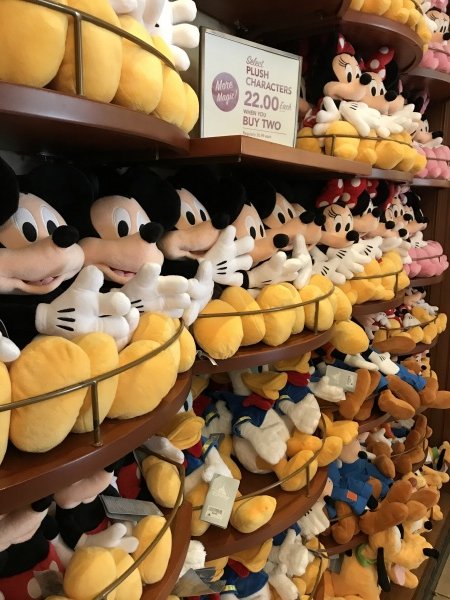 Your sweet little one will find toys galore all around Walt Disney World Resort!  Some favorites are the many lovies and stuffed friends you can bring home to remember your visit.  My husband still has his stuffed Mickey from when he was a kid!
We saw some of the cutest little friends that sit on your shoulder this visit…like "the child", Groot, and even Sporky!  In fact, adults and kids alike were sporting these cute friends!
Jewelry and Pins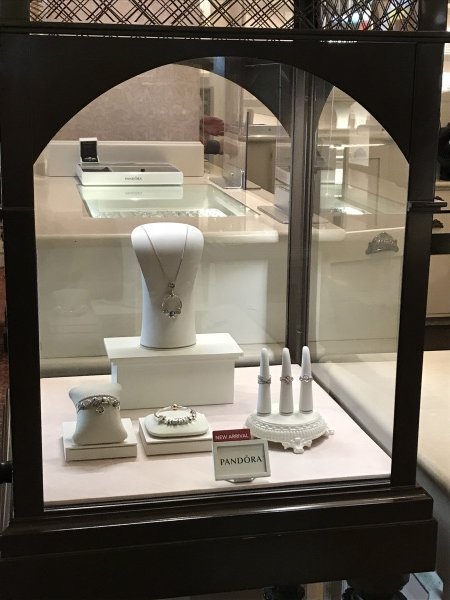 You will find many different styles of Disney jewelry in different price points.  You can find Pandora charms and other fine jewelry, but there are also less expensive options.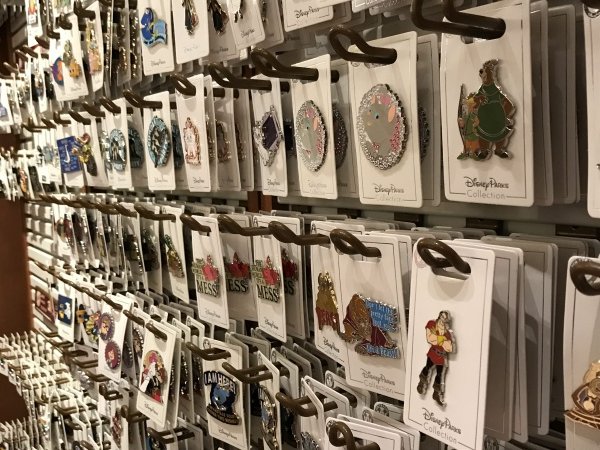 Trading pins are fun!  Collect your favorite rides, your favorite characters, and your favorite parks.  We let our kids select a pin per day on our visits to commemorate their trip. Their favorite are the rides they enjoyed at each park.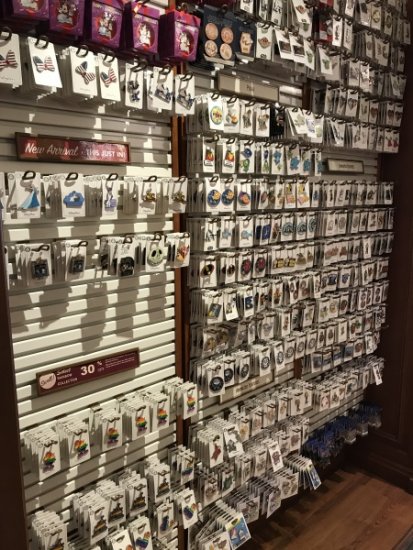 Pin tip: Purchase the locking backs for those pins the kids do not want to trade so that they don't lose their favorites!
Bags and Wallets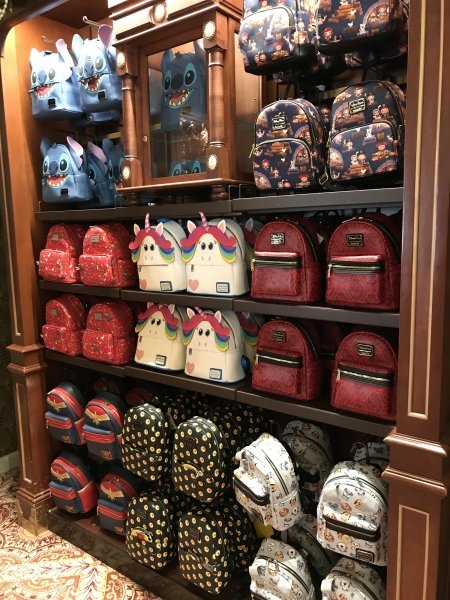 On my recent visit, I picked up a new Magic Kingdom Loungefly wallet and it makes me smile every time I pull it out of my purse!  The backpacks are also very popular and they hold up really well, too!  You can also find other brands including Kate Spade and Dooney and Bourke.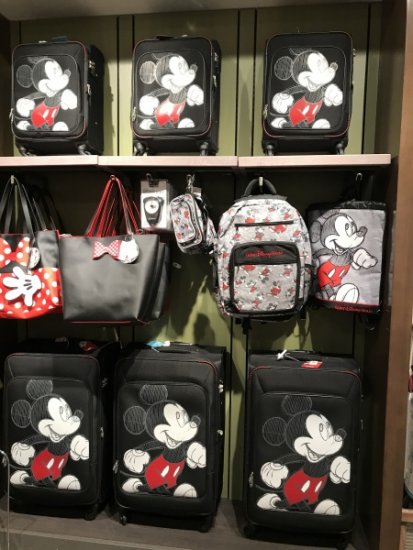 Grab your Mickey luggage, too!  You may need to pick up an extra suitcase for all your new souvenirs!
T-shirts and Dresses
Does your family wear matching shirts on vacation?  There are plenty to choose from at Disney!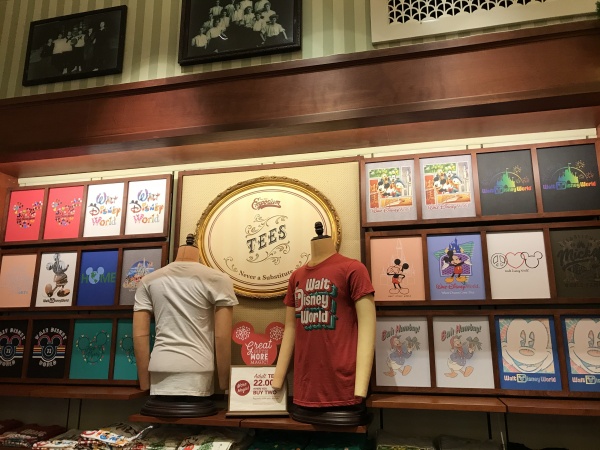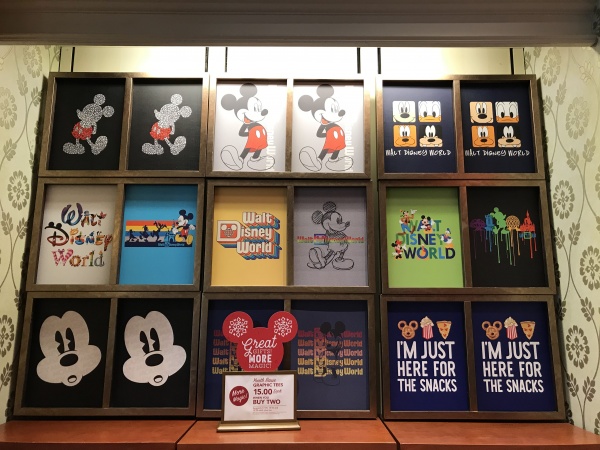 Does the little princess, or not so little princess in your life need a new dress?  In addition to the cute dresses for little girls, there are grown up dresses in gorgeous prints for adults, too!
Art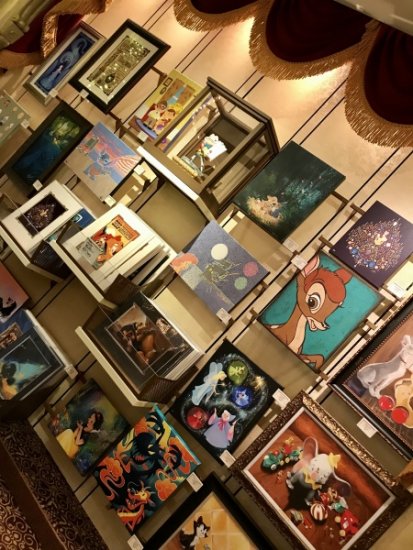 There is some gorgeous art available at WDW!  My favorites are the Thomas Kinkade's.  If the canvas options are out of your price range, they have made these beautiful pieces of art into puzzles!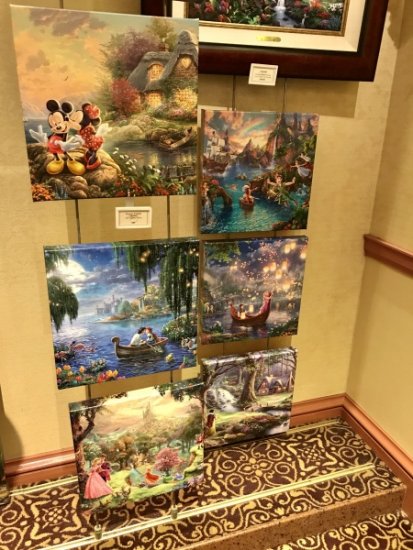 Ornaments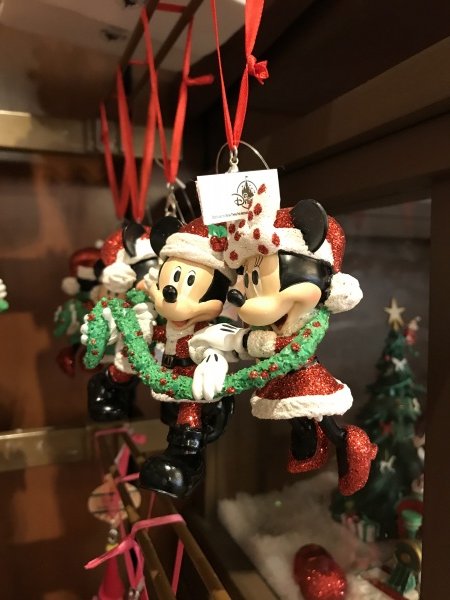 I have a confession to make…we have a whole Christmas tree at our house decorated with Disney ornaments!  There are so many cute ornaments and you can even get some personalized!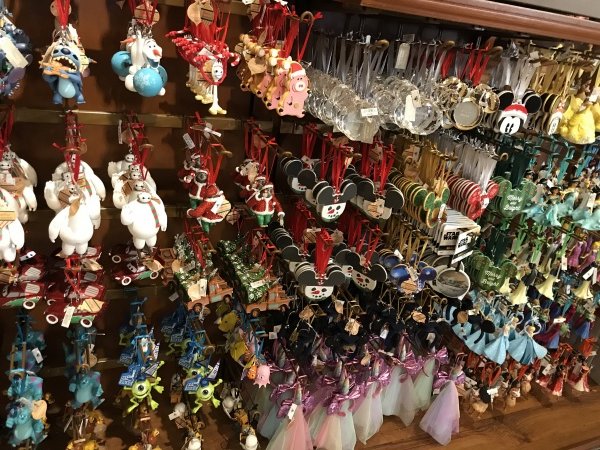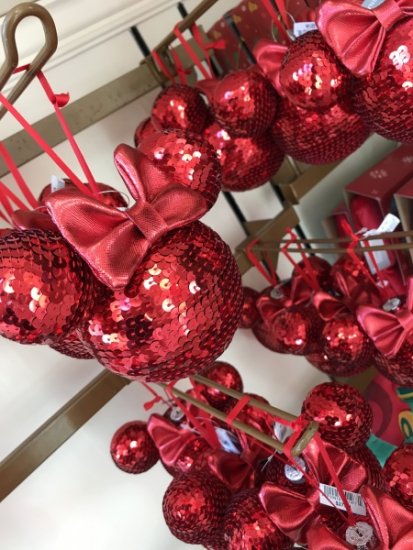 Holiday or Seasonal Souvenirs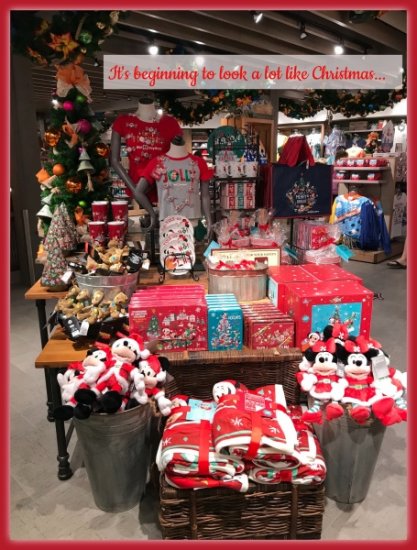 Seasonal souvenir options at Disney are plentiful during the time between Halloween and the New Year, but you can find some fun options all year!  Make sure to visit Epcot during the many festivals throughout the year for some fun and unique gifts.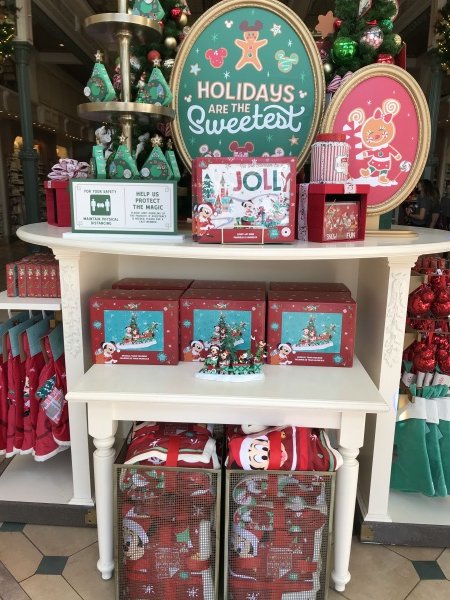 Treats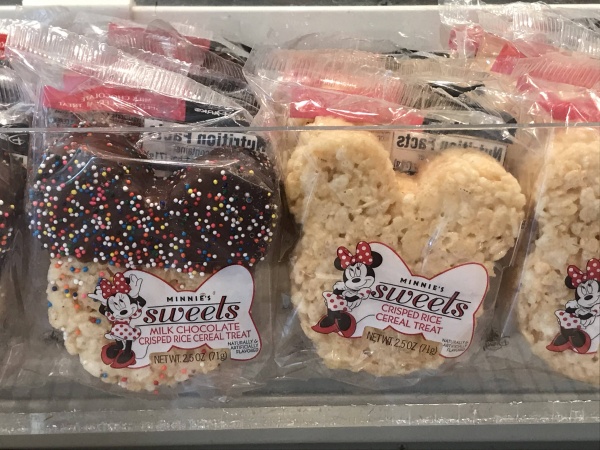 My kids love to select a Mickey, Minnie, or other character Rice Krispy treat to have on their way home and there are plenty of other options for your favorite sweet tooth, too!
Some of the best places to shop are at Disney Springs!  What did I miss?  What are your favorite Walt Disney World Souvenirs?
Similar Posts: