Aulani Interview with a Guest of The Magic For Less Travel
Our clients at The Magic For Less Travel are so valued and important to us that in true Disney fashion we refer to them as our guests.   Often our guests become our friends and extended family as we build relationships with them over the years and live vicariously through their Disney Destination vacations.
Sometimes our guests' children grow up and begin to travel themselves with their own families!  We love our guests and we truly take their vacations seriously – as much as we do our own and maybe even a little more.
So who better to talk about Disney Destination travel than our very own guests of The Magic For Less Travel?!  This is the fourth in a series of interviews I conducted with my personal guests who regularly travel to Disney Destinations.  Look for other interviews with guests who regularly travel with other Disney Destinations!
Interview with a Walt Disney World Resort Guest: https://www.themagicforless.com/tmflblog/2017/07/disney-world-guest-interview/
Interview with a Disney Cruise Line Guest:  https://www.themagicforless.com/tmflblog/2017/07/disneycruiseinterview/
Interview with Disneyland resort Guests:  https://www.themagicforless.com/tmflblog/2017/07/interview-disneyland/
Interview with an Adventures by Disney Guest:  https://www.themagicforless.com/tmflblog/2017/07/adventures-by-disney-interview-with-a-guest-of-the-magic-for-less-travel/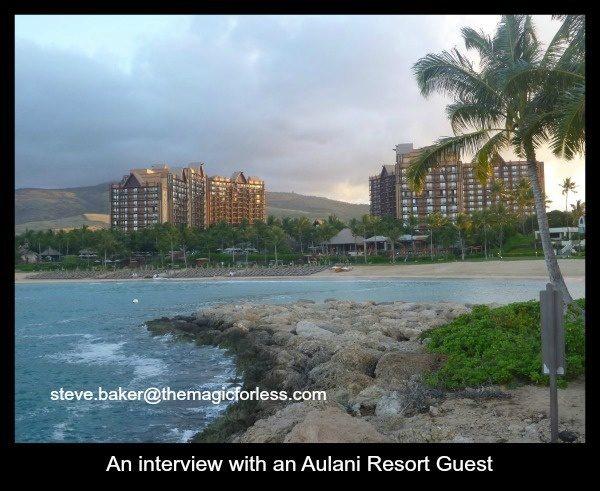 Let's talk with Cheri Gardner from Teaxs about her Aulani Resort experiences!
Tell me about your first Aulani trip – what hooked you?
We had never been to Hawaii before, and we were so excited to do it with Disney because we've had so much success with the kids loving Walt Disney World, Disneyland and our Adventures by Disney trips.  We knew we'd be able to explore Hawaii but stay with Disney and be immersed in Disney Magic.
We absolutely fell in love with the resort.  We had a 2 bedroom villa with a full kitchen and two baths.  We didn't' cook, but we had some light foods for breakfast and lunch and really used the room to it's full capacity.  We had laundry facilities even so we could wash clothes in the evening and dry out wet swim attire!  I don't know why, but we were so surprised by the amenities of Aulani – from big touches to little.
It's fun for all ages – we can hang out at the beach, do the lazy river, swim in the ocean, do the waterslides.  The kid's center Aunty's Beach House is so phenomenal!   My boys loved  the Animator's class.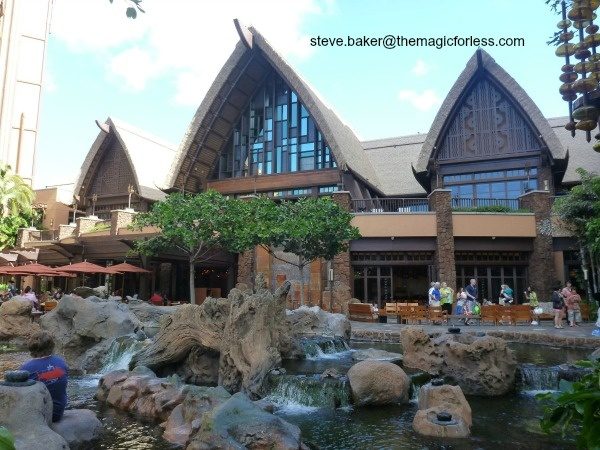 What keeps you going back?
The resort!  We get to stay in the middle of the magic while we are in paradise.  There are so many activities geared to all ages.  On our 2nd trip we spent more time resort based because it is so glorious and awesome.  We typically spent a day at the resort and then a day doing an excursion on our first trip but we loved just spending time at Aulani.  It's so beautiful and so peaceful!
What is your favorite Aulani memory?
One of my sons had a birthday while we were at Aulani, and we gave him surf lessons as a present for the trip.  Watching him do that his first time in Hawaii was priceless!  He actually got up several times!   It was a Disney affiliated excursion and the guides were so great with the kids.  They were also certified so we felt so safe!
In terms of excursions, Pearl Harbor was surprisingly our favorite.  It was so moving and emotional.  We loved that we booked it through Aulani as we were picked up from the resort, they had our tickets, and  we didn't wait in any lines.  It was so convenient to be picked up and driven to and from.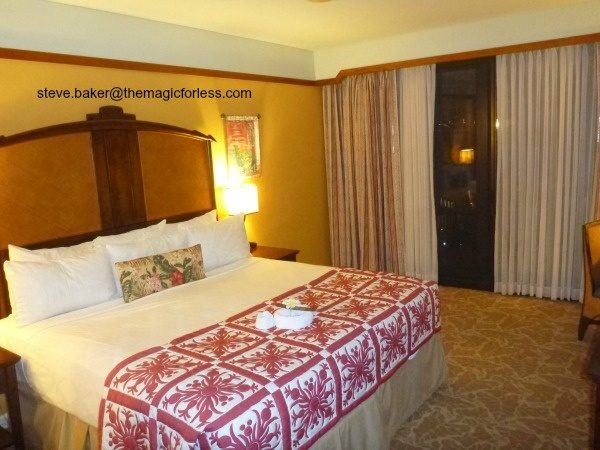 What is your favorite activity that you always do/tradition on Aulani?
We love staying at Aulani for a day and then spend a day exploring.  It is a great balance!
By far, though, Aulani has the best spa, Laniwai, that I've ever been to  in my entire life – I have made many trips on our subsequent visits!  It's heavenly and I'll always make this a tradition on future trips, preferably several times during!
How do you define Disney magic at Aulani? 
Well compared to the Disney theme parks, the magic is a bit more subtle, but not less any less magical.  You can still meet your favorite characters who show up at the pool even to hang out with you!  But to  me you get the fabulous service you know with Disney.  I would say that especially in the kid's areas, as  they're constantly doing activities with the kids.  It's Disney nirvana for kids!  There is an animation class – so many tie ins to Moana currently (my kids made boats that they were able to then race).   And  Aulani Cast Members make it magical – they have a pure Disney touch.  So it's the service and care that gives Aulani so much of the magic.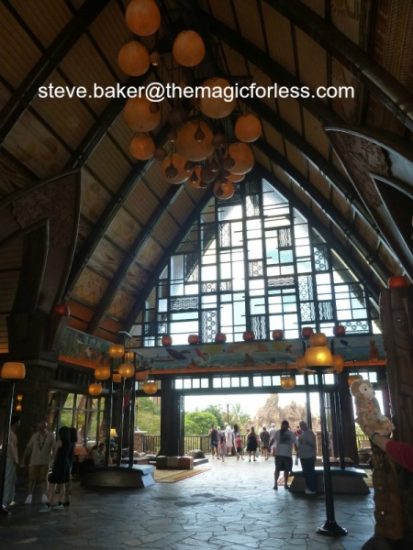 What is the value of Disney Aulani over another Hawaiian resort?
To me the value there is because there is so much to do, but if you have younger kids it is the place to be.  So many activities for kids come with Aulani.    No one does that better than Disney.
There is so much to do or so little to do at Aulani.   It's so very, very Hawaiian.  You absolutely know you're in Hawaii.  Oahu is a  so fast paced in other areas such as Waikiki.  It's built up, it's urban and it's so crowded.  Aulani is at a much slower pace.    And the luau, KA WA'A, and the Hawaiian shave ice are just as good at Aulani as they are at other places – you don't need to leave the property to experience Hawaii and have fun!
What are you looking forward to most on next Aulani trip?
Besides the spa?!  LOL!
The variety of things to do is what we look forward to!  The kids love the pools, the slides and did I mention the shave ice?!
When we were leaving Aulani this time and heading to the airport, one of my children suggested we visited a different island on our next Hawaiian visit.  But how could we skip Aulani?!  It devastated us to think about that!
The food, the paddle boarding, the beach area, which is a lagoon with gentle waves and the sand is so pristine and clean.  It's just the most the relaxing place on earth with tons of activities at your fingertips.
What has been your favorite excursion at Aulani?
Besides Pearl Harbor (mentioned above), we all loved the luau.  I also loved the catamaran trip and zip lining  – all done through Disney!  It's so easy peesy to see different parts of the island.  They're all my favorite!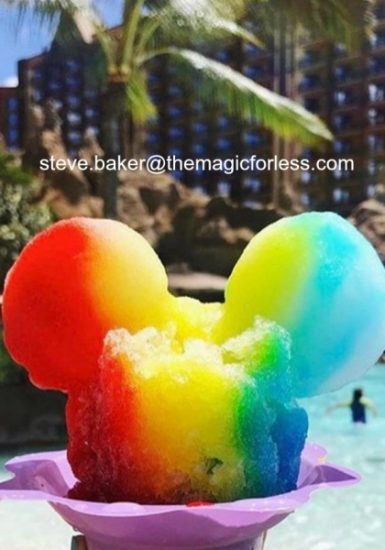 What has been your favorite meal at Aulani?
'Ama 'Ama, we've done it on both trips and it is amazing.  Reserve a dining time at sunset.  It is absolutely gorgeous and the food is great!  Don't miss it.
Why do you use The Magic For Less Travel?  What is the benefit?
You always get the answers to all of my millions and millions of questions!   You will always take care of the details and book the excursions for me.  You're meticulous with your planning and you care about it like it was your own trip.  It is always more beneficial as you'll find the promotions we may not even know about.  You found a promotion with a free rental car day and free breakfast for us on this last Aulani vacation.  Who knew?!   You make it so easy for us and I trust implicitly that you are always  looking out for us. I'd never do a trip without your assistance!
Best advice for a new Aulani traveler?
Check out the spa in case I didn't mention it already!
If you have kids younger than 10 check out Aunty's Beach House.  You can pre-register your child before you go and you'll want to do so as it fills up quickly!   Plan on going to Pearl Harbor for your first trip as a day away from the resort.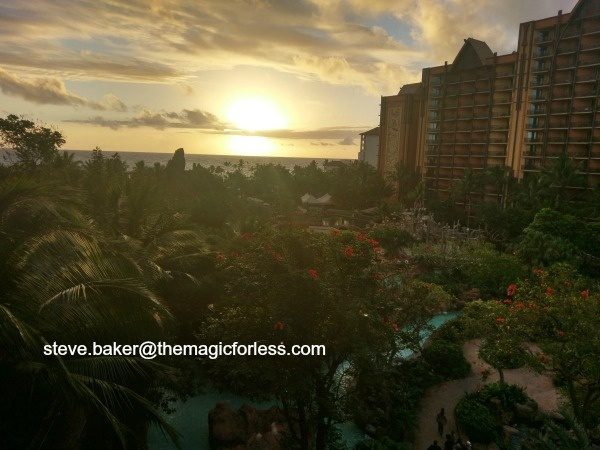 Who is your favorite Disney character?
I am going to say Rapunzel!  She is spunky and fun, and she didn't always need someone to help her make it through life.   She's independent and she reminds me of my daughter.
Do you have any other comments about Aulani? 
Sit back, relax, have a fun fruity drink on the beach.  It's beautiful and you will fall in love with Disney in a whole new way.
Cheri Gardner has visited Aulani on multiple occasions now.  Cheri and I have been working together for over 8 years planning Disney Destination vacations.  Cheri and her family are big fans of Disney Destinations.  They are regular visitors to the Walt Disney World and Disneyland Resorts.  They have sailed with Disney Cruise Line, and they've been on 4 Adventures by Disney vacations with their 5th one planned for summer 2018.
Similar Posts: