Walt Disney World Interview with a Guest of The Magic For Less Travel
Our clients at The Magic For Less Travel are so valued and important to us that in true Disney fashion we refer to them as our guests.   Often our guests become our friends and extended family as we build relationships with them over the years and live vicariously through their Disney Destination vacations.
Sometimes our guests' children grow up and begin to travel themselves with their own families!  We love our guests and we truly take their vacations seriously – as much as we do our own and maybe even a little more.
So who better to talk about Disney Destination travel than our very own guests of The Magic For Less Travel?!  I decided to do a Disney World Guest Interview with one of my long time guests.   This is a first in a series of interviews I conducted with my personal guests who regularly travel to Disney Destinations.  Watch for future interviews with guests who regularly travel with other Disney Destinations!
Interview with a Disney Cruise Line Guest:  https://www.themagicforless.com/tmflblog/2017/07/disneycruiseinterview/
Interview with Disneyland Resort Guests:  https://www.themagicforless.com/tmflblog/2017/07/interview-disneyland/
Interview with an Aulani Resort Guest: https://www.themagicforless.com/tmflblog/2017/07/aulani-interview-guest-magic-less-travel/
Interview with an Adventures by Disney Guest:  https://www.themagicforless.com/tmflblog/2017/07/adventures-by-disney-interview-with-a-guest-of-the-magic-for-less-travel/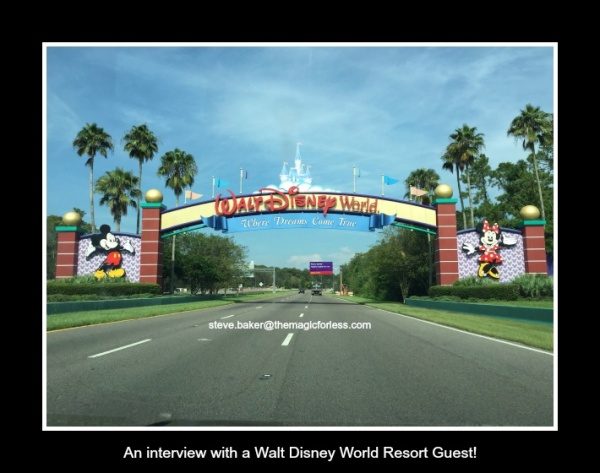 Let's talk with Tim Sauda from Hamburg, New York about his Walt Disney World experiences!
Tell me about your first Walt Disney World Resort trip – what hooked you?
The first trip to Walt Disney World was as a kid when I was 10 in the early 1980s – just a week after Epcot opened in 1982.  Things were so much different then and my family actually stayed offsite for that very trip.  We spent time at Epcot and Magic Kingdom, and I can't say for sure what hooked me specifically then, but we had so much fun as a family like never before.  Epcot wasn't operating at full capacity.  There were a lot of attraction breakdowns, but everything was so still magical and I absolutely loved the majesty of Magic Kingdom
We took a return trip 3 years later and took my grandmother with us.  We stayed at the same hotel – a Days Inn.  I can't imagine staying offsite now!  I was hooked by then.
I didn't go back until after college and my parents wanted to take my sister who was in High School at the time.  I had to go too!  So, I chimed in and asked to go with them and we stayed at the Polynesian in 1996.  The castle was decorated like a birthday cake that year for Walt Disney World's 25th birthday!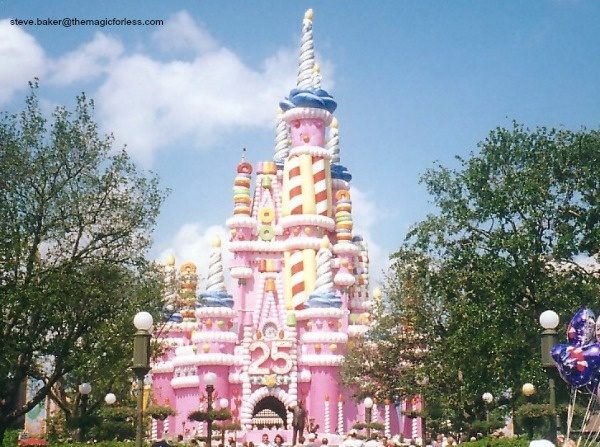 My first trip with my family unit with my daughters – they were 5 and 3 – was the first time that I used The Magic For Less Travel.   I remember going in May and I had booked the trip 9 months in advance.   I wasn't going along for the ride this time so I needed and wanted assistance of an expert.  I loved every minute of it – part of the fun is planning.  We stayed at the Polynesian that year and brought my parents along for the week.   It was so magical watching it through my children this time.
We've now been back 5 times with the kids and 1 additional time just as a couple for our 15th wedding anniversary.
What keeps you going back?
A few things come to mind.  My kids absolutely adore the destination.   It's the one place that no matter their age they've asked to go back time and time again.  They are always so excited.  I tell referrals that it's the one vacation place that everyone can go and be happy and have fun because there is something for everyone!   It's been a different kind of fun as my children have gotten older so it's always new to us.  We love the service.  Restaurants are underrated – they have fantastic restaurants that you can't go to in your everyday life.  Disney also continues to add attractions and new lands.  The magic is always there!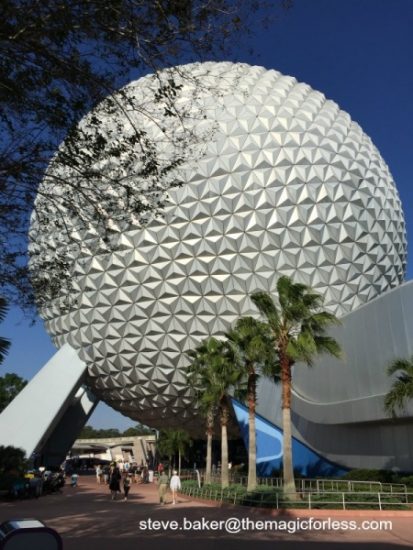 What is your favorite Walt Disney World Resort memory?
This is so hard because there are so many memories with my family and children, but some of the things that stand out include how excited the kids were meeting the characters for the very first time, experiencing the attractions for the first time and seeing their expression and having them talk about it after we got home even.  We've been fortunate that some unique things that have happened that are all part of the Disney magic.  During the Year of Million Dreams we were tapped by a Cast Member on the shoulder and we were awarded a private ride on Dinosaur – the entire ride vehicle to ourselves.
Also, we were staying at the Grand Floridian on one visit and while getting off of Disney's Magical Express, a Cast Member greeted us by name and asked us if we'd like to be escorted to a suite upgrade.  We were suddenly whisked away to a 2 bedroom suite!  We've had some great meals and I think we've tried all of the different restaurants – always a highlight and a great memory.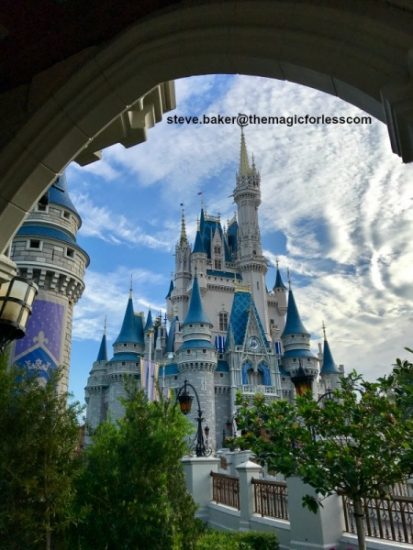 What is your favorite activity that you always do/tradition at Walt Disney World?
On every trip we've taken we've done dinner Chef Mickey's.  We know that we've arrived when we're meeting up with the Fab 5.  It's always the 1st or maybe 2nd night of our trips.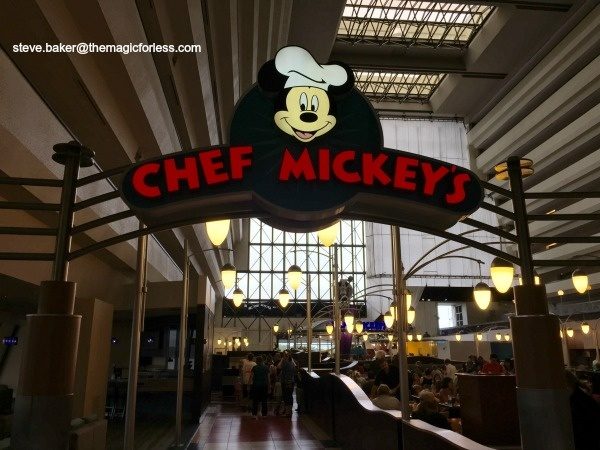 How do you define Disney Magic?
It can be so many things!  Literal, tangible things and maybe things that are just more like how you experience or take it all in.  Magical upgrades for instance are a good example.  At Space Mountain one night there was a Cast Member waiting at the exit.  He said  "Would you like to ride again?", and he escorted us to the front of the line for a repeat ride!
Engaging with a waiter at dinner and at the end he gave us a FastPass to use that night on any attraction defines Disney Magic.
And then a show like Wishes (now retired).  That's Disney at its very best – the music, how it evokes emotion and how it makes you feel.  Magic is the expression you see on your child's face when they experience a ride or meet a beloved character.
And magic is watching my daughter perform in her high school band and marching down Main Street at the Magic Kingdom.  Seeing her walk down Main Street with a huge smile on her face performing in her favorite place in the world was amazing.  Our other daughter will do this in a few years and we can't wait!
What are you looking forward to most on your next trip?
Pandora, Toy Story Land, Star Wars Land – there is so many new things coming online at Walt Disney World over the next few years that make me want to go back!  I'm also looking forward to a future adults only trip as well with other couples – it's totally different than just doing it with kids.
What is your favorite Walt Disney World Resort?
Our favorite is the Polynesian Resort.   A few reasons – it's the first Walt Disney World resort that I stayed in.  It's classic Disney, one of the original resorts.  It's got the Disney flair even still today!  You really are immersed in the theme, and the convenience to the Magic Kingdom and even to Epcot is fantastic.  Great amenities and it is the only resort that we've repeated (we'll repeat it again!).  And just some of the little things stand out – the first year we went with our children and just seeing the monorail for the first time.  My parents and I rode it around the Magic Kingdom loop on our first night just to feel the magic of Disney before our touring started the next day while my wife put the kids down.  We were too excited to sleep!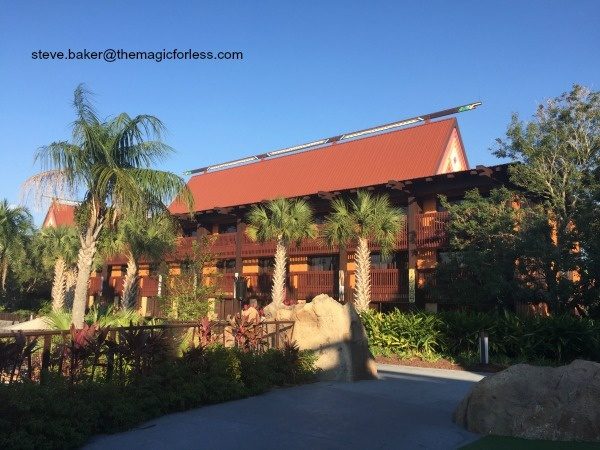 What is your favorite Walt Disney World Resort attraction?
It's so hard to pick just one!  I think for me my favorite attraction is Space Mountain.  It's been at Walt Disney World forever and as a kid I remember having that fun fear factor and seeing it for the first time.  It was a roller coaster in the dark and that was a bit scary!  It's held up through the years very well.  I can't tell you how many times I've ridden it – over 100?  It's fun every single time.  The music even evokes magic for me as you walk through the queue.  It's like going back to my childhood.  My kids love it as well and it's a great experience for our family.  It has great theming.  I think if you ask the novice Disney traveler about an attraction at Disney that Space Mountain will come up.  Attractions like Soarin' are amazing, but Space Mountain just always does it for me.
What is your favorite Walt Disney World Resort Restaurant?
Victoria and Alberts was amazing when we celebrated our 15th wedding anniversary.  A truly magical experience of service and quality.   I have to say it is my favorite.
But with the kids I might say Chef Mickey's – there is always anticipation of waiting for the characters and a great buffet.  My daughter was afraid of the characters on our very first visit but she began to let go and it's been a tradition ever since.  It always stands out for me.  And when my daughters were smaller the experience of them dressing up at Cinderella's Royal Table was amazing.  I loved watching them light up feeling as if they were Disney Princesses themselves!
What has been your favorite character interaction(s)?
The first time we went to Chef Mickey's with my kids, my parents were with us.  Goofy came over to greet the kids and he used my dad's head to hold the autograph book as he signed it.  The photos are priceless of my dad smiling and the kids laughing!
You don't see the Beast very often and the first Be Our Guest dining experience was great as we got to meet him after dinner.  It was the perfect end to a fantastic meal.  He's enormous and seeing him putting his hand out to us to greet us and having our photo taken with him is a great memory.
And at Akershus my daughter was in the parade with Snow White holding her hand.  That was priceless.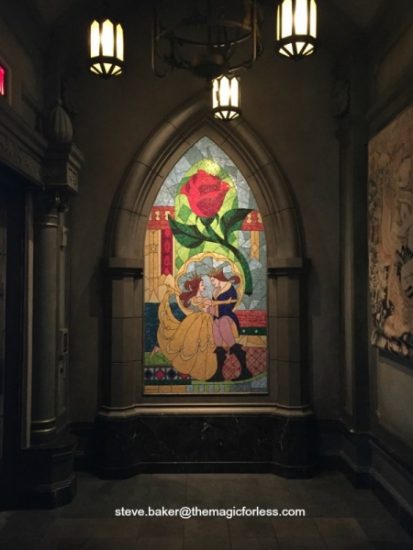 Why do you use The Magic For Less Travel?  What's the benefit?
You make it ridiculously easy for us to take care of everything.  I can do all of this myself, but I never would.  You are always there and when things that come up you take care of them – promotions, requests, knowledge of the restaurants and attractions, endless tips and advice.  Why wouldn't you use The Magic For Less Travel?  It's free!  And it's like having your own personal concierge whenever you need them.   Why deal with all of the things you have to when someone will do this for you as a resource?
And of course there are nice perks like gift cards and vacation package booking gifts.  Those are just icing on the cake, though. You are responsive – just a phone call, email, or text away from answering a question.  And Disney guests will have a million questions.
I love that I've built a relationship with you.  You give me peace of mind that my trip is going to be well managed and go off without a hitch.
What is your best advice for a new Walt Disney World Resort traveler?
Plan, plan, plan!  There is too much going on to just show up without any planning – that is why you need to use The Magic For Less Travel!
It's an expensive trip.  It is an investment, so plan and use your agent to help, but also do a little bit of research on your own as well.  When you're going to the parks get there at rope drop and you'll be amazed how much you can do the first few hours the park is open.
Take time to smell the roses and relax a bit too.  Enjoy the pool at your resort.  You can't spend 12 -14 hours at the park every day or you'll come home needing another vacation.  Build time into your plans to relax.
Stay at a Walt Disney World Resort – there are so many options.  Take advantage of Extra Magic Hours.  Take breaks to recharge and go back to the parks in the evenings.  Take time to experience the restaurants, too!  Not just character meals but other sit down venues as well – there are so many good choices.
Who is your favorite Disney character?
Mickey Mouse, don't have to think twice.  As a young adult when I went with my parents to Walt Disney World I found a poster in one of the stores of Walt that said "Remember it all started with a Mouse".   I fell in love with it.  It may be cliché but it's not even close.  Mickey is Disney.
Do you have any other comments about Walt Disney World?
Some of the classic attractions are vintage Disney and makes me think of Disney magic.  Peter Pan, Pirates of the Caribbean, the Haunted Mansion.  There may be other attractions that have come along that are more advanced, but these remind me more of the simpler things of life.  I can go and disconnect from the reality of life every time I experience them.
Tim Sauda is a regular and frequent Walt Disney World Resort vacation traveler.  Tim and I have been working together for over 7 years planning Disney Destination vacations.  Tim and his family are big fans of Disney Destinations.  He has also visited Disneyland and cruised with Disney Cruise Line.
Contact me at steve.baker@themagicforless.com for a no-obligation quote for your next Walt Disney World Resort vacation!
Similar Posts: