Interview with Magic For Less Travel Disneyland Guests
Our clients at The Magic For Less Travel are so valued and important to us that in true Disney fashion we refer to them as our guests.   Often our guests become our friends and extended family as we build relationships with them over the years and live vicariously through their Disney Destination vacations.
Sometimes our guests' children grow up and begin to travel themselves with their own families!  We love our guests and we truly take their vacations seriously – as much as we do our own and maybe even a little more.
So who better to talk about Disney Destination travel than our very own guests of The Magic For Less Travel?!  This is a third in a series of interviews I conducted with my personal guests who regularly travel to Disney Destinations.  Look for other interviews with guests who regularly travel with other Disney Destinations!
Interview with a Walt Disney World Resort Guest:  https://www.themagicforless.com/tmflblog/2017/07/disney-world-guest-interview/
Interview with a Disney Cruise Line Guest:  https://www.themagicforless.com/tmflblog/2017/07/disneycruiseinterview/
Interview with an Aulani Resort Guest:  https://www.themagicforless.com/tmflblog/2017/07/aulani-interview-guest-magic-less-travel/
Interview with an Adventures by Disney Guest:  https://www.themagicforless.com/tmflblog/2017/07/adventures-by-disney-interview-with-a-guest-of-the-magic-for-less-travel/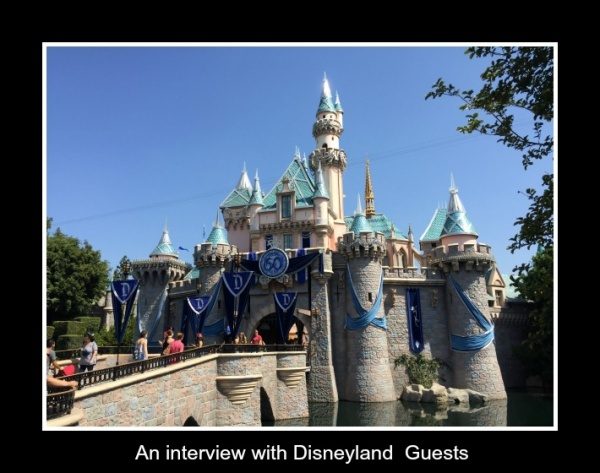 Let's talk with the Owens Family – Jerry, Vicki and their college age son Nathan – from Missouri about their Disneyland experiences!
Tell me about your first Disneyland trip.  What hooked you?
Vicki – in the 1960s when I was a very little girl.  My dad was in the United States Air Force and my mom took us to Disneyland when dad traveled.  It's how we distracted ourselves.  Then Dad  moved to a job as a pilot of United Airlines which sponsored the Tiki Room so we went even more often!   I think the magic of the destination hooked me.  It was such a happy place even just as a little girl.  We closed out the park one night at the back of the park and I remember feeling like I was in a whole new world with the all the lights and an empty park.
Nathan – the thing that got me was seeing my mom's reaction on my first trip when we stayed at the Disneyland Hotel for the first time.  I never saw her happier!  We have a photo of her checking in at the Disneyland lobby with the biggest smile and it was great to share that memory.  I loved experiencing her first stay as well as mine at the Disneyland hotel!
Jerry – when I was in the Navy I was stationed in San Diego and my squad was in a parade at Disneyland.  It was such a happy place!  Also seeing my sons look on his face for his first visit made it worthwhile for me.   I always love seeing the castle!  That is what hooked me even though it's much smaller than Walt Disney World!
What keeps you going back to Disneyland?
Nathan – Mr. Toad's Wilde Ride! Things you can't experience at Walt Disney World.  You can really feel Walt's touch at Disneyland.  There is more charm with a quality hard to put into words.  So many small details that  Walt Disney World doesn't seem to have.  One of my favorite things is Shrunken Ned at South Sea Traders!
Vicki – it is the original.  It's sacred ground for the true Disney fan!
Jerry – knowing the background of Disneyland after taking the Walk in Walt's Footsteps
What is your favorite Disneyland memory?
Vicki – one of the first memories is having hamburgers in Tomorrowland and the stage came up and there was a band playing!  It seems so trivial but my grandmother was with us and it surprised us all and she just loved it.  And of course more recently  it was bringing our son for the first time to share the magic with him.   Oh, and my dad (who has since passed away) just loved the Matterhorn!
Nathan – First time I did the Matterhorn.  It's such a classic ride and I had always wanted to do it and experiencing the history of it was amazing.
Jerry – having a Dole Whip while watching in the Tiki Room.  Walking up to the Haunted Mansion at night – it's so much different at Disneyland.  It's such a neat place at night with just such a different feel than Walt Disney World!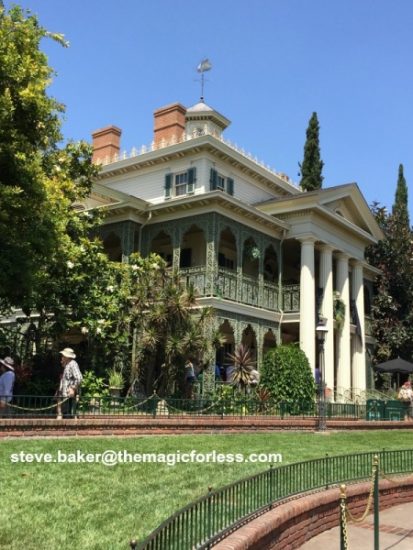 What is your favorite activity that you always do or a tradition?
Nathan – One of our favorite restaurants is Goofy's Kitchen, and we always eat there  It's our favorite character meal.  Well my dad has an issue where occasionally he'll say the incorrect word when talking.  He accidentally called it Goofy's Chicken and that name has stuck with us.  We joked the entire time and we continue to laugh every time we go.
Vicki and Jerry – Carnation Café is also a tradition.  We love going to have breakfast and we got to meet Oscar on our last visit!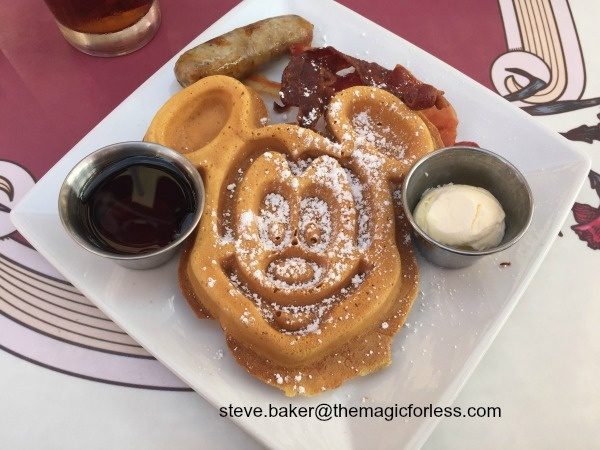 How do you define Disney Magic?
Vicki –  the Cast Members really define Disney Magic for me.  You can tell they care so much about making it a special time for all guests.  You don't' have a care in the world at Disneyland.  I always become a little girl again, especially when I am meeting Mickey Mouse!
Nathan –  you feel like you're in another world transported away from reality, especially in Disneyland park.  The charm, history and quality of that park takes you away even though you are right in the middle of Anaheim – you'd never know it, though!
Jerry –  Even in the rain or if you're having a bad day Disneyland put a smile on your face.   I remember getting in line at 2:30 am for the 60th anniversary on July 17, 2015.  Everyone was missing sleep, but Disney Magic put a smile on everyone's face!   Who needed sleep?!
Looking forward to most on next trip
Vicki – the weather is always so much better in Southern California!  I love the Haunted Mansion area so much.  It's a Small World – I just love watching the clock and dolls, I could watch forever!
Nathan – I am looking to doing Mr. Toad again!  Also the beignets by the train station!
Jerry – Star Wars Land!  We always find something new no matter how many times we go and I look forward to that!
What is your favorite Disneyland Resort?
Vicki and Jerry – Disneyland Hotel for all of us.  The Disney's Grand Californian looks wonderful and fun and we've visited it frequently, but when we go back we'll go back to the Disneyland Hotel because of the charm and nostalgia.  It's so convenient and just a nice little walk to the parks.  I had always wanted to stay here since I was a little girl and I love it.
Nathan – We love the Adventure Tower, especially with the Theme park view.  We love watching the fireworks from our room with the music piped in from the TV.  It's my favorite Disney Resort period – East or West coast!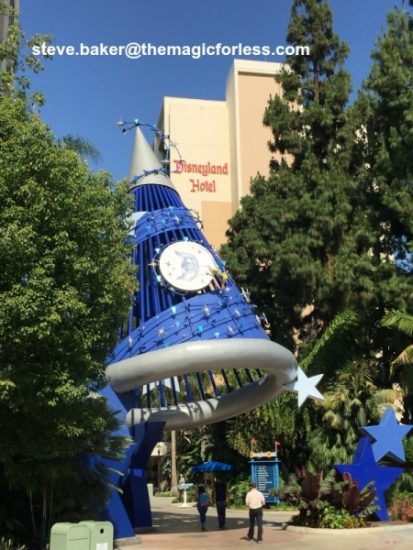 What is our favorite Disneyland attraction?
Vicki – It's a small world – it's so grand and so magnificent!  I love the dolls and the clock tower.  Even the song!
Nathan – Mr. Toad's Wild Ride!  What other attraction in a Disney theme park takes you to hell and back?!
Jerry – Matterhorn and Pirates.  It's all about the classics for me!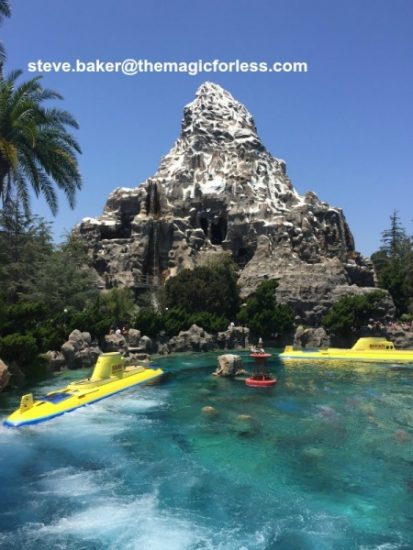 What is your favorite Disneyland restaurant?
Vicki – Wine Country Trattoria is a great place for a sit down venue.  We were really surprised!  And  Jolly Holiday for quick service and treats.
Nathan – Rancho del Zocalo for quick service is awesome!
Jerry –  Blue Bayou and Café Orleans are both classics.
What is your favorite character interaction at Disneyland?
Vicki – we were walking through the Disneyland Hotel one day and Goofy was walking around the grounds.  We had the most organic interaction with him.  It was just so natural!   Also at Disney California Adventure we were walking down Buena Vista Street and there was a street character (police) who we struck up a conversation with.  I asked him if he had a minute and I reported my son for being a great person.  He actually gave Nathan his first "ticket"!
Nathan – my dad and the Mad Hatter!  We were watching a band play behind Sleeping Beauty's Castle and he came by and got my dad to do the chicken dance.  Very slowly at first and then faster.  Then toward the end of the song the Mad Hatter borrowed a pen and gave it to my dad  to use as a conductor's wand.  It was hilarious!    Also in the Magic Shop at DL on Main Street there was a manager who was walking around who asked me where I was from and engaged me in conversation.  I met up with my parents later and we went back into the store.  The manager was there and he said "I think you all are from…" which surprised my parents.  He wanted to interact and make us feel important.
Jerry – That Mad Hatter is something else.  It was so spontaneous and organic; if you interact with a Disney character you definitely get so much more out of the experience.  No matter where you are the interaction is so much better getting involved and participating with them.
Why do you use The Magic For Less Travel?  What is the benefit?
Vicki and Jerry – For me it's that we don't have to worry about anything, no matter which coast.  There have been a couple of time where we had an issue where we called you and you were right on it.  Greater than that, though, is when they release discounts you are on it.  It's amazing!  I know you'd do more if we let you too!  We like making our own dining reservations, but we know who to call if we have issues or need help.  It's just so stress free.   I know your integrity and what you stand for also.  There is a huge level of trust, and that is important.  It's so easy for me to recommend you to my friends and family that I love.  They are well taken care of by you!
Best advice for a new Disneyland traveler?
Nathan – if you're a seasoned Walt Disney World Resort traveler throw the guide book away!  The approach is so different at Disneyland.  You need a new point of view because Disneyland works in a different way. It's oriented more towards locals, for instance, than the big summer vacation extravaganza that World is.  Make it more a more relaxed and flexible perspective.  Patience and relaxation are rewards.
Jerry – go to Magical mornings, especially to Cars Land which is amazing!
Vicki – I would say if you can, spread out your visit for a couple of days.  Otherwise, you'll rush too much and you won't notice the small things that make the park so charming.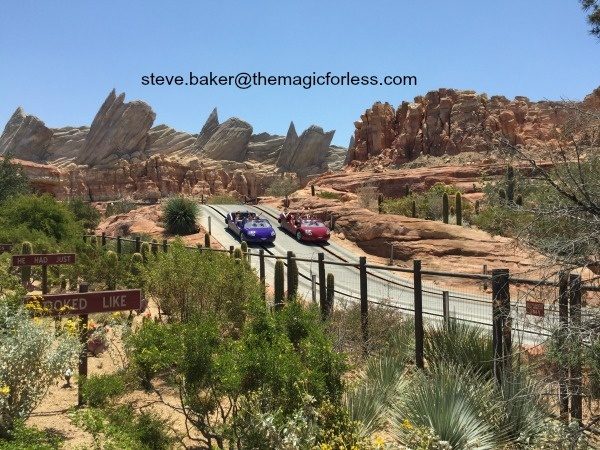 Who is your favorite Disney character?
Vicki – Mickey Mouse!  I just love him.
Nathan – I like the Fab 5 (Mickey, Minnie, Donald, Pluto and Goofy), but I really like the Alice and in Wonderland characters,  too!
Jerry – Mickey and Goofy and of course Minnie's not too bad!
Do you have any other advice for Disneyland? 
All – You feel like a VIP at Disneyland which you don't often feel at Walt Disney World.
Jerry, Vicki and Nathan Owens are regular and frequent Disneyland vacation travelers.  The Owen's family and I have been working together for over 11 years planning Disney Destination vacations.  The Owens family are big fans of Disney Destinations!  They are also regular guests of the Walt Disney World Resort and hope to plan their first Disney Cruise Line vacation soon!
Contact me at steve.baker@themagicforless.com for a no-obligation quote for your next Disneyland  vacation!
Similar Posts: