Disney Cruise Line Interview with a Guest of The Magic For Less Travel
Our clients at The Magic For Less Travel are so valued and important to us that in true Disney fashion we refer to them as our guests.   Often our guests become our friends and extended family as we build relationships with them over the years and live vicariously through their Disney Destination vacations.
Sometimes our guests' children grow up and begin to travel themselves with their own families!  We love our guests and we truly take their vacations seriously – as much as we do our own and maybe even a little more.
So who better to talk about Disney Destination travel than our very own guests of The Magic For Less Travel?!  This is a second in a series of interviews I conducted with my personal guests who regularly travel to Disney Destinations.  Look for other interviews with guests who regularly travel with other Disney Destinations!
Interview with a Walt Disney World Resort Guest: https://www.themagicforless.com/tmflblog/2017/07/disney-world-guest-interview/
Interview with Disneyland resort Guests:  https://www.themagicforless.com/tmflblog/2017/07/interview-disneyland/
Interview with an Aulani Resort Guest:  https://www.themagicforless.com/tmflblog/2017/07/aulani-interview-guest-magic-less-travel/
Interview with an Adventures by Disney Guest:  https://www.themagicforless.com/tmflblog/2017/07/adventures-by-disney-interview-with-a-guest-of-the-magic-for-less-travel/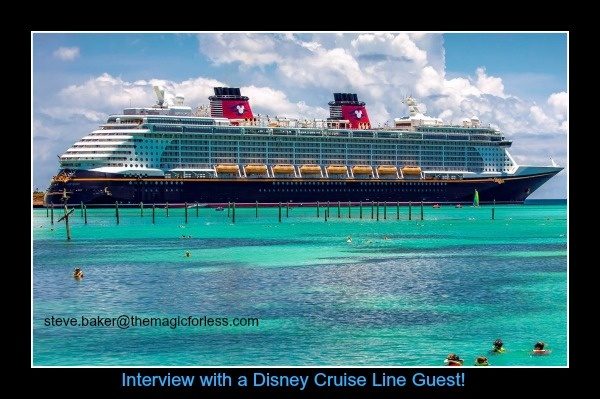 Let's talk with Mollie Cargill from Georgia about her Disney Cruise Line experiences!
Tell me about your first Disney Cruise Line vacation.  What hooked you?
For us I had read about Disney Cruise Line and how just family friendly it was.  I had been on quite a few other cruises before we had children, and I was interested in Disney Cruise Line because  we love Walt Disney World so much.  I wanted to see how they incorporated the Disney experience into a cruise vacation.  I felt that we could do as much or as little as we wanted to on a Disney Cruise combined with world class service.  That really intrigued me!
Once we went on the first cruise I was astonished at the attention to detail, the service and everything down to the cleanliness of the ship hooked us.  The kids clubs were absolutely amazing for our kids – they never wanted to leave.  The kids Cruise Staff were so top notch.  We felt valued by Disney and that we mattered.
What keeps you going back on Disney Cruise Line?
A consistent experience – our first experience wasn't a one-time thing.  The quality of entertainment and shows – it's like going to a Broadway production every night.
Customer service on the ship is above the bar.  We have the ability to go as hard or as soft as we want and still enjoy the vacation.  And we love that we can be as "Disneyfied" as we want or we can back away a bit with just subtle Disney touches.  Disney Cruise Line isn't just for Disney fans – everyone can enjoy it!
I also trust Disney implicitly to make us safe.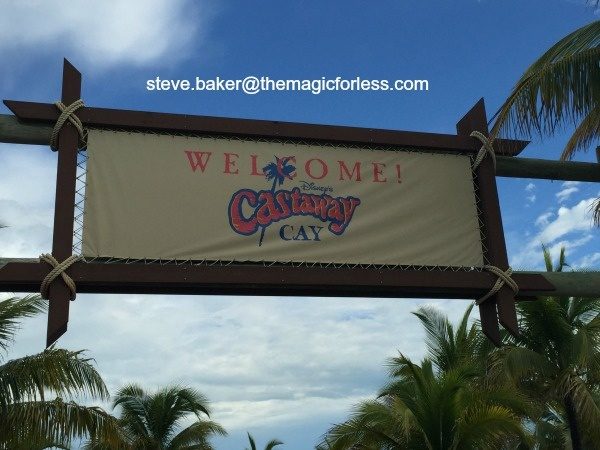 What is your favorite Disney Cruise Line memory?
For me, with my husband's story (he is a combat veteran) our vacations can often be stressful in extremely crowded situations.  Walt Disney World crowds, for instance, can often bother him.  On our first cruise we had gone to pick the kids up from the club and they were wrapping up an activity so we decided to take a stroll on Deck 4.  We were leaning up against the railing watching the ocean pass by and it was just so peaceful.  Out of the blue he said "let's book another cruise" – this was the first night on our first cruise!  This was confirmation to me that what is normally a stressful event for him would no longer be.  We had found a great fit.   This isn't something we find on vacation typically!  A triumph!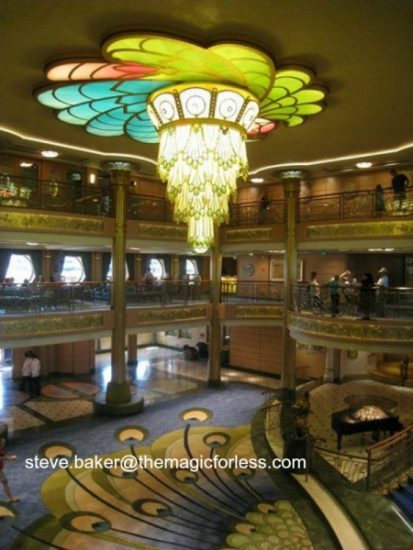 What is your favorite activity that you always do or a tradition on Disney Cruise Line?
We always love to order Mickey bars from room service or concierge if we're staying  there and take them to out on the deck and we sit on the padded chairs and watch the sea go by.  It's a tradition!
How do you define Disney magic on Disney Cruise Line?
Generally, Disney magic is the change from everyday stress to be gone and for everyone to have the chance to believe in magic.  It's really there if you look for it, but you have to have a clear head.
Everyone has childlike wonder! How can you not see Captain Mickey on the ship and not get excited?  Something as simple as hearing ambient Disney music walking down the hall incorporates the carefree stress free  moments of a Disney Cruise Line vacation for me.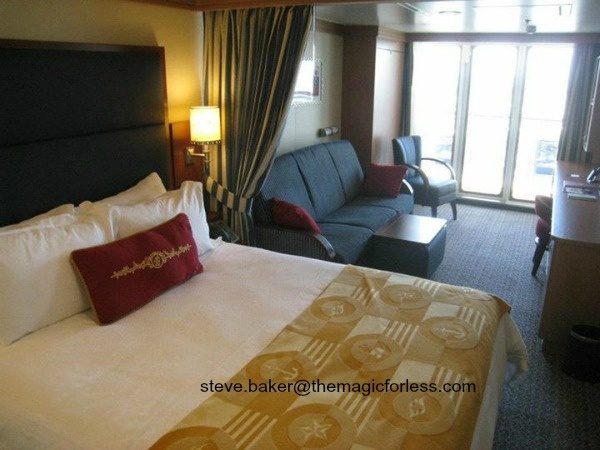 What is the value of a Disney Cruise over another cruise line?
Having been on three other cruise lines before Disney the number one thing that differentiates Disney is the service.  It's hands down so much better.  The attention to detail is incredible.  Disney is going to make sure you're happy.  Everyone crew member says hello to you, and everyone is so helpful.  The ships are in top shape – immaculate!  Nothing is dated or has been worn.
There is no comparison with kids clubs on Disney Cruise Line as well.  I'm not a really big foodie, but their food is good and well presented.    Disney Cruise Line has Broadway caliber shows.  And I love that there is always something to do – you're never bored or waiting for the next activity (unless you want to!).  There are just so many more activities/options.
And…Castaway Cay blow every other private island out of the water.  It is our favorite!
What are you looking forward to most on your next Disney Cruise Line vacation?
As corny as this may sound, we have gotten to know many of the crew members since we sail frequently.  I feel  like they are invested in our family and they reference things from our last cruise so I feel like it is a homecoming in many ways.
And, I'm also looking forward to seeing Alaska on our next cruise while still immersed in Disney magic.
What is your favorite Disney Cruise Line ship?
The Disney Magic – the original!  I love the size of the classic ships.  They are slightly more intimate.  And while I love the Disney Fantasy, I just really feel like the smaller ships enable you to get to know the crew members better.  You acclimate to your surroundings easier as you know where everything is.
On the larger ships, though, I sure do love the Aqua Duck!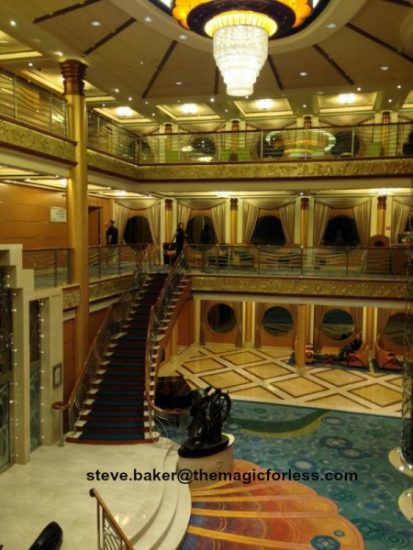 What has been your favorite itinerary?  Port of call?  Excursion? 
We enjoyed the Eastern Caribbean itinerary so much that we've done it twice now.
My favorite port is Castaway Cay and my favorite excursion really isn't one, but I love having a Cabana on Castaway Cay.  It gives us a home base and provides seclusion and serenity.  It's like having the island to ourselves!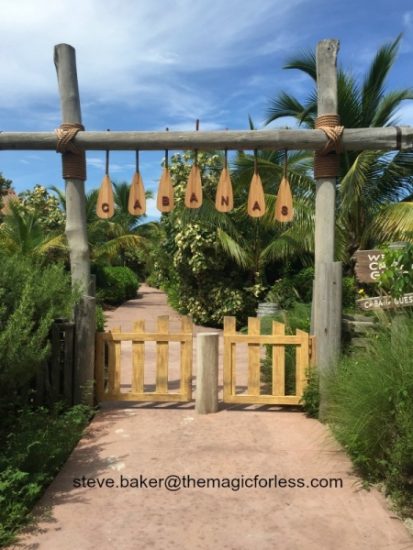 What is your favorite Disney Cruise Line restaurant?
We all love Lumiere's on the Disney Magic.    My daughters love the mashed potatoes – LOL!  Chateaubriand is my favorite dish.  The décor is beautiful without feeling stuffy.  We like the fact that we can go there and do a sit down lunch instead of Cabana's as well.
What has been your favorite character interaction on Disney Cruise Line?
Oh, there are so many!  We were once walking down a hallway on one of our cruises when Belle came out by herself and stopped to ask my daughters what books they were reading.  My oldest daughter struggles with reading and is typically uncomfortable talking about it.  But since Belle was interested in the books she was interested in she became animated and loved sharing her favorite  books with Belle!  It was unscripted and unplanned and pure Disney magic in a way like no other that really empowered my child.
My oldest daughter is also a huge Stitch fan.  He is a must do and we seek him out.  On one of the Pirate nights my daughter had a foam pirate sword that she took to have Stitch sign.  Well, he took it and signed it, but then refused to give it back!  He initiated sword battles with other characters nearby and created the mayhem that Stich is known for!  This was more than sign the book on and move on to the next child.  So fun!
Why do you use The Magic For Less Travel?  What's the benefit?
You are so well versed in Disney Cruise Line and you've sailed on the itineraries we want to go on!   You are an integral part of all of our vacation planning.  I know that I can read about Disney Cruise Line online,  but having someone who can back that up or give me suggestions and work on my behalf is priceless.
On our most recent cruise, the Disney Fantasy was having mechanical issues and our departure was going to be significantly delayed.  You reached out to me long before we had word from Disney Cruise Line to help us coordinate that morning and how to get to the Port when we needed to be there.   You took care of us.  We trust you and we know you have our best interest in mind every time.
What is your best advice for a new Disney Cruise Line traveler?
Besides using The Magic For Less Travel?  Well, don't over plan your cruise.  You're always going to find things that you didn't have enough time to do.  Prioritize your activities but don't run from place to place.  Be in the moment!  Let it be organic.
Who is your favorite Disney character?
I am a Mickey Mouse/Minnie Mouse kind of girl.  Classic Disney and how can you not feel like a kid again or want to smile or give them a high 5.  They're what Disney is all about!
Do you have any other comments about Disney Cruise Line?
The biggest thing for us is that we never know how accommodating a place will be for the situation with my husband until we arrive and experience it.   We know Disney will accommodate us for anything we need – all encompassing.  It's such a huge stress relief.
We were in a cooking demo on the Disney Fantasy on our last cruise and the chef was showing how to prepare apple strudel.  A husband and wife who were blind came in and they asked if they could participate and it was amazing to watch how quickly Disney crew members took that over!  We immediately had a Cast Member describing the process to the couple.  The chef even invited them up to feel the motions of the demo that he was doing.  It was fascinating to hear them say that this was their 4th cruise with Disney because of how they were accommodated.  So heartwarming!
And watching the interpreter at the nightly shows made my girls want to learn sign language!  Disney just goes above and beyond no matter your situation!
Mollie Cargill is a regular and frequent Disney Cruise Line vacation traveler.  Mollie and I have been working together for over 2 years planning Disney Destination vacations.  Mollie and her family are big fans of Disney Destinations.  She is also a regular guest of the Walt Disney World Resort!!
Contact me at steve.baker@themagicforless.com for a no-obligation quote for your next Disney Cruise Line  vacation!  Ask about my onboard credit offer!
Similar Posts: