Calling all Sorcerers of the Magic Kingdom! There are so many neat "extra magic" activities to do at Walt Disney World! One little-known particular fun and rewarding activity that earns you Disney keepsakes is called Sorcerers of the Magic Kingdom (SotMK) in Magic Kingdom Park.  This interactive game in Magic Kingdom involves stopping Hades' evil plan to take over the park by using spell cards created by Merlin. Following Merlin's specially-designed map, you can "open" portals throughout the park, watch the excitement unfold, and magically cast a spell in an attempt to defeat one of many Disney villains. It's a lot of fun!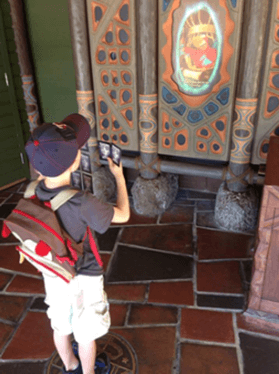 WHEN TO PLAY SORCERERS OF THE MAGIC KINGDOM
Sorcerers of the Magic Kingdom is a great diversion when things are busy or when waiting for a show to start or FastPass+ window to open (when those activities return to the parks). This game also encourages and develops communication skills. In fact, many people visit with others at portals and trade cards to obtain the entire collection.
One of the best things about Sorcerers of the Magic Kingdom is that it is free to all guests in the park! Stop by the Firehouse on Main Street U.S.A. to receive a free map for your party and one pack of free spell cards per person EACH day you are in Magic Kingdom. (FYI—Be sure to bring your entire party with you since spell card packs are given for each person physically present at the Firehouse, not just in the park.)

HOW TO PLAY SORCERERS OF THE MAGIC KINGDOM
So how do you play Sorcerers of the Magic Kingdom? You will go from portal to portal throughout one of the lands in MK. The first portal will introduce you to a story about one of Hade's villains. Continue to additional portals casting spells by holding up a spell card to defeat that villain.  You will notice that each spell card casts a different spell as you watch your spell in the portal. After defeating a villain, you can continue on to another designated portal in a different land if you wish.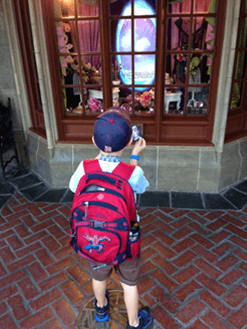 FLEXIBLE AVAILABILITY
In addition to minimal or nonexistent waits at a portal, you can choose when to visit a portal. After you have received your spell cards and map from the Firehouse, you can:
Go directly to the portal.
Wait until you've gone on a few rides and are looking for a break.
Come back at the end of the day, on another day, or don't go back at all.
Stop at a portal whenever you feel like it. You aren't locked in or committed to completing something – and at Disney that can sometimes be a welcome change.
BUCK'S BEST TIP
You don't need to play Sorcerers of the Magic Kingdom to obtain the map and spell cards. Even if you don't want to play, you can still go to the Firehouse to collect them. A cast member will gladly hand you a pack of spell cards and a map. These spell cards make a great FREE souvenir. I highly recommend stopping by if interested. At most, it will cost you 5-10 minutes of your time.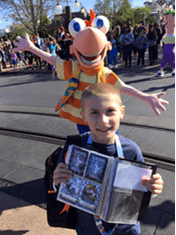 So the next time you are at the Magic Kingdom and you're wondering what new experience you could try that involves little time or planning, try Sorcerers of the Magic Kingdom. At the very least, you'll end up with some small Disney treasures to take home!
There's more to Sorcerers of the Magic Kingdom. What are the differences between regular cards, star cards, and lightning cards? Do the parties have special cards? How can you trade cards? What is the most effective spell? If you are interested in getting these questions answered, stay tuned for Part 2 which is scheduled to arrive soon!
Do you have any questions? Interested in booking your next trip? Click here to connect with Buck via email or to request a free quote.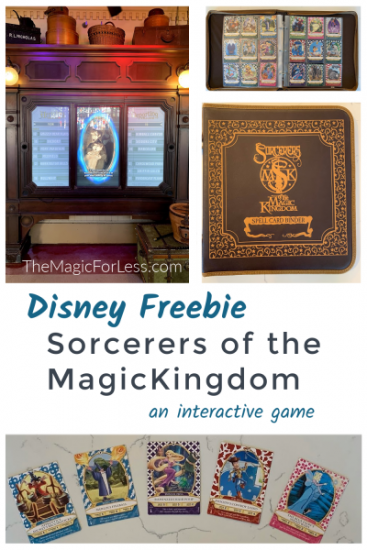 Similar Posts: