My husband and I had a great reason for traveling to Disney World for our trip this past August–  we were celebrating a special occasion at Disney World-our 31st wedding anniversary.  Having been to Disney many times for all sorts of reasons over the years, this was only the second time without our children and the first time we got to celebrate our actual anniversary there.  Before I tell you how Disney made our trip extra special, I do want to mention a short disclaimer.  While Disney tries to celebrate every occasion with you, they don't guarantee anything and your experience may vary.  Also be sure you note your celebration on your resort and dining reservations or as an agent at The Magic for Less Travel  let me do it for you.   Now on with the fun!
For us the celebration started as soon as we checked in at our resort.  The cast member who checked us in handed us each a celebration button.  In addition to the Happily Ever After printed on the button she added "31″ "EARS" and wrote our name near the bottom of the button.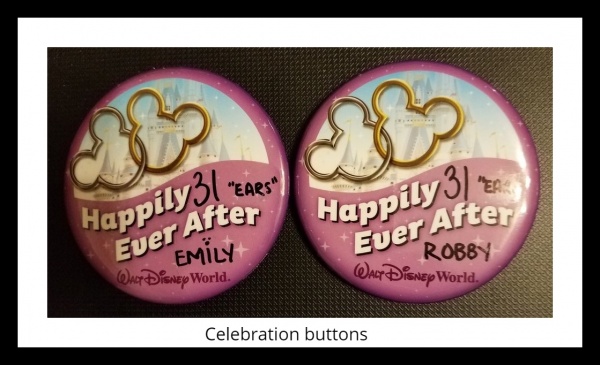 Whenever we wore the buttons during our trip, cast members would congratulate us—even those in security!  Speaking of security, be aware that you will need to remove the buttons before going thru the metal detectors.  Several times we just waited to put the buttons on until we cleared security just to make it easier.
On the day after check in we came back to our room to find that Mickey and cast had left us the card below and 2 Ghirardelli chocolate squares.  It was so sweet and such a nice surprise!  Needless to say the chocolate squares didn't last long!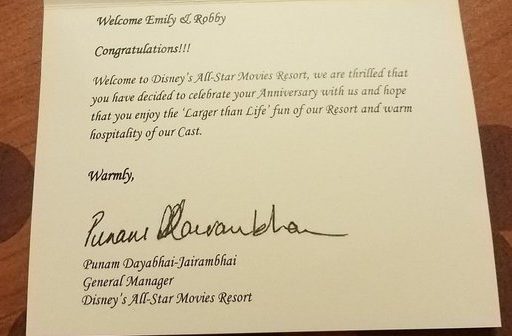 Disney celebrated with us one more time during our trip.  I reserved a dinner at 1900 Park Fare with Cinderella and friends for our actual anniversary date.  As a surprise, they brought each of us these cupcakes.  The food at the buffet was very good so we were already full but managed to squeeze most of the cupcakes in and they were delicious.  It was a great ending to celebrating a special occasion at Disney!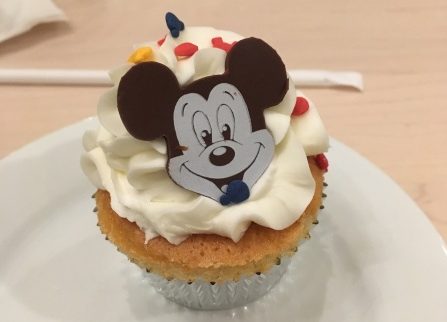 Similar Posts: