In November of 2015, my daughter was turning six and we decided to surprise her with a Bibbidi Bobbidi Boutique Princess Makeover for her birthday. It was truly a magical experience.  She had selected the Fairytale Princess Hairstyle which was a perfect bun with a tiara placed appropriately. This little girl who fussed and whined anytime I had to brush a knot out of her hair, allowed her fairy godmother-in-training to pull, tug, tease and wrap her hair in a hairstyle so tight that it lasted 3 days without moving! Three days in the park, at the pool, sleeping – her hair barely moved! My daughter still loved every moment of it, but the day came when the fairytale hairstyle had to come to an end and there was no fairy godmother-in-training to take it all apart and brush it out.
Still, I never hesitated when my daughter asked me if she could do the princess make over again on this trip. It was as much fun for me to watch her pure joy during the makeover as it was for her to do this experience.  I had no idea we were in for an even better experience, but before I get ahead of myself, let me tell you more about booking and planning for your child's make over.
Princess or Knight Makeovers are available at Bibbidi Bobbidi Boutique for children from the ages of 3-12.  There are two locations that you can visit. One is at the Cinderella Castle in Magic Kingdom and this location does require valid admission to Magic Kingdom to visit. The second location is at the Once Upon a Toy Store in Disney Springs Marketplace.  Reservations are strongly recommended at either location and often fill up quickly. Your Travel Consultant can begin making reservations 180 days prior to your vacation by calling (407) WDW-STYLE or (407) 939-7895.  When you book your reservation, you will provide the date you want to visit and which location, the cast member assisting you will let you know the times that are available.  You will be required to have a credit card on file for your reservation and if you do not show up or cancel within 24 hours, a $10 fee will be charged to your card on file.
Package Options
There are four Bibbidi Bobbidi Boutique package options to choose from and when you make your reservation, you will be asked which package you plan to purchase. However, you can change your package upon arrival if you choose to.  While the below gives you a brief overview of the packages, please note that the prices and details can change at any time.
·         Crown Package – starting at $59.95 +tax – This package includes hairstyling, shimmering make up, nail polish, face gem stickers, and a Bibbidi Bobbidi Boutique sash and cinch sack.
·         Courtyard Package – starting at $99.99 +tax – This package includes everything from the Crown Package along with a Bibbidi Bobbidi Boutique t-shirt and tutu.
·         Castle Package – starting at $199.99 +tax – This package includes everything from the Crown Package along with a princess gown, princess necklace, crown, and wand. (Note: Not all princess gowns may be available in all sizes).
·         Knight Package – starting at $19.95 +tax – This package includes hairstyling with gel, sword and shield, and confetti.
For additional fees, you can add on a costume knight t-shirt, princess shoes, additional princess accessories, and imaging packages.
Before the Makeover Begins
I love scoring a good deal, so I admit that I am often watching The Disney Store website for sales on costumes. You can find some great deals online! I actually bought a beautiful Tinkerbell light up dress for my youngest and a lovely Aurora dress for my now 7 year old at The Disney Store before the Christmas holiday and surprised both girls with new dresses prior to our vacation. Sale prices were less than half the price in the parks and their dresses were every bit as nice as the ones there. (In fact, many guests and even two cast members asked where I found the Tinkerbell costume!).
We selected the Crown package and I can honestly say that my daughter never "missed out" on anything because we didn't pick out her dress there. 
We love the idea of doing a princess make over at the Castle in Magic Kingdom and the photo opportunities afterwards are endless. I know many people prefer the Disney Springs location though. There are sometimes more "dress" options when purchasing the Castle Package in Disney Springs. Also though, time in the parks is valuable and many don't want to take valuable park time for a makeover that could be done in Disney Springs.  You have to decide what works best for you and the time you have in the parks.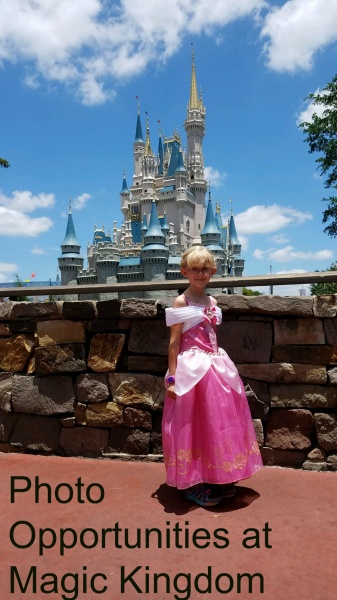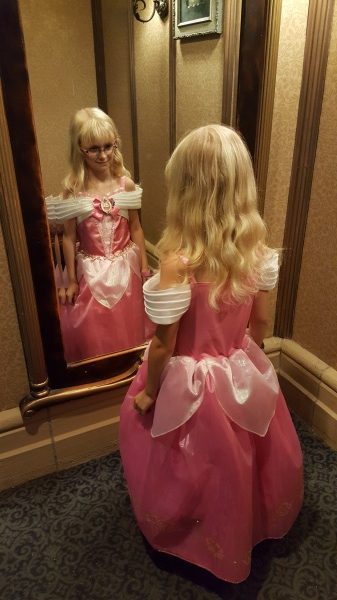 You should arrive about 15 minutes prior to your appointment time. Make sure you arrive with clean hair and nails, no product on hair.  I would also suggest bringing your own brush, especially if your child is prone to tangles.  Our fairy god mother in training thanked me at least two times for bringing our brush. We selected the Crown package and brought my daughters dress with us. If you are purchasing a dress there, you will have time after check in to look at the dresses and select which princess gown you want.  Shortly after checking in, my daughter and I were escorted to a princess changing room where she could change into her gown. This small little gesture is what allows her to never miss a single step in the makeover. She was dressing in her gown in the beautifully decorated changing rooms just as a child who purchases her gown there that day.
Our Experience
Once she was dressed and done twirling in front of the full length mirrors, we were introduced to my daughter's very own fairy godmother-in-training.  She was absolutely amazing, doting on my daughter and telling her stories the entire visit. She shared with us that it takes a fairy godmother 1000 years to become a fully trained fairy godmother! Since she was only turning 201 that week, she had a lot of training ahead of her.  This is truly when the magic began. The big surprise for us during this visit though was that there were some new hairstyles offered that allowed a bit more flexibility with princess hairstyles. These new styles were designed to be "not so tight" for the little princesses. My daughter could not have been more pleased! While she never once complained about her tight and hard to the touch hairstyle a year and a half before, she did mention on occasion that she wished she could do the makeover with her hair down.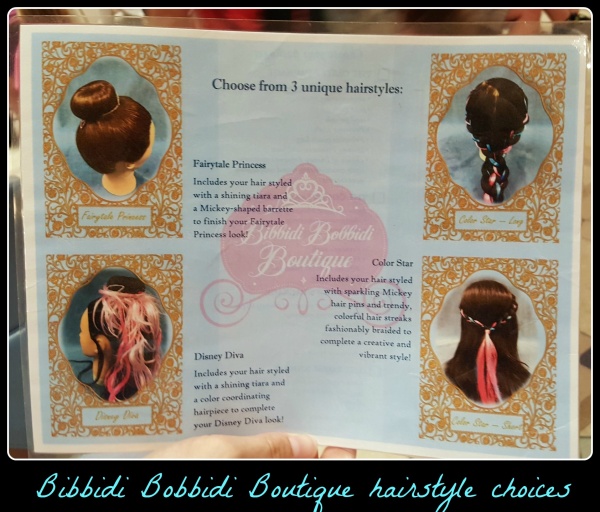 While the Fairytale Princess and the Disney Diva hairstyles are both still offered, our fairy godmother-in-training did explain that they were not so tight as previously styled. These hairstyles were designed to be gentler on the little princesses. A new Color Star style is offered though with two options a "short" and "long". My 7 year old was elated! She selected the Color Star "long" and her fairy god mother-in-training immediately began to style her hair.
As her very own fairy godmother-in-training interacted with her, another fairy godmother-in-training assisted by painting my daughter's nails and they both shared stories and giggles with my little princess. They excitedly told her that their favorite show in all of Walt Disney World was the new Happily Ever After night show at Magic Kingdom.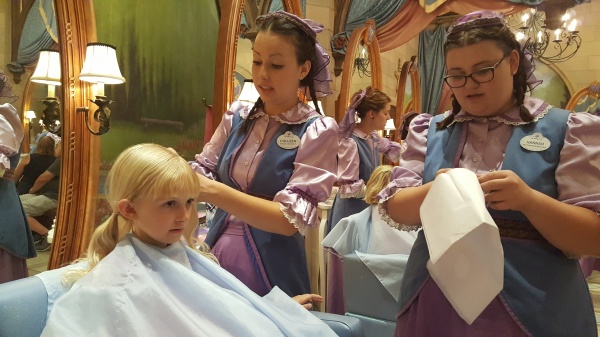 The entire Bibbidi Bobbidi Boutique Princess Makeover from the time we checked in until the time our check out was complete was only 45 minutes. I would suggest allowing for a full hour and maybe even an hour and a half during busier seasons in your schedule for this experience.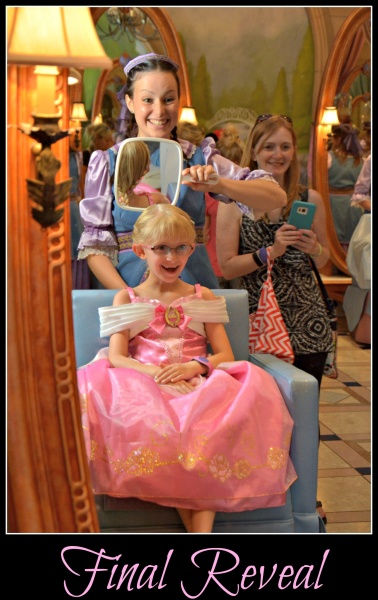 The hairstyle is not designed to last more than one day and that is pretty accurate. My daughter decided to sleep with her Color Star style in place but removed many of the hair pins to be more comfortable. In the morning, it was starting to come undone. With two girls, I've been developing new braiding skills  so I did try to slowly undo the style and re-do it and while I'm not as skilled as the fairy godmother-in-training, I was able to clean it up enough to make it presentable again and she definitely had two days of wear.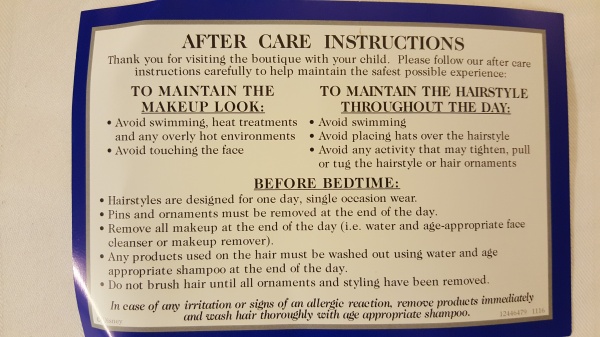 She came home with her Bibbidi Bobbidi Boutique cinch bag and sash, her makeup, nail polish and hair clips so we have lots of opportunities to practice princess make overs at home.  This is an experience that I believe is well worth the cost and you and your princess will have memories to last a lifetime! Photopass+ photographers are on-site during the makeovers and will ensure if you have purchased Memory Maker you have plenty of pictures to go with those magical memories.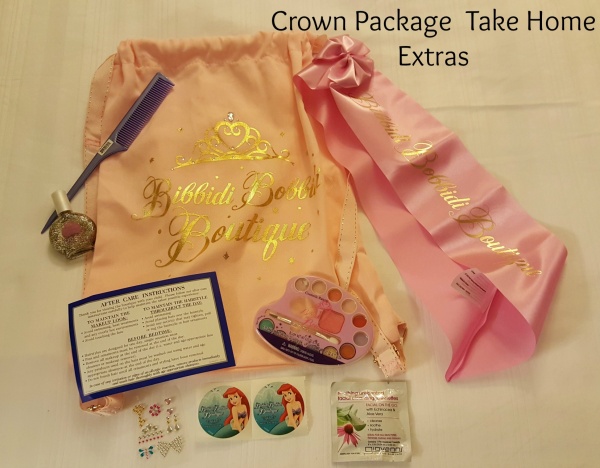 Ready to book your vacation? Contact me at Juanita@themagicforless.com or at The Magic For Less Travel for a no obligation quote and start planning your next Disney vacation!
Similar Posts: