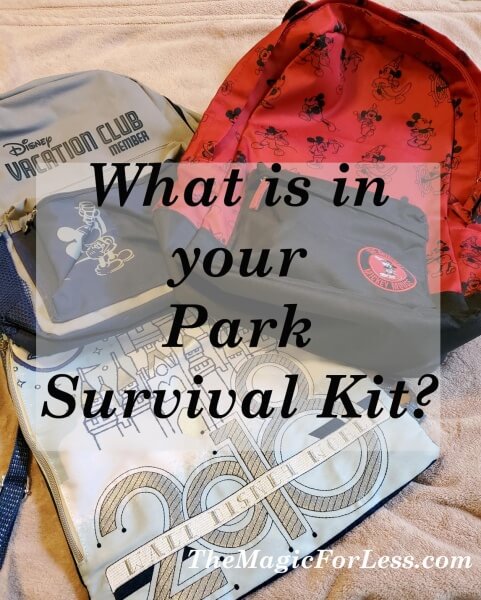 Your park survival kit may just be the most important bag you pack for your vacation. I know some of you may be rolling your eyes and bragging about how you speed through the park entrance with just your phone and magic band.  I'm totally amazed by you.  But in the back of my mind, I may be rolling my eyes just a little and thinking, yeah, you are obviously not traveling with kids. Then that same little voice reminds me that I carried a backpack in the parks before I had kids.
Current Policies 
Before I dive into the important list of things that go in my park survival kit, let's highlight a few park policies at Walt Disney World.  Visit Walt Disney Worlds Park Rules before heading to the parks for the most current policy information on what you can or cannot take into the parks. If you plan to carry your park survival kit in a backpack, you can also check the policy for size of bags permitted here. At the time that this blog is being written, bags larger than 24"long x 15"wide x 18"high are not permitted. There are a number of other rules about what you can and cannot take in the parks so make sure you review this policy before you leave home as well as Disney's Know Before You Go policy.
What to Pack
That brings us to the  important question of  what to pack in this Park Survival Kit? I wanted to share some of the things I always pack in mine. Keep in mind if you have younger children or infants, you are probably carrying a diaper bag with extra necessities, but for today's purpose of a park survival kit, I'm going to focus on the things you may want to have in the parks for families past the diaper stages.
Top 10
Here are my top 10 items, in no specific order,  that always get tossed in our backpack park survival kit. I also added a few honorable mentions that you may want to consider for your bag too! We actually pack this bag before we ever leave home and that way, if we aren't able to check into the resort upon arrival, we can grab the bag and head to the parks without losing any time.
Portable phone charger
With the My Disney Experience app, ordering quick service meals on the go, using Genie+and all the photos you'll be taking from your phone,  you may experience some battery life struggles while in the park! A portable phone charger can be a life saver in the parks. You can find these in a variety of sizes and charging capacities and Amazon is typically a good place to check reviews and compare prices.
Masks
Wearing a mask is currently required while indoors and on transportation, but it's a good idea to have a spare mask in your park survival kit.  You just never know when you'll need an extra, especially when you are taking them on and off to go in and out of buildings.
Wipes
Even before the pandemic and health guidelines became such a big part of our lives, I have always carried baby wipes which are great to have on hand with kids. Now, I find myself carrying both baby wipes and antibacterial wipes so that a quick clean of a surface can be handled when needed.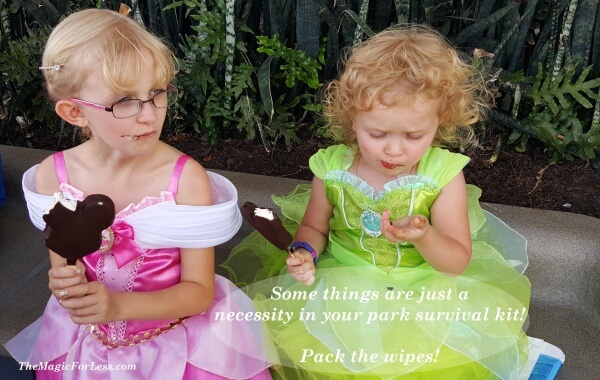 Antibacterial gel
You'll find hand sanitizing stations throughout the parks and easily accessible. Having a small bottle that hangs off the zipper of my backpack though is a convenient quick sanitizer while on the go.
Rain Gear
It's inevitable that there will be a rain shower or two during your trip, no matter what time of year you are traveling! Ponchos or rain jackets are most common in the parks but you will see plenty of small umbrellas pop up as well. I also recommend a baseball cap, even if wearing a poncho or rainjacket. There's very little more miserable than rain running off a poncho and down into your face as you walk around the parks. A baseball cap can save you some misery.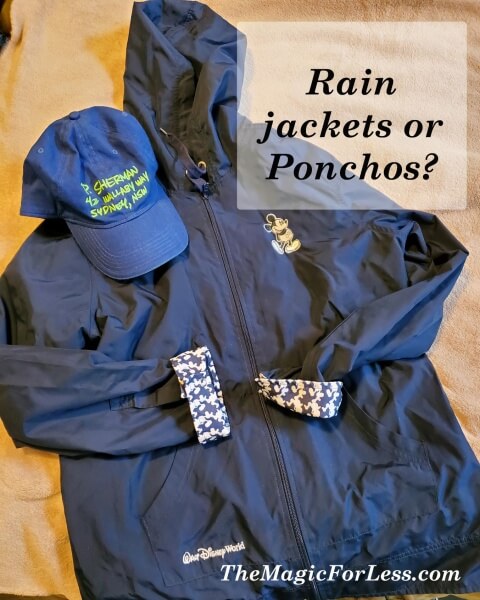 Ziploc Bags
Ziploc bags are great for storing things that you don't want to get wet.  Think of attractions like Splash Mountain or a Florida afternoon rainfall. Toss your phone and charger in a Ziploc bag and keep going.
Ziplocs are also great for leftover snacks that you may want to finish later. There have been many times that we stop for lunch and our kids are so excited about the day that they just nibble at their food. Taking it with us in a Ziploc has really helped reduce cost and waste when they inevitably want something else to eat 30 minutes later.
Ziplocs are also great for keeping small items from the parks together. For example, my kids often pick up stickers from cast members or hit up one of the penny machines while in the parks. Those small items can easily get lost in the bottom of a bag.  Dropping little things like that in a Ziploc, make it a lot easier to keep track of the little items picked up in the park.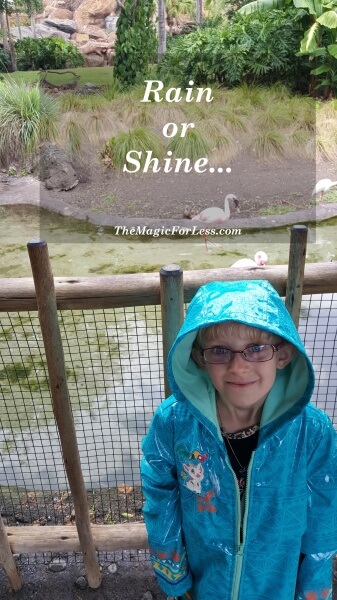 Sunscreen and lip balm
The Florida sun is hot and sunscreen is one of the things you'll want in your park survival kit. Sunburn can make the rest of a trip miserable! Even if you apply sunscreen before leaving your room in the morning, if you plan on being in the parks all day, you'll want to reapply throughout the day.
Snacks
I am all about Disney snacks and there will be some snack in every single park that I will have before I leave that day. However, I do still keep a few small snacks in my park survival kit to hold us over if needed. These are great to have for a quick snack while waiting in line or just something to hold you over between meals. We often purchase a bag of Chip & Dale's trail mix in one of the shops to snack on but a small bag of nuts, dried fruit, granola bars, and fruit pouches are other great snacks that travel well.

Water Bottle
While there are many locations throughout the parks will give you cups of ice water at no charge, take an insulated water bottle along as it's easier to carry through out the day than a disposable cup. Being able to toss it in your bag and not worry about spills is an added convenience you'll be glad you have while on the go!
Band-aids and moleskin
There is a first aid station in every park and you can pick up anything you may need there. Having a few band-aids or moleskin in your park survival kit may prevent you from having to cross the park for something simple though.
Above are the top ten items I put in my survival kit but keep reading!  I have some additional honorable mentions that may be important for your own survival kit in the parks!
Camera
Sunglasses – I'm usually wearing these and they rarely make it in the bag.
Hair clips or ties
Eye drops – Wearing contacts makes this a must in my bag!
Trading pins
Small fan
Spray mister
Light up or bubble toys – If you have young children, you have probably bought a light up toy or bubble toy at some point while in the parks. You'll want to make sure you take it with you each day in your bag. You may even want to throw in a few extra batteries.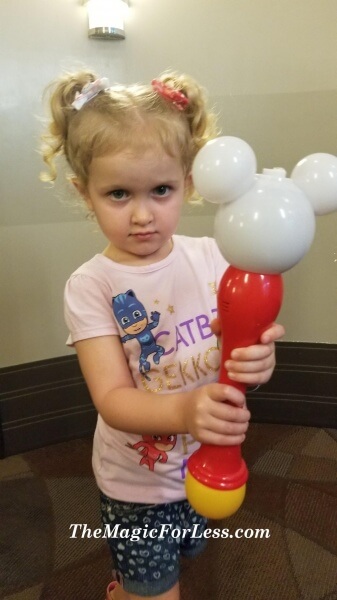 What do you pack in your park survival kit? Share in the comments below?
For a free no obligation quote for your next family vacation, contact me here.
Similar Posts: