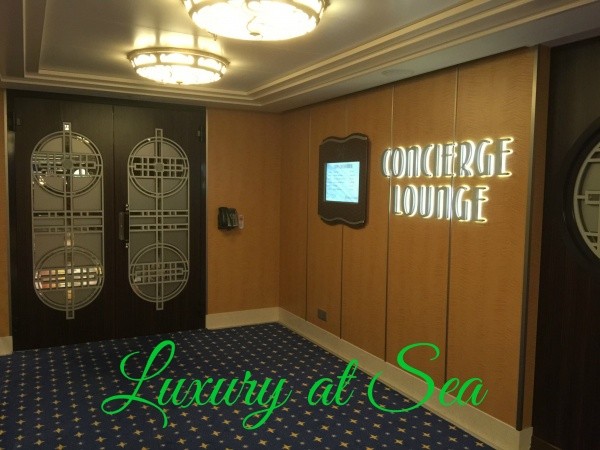 For anyone familiar with the Disney Cruise Line, you know the ships are gorgeous and the service and food are fantastic, but have you ever wondered what concierge level might be like, and if it is worth the extra cost?
My husband and I cruised concierge level on the Fantasy, Eastern Caribbean itinerary for 7 nights in January. Concierge level rooms are located on Decks 11 and 12, and the concierge lounge itself is located on Deck 12 Forward. Within the concierge level itself, you have your choice of Family Ocean View Staterooms, One Bedroom Suites, and for true opulence, the Royal Suites, of which there are only 2. The Royal Suite is on my bucket list for sure!
We were in a one bedroom suite, which was absolutely gorgeous! The suites are beautifully decorated in Art Deco style, with plenty of space as they are 622 square feet, including the verandah, and there is more than enough storage. There is a full Jacuzzi bathtub, rain shower, toilet and sinks in the main bathroom, as well as a rain shower and toilet in the hall bathroom. The bathrooms are marble and granite, with a lighted mirror and lots of drawers and shelves for your toiletries and makeup. There is a queen size bed in the main sleeping area, with sliding doors for privacy, along with a double pull out couch in the living room and a single pull down bed.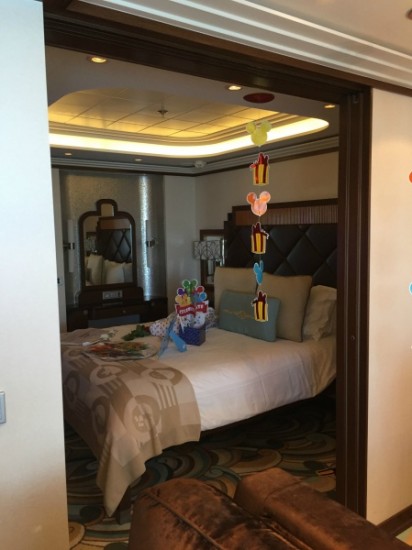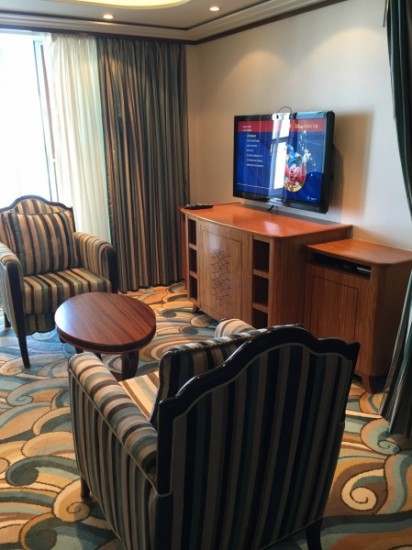 The amenties in the suites include:
Elemis Bath and Shower Products
Blu-ray players and a large selection of DVDs as well as music CDs
2 HD TVs (one in the living room and one in the bedroom)
Bedding from Sealy Posturpedic
The Pillow Talk Program, which allows you to choose from a selection of bed pillows, including memory foam and hypo-allergenic
As a concierge level guest, you also have full access to the Concierge Lounge, which is open each day from 7am until 10pm. The lounge has food throughout the day: Continental Breakfast in the morning, snacks and finger foods in the afternoon, a pre-dinner cocktail hour, and hors d'oeuvres in the evening. For those of you who have cruised with Disney (or any other line, for that matter) know how expensive bottled water is to purchase onboard. Concierge level guests can request bottled water at any time, as it is always available for you, not only in the lounge, but for you to take to your stateroom. We and many of the other concierge guests, requested six-packs of Evian to take to our room and put in the fridge. Those came in handy! The two cast members who took care of the food and drinks were both warm and friendly and really took great care of us. If you stop into the lounge in that 'in-between' time and need a can of soda or bottle of water – just ask! They will do whatever they can for you. They even have bags of popcorn if you are going to a movie or the theater! If you are a coffee lover, like I am, the European coffee maker in the concierge lounge has THE BEST coffee! Espresso, Cappuccino, lattes and of course just wonderful, dark, rich coffee that is incredible. Sounds silly, but if you love coffee, you know how happy a good cup of coffee can make you!
And, of course, most importantly, as a concierge guest, you also have the services of the concierge staff, and they are truly wonderful. They are three concierge Cast Members who rotate shifts, so that someone is always in the lounge (during open hours 7am-10pm) to help with anything you might need. They will make your salon appointments, spa appointments, special dining and excursion reservations and anything else you think of that you need help with. If you decide to rebook while onboard, you can also do this with the concierge team!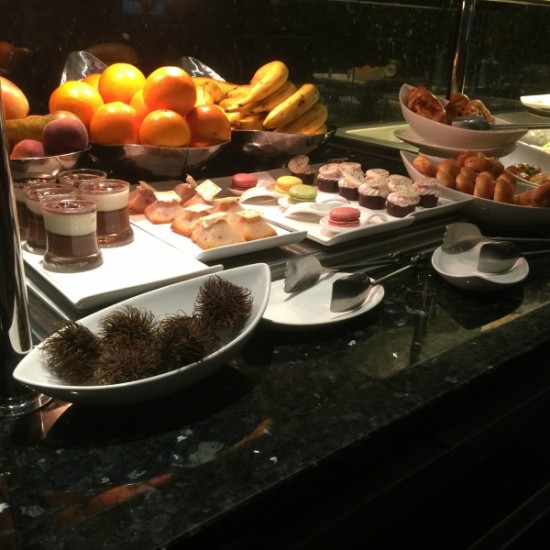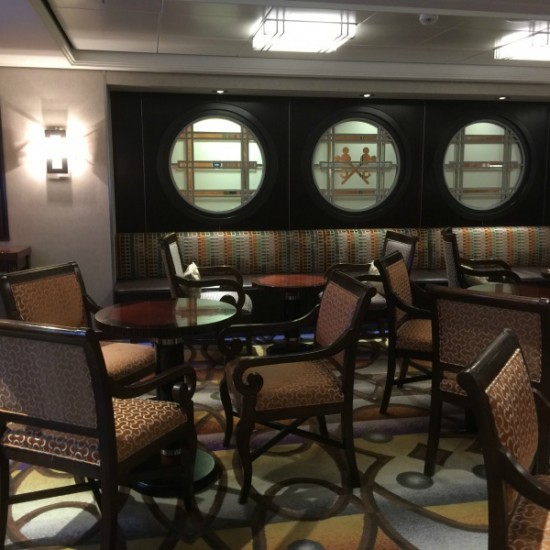 During your cruise, you will have at least one cocktail hour for mingling and chatting with the other concierge level guests and concierge team members. There is also a private character meet and greet, on the sundeck if weather permits, one night of the cruise. It's fun to have a character 'all to yourself' for a few minutes!
There is a private sundeck on Deck 13 accessible only through the concierge lounge or by  keycard at the gates on Deck 13. The sundeck offers privacy as well as quiet and you don't even have to pack your sunscreen –   it's all right there for you to enjoy – sunscreen, towels and Evian spray bottles! There are beautiful comfortable covered lounge chairs for those of use who can't sit in the sun for very long, as well as open lounge chairs and tables and chairs if you just want to sit and have a drink or some snacks in the sun. There is also an enclosed outdoor shower for you to cool down when the Caribbean sun gets a little to hot.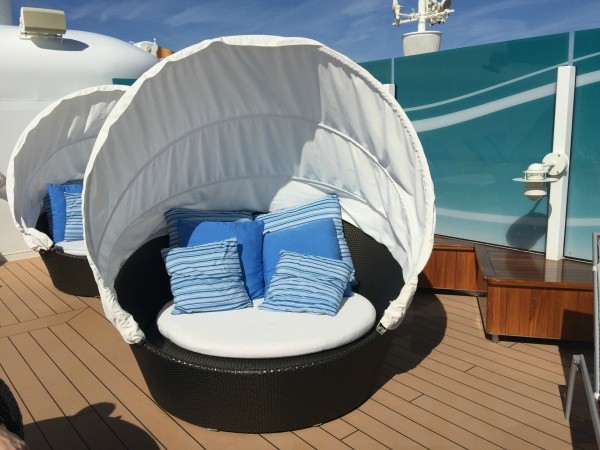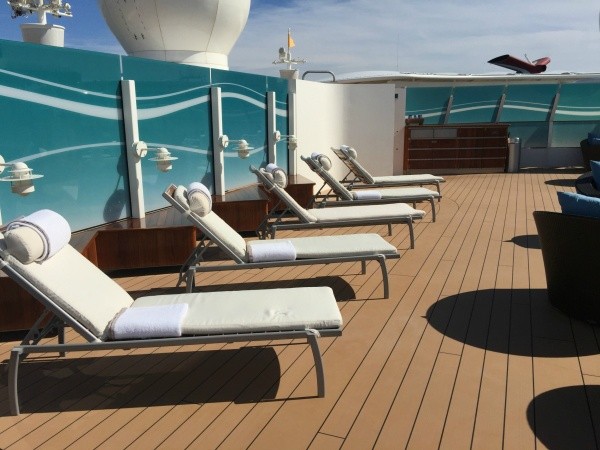 As a concierge guest, you also have access to the Concierge Office on land,  prior to boarding. You can book your excursions, specialty dining and spa treatments at 120 days from your sail date. You can also add Disney Gift Cards to your onboard account prior to boarding, if you would like to. The concierge cast members will contact you when it is time for you to start planning, so you don't have to wait until you are onboard to feel pampered!
We very much enjoyed the concierge lounge, and found ourselves taking time each day to sit and relax and have a little snack or a pre-dinner glass of champagne. We had time to talk with some of the other concierge guests, as well as having some great conversations with Kemisha, a very fun and outgoing concierge team member. All of the members of the concierge team take the time to know everyone's name, greet you and your family members by name and know what your plans are, which makes the experience so much more personal. We enjoyed every minute of our cruise, and loved traveling concierge level so much we have already booked our Fantasy cruise for next year. My husband can't wait because we will be on a Star Wars at Sea cruise for his birthday!
While the concierge level staterooms are not inexpensive, we did truly feel that it was worth the extra cost. It may not be something for everyone, but if it is something you are considering – I recommend that you try it at least once for the ultimate pampering experience! (And don't forget, it's completely acceptable to tip the concierge team as well as the food servers in the lounge at the end of the cruise, if you were happy with the services provided!)
Happy sailing! Are you ready to book your Disney Cruise Line vacation? Contact me, I would love to help you plan something truly magical! Trisha Zavrel
Similar Posts: