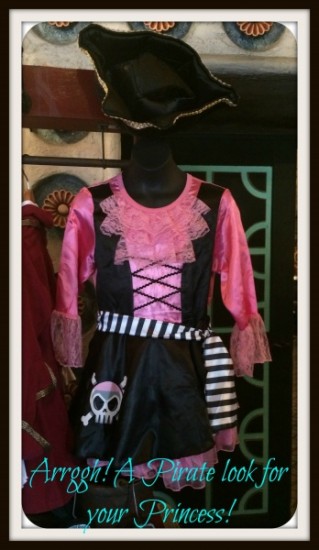 Are you looking for an alternative for your not so princess minded daughter to still have a unique makeover experience while in the Magic Kingdom? Maybe you have multiple children of mixed gender and the boys aren't interested in the Knightly makeover at Bibbidi Bobbidi Boutique. Maybe you overslept and missed the opportunity to book your preferred time at the castle and you aren't sure what to do?
Did you know that the Pirates League in the Magic Kingdom has many girly options that are sure to please even your most girly-girl? While it seems almost common knowledge that if you want to be made into Jack Sparrow's right hand man or become Jake from the Neverland Pirates for the day, then the Pirates League (located next to the Pirates of the Caribbean attraction in Adventureland) is the place to be! The Pirate's League also has a selection of options for girls ranging from Pirate Empress to a glittery mermaid ensemble.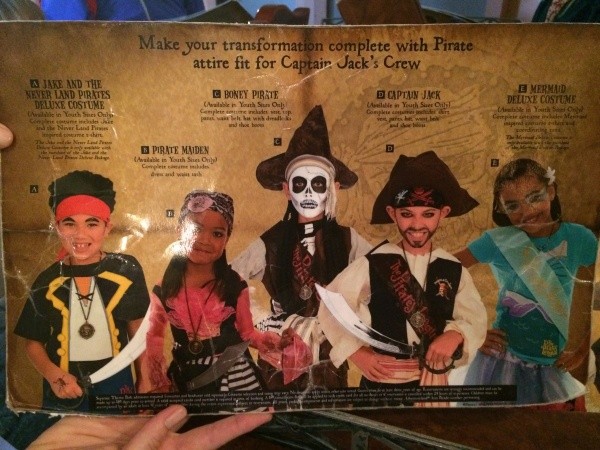 The Pirate Empress package starts at $39.95 and includes makeup and face gem, nail polish and lip gloss, plus all of the pieces of the standard Pirate First Mate package which includes sword and sheath, bandana, earring and eyepatch, pirate tattoo, pirate bag, coin necklace, and customized Pirate oath!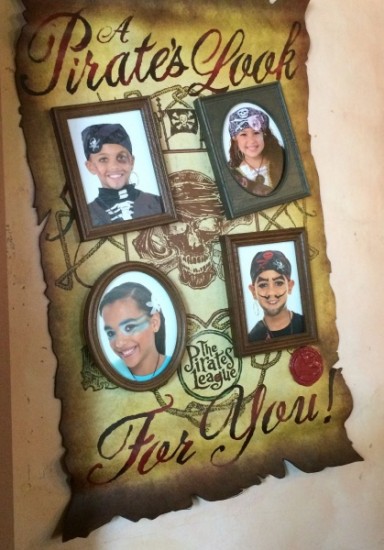 If that sounds a little too pirate like for your little princess, then how about the Mermaid look? The Mermaid package also starts at $39.95 and includes luminous mermaid makeup and makeup palette, hairstyle and color-changing hair clip, distinctive color changing mermaid necklace, nail polish, and mermaid sash.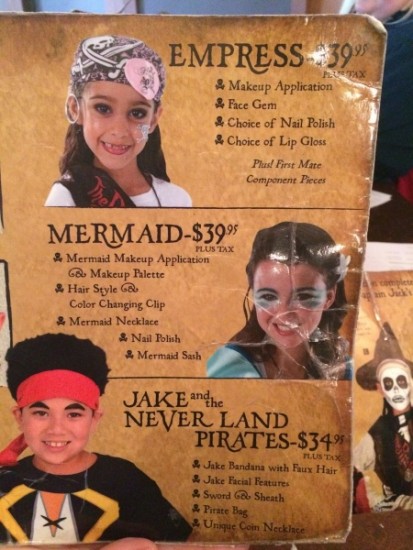 The Deluxe Mermaid and Empress packages include all of the options listed above plus a costume. The Empress costume includes a pirate dress and waist sash and the Mermaid costume includes a mermaid costume t-shirt and tutu. These options are both currently listed for $74.95. Only children's sizes are available for these costumes, but there are other options available in children's and adult sizes for an additional charge.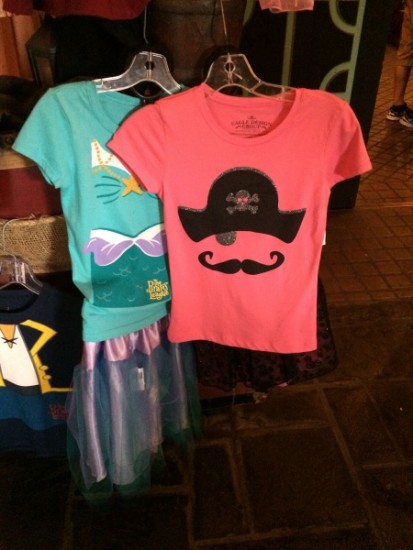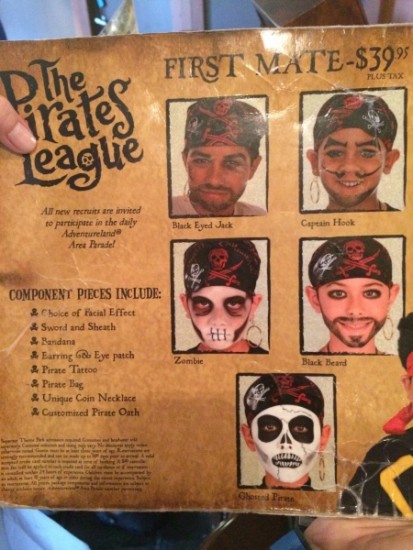 No matter what option you choose your pirate, empress, or mermaid is welcome to join in the Adventureland Pirate Parade
What you need to know ahead of time:
*The Pirate in training needs to arrive at least 15 minutes prior to appointment. Requirements are:
*Arrive with brushed, clean hair. Pirate in training must bring her own comb or hairbrush, and be free of scalp conditions for at least 30 days.
*Clean fingernails (no polish) with washed hands (for packages including nails)
*Children must be accompanied by an adult at least 18 years of age or older during the entire experience.
*Pirate Parade-weather permitting.
*If you arrive late, you may not be accommodated.
*This experience must be guaranteed with your credit card for advance reservations.
Reserving: Boys, girls and grownups ready for the pirate life can start the process by calling 407-WDW-CREW for reservations up to 180 days in advance. Reservations are strongly recommended. Guests must be 3-12 years of age. The last reservations will be taken at 3:30 p.m. A valid accepted credit card number is required at time of booking. Pay for your Pirate League package upon arrival. Cash, credit card and Walt Disney World Resort room key with charging privileges are accepted.
Cancellation Policy: Your credit card is used as a guarantee to this experience. If you need to cancel, you must notify Disney at least 24 hours in advance. A $10 cancellation fee will be applied to your credit card for all no-shows or if reservation is canceled less than 24 hours prior to the experience.
Hours: 9 a.m. to 4 p.m. daily
Location and Transportation: Located in Adventureland, near the entrance to Pirates of the Caribbean, in the Magic Kingdom. Theme park admission is required. Allow up to one hour transportation from your resort to the Magic Kingdom.
Similar Posts: