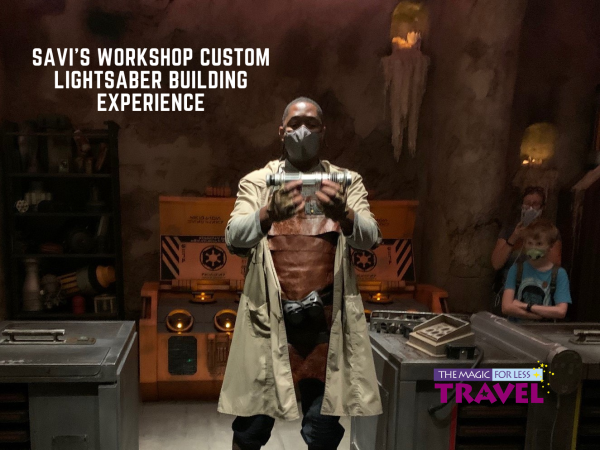 What Is Savi's Workshop?
Savi's Workshop in Galaxy's Edge at Disney's Hollywood Studios is a top-secret location hidden from the First Order where you can build your own custom lightsaber. On the outside, Savi's Workshop looks like a place to sell scrap, but big treasures can be found inside. Those who believe in the force will be drawn to this location where people of all ages can take part in an important Jedi ritual, building a lightsaber.
Who is Savi and What Are Gatherers? 
Savi, the workshop's owner, strongly believes in the power of the force. Savi is well known by the people of Battu so the locals know what really happens at this workshop while the First Order remains in the dark. Savi's employees, known as the Gatherers, collect scrap items at his scrapyard for the lightsaber assembly. Scraps are not the only things that make up these unique lightsabers; some valuable artifacts are used as well. These scraps, artifacts, and some other materials are all used to build your own lightsaber.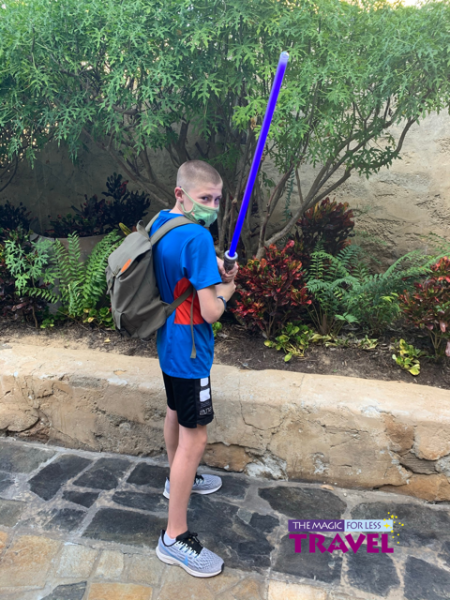 Savi's Workshop Experience – Reservations, Cost, and Customization
Reservations
Reservations to experience Savi's Workshop are strongly encouraged. If you are unable to make a reservation, stop by to see if they can fit you in. I have been told that park closing is a good time to check for an opening.
Cost
Savi's Workshop experience comes with a hefty price tag ($199.99 plus tax), but it's worth it! Your fee includes learning about all parts needed to create your own custom lightsaber, choosing your parts, the lightsaber building experience, and the presentation of your final creation.
The premium price means that you are creating your own unique lightsaber that represents you and your Star Wars character. When it comes to personalizing your lightsaber, you have the opportunity to follow your own journey.
Before entering the workshop, you will choose from one of four styles: Elemental Nature, Peace and Justice, Protection and Defense, and Power and Control.
Customization
Those who feel deeply connected with the nature of the force should choose the Elemental Nature style. This style includes a variety of pieces such as Bylark tree, Cartusion whale bone, and a Rancor tooth.
The Peace and Justice style is designed for those who want to walk in the path of the Jedi. This style contains remnants from Jedi temples that allow you to become one with the light side of the force.
The Protection and Defense style resembles Mace Windu's lightsaber and uses pieces from the Old Republic era.
Finally, the Power and Control style calls to those sympathetic to the Sith incorporating pieces believed to be from the Sith temples. These pieces are constructed of real metal. There is much weight to these pieces helping to add to the authenticity and legacy of your lightsaber.
Does this seem like a lot to take in? It can be, but there are many helpful Gatherers to help guide you in this process and answer any questions you have. They make the selection process easy.
Building Your Lightsaber in Savi's Workshop
Once you have chosen your style, you will be given a pin so the Gatherers know what you need. Then you will wait for the Gatherers to usher you in. Once you've entered the workshop, a Gatherer will explain the lightsaber-building ritual that you are about to undertake. The next step asks you to choose the color of your Kyber Crystal – blue, red, green, or purple. Once you have selected your color, the Gatherer will give you your selected style which includes two emitters, two activation switches, two bottom pieces, and four sleeves. These are the materials you will use to assemble your very own lightsaber. When finished, the Gatherer will take all remaining leftover pieces, however you can purchase additional pieces before or after your Savi's Workshop experience if you are interested in changing up your lightsaber from time to time.
The Stabilization and Activation Process – and a Surprise! 
Now comes the important part! As you step back, a Gatherer will place your hilt – where you hold the lightsaber and the blade is ignited – in a stabilization chamber so that the Kyber Crystal successfully activates. Before activating your lightsaber, a surprise guest shares a wise message through the force.
Now is the moment you've been waiting for as you will ignite your lightsaber and raise it. You've created your masterpiece!
 Extra Protection
Your new lightsaber is valuable! It's important to protect it! As you leave, you will receive a complimentary protective container to store your lightsaber to keep it safe from breaking.  Note that you are allowed to bring this on the plane.)
Buck's Best Tip
Getting a photo at night in front of the Millennium Falcon with your lightsaber glowing brightly is a special memory you will want to capture. With that in mind, I'd suggest getting in line for Millenium Falcon: Smugglers Run a few minutes before the park closes. Following your mission with Hondo, return outside and get some special photos in front of the hunk of junk. While you could do this at any time the park is dark, by using the time it takes to experience Smugglers Run after the park closes, you will have a much better chance to capture a spectacular picture in front of the Falcon with no one else in it.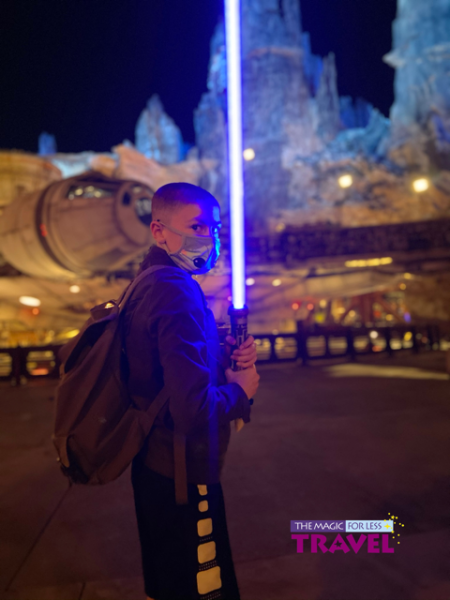 Wrap Up
So the next time you are looking to release your inner Jedi fighting skills, consider Savi's Workshop in Galaxy's Edge at Disney's Hollywood Studios! Not only will you create a custom keepsake, you will remember the experience for years to come!
Questions, Feedback, or Help Needed? 
Do you have any questions? Interested in booking your next trip? Is there anything I can help with? Click here to connect with Buck via email or to request a free quote.
Similar Posts: