Name:  Jocelyn Martins
How long have you been a Travel Consultant?  2 ½ years 
Why did you want to be a travel agent specializing in Disney and Universal Destinations? I have wanted to have a career with the Disney company my entire life.  The role has changed – entertainer in the parades, monorail pilot, animator, attorney, and so on – but I could never quite decide on something long enough as I wanted something that touched all of Disney.  I'm using the term "Disney" loosely here but I've always loved the parks.  Visiting Walt Disney World throughout my lifetime and getting to share my knowledge of the parks was always the highlight of any day for me.  When I found the Disney community several years ago – and realized there were thousands of mega-fans out there, I thought a lot about becoming a Travel Agent who specializes in Disney.  I truly believe to specialize in such a unique destination, that is always growing, you must have a true love of it.  I love everything about the Disney parks – the resorts, the attractions, the dining, the entertainment, the transportation, the sounds, and even the smells.  To find a position where you must continuously learn and explore all of this and share it with others so that they can have a vacation as memorable as any you've ever had-  that was a dream come true!  I love soaking up information on Disney parks whether it be through podcasts, blogs, books, or webinars.  To find a way to do something you love is everything – it makes what I do not feel like work!  While Universal is viewed as an obvious competitor, I think it's great that there's another major player in the theme park industry just down the street, it keeps Disney on its toes!  I've visited the Universal Orlando Resort since it first opened – in fact my favorite attraction there is not now extinct, The Funtastic World of Hanna Barbera!  Universal is different than Disney (no kidding you say!), but is own unique in its own way and the addition of Harry Potter World makes it an obvious choice for guests visiting Orlando.
Share one Disney vacation tip.  Be informed.  There are so many variables you can control about your vacation, and even more that you can't, but being educated about your options is an absolute must!  Knowing where to go when the rain starts, knowing where to eat when your child insists on mac & cheese, knowing where to go when you need first aid, knowing where to get ice cream or a cold drink because it's 100°, knowing what attractions are air conditioned because it's still 100°, knowing how to get to the Contemporary for your dining reservation when you're at Animal Kingdom – everything you can learn and know before you travel, will only make your trip that go that much smoother.
Share one Universal Orlando vacation tip.  Consider staying onsite at one of the resorts that offer the Unlimited Express Pass option.  The Universal Orlando resorts are amazing!  While they all have their own draw, the three with the Unlimited Express Pass option can really save you so much time.  And when you're on vacation, time is money.
What is your favorite Disney Resort?  The Beach Club is my absolute favorite resort.  I love many others – like really love them, but the Beach Club, or more specifically the Beach Club Villas, just really holds a special place in my heart.  For me and my family, our resort has always played more of a role in our vacation than a place to sleep and shower.  It's that feeling of being in a home away from home, being greeted by people who remember you (Captains Matt & Monty Ray always welcome us back like they've truly missed us!) and being a bit pampered if you will.  I love being comfortable yet detached from my own home where laundry and other chores call to me.  I love how the resort plays to all my senses.  Sight – it's gorgeous and beachy and reminds of us our coastal town at home and how can you not love the sight of the Boardwalk across the lagoon.  Smell – the deluxe resorts all infuse the same scent, but then because of its surroundings, each takes on a slight difference. Touch –  the beds are some of the most comfortable we've slept in, but there are so many comfortable areas to lounge and enjoy.  Sound –hearing the voices of familiar Cast Members or the background loops played, or even the splashing and laughing at Stromalong Bay, how can you not smile?  And taste – some of our favorite dining is right at the Beach Club – Cape May Café is a favorite breakfast spot!   And last but not least, we simply adore Epcot and it's our favorite park so being able to be in our room, and in under 10 minutes be inside a pavilion in the World Showcase – jackpot!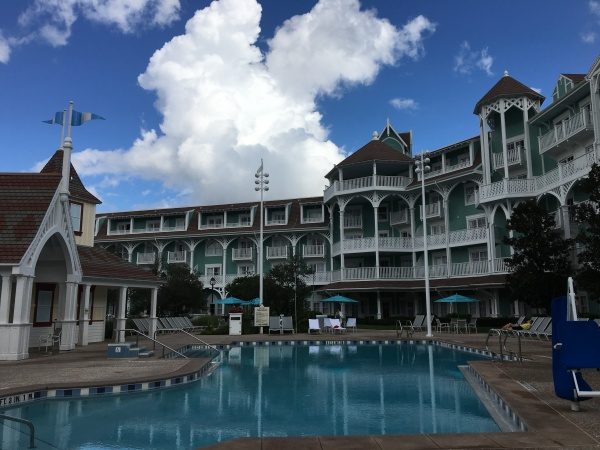 What is your favorite Disney restaurant?  I'm going to break my answer into categories because to be limited to a single location for this question just doesn't do it justice.  Dining in Disney is one of the best parts or a visit!  My favorite signature dining is Narcoossee's at the Grand Floridian Resort & Spa.  The food is absolutely delicious and the views of the Magic Kingdom and Seven Seas Lagoon just as amazing!  You have to try the almond encrusted cheesecake for dessert – and I'm not even a fan of cheesecake!  My favorite table service dining location is hard to pick but I am a huge fan of 'Ohana at the Polynesian Village Resort.  I love any meal there!  If you know me at all, you know that my entire family's favorite quick-service dining location is Les Halles Boulangerie Patisserie in the France pavilion in Epcot.  They offer the same menu from morning to night and there is something there that you'll love for breakfast, lunch, and dinner, and every snack in between!
What is your favorite Disney snack?  Another really hard one!!  I used to have an absolute-must-have, but it was "retired" from the Confectionary about 7 or 8 years ago.  It was a giant Oreo (yes legit Oreo crème, not a generic) that was dipped in chocolate.  Oh my heaven!!  Now, snack options are not lacking but I love so many and try to enjoy them all.  If I had to pick anything to have right now, it would be a chocolate caramel dipped character apple.  Be sure to have them slice it for you for easier eating wherever you pick one up!
What is your favorite Disney attraction?  I love the Peoplemover.  While its name has changed over the years, my love for this attraction hasn't, and if I visited the Magic Kingdom and could only ride one attraction, it would be the Peoplemover.  And I could ride it all day long.  I never tire of this attraction and its sights & sounds.  If I were to speak to a non-ride attraction (cheating again I know!), I would say my favorite is the Festival of the Lion King show at Animal Kingdom.  I have yet to see this show and not get teary eyed.  The power of the music and the emotion of the performers is unparalleled.  It's 30 minutes of fun and a complete story is told in that time.  Guests of all ages should experience both the Peoplemover and Festival of the Lion King!
What is your favorite Universal Orlando Resort?  I'm going to go with Loews Portofino Bay Hotel because of the Italian atmosphere and feel of the resort!  Having visited several European countries many years ago, I actually celebrated my 14th in Rome one summer!  Besides Rome, we visited several cities in Italy and the entire country just captured my heart.  Portofino Bay transports you to Portofino, Italy and gives you that authentic feel of traveling much farther than you really are!  Portofino Bay is also one of Universal's resort hotels that includes the Unlimited Express Pass with your stay.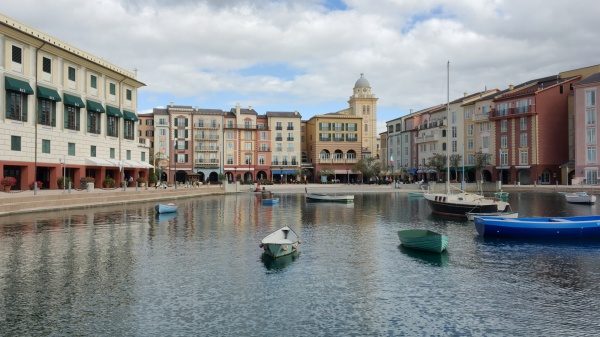 What is your favorite Universal Orlando restaurant? Emeril's Orlando at Universal CityWalk would probably be my choice.  There are new additions to dining that I haven't tried but my last dinner at Emeril's was perfection!  If you're wondering what I ate – the beef tenderloin followed by Emeril's Banana Crème Pie!
What is your favorite Universal snack?  The new Cauldron Cake!  I'm a HUGE fan of cake of all kinds – and this revamped treat – chocolate cake with buttercream is right up my (Diagon) Alley! ?  You can find these at Honeydukes in Hogsmeade and Sugarplum's Sweet Shop in Diagon Alley.
What makes Disneyland special?  I've shared some of my favorites about Walt Disney World, but I love the Disneyland Resort just as much!  And before you ask – trying to compare the Disneyland Resort and Walt Disney World isn't entirely possible – they're two separate destinations and while both created by the same company, are very different. I say it's like trying to compare the Lion King and Mary Poppins movies.  They're both phenomenal in their own ways and don't really lend themselves to be compared in a single category.   But Disneyland is so special because Walt's fingerprint is everywhere.  Knowing that the man who built so much that impacts all of us daily, once walked there, spent time with his family there, had his own apartment there, there's a feeling that's indescribable to what any mega-Disney fan will feel.  It's a combination of awe, connection, thankfulness, and amazement that you're in the same space that such a legend spent so much time!  There's so much nostalgia at Disneyland even if you didn't grow up visiting the park.  I think that so many stories have been shared be it through television, books, podcasts, etc. that we all feel some connection to Disneyland before ever visiting.  The attractions and dining locations that are originals and still exist bring such comfort to guests.  It's really a place that any Disney fan should make a priority to experience.  There's so many experiences packed into those two west coast parks – Disneyland Park & Disney California Adventure!  I think any vacation destination can be special if you make memories with those you love- but I'm definitely biased toward some more than others! ?
What makes a Universal Orlando Resort vacation special?  I think Universal is special and unique for a couple of reasons.  One being the amount of thrill attractions that it offers.  The thrill factor is definitely plentiful for those who enjoy a good adrenaline rush.  Additionally, Harry Potter World takes us to the locations we've fallen in love with and right into the stories we love.  It's like walking into a book – that's pretty powerful.
Why should a guest work with you to plan their vacation?   Because I truly love what I do and my goal is to help you plan the vacation that meets your needs.  There are so many options and combinations of experiences a guest can have – but we all have different likes, preferences, and priorities.  That's what makes the world interesting right?  I love listening to guests to find out what they're hoping their next vacation will be and hold for them.  I love making it work within a budget that they're comfortable with.  I love hearing from them when they come back or seeing pictures they share with me knowing I was a part of the process that got them there.  It's all about making memories and being a part of that with a guest is very special. I'm extremely lucky to have the opportunity!
What makes The Magic for Less Travel special?  We take such a team approach to servicing our guests that we have hundreds of years' experience if you add it all up!  We are experienced in vacation planning, not just vacationing, and we listen to our guests.  We don't sell for the sake of selling, it's just not who we are.  We really work with our guests to make your experience the best it can be.
Contact me for a free, no-obligation quote! 
Jocelyn Martins
The Magic for Less Travel
Authorized Disney Vacation Planner & Platinum Level Earmarked Agency
Universal Orlando Specialist
Similar Posts: