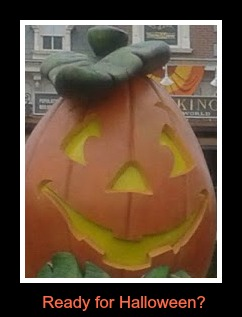 Well it's taken 11 years but I have finally attended my first Mickey's Not So Scary Halloween Party(aka MNSSHP)!  After having enjoyed every other after hours separately ticketed event, it was about time to enjoy this one.  Now I can't believe it took me so long!  Never been to this event before?  Let me share some of what I enjoyed and hopefully some tips to make your first MNSSHP worth every penny!
Since I was going to be in Orlando for training a few days before, I decided to attend the very first party of this season on 9/15/15.  Party dates on select nights throughout September and October and even 1 date in November–the day after Halloween.  Prices vary depending on whether your date falls on a weekend and/or how close to Halloween you will be attending the party.  There are discounts for purchasing in advance as well as discounts for annual pass holders and DVC members.  If you are interested in purchasing tickets don't wait to the last minute as many nights sell out completely, especially the closer you are to Halloween.  Since I was already in town for business I was unable to attend the party with my family but instead joined my friend and fellow Disney lover Beth who was also attending this party for the first time!  So how did it go for 2 adults on their very first party visit with no children in sight?  We had an absolute blast!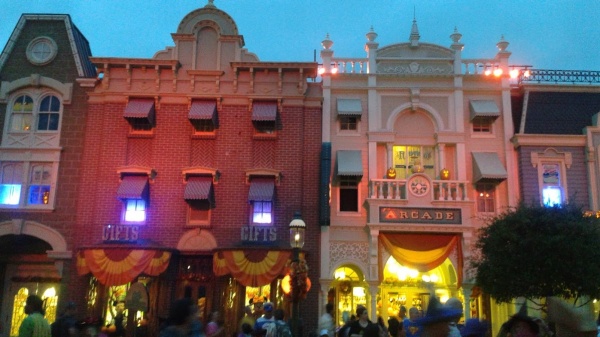 The first thing we noticed on our way to the party were all of the people who were dressed in costume–both children and adults.  It made for a very festive atmosphere on our bus to the Magic Kingdom!  We ended up arriving in Magic Kingdom around 7:30pm , 30 minutes after the party had started but you can actually enter the park as early as 4pm with just your party ticket.  We went thru the usual bag check and then we were given our party band and map/guide to the party with all of the trick or treat locations as well as character meet spots and times for the parades and fireworks.
Of course the "spooky" music was already playing and all of the Main Street buildings were lit up with different "spooky" colors(see above) and all of the Halloween decorations were up.  After enjoying the music and lighting we made our way down Main Street and across to Tomorrowland to hit our first candy station at Carousel of Progress.  I have to say when we saw the long line we were a little dismayed but turns out it moved very quickly and it was the longest line we ran into that night–most of the others were much shorter.  This is where we picked up our "loot" bags to put our candy in and we were well on our way to lots of cavities! Lol.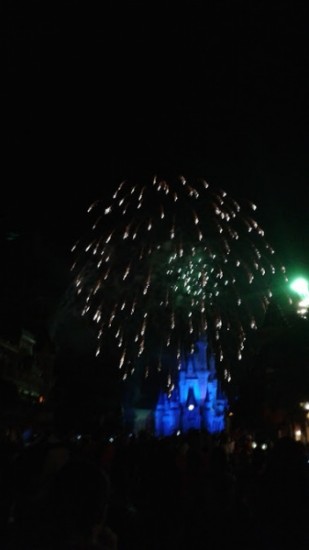 We ended up not hitting all of the candy stations but that's ok as we still had plenty of candy to munch on.  By the way, when you are looking for candy stations look for the bright orange ball with Mickey's face on it–the map wasn't always exact in it's locations so finding the bright orange Mickey helped a lot.  After a few candy stations we were near Haunted Mansion and of course since it's a Halloween party, we had to ride!  By this time it was also dark so just right for this fun and spooky ride!  Be sure and listen to the ghost storyteller in the courtyard after you ride, she was very entertaining.  After hitting a few more stations we were back in front of Cinderella's Castle and were ready to stop and watch the fireworks.
The fireworks were awesome with the best music and narration–this is a definite not miss during the party.  As the fireworks ended at around 10pm, we decided to head back to our hotel.  We both had to be up early to start for home–for me that's a 9 hour drive that has to be timed to miss the traffic in Atlanta!  Were we glad we went to MNSSHP?  We were and can't wait to go again some day!
Hopefully I'll see you there next time!
Similar Posts: