With Royal Caribbean Cruise Line, guests will find a vacation with more "I've always wanted to do that" moments. The ships of Royal Caribbean International are full of activities to do for people of all ages and interests. The Most Daring Ships Afloat — On the most cutting-edge fleet in the world, breaking barriers is just another day at the office. Where you can hand ten right on deck, fly through the air on a skydiving simulator, or brave the tallest slides at sea.
Royal Caribbean Dining
Culinary exploration is at the heart of a Royal Caribbean® cruise vacation. Once a passenger is onboard, they are free to explore the ship's various complimentary dining choices in addition to the ship's specialty restaurants, each of which offers a distinct flavor profile and a unique atmosphere.
When there are this many quality options, there is no such thing as too many. Because of this, Royal Caribbean has added even more options to its lineup of fan favorites.  Now you can enjoy insanely delicious Mexican cuisine at El Loco Fresh or game day favorites at Playmakers Sports Bar & Arcade. Check out the backyard flavors at Portside BBQ. Indulge in la dolce vita at Giovanni's Italian Kitchen & Wine Bar. The choice is yours.
Royal Caribbean Entertainment
Royal Caribbean Cruise Line has established the standard for the cruise industry with its nightly, full-scale performances. Onboard, you will be treated to Tony Award-winning Broadway musicals, ice skating, dive shows, original productions with a live orchestra, exquisite costumes, and world-class talent.
Onboard Activities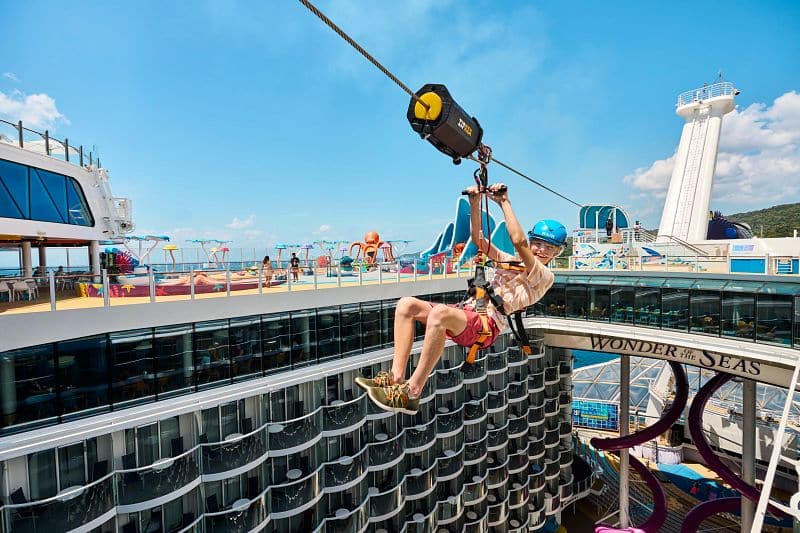 What can you do on a Royal Caribbean cruise during a day at sea? Plunge into splashy adventure on some of the best ships at sea. Like on the Royal Caribbean FlowRider surf simulators or trio of waterslides known as The Perfect Storm. The Lime and Coconut pool bar features live music, tasty cocktails, and a Caribbean ambiance. Unwind in whirlpools with breathtaking ocean views. Set your mind to island time in our adults-only Solarium or spend days in hammocks, swing chairs, casitas, and daybeds soaking in the sun or shade.