Embark on a Magical Journey in Early 2025 with Disney Cruise Line!
Experience the enchantment on the high seas with a spectacular selection of itineraries, ready to captivate every member of the family.
Discover the Wonders of the Bahamas and Caribbean:
Bask in the sun-kissed bliss with itineraries featuring Disney Cruise Line's Bahamian island destinations. Moreover, be among the first to celebrate the inaugural season of the Disney Treasure, offering mesmerizing seven-night journeys through the Eastern and Western Caribbean's crystal-clear waters.
Exotic Adventures Await:
Expand your horizons with an awe-inspiring cruise to the lush landscapes of Hawaii or the idyllic isles of the South Pacific onboard the Disney Wonder. These tropical escapes promise to create unforgettable memories.
Unleash the Magic with Six Spellbinding Ships:
No matter which voyage calls to you, an immersive experience awaits across all six ships in the Disney Cruise Line fleet in early 2025. Every journey is brimming with Disney magic, ensuring non-stop entertainment and delight for guests of all ages.
Booking Opportunities:
Mark your calendars! Reservations open for all guests on November 6, 2023. However, if you're a member of the Disney Cruise Line Castaway Club, you're eligible for priority booking:
Pearl, Platinum and Gold Castaway Club Members: Available to book NOW.
Silver Castaway Club Members: Your adventure begins on Thursday, November 2, 2023.
Public Booking Opens:
Ready to make magic happen? All guests can book their dream cruise starting Monday, November 6, 2023.
Don't miss the boat on your chance to indulge in these fantastic voyages. Secure your spot and get ready for a magical maritime adventure only Disney Cruise Line can provide!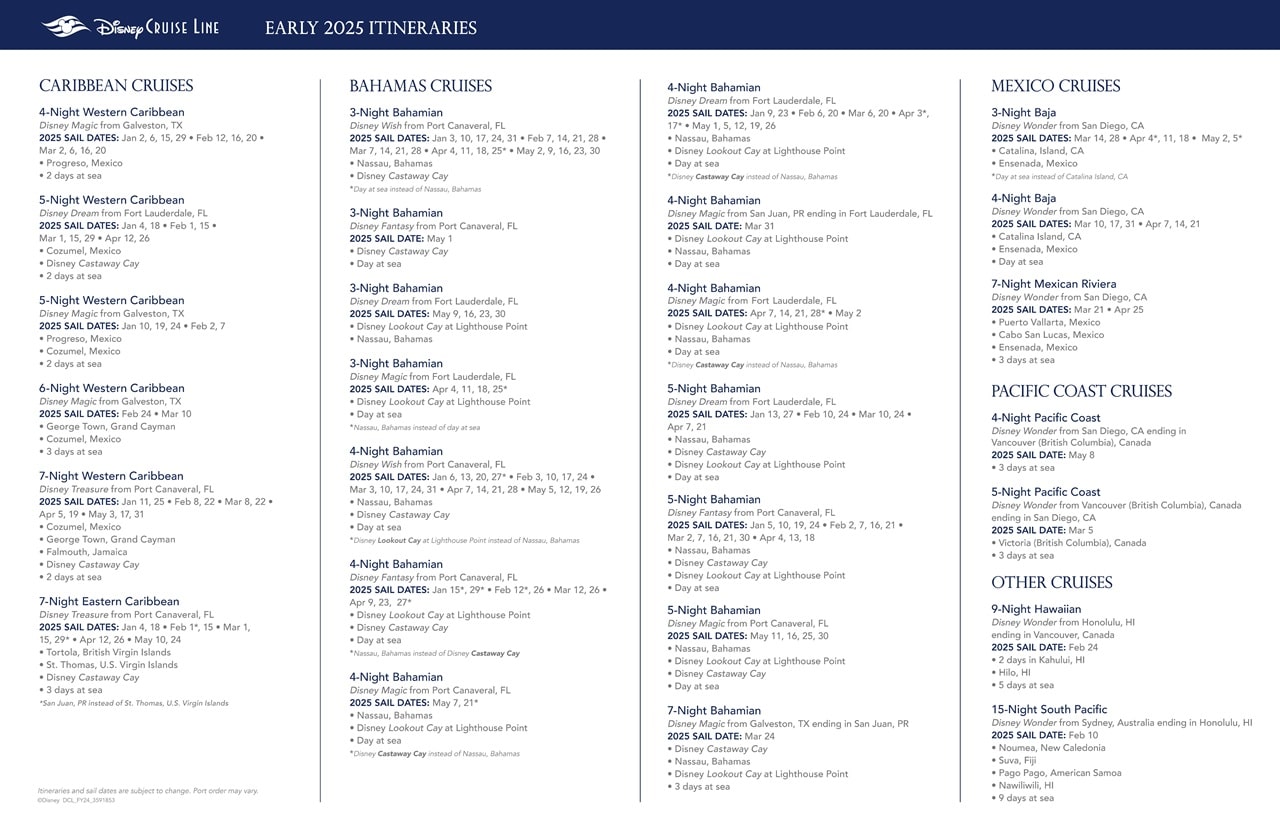 Request Pricing
Request a FREE, No-Obligation Quote from one of our travel consultants. Start planning your Disney Cruise Line vacation today!