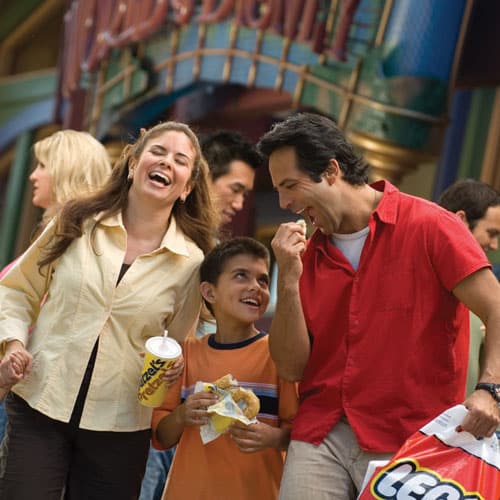 View a detailed layout of Downtown Disney District (Adobe PDF)
Shop, Dine and Be Entertained
So what are you in the mood for? Fun and games? Dinner? Maybe a little shopping? Or just the opportunity to spend some quality time with your family? Whatever it is you're after, The .Downtown Disney® District is the place to find it. It has something for everyone, plus a fun and relaxing vibe that's all its own.
If you're into live music, check out the latest concert at the House of Blues®. If you're crazy about sports, catch your favorite teams in action at ESPN Zone®—after testing your skills in the Sports Arena upstairs. And if you just want to relax and enjoy a good movie, stretch out in the loveseat-style chairs in the AMC® Theatres. Or you can simply stroll around the Downtown Disney® District, soaking up the night's lineup of street entertainers and musicians.
When it's time to dine, you'll discover everything from casual to gourmet on the menu—with such appetizing options as Rainforest Café®, Naples Ristorante and Tortilla Jo's. And if shopping is your thing, the selection of stores in the Downtown Disney® District will leave you breathless. Well-known names like Kitson Kids, Quiksilver, LEGO® Imagination Center and Build-A-Bear Workshop® await you, along with unique locations like D Street and Studio Disney 365. This is also home to the largest Disney store on the West Coast, World of Disney®.
Of course, this is only a sampling of the incredible experiences that make the Downtown Disney® District the place to be—day or night. You definitely owe it to your family and yourself to come and see the rest. With free admission, you can't go wrong—no matter what you're in the mood for!
DINING:
Catal Restaurant & Uva Bar—Savor the many flavors of the Mediterranean.
Compass Books Cafe—Enjoy flavored coffees, snacks and more.
ESPN Zone®—Tackle a lineup of American grill specialties.
Häagen-Dazs® Shops—Taste the finest ice cream in the world.
House of Blues®—Enjoy Mississippi Delta-inspired delights.
Jamba Juice—Enjoy refreshing fruit and vegetable smoothies.
La Brea Bakery Café—Fill up on fresh, hearty sandwiches and more.
Marceline's Confectionery—Treat your sweet tooth to homemade treats.
Naples Ristorante e Pizzeria/Napolini—Sample the very best of southern Italy.
Rainforest Cafe®—Explore this "wild place to shop and eat®."
Ralph Brennan's Jazz Kitchen—Indulge in the best of New Orleans-style cuisine.
Tortilla Jo's—Enjoy the Mexican inspired atmosphere and savor the cuisines.
Wetzel's® Pretzels—Munch an eclectic selection of gourmet pretzels.
ENTERTAINMENT:
AMC® Theatres—Catch all the latest blockbusters.
ESPN Zone®—Surround yourself with wall-to-wall sports and interactive entertainment.
House of Blues®—See and hear the hottest acts in blues, rock, hip-hop, reggae and more—live and in concert.
Ralph Brennan's Jazz Kitchen—Satisfy your hunger for authentic Big Easy jazz performed live.
SHOPPING:
Anne Geddes Store—Flagship store for the famed Photographer, Anne Geddes.
Basin—Experience fresh, fragrant, fun and unique products for bath and body.
Build-A-Bear Workshop—Create and take home a personalized plush friend.
Club Libby Lu—Come in and discover why "It's a girl thing!"
Compass Books & Café—Browse the west's oldest independent bookstore.
Department 56®—Add to your assortment of holiday collectibles.
Disney Vault 28®—Explore an ever-changing mix of clothes and accessories for men and women.
ESPN Studio Store—The store that has everything the sports enthusiast is looking for.
Fossil—Come see the wide selection of eclectic watches and accessories.
House of Blues Company Store —Logo clothing and merchandise for the House of Blues.
Hoypoloi®—Contemplate uncommon art for your home in a Zen-like oasis.
Illuminations®—Experience living by candlelight with premium candles, accessories and home décor products.
Island Charters—Capture the spirit of flying and the love of the sea in a tropical setting.
LEGO® Imagination Center—Build your dreams with LEGO® toys, shirts, hats, sportsgear and more.
Quicksilver—Quicksliver brand apparel for young men and women.
Rainforest Retail Shopping Village—Go wild with the wide assortment of Rainforest gears.
Sephora—Indulge in the finest fragrances, cosmetics and skincare products available anywhere.
Something Silver—Take a shine to some extraordinary jewelry.
Sunglass Icon—Try on the latest sunglass fashions from top designers.
Starabilias—Own a piece of history from this one-of-a-kind nostalgia gallery.
World of Disney—Immerse yourself in Disney magic with the second largest collection of Disney merchandise on earth
Request a Free No Obligation Vacation Quote