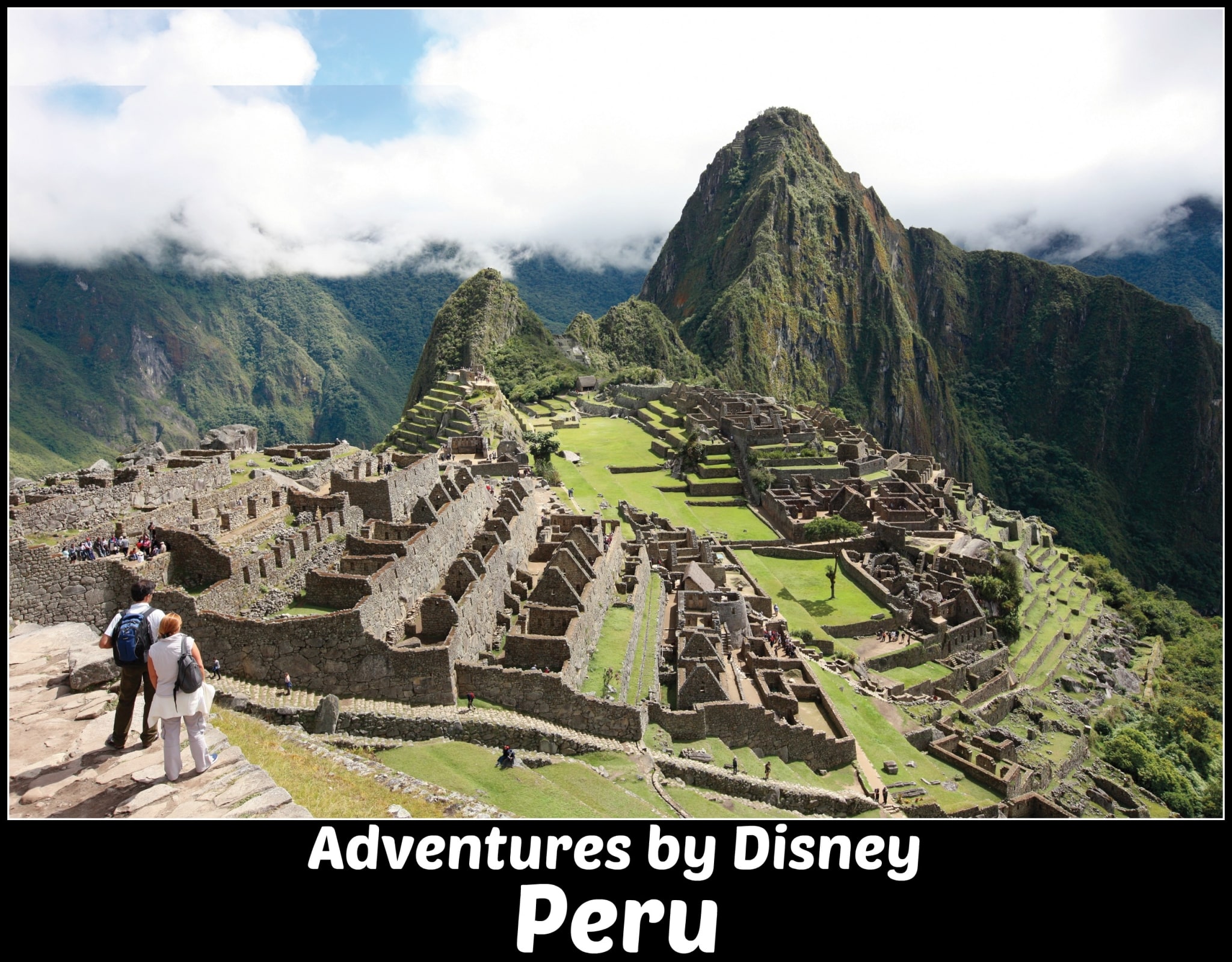 Lima, Sacred Valley, Machu Picchu and Cusco – 9 Days/8 Nights
Sacred Valleys & Incan Cities – Mystery and history walk hand-in-hand in Peruvian culture. As you hike, raft and explore your way across the country's mountains and valleys, you'll discover one of the most fascinating places on the planet – and learn some of its oldest secrets.
Adventures by Disney Peru Vacation Highlights
Pachamanca Feast and Inca Dancing –
Savor this traditional Andean feast and discover the fascinating history behind it. Then, enjoy Teatro Sol y Lunca—performing Incan dances and stories in an unforgettable night of enchantment.
Urubamba River Rafting –
Experience the thrills of rafting down the Urubamba River. During peaceful moments of gliding along this beautiful route, learn from local experts about the cultural and natural history of the region.
Moray and Maras –
Take an ancient path in the Andes to Moray—the Incan ruins near the town of Maras. Visit the fascinating salt pan terraces and the fertile Sacred Valley in this area teeming with history and culture.
Privately Guided Machu Picchu Tour –
Explore the gem of the Incan Empire—Machu Picchu. One of the Seven Wonders of the World, this 15th century sanctuary with panoramic views stands in the middle of a tropical Andean forest.
Center For Traditional Textiles –
Discover the customs that define Andean communities at the Center for Traditional Textiles in Cusco. View master weavers spinning and dyeing alpaca wool as well as practicing their art.
Peru Vacation Accommodations:
The Westin Lima Hotel
Sol y Luna Lodge and Spa
Palacio del Inka Hotel Cusco – Luxury Collection
Meals Included: 8 Breakfasts, 6 Lunches, 5 Dinners
Age Requirements: Minimum age 4, Recommended age 8+
Adventures by Disney Peru Travel Dates and Itinerary
2020 Season Departure Dates
Jun 4, 2020 – Jun 11, 2020
Jun 14, 2020 – Jun 21, 2020
Jun 25, 2020 – Jul 2, 2020
Jul 5, 2020 – Jul 12, 2020
Jul 16, 2020 – Jul 23, 2020
Jul 26, 2020 – Aug 2, 2020
Aug 6, 2020 – Aug 13, 2020
Aug 19, 2020 – Aug 26, 2020
Sep 16, 2020 – Sep 23, 2020 – Adult Exclusive
Sep 24, 2020 – Oct 1, 2020 – Adult Exclusive
Oct 7, 2020 – Oct 14, 2020 – Adult Exclusive
Nov 11, 2020 – Nov 18, 2020 – Adult Exclusive
Dec 19, 2020 – Dec 26, 2020
Dec 28, 2020 – Jan 4, 2021
Download the 2020 Itinerary