The Magic for Less Travel is a Universal Specialist, an Authorized Disney Vacation, and one of the few agencies in the country to receive Disney's highest designation as a Platinum Level Earmarked Agency.  Since 2002, it has been our honor and pleasure to offer complimentary concierge vacation planning services.
Our professional travel counselors provide a guest-centered approach to vacation planning. We tailor our services to each guest and craft unique, personalized vacation experiences designed to create unforgettable memories.
The travel agents who work with The Magic for Less Travel are integral to our success.  We would like to give you the opportunity to get to know one of our great agents today.
Name:  Ben Lappin
How long have you been a Travel Consultant?  1 ½ years 
Why did you want to be a travel agent specializing in Disney and Universal Destinations? For as long as I can remember I have always wanted to work at Disney. Even now, I keep telling my wife that when I retire that I want to move to Florida, work for Walt Disney World and be a bus driver so that I can pass on my passion and love of Disney to other guest and that is my goal as a travel agent for The Magic for Less Travel. I want to help my guest in every way possible to ensure that they have the most magically family vacation ever from helping them with fast passes, recommendations for rides, and dining reservations to telling them about small tips and secrets to spread the pixie dust.
Share one Disney vacation tip.  Pack your patience! You WILL have an amazing time on your vacation but there will come a point when everyone in your party wants to do something different, the kids start to whine, the lines become longer, the heat is full blaze, or it starts to rain. Just remember that you are making so many wonderful memories with your family and will come home with so many great stories. Just take a minute, relax, take a deep breath, and grab a dole whip or cherro.
Share one Universal Orlando vacation tip.  Take advantage of the complimentary Express unlimited pass as well as 1-hour early park admission by staying at one of the onsite resorts that offer this. With the express unlimited pass, you will be able to skip the regular lines for almost all of the rides and this is a huge benefit during the summer months when crowds are larger than normal and the heat is beating down on you.
What is your favorite Disney Resort? That is like asking which is your favorite child? I think it really depends on the nature of the trip. If it is just my wife and I and we are going to be in the parks all day long we like to stay at the Value Resorts. Of all of the value resorts, I like Pop Century the best. What's not to like about larger than life memorabilia of the '50s, '60s, '70s, and '80s? Seeing all of the things that we grew up within the amazing shadow boxes in the lobby such as the Gameboy or taking a brisk walk around the wonderful hourglass lake on a morning before heading to the parks. But with that being said when we bring the kids with us we normally stay at Port Orleans Riverside. There is something special about this resort from the decor inside the rooms, being able to fish at Ol' Man Island, or taking one of the carriage rides at sunset for a family of 4 or 5.
What is your favorite Disney restaurant?  Decisions, decisions, decisions. I don't know that I can pick just one. My family and I have had such amazing times at many of the restaurants from the time my kids had to set the table and no elbows on the table while at 50's Prime Time, to the amazing views of the giraffes after the bread service and the butter chicken at Sanaa. But I think out of all the restaurants I would have to say that the Garden Grill has to be favorite due to the food is highly rated and the character interaction is one of the best out of all of Walt Disney World. You do not feel like you are being rushed at all and so have many opportunities to see and interact with Mickey, Pluto, Chip & Dale. At one point I felt like they were going to sit down with us and just hang out.
What is your favorite Disney snack?  To me, this really depends on which park I am at. If I am at EPCOT then I normally go to Karamell-Kuche in Germany and try one of their many delicious chocolate or caramel dipped items such as the chocolate-dipped pineapple or the chocolate-dipped caramel drizzled smore. If I am at Hollywood Studios I always go for Carrot Cake Cookie from Sweet Spells, if I am Animal Kingdom it will be a hand full of things but normally just a Starbucks coffee and if I am at Magic Kingdom, but absolutely, hands down, favorite of all times snack would be the Nutella Waffle from Sleepy Hollow located right inside of Liberty Square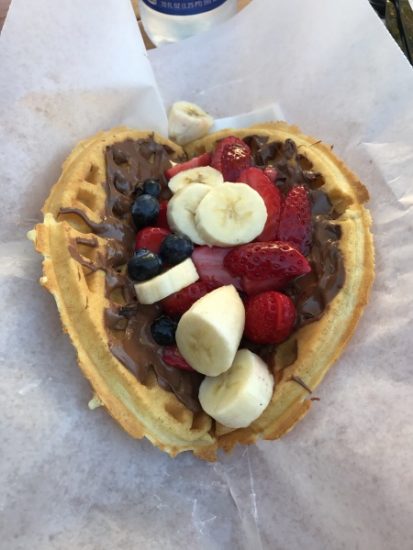 What is your favorite Disney attraction?  For me, it is one of the classics, one of the ones that Walt Disney himself created and put his stamp of approval on. It is Walt Disney's Carousel of Progress. There is something about looking back on where we have come from and all of the technology that has enhanced our lives for so many centuries along the way. And how could you not smile a little bit with the inspiring words of "Its a great big beautiful tomorrow"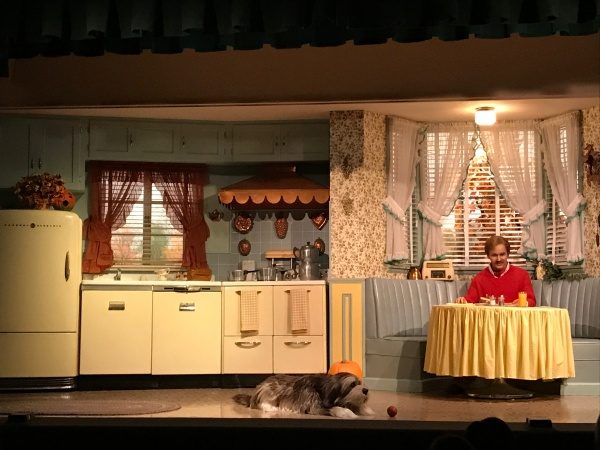 What is your favorite Universal Orlando Resort?  The Loews Royal Pacific Resort is probably one of my favorites. As soon as you step into the lobby you are transformed to the Pacific islands with a sushi bar in the lobby, lagoon-style pool, palm trees, and waterfalls. This resort is definitely a place to come back to after a long day in the parks to relax. You can even upgrade to one of the Jurassic Park Themed rooms for the kids. One of the perks of staying at this resort is the complimentary Unlimited Express pass for select Universal Studios and Islands of Adventure rides as well as 1-hour early park admission.
What is your favorite Universal Orlando restaurant? Jimmy Buffett's Margaritaville at City Walk is a great way to wind down after a long day in the parks. A place where you can sit outside on the patio, have a cheeseburger in paradise, listen to relaxing live music and people watch
What is your favorite Universal snack?  I have always enjoyed the Butterbeer from Leaky Cauldron. You can have it cold, frozen or hot. Good for all ages.
What makes Disneyland special?  As I grew up going to Walt Disney World all the time it wasn't until 2015 that I finally was able to visit Disneyland for the first time. To stand where Walt stood, to walk where Walt walked. There is just something to be said about the place where Walt Disney started it all. To me, it is about the nostalgic atmosphere, the originality of the park, and the size that makes it so special.
What makes a Universal Orlando Resort vacation special? The amount of thrill rides is what I think makes Universal so special. From being able to walk straight out of a book into The Wizarding World of Harry Potter, riding the exhilarating Hollywood Rip Ride Rockit or Race Through New York with Jimmy Fallon you feel like you are really there inside the adventure.
Why should a guest work with you to plan their vacation?   Because I truly want you and your family to have the most amazing vacation of your lives. I want to help you to ensure that you make wonderful memories with your family and not having to worry about the planning process, answer any and all of your questions, make you feel at ease while on vacation and know that you have someone on your side to help with anything that you might have. I love what I do and I all I want you to do is to have a stress free vacation
What makes The Magic for Less Travel special?  FAMILY! All of the agents at The Magic for Less Travel truly want the best, not all for our guests, but for each other. There are so many times that we lend a hand to help each other out to ensure that our guests and their needs come first all while being a FREE service.
Contact me for a free, no-obligation quote! 
Ben Lappin
The Magic for Less Travel
Authorized Disney Vacation Planner & Platinum Level Earmarked Agency
Universal Orlando Specialist
Similar Posts: