Staying at a Walt Disney World® Resort hotel is more affordable than ever! There is a Disney Resort hotel to fit every family's budget and size! And as a Disney Resort hotel Guest, you can enjoy great benefits such as complimentary transportation throughout Walt Disney World®.
Accommodations range from Disney Value Resorts to Disney Deluxe Villa Resorts. Disney Value Resorts, themed to music, sports, movies or 20th-century pop culture are big on everything but the price! Disney Moderate Resorts offer guests the perfect combination of value and amenities. Providing the highest level of quality and convenience available, Disney Deluxe Resorts offer beautifully decorated rooms, elaborately themed pools, award-winning dining, character dining, and recreational activities. Disney's deluxe villa resorts combine the magic of Disney with the comforts of home. From our Studios, equipped with convenient kitchenettes, to our one or two-bedroom villas featuring full kitchens, private bedrooms, whirlpool tub and washer/dryer, our Disney Deluxe Villas offer some of the best amenities our World has to offer.
Walt Disney World Accommodations
For many compelling reasons, choosing a Walt Disney World Resort Hotel for your stay is more enticing than ever. Embarking on a vacation at one of these resorts translates to an experience brimming with fun, relaxation, and peace of mind. Take advantage of the diverse selection of unique amenities and programs designed to elevate your Disney experience and make your stay an unforgettable adventure.
Value Resorts at Walt Disney World
Disney's Value Resorts provide guests with the enchantment and exceptional service of Disney Resorts at an incredible value. These family-friendly accommodations offer a delightful blend of whimsical architecture and decor, ensuring a truly magical experience. With refreshing swimming pools and a relaxed food court dining option, these resorts guarantee a memorable stay. Moreover, as a guest of a Disney Value Resort, you will enjoy all the benefits of staying at a Disney Resort Hotel.
Moderate Resort Hotels at Walt Disney World
Experience the allure of enchanting themes inspired by diverse locales at Disney's Moderate Resorts. Perfectly blending cost-effectiveness and an array of amenities, these resorts offer an immersive vacation. Delight in their spectacular pools equipped with exciting slides, savor mouthwatering dishes from sit-down eateries or food courts and indulge in an array of on-site recreational activities for a memorable stay.
Deluxe Resort Hotels at Walt Disney World
Disney's Deluxe Resorts promise unparalleled quality, convenience, and service within captivating environments. These resort hotels, rich in amenities, showcase spacious rooms and suites for your comfort. They also offer a taste of the world through their acclaimed fine dining options, mesmerizing pools equipped with engaging water slides and a variety of on-site recreational activities for an elevated experience that is as indulgent as it is unforgettable.
Disney Deluxe Villa Resorts
Disney Deluxe Villa Resorts offer spacious multi-room accommodations and flexible room arrangements. All Studios offer kitchenettes and all one-bedroom and larger Villas offer full kitchens. These Resorts help larger or extended families and traveling groups feel right at home.
Walt Disney World Campground
Enjoy magic from dawn to dusk at the only campground at the Walt Disney World® Resort. Make yourself at home in an air-conditioned cabin, or stay in our newly rehabbed "Big-Rig Friendly" campsites. Hike winding paths, explore nature trails on horseback and have the time of your life in the great outdoors with our seemingly endless recreation opportunities
Newsletter
Stay informed of the latest Walt Disney World Resort special offers. Subscribe to the Magical Notifications weekly newsletter from our friends at The Mouse For Less.
NOTE: After subscribing, you will receive an e-mail asking you to confirm your subscription. This is a standard security feature. Follow the instructions in the confirmation e-mail to complete your subscription.
Walt Disney World Resort Hotel Benefits
As a Guest staying in a Disney Resort, you're entitled to remarkable benefits like Disney's Complimentary Transportation, Disney Dining Plan – and more magic all around.
You'll experience an array of onsite:
Themed Disney Resorts – Choose to stay in the tropical paradise of Disney's Polynesian Village Resort or Disney's Caribbean Beach Resort. You can also enjoy the huge icons and fun of pop culture at Disney's Pop Century Resort.  Maybe the laid-back nautical feel of Disney's Yacht & Beach Club Resort is more your style.  Or stay in a galaxy far, far away at Star Wars: Galactic Starcruiser. With over 25 resorts, everyone can find an exciting and appealing Walt Disney World Resort theme.
4 Different Resort Categories – Choose from the affordability and fun of Disney's Value Resorts or upgrade to Disney's Moderate Resorts. Enjoy the luxury and amenities that you can find in Disney's Deluxe Resorts.  If you are looking for space to spread out and a kitchenette or full kitchen, then consider the Deluxe Villas Resorts.
Complimentary Resort transportation – Disney Resort Guests are free to enjoy complimentary Disney transportation throughout the Walt Disney World® Resort. Just steps from your door, boats, buses, and monorails await to transport you to and from the Theme Parks, Water Parks, the Disney Springs® area, and more.
Close to the magic – Staying at a Disney Resort means being surrounded by magic 24 hours a day, and also being close enough to hop back to the hotel for a snack, nap or dip in the pool.
MagicBands – MagicBands are your key to a magical Disney resort vacation
You can use your MagicBand to:
Uniquely themed pools – Disney pools offer a relaxing break from the action in some of the most spectacular settings anywhere. From sand bottoms to serpentine water slides, each one is exciting and unique.
Uniquely themed pools – Disney pools offer a relaxing break from the action in some of the most spectacular settings anywhere. From sand bottoms to serpentine water slides, each one is exciting and unique.
Incredible Disney Service – Disney Cast Members are there to make your vacation as easy and worry-free as possible by offering helpful tips and recommendations. As Disney Guests, you can charge many Theme Park meals, tickets and merchandise right to your room, and have souvenirs delivered straight to your Disney Resort hotel.
Disney Themed Rooms – Stay in rooms that are themed after the stories and fantasy that brings Disney stories to life. You will feel as if you have stepped into a Disney movie when you choose a Pirate Room at Disney's Caribbean Beach Resort, a Royal Guest Room at Disney's Port Orleans Riverside or one of the Nemo, Lion King, Cars or Little Mermaid themed rooms at Disney's Art of Animation.
Green is the favorite color of Disney Resort hotels – All of the Disney Resort hotels are designated "Green Lodges" by the Florida Department of Environmental Protection as hotels that conserve energy, water, and natural resources and promote recycling.
Complimentary golf club rental – Enjoy complimentary club rental when you purchase a non-discounted round of golf at any of the four Disney Championship Golf Courses. (Rental clubs subject to availability.)
Package Delivery – Don't worry about carrying packages around all day. Instead, enjoy the convenience of having purchases from select Disney shops delivered right to your Disney Resort.
Charging Privileges – Disney Resort Guests can take advantage of charging privileges available with your Disney Resort ID. You can charge select Disney purchases (i.e. meals, merchandise, and tickets) to your room!
Head Start On Disney Dining Reservations – Make dining reservations for your entire trip (up to 10 days) when your dining window opens up 60 days prior to your vacation.
Extra Time in The Parks  – Enter the parks 30 minutes ahead of other guests.  Guests staying at Disney Deluxe or Disney Deluxe Villas can also enjoy extended evening hours in select parks on select days.
Pet-Friendly Resort Options – If you have a pampered pooch, you can bring them to stay with you at select Walt Disney World Resorts.
Early access to purchase individual Lightning Lane entry – On-site guests are eligible to make your first individual Lightning Lane purchase starting at 7:00 AM each day of your visit. All other Guests are eligible to make their first purchase when the park opens.
Rooms for 5 Guests or More
For families of five or more, Disney offers a variety of larger than average accommodations to fit every family's size and budget.
In the Value category, Family Suites at Disney's Art of Animation Resort and Disney's All-Star Music Resort can comfortably sleep up to 6 people and include a master bedroom, living area with pull out sleeping accommodations, two bathrooms, a kitchenette, and more!
Disney's Art of Animation Resort invites guests to step into the story with spacious suites inspired by classic Walt Disney and Disney·Pixar animated films. Each suite sleeps up to 6 guests and features 2 separate bathrooms and 3 separate sleeping areas, including a private master bedroom.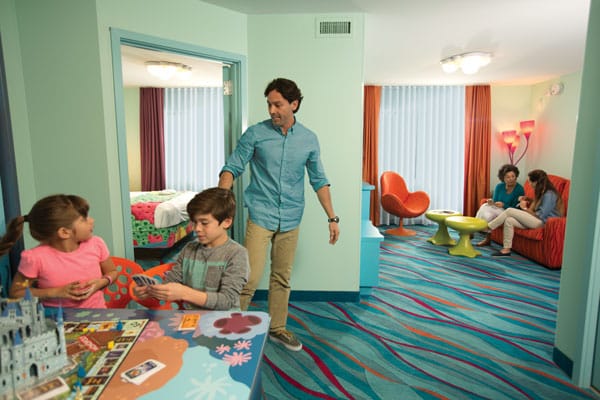 Jazz it up at Disney's All-Star Music Resort, a Resort Hotel located near Disney's Animal Kingdom® Theme Park. This Disney Resort Hotel's family suites, which sleep up to 6 Guests, have a separate bedroom, pull-out sofas in the living room, 2 bathrooms and a kitchenette.
In the Moderate category, nestled in Disney's Fort Wilderness Resort, our Wilderness Cabins feature vaulted wood-beam ceilings and private barbecue decks. Spacious, homelike living, dining and bedrooms accommodate up to six. The kitchen is fully equipped, but don't worry – we take care of the dishes! Plus select rooms at Disney's Port Orleans Resort – Riverside can accommodate up to five Guests, including one child (age 3-9) with two queen-size beds and a fold-down bed.
Deluxe Resort hotels all offer spacious options for larger traveling parties, including rooms and suites that accommodate five or more Guests.
With flexible room arrangements, our spacious 2- and 3- bedroom Disney Deluxe Villas are a category of their own, featuring a full kitchen, 2 full bathrooms and washer/dryer, all the comforts of home. Disney Deluxe Villas can sleep anywhere from 8 – 12 guests!
Free Quote
Embark on a magical journey to the Walt Disney World® Resort Hotels! Begin your vacation planning today and discover the wonders that await you. Complete the first step towards creating unforgettable memories by completing the form below. Our dedicated travel agents are ready to provide you with a FREE, No-Obligation Quote tailored to your dreams.
If you're looking to explore other destinations, click here to request a quote and let The Magic For Less Travel assist you in turning your travel dreams into a reality.