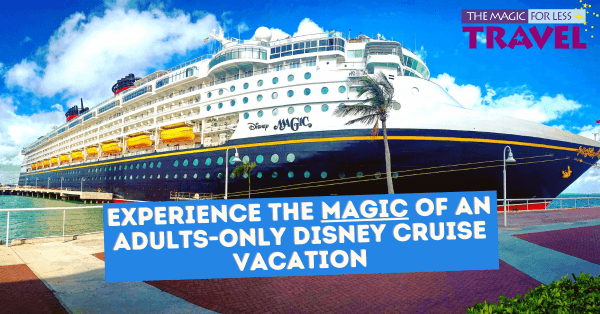 "You don't have any kids, why are you going on an adults only Disney Cruise?" 
"Isn't a Disney Cruise just full of kids?
"What do you do for fun on an adults only Disney Cruise"?
 As a childless couple, my husband and I are used to this line of questioning whenever we mention we have booked another cruise with Disney. If you've ever wondered if you would enjoy a Disney Cruise without children, I'm here to assure you you will! It is one of the most fun and relaxing trips you will ever take. Whether you're a childless couple, parents looking for a well-deserved getaway, or a group of friends looking for a great time, keep reading to discover all the ways Disney takes care of their grown-up guests!
Adult Only Areas
A frequent concern of those considering an adults only Disney Cruise is "will I be able to get away from children"? You can rest easy because DCL has done a fantastic job of creating inviting spaces just for adults.
Senses Spa & Salon
Looking for a little rest and relaxation while away from home? The crew members in Senses Spa have you covered. This full-service spa has a complete menu of services to help drive all your worries away. You can treat yourself to a full-body massage, a relaxing Mani-Pedi combo, a refreshing facial, and so much more. In need of a quick cut or blow-dry to look your best before Formal Night? The salon has you covered. Men can even get a fresh shave! The Disney Wish, Disney Cruise Line's newest ship, even has a dedicated barbershop – Hook's Barbery. Here you can enjoy a smoked Old Fashion during your cut and shave.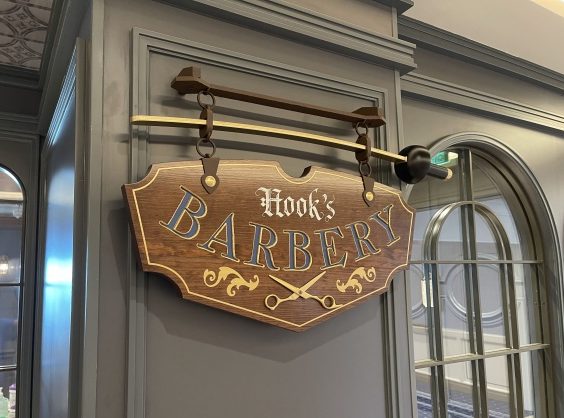 Heated lounge-chairs, saunas, and aroma showers can be found inside the Rainforest Room within Senses Spa. The Disney Wish even includes a private, outdoor sundeck available for only to those with Rainforest access. You have to purchase a pass to enjoy the Rainforest Room and passes are available for either a single-day or the length of your cruise. Passes are limited to ensure you have the space to stretch out and de-stress. You'll want to pre-purchase your pass and or head straight to the spa on embarkation day.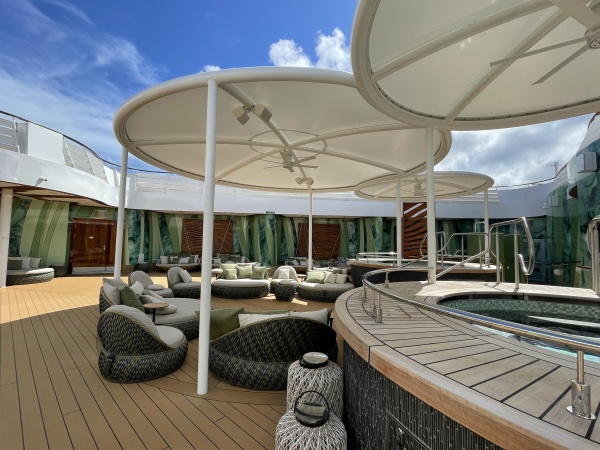 One more feature of the spa is the Fitness Center loaded with all the strength and cardio equipment you need to continue your exercise routines while enjoying the high seas. Locker rooms, with spacious, private showers are adjacent to the fitness center. Guests 14-17 years old can use the gym only if accompanied by an adult. So you can workout without having to constantly look over your shoulder. Group fitness classes, such as yoga and Pilates, and personal training sessions are available for additional costs. Fresh towels, bananas, and fruit-infused water is available in the fitness center. There is also a juice bar located right outside the Fitness Center near the Senses Spa welcome desk. 
On each cruise, the Sense Spa staff holds a raffle for various treatments on embarkation. Check your Personal Navigator for the time of the raffle. 
Adult Pool Deck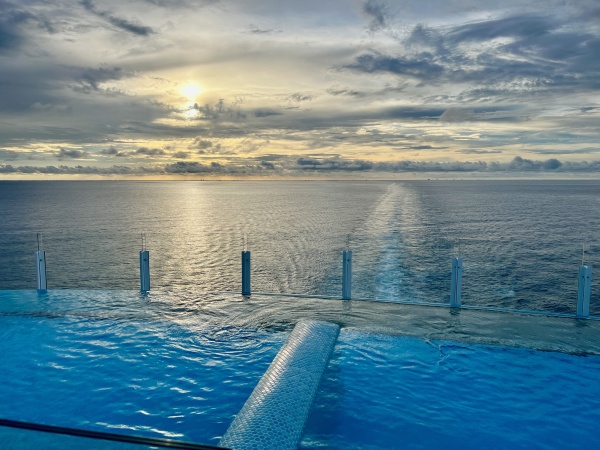 All five Disney ships feature an area on the pool deck that is reserved for guests 18+. This area's main feature is the Quiet Cove Pool, allowing you to take a dip without having to watch out for incoming cannon balls. The Disney Wish features a gorgeous infinity pool at the ships aft that is reserved only for guests 18 and older. There are also hot tubs available for those in need of a relaxing soak. These pools are generally open until midnight but guests should check the daily navigator for current hours.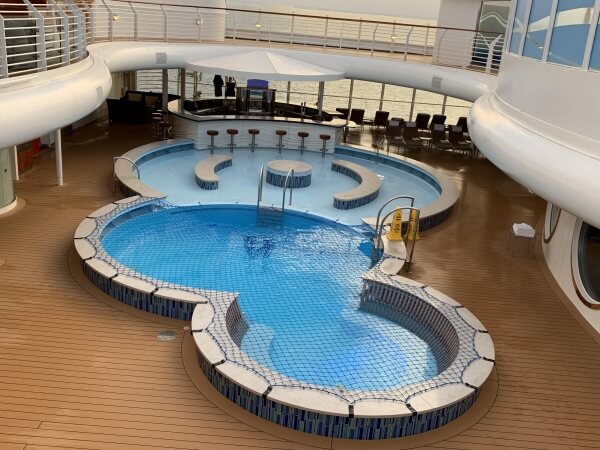 The Disney Dream and Fantasy also feature Satellite Falls, a circular wading pool with a gentle, cascading rainfall from a centralized orb. Go all the way in for a peaceful shower, or just dip your toes in while relaxing friends.
Cove Cafe is an adults only lounge on the pool deck offering specialty drinks and coffees for an additional cost. There are also a variety of fresh pastries and desserts included in your cruise fare. 
Each ship also features an outdoor bar close to Quiet Cove Pool – Signals on the Magic and Wonder, and Currents on the Dream and Fantasy. Roaming servers can even take your order while you're lounging on a deck chair.
Bars, Clubs, & Lounges
There are additional venues throughout the ship for adult guests who like to enjoy an alcoholic beverage during vacation.
Each of the original four ships has its own themed night-time district that is strictly for adults 18+ in the evenings. These areas feature a variety of venues and nightly entertainment just for grown ups.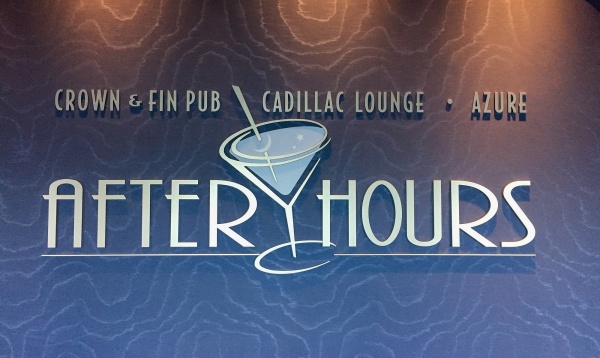 The nighttime district on the Magic and Wonder is known as After Hours, the Dream is home to The District, and the Fantasy brings Europe to life in Europa. Each of these areas has its own nightclub, sports pub, and various lounges like Cadillac Lounge, a piano bar on the Disney Wonder, and Pink, a wine and champagne lounge found on the Disney Dream.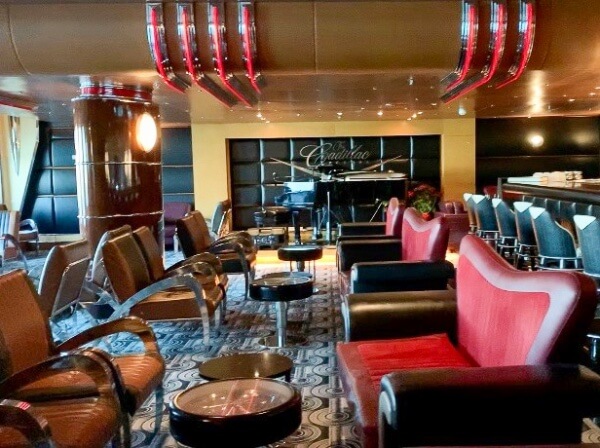 Outside the nighttime district, adults can find drinks at a few other bars and lounges across the ships. These include Preludes outside the Walt Disney Theatre on all four ships where guests can grab a beverage before taking in the nightly stage performance, the Promenade Lounge on the Magic and Wonder, Bon Voyage off the atrium on the Dream and Fantasy, and my personal favorite – Meridian, an aft-facing lounge with indoor and outdoor seating located outside Palo and Remy on the Dream and Fantasy. 
Disney Cruise Line completely reimagined the adult lounges on the Disney Wish. Instead of being located in one primary area, lounges and bars on the Wish are scattered across the entire ship. The Rose, located on Deck 11, features amazing sea views with floor to ceiling windows. This is a great spot to grab a drink before dinner at Palo or Enchanté, which are both at right off of this lounge. At  the Star Wars inspired Hyperspace Lounge, on Deck 4, guests can enjoy out this world cocktails and brews while jumping into hyperspace to visit several galaxies far far away. Children are allowed in Hyperspace lounge until 9pm, after which it becomes an adults-only venue. There are several other lounges onboard including a piano bar called Nightingales, a New Orleans-inspired lounge The Bayou, and cafes Enchanted Sword and Wishing Star.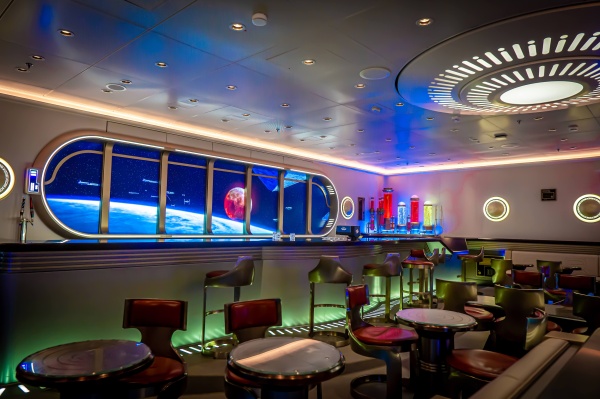 Drink Specials
While DCL does not offer unlimited drink packages, there are still several ways for you to save money. Everyday there is a 'Drink of the Day', including classic cocktails like the Captain's Mai Tai or Mojito. These are available throughout the day for a lower-than-usual price. Beer-drinkers can purchase a refillable 22oz. beer mug which can be refilled for the price of a 16oz beer. The best part is you don't have to walk around with the mug as your bartender will give you a token you can exchange for a fresh beer whenever you're ready. You get to take home either the mug or the token and bring it back on your next cruise! Your main dining servers will tell you all about the available Wine Packages which offer savings of about 25% compared to buying separate bottles. 3-, 4-, 5-, and 7-Night packages are available no matter the length of your cruise.
Serenity Bay
Perhaps my favorite of all the DCL adult-only areas is Serenity Bay, an adults only beach located on Disney's Private Island Castaway Cay. Guests 18+ can visit Serenity Bay by taking a tram down to the secluded beach area that's full of lounge chairs and hammocks. And there are no kids in sight! You can rent floats and snorkeling gear nearby  if you'd like to explore the Bahamian Waters. There is a full-service bar serving up your favorite tropical cocktail. Servers even walk up and down the beach taking drink orders. When you are ready for lunch you can head to the nearby Serenity Bay BBQ and choose from a selection of salads, fresh fruits, grilled items, and desserts. And while the Castaway Cay 5K isn't reserved only for adults, it is a popular activity for those looking to get in some exercise before spending the rest of the day relaxing on the beach. And whether you participate in the 5K or not, you can relax your muscles by purchasing a couples massage in a private cabana on Serenity Bay.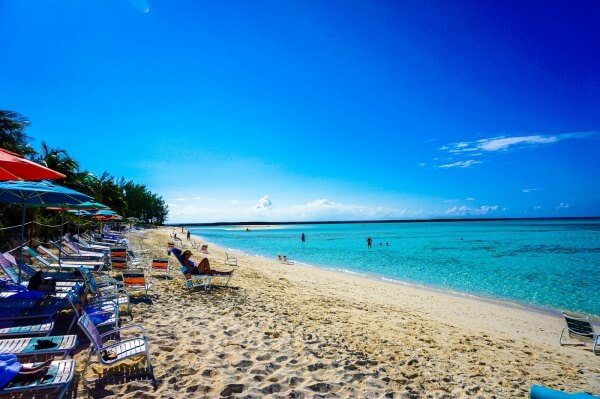 Dining
Rotational Dining
When it comes to dining, Disney Cruise Line goes above and beyond to cater to every guest. The main dining rooms are an experience in and of themselves. You can attend Rapunzel's birthday while dining at Rapunzel's Royal Table on the Disney Magic, hear live Jazz music at Tiana's Place on the Disney Wonder, and become a Disney animator at Animator's Palate on all four Disney ships. If you don't want to spend dinner with loud children, opt for Second Seating as most families prefer the earlier, Main Seating. You will still see children during Second Seating, but there are noticeably fewer.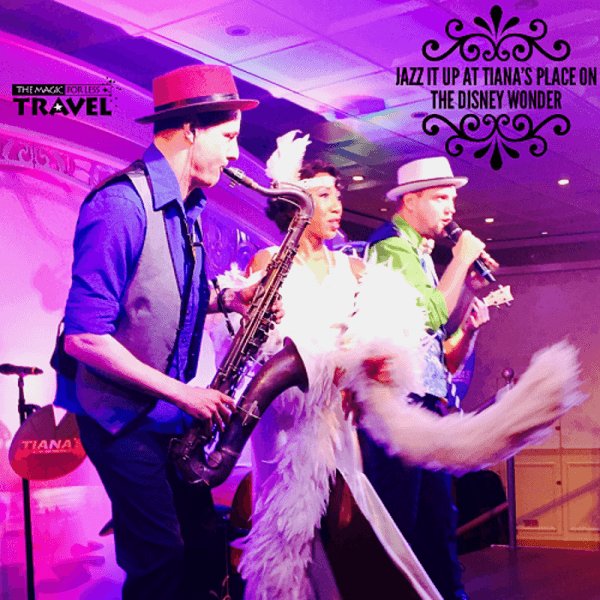 And no need to worry about being sat at a table with children – Disney works its magic and chooses your table mates based on stateroom demographics. You are likely to be sat with people around your age and in similar relationships as you. We have sat with other childless couples and adult friends traveling together. You can make some wonderful friends this way.  We even recently took a cruise with another couple we met when we were table mates on a previous cruise. 
Disney is known world-wide for its exceptional service and that is on full display in the DCL dining rooms. Disney Cruise Line broke the traditional cruise dining model by creating rotational dining. Rotational dining allows guests to experience all three of the main dining rooms. The best part is that your service team travels with you each night. This allows you and your servers to get to know each other well. No need to explain your allergies and preferences every night to a new server. Have a gluten allergy? Don't stress because your servers already know and have options ready for you. If you like to start your meal with a particular soft drink, it will be on the table waiting for you when you sit down. They will help you celebrate birthdays, anniversaries, or any other special occasion. Your service team will become close friends by the end of your voyage!
Adult-Only Dining
Another way that Disney sets itself apart is with their adult-exclusive dining rooms: Palo, Remy, & Enchanté. All three restaurants are 18+ and have a dress-code that helps to set a more mature, intimate atmosphere. Each restaurant requires a reservation. Reservations can be made onboard, but I recommend making them before you arrive via the DCL website or app.
Palo
Open for dinner each night of your cruise, and for brunch most sea days, Palo is a fine-dining Italian restaurant that can be found on all four Disney ships. Brunch is an additional $45 while the Dinner menu offers a $45 prix fixe option or you can purchase items a la carte. At Brunch, choose from a variety of fresh foods, including tons of seafood, off the buffet as well as order from an a la carte menu. I'd recommend the Chicken Parmesan or the Eggs Benedict from the a la carte menu, and the sticky buns on the buffet are a must! The Disney Wish has a slightly different menu than the other ships as it is steak-house inspired. The dinner menu on all ships is phenomenal and you can't go wrong no matter what you choose. But I recommend listening to the suggestions of your server. For desert – you will not regret ordering the chocolate soufflé!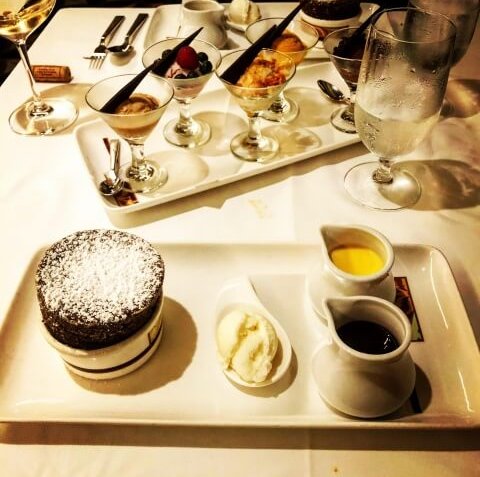 Remy, an upscale French restaurant on the Disney Dream and Disney Fantasy, offers three experiences: Dinner ($125/person), Champagne Brunch ($75/person), and a Dessert Experience ($60/person). The most popular experience is the dinner which starts with a Champagne cocktail your server prepares table-side. Your server will then lead you through multiple courses of small plates from one of two set-menus crafted by the award winning chefs. You can also choose each course a la carte if you want to customize your experience a little more. Either way, each dish presented will be of the finest quality French cuisine is known for. If that's not enough food, you will find a small "thank you" box of chocolates waiting for you when you arrive back to your stateroom after dinner.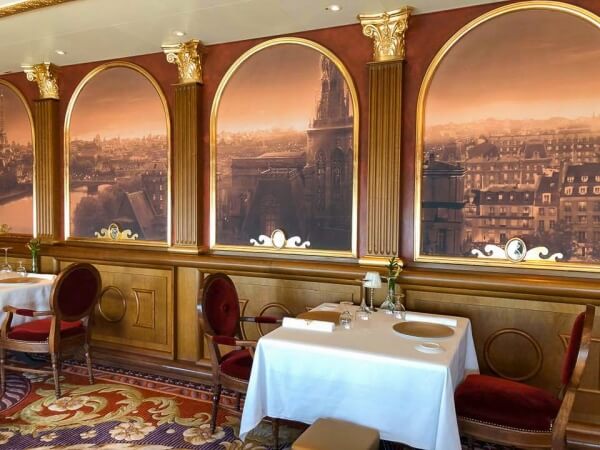 To get the most out of your adults only Disney Cruise I'd recommend booking a dinner at either restaurant depending on which ship you are sailing on. If possible, I'd even splurge for a brunch as well!
Enchanté, a French restaurant by Chef Arnaud Lallement, is currently only found on the Disney Wish. This gorgeous Beauty & the Beast-inspired located features elegant décor and beautiful vistas. There are a couple of prix fixe menus available for $125 and $195. You also have the option to order a la carte items. The even have a "Just Desserts" meal for $60 per person.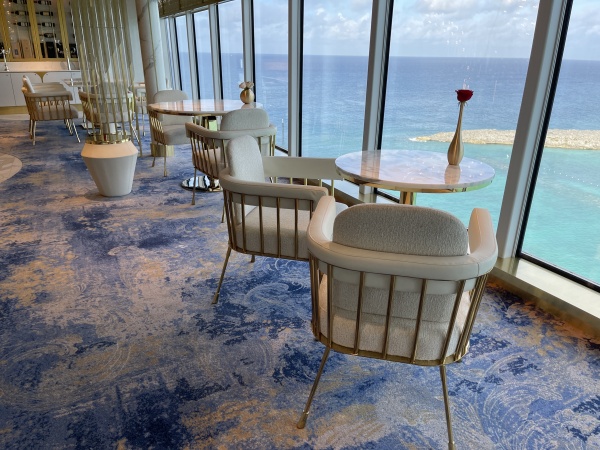 Entertainment
Fun For All Ages
Cruising is my favorite kind of vacation for a number of reasons but mainly because of the balance of relaxation and fun. Disney does a fantastic job of filling the days with activities for everyone, no matter their interest. Even as an adult, there is no better place to let out your inner child than a Disney cruise. Adults are welcome to meet all their favorite characters like Mickey & Minnie, Anna & Elsa, Chip & Dale, and many more.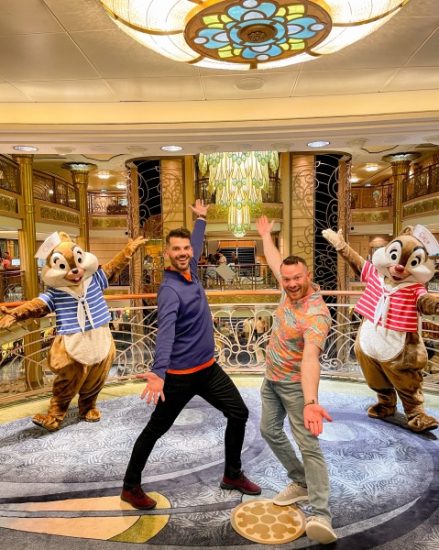 Broadway-Style Stage Shows
Be sure to check out the Broadway-style stage performances in Walt Disney Theatre featuring Tangled the Musical on the Disney Magic, Frozen the Musical on the Wonder & Fantasy, Beauty and the Beast the Musical on the Disney Dream, Aladdin – a Musical Spectacular and The Little Mermaid on the Disney Wish. Those are just a few of the award winning shows that you can enjoy on your cruise!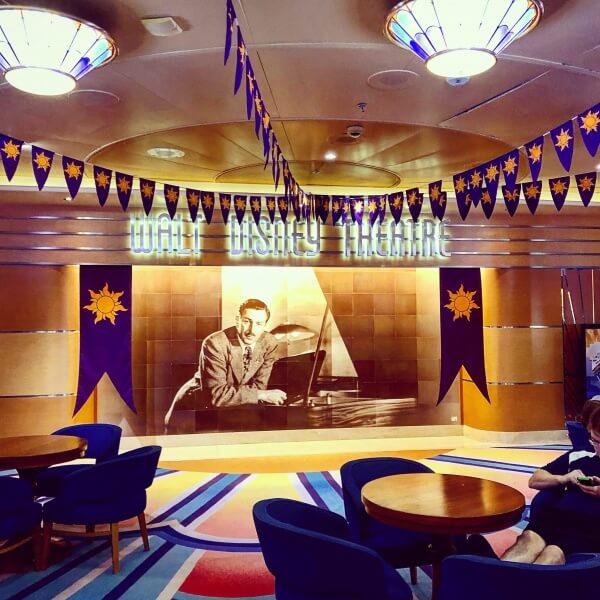 First Run Disney-Owned Films
Each ship also features a movie theater(s) showing first-run Disney-owned films, all included in your cruise fare. Here you can check out the latest from Pixar, Marvel, Star Wars, Disney Animation, and more! If you happen to be on a ship while a Disney movie is premiering on land, DCL will even hold a PremEAR at Sea event and show the movie at midnight the night it comes out.  You can also catch Disney films outside on the top deck on the large Funnel Vision screen. Some of my favorite DCL memories involve grabbing an ice cream and watching a movie under the stars!
Water Attractions
Water slides and attractions aren't reserved just for the kids either. You can take a trip all the way around the top deck on the AquaDuck, an elevated water-coaster that goes out over the edge of the ship, on the Disney Dream and Fantasy. The Disney Wish features Disney's first attraction at sea – the AquaMouse. Or for a more thrilling experience, check out the AquaDunk, a high speed water slide that drops you straight down 3 stories on the Disney Magic.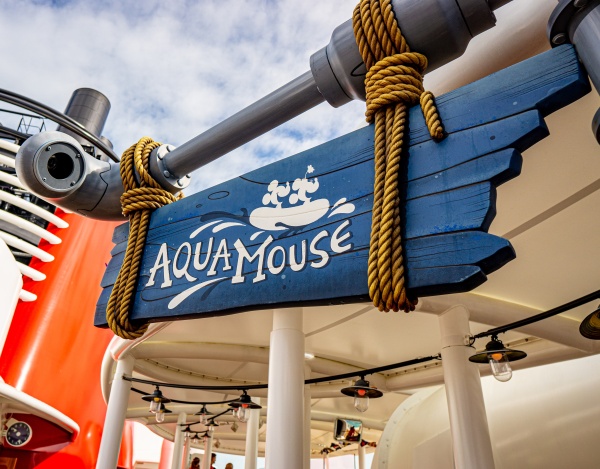 Parties & Events
The party never stops on Disney Cruise Line with multiple deck parties and atrium dance parties occurring throughout your trip. Mickey & the Gang will get you excited for your adventure during the Sail Away Party as the ship officially sets sail. Adults should pack their best pirate gear and dance the night away during the Pirates IN the Caribbean deck party on select cruises. Disney is also currently the only cruise line with a fireworks show at sea! These events are for guests of all ages so don't hesitate to break out your boogey shoes.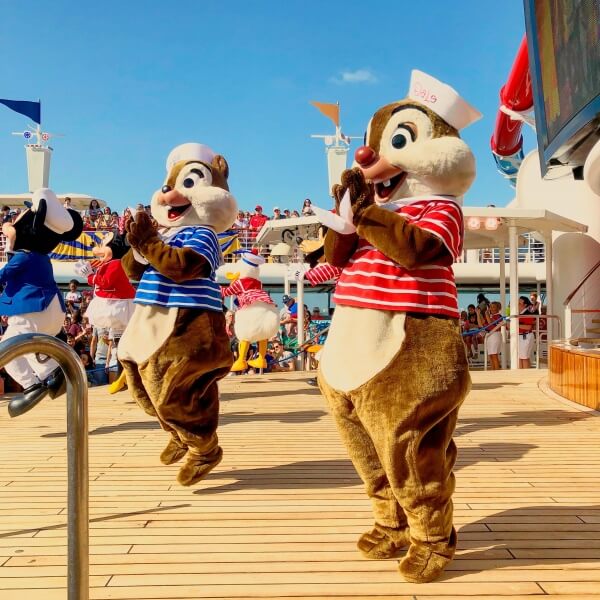 Adult-Exclusive Entertainment
Ready to party with those your own age? DCL puts on adult-exclusive entertainment each and every night in the adult-only districts mentioned above. Each night the DCL entertainment team will keep you entertained with various game shows like Match Your Mate, a newlywed style game that gives you the chance to get to know your fellow cruisers very very well. Many nights will also feature an adult-orientated show from the current onboard acts, including comedians, magicians, musical acts, and more. The night usually ends with a dance party, karaoke performances, or my favorite – a Silent DJ Disco! For a more relaxed night you can check out the ship's piano bar featuring live music almost every night. 
And it's not just at night that you'll find adult-only activities. Throughout the day you can head to one of the adult spaces for trivia or a fantasy sports draft. You can also sign up for a beverage tasting, at an additional cost, throughout your sailing. Your bar staff will lead Mixology classes and tastings including: wine, beer, champagne, whiskey, and more. These classes allow you to taste and learn about the various drinks available on the ship. Select cruises offer Canvas & Cocktails, a painting class where you learn to paint a Disney-inspired picture while sipping craft cocktails. In a more low-key mood? Head to the sports pub to watch a live sports event or grab an available board game.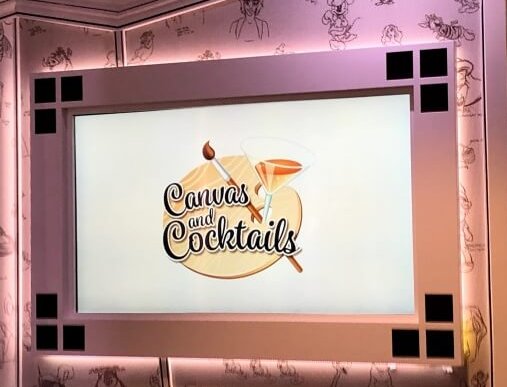 Adult-Only Excursions
There are not many onboard activities offer when the ship is docked, but adults can continue doing their own thing while exploring the port. Disney Cruise Line has several port adventures that are only offered to adults. Adult-only excursions include snorkeling on Castaway Cay, rum tasting in Puerto Rico, and a trip to Blarney Castle in Ireland, to name a few. 
Additional Offerings
If you're still not convinced that you need to book an adults only Disney Cruise let me tell you about a few more extras that come along with sailing with the Mouse.
Guest Can Bring Alcohol Onboard
I mentioned earlier the plethora of bars and lounges that offer adult beverages as well as the various drink specials. But did you know that unlike a lot of other cruise lines, Disney let's adults bring alcohol onboard? Each adult in your stateroom can carry on either two-750ml bottles of wine/champagne or six-12oz. beers. Any alcohol brought on board is to be consumed in your stateroom. This makes for a great pre-dinner drink while sitting out on your verandah!
WiFi
If you need work or want to keep up with family and friends back on land, Disney does have WiFi available. Packages can be purchased for a single day or for the duration of your sailing:
Stay Connected: Starting at $12/day, this plan is perfect for those who are just looking to keep up with their social media accounts.
Basic Surf: Starting at $24/day, this plan gives guests access to social media, email, web browsing, and audio calls.
Premium Surf: Starting at $36/day, this plan supports faster internet connect, gives the ability to make video calls, and view short-form videos on platforms like YouTube, Snapchat, and TikTok.
There is a Connect @ Sea desk that offers internet support should you ever need it throughout the cruise.
DCL Navigator App
Another great feature of DCL is the Disney Cruise Line Navigator App that you can use onboard without having to purchase any WiFi. You can use the app to see a schedule of activities, check out menus, send messages, and more. You can also use the app prior to setting sail to book port adventures, make adult-dining reservations, select spa services, or even buy in-room gifts that will be there waiting for you once you embark. 
Shopping
And finally, adults should not overlook the shopping Disney Cruise Line has to offer. You can of course purchase the typical Disney souvenirs like Mickey ears and t-shirts, as well as cruise line-exclusive items. You can also purchase high-end items such as nice set of luggage, watches & jewelry, as well as duty-free alcohol and perfumes. Duty-free alcohol purchased is not able to be consumed while onboard and will be held until the end of your cruise. 
Time to Set Sail!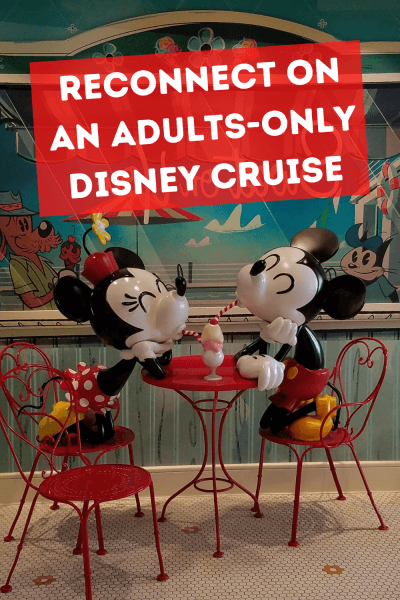 As you have now read, DCL has so much to offer to their adult guests. Whether you want to let your inner-child loose or to relax and recharge your batteries, you can find exactly what you are looking for on Disney Cruise Line. Perfect for a honeymoon or anniversary trip, an excuse to leave the kids with the grandparents, or just a fun getaway with friends. Don't let others' preconceived ideas of a Disney vacation dissuade you from enjoying the vacation of a lifetime!
Ready to book? The Magic For Less Travel has agents waiting to help. Not only will we take the stress out of booking, we also offer an Exclusive Onboard Credit for you to spend on the ship.  Don't wait – book early for the best pricing and availability!  Disney Cruise Line recently  announced itineraries through early 2024  and guests can't start booking today!
Contact me, your adults only DCL expert, today to start planning your Disney Cruise Line vacation!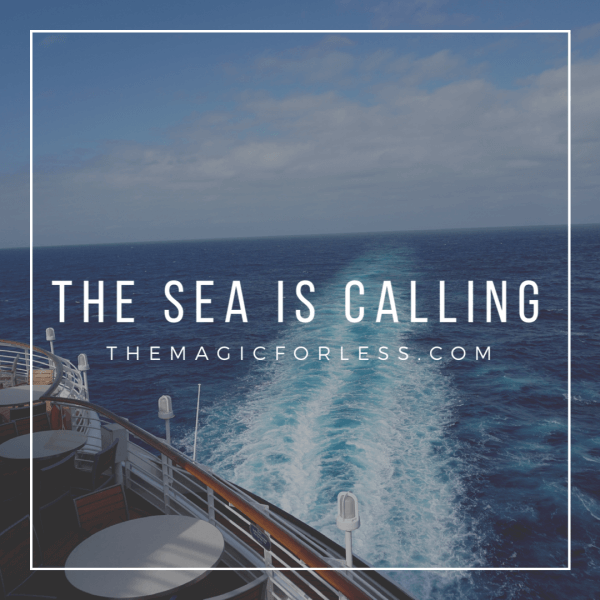 Similar Posts: