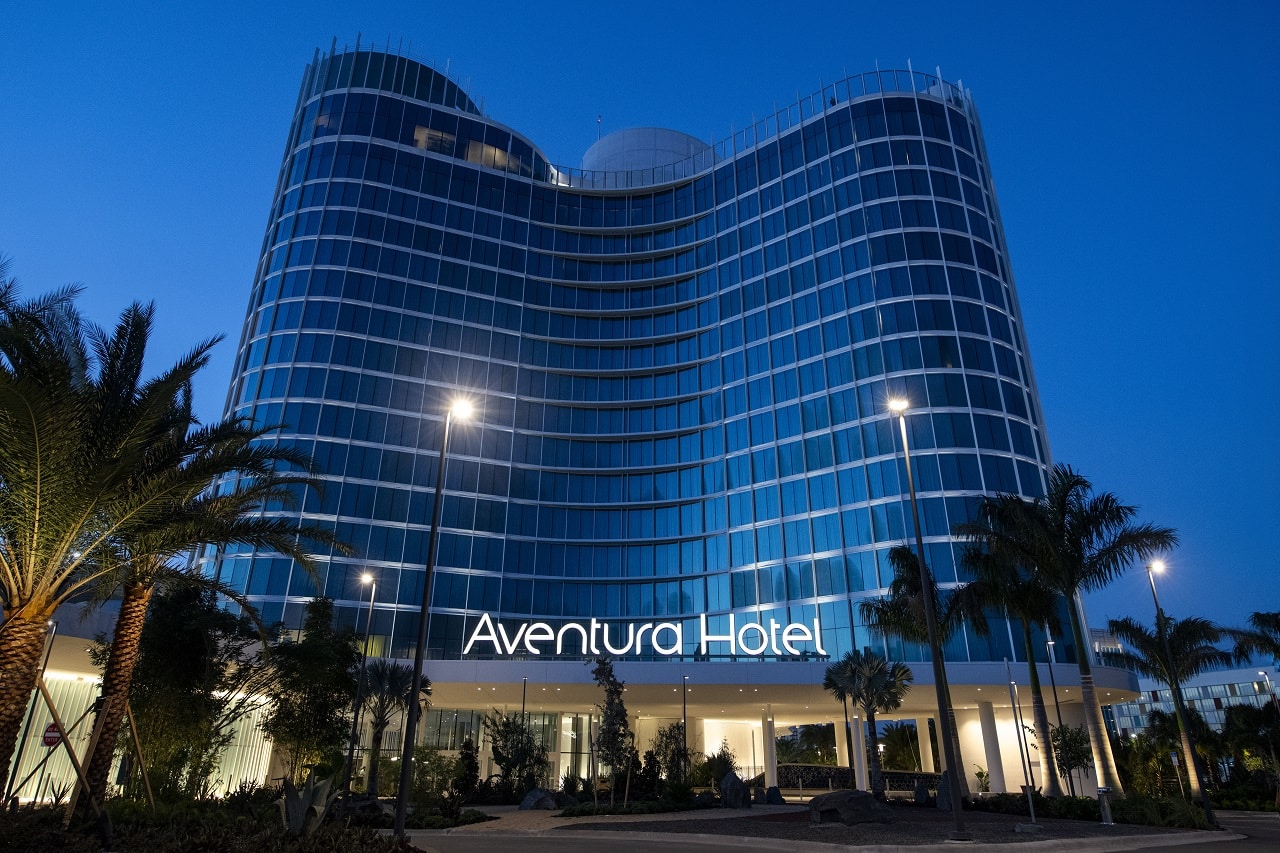 Universal's Aventura Hotel
6725 Adventure Way
Orlando, FL 32819
Check-in at 4:00 pm. Check-out at 11:00 am.
Universal's Aventura Hotel lets you experience a fresh and fun way to stay – in a space that fits your style. It's modern and smart yet vibrant and relaxed. At this new landmark within Universal Orlando Resort, you're at home with open areas designed for sharing and gathering.
Universal's Aventura Hotel gives you more ride time, more free time, and more time for you. Here, you're always within walking distance of Universal's three amazing theme parks. Every morning you get to breeze into one of the parks before other guests with Early Park Admission. With complimentary shuttles, it's a quick hop back and forth to the hotel to catch some sun at the pool or mingle at the rooftop bar whenever you like. This is a refreshing way to stay in the heart of your Universal Orlando vacation.
Self-parking and valet parking is available.
Recreational Activities
The Aventura Hotel at Universal offers a guests a pool equipped with an ample supply of lounge chairs to soak up some rays. For younger guests, a splash pad is available, ensuring they have a good time. The pool area is further enhanced with laminar jets and a spacious fire pit. Additionally, Aventura Hotel provides a dedicated fitness center and a game room for guests. Shoppers can also indulge at the on-site Universal Orlando retail store.
Main Pool –  With a hot tub, a kids' splash pad area, fire pit, and daily activities
Game Room (fees apply)
Fitness Center – Complimentary to all guests. Offering equipment such as treadmills, bicycles, ellipticals, and various weight machines.
Guest Rooms
Experience tranquility in the sleek and serene setting of Universal's Aventura Hotel guest rooms. Designed with a contemporary flair, these bright accommodations offer a restful haven for the weary traveler.
Aventura Hotel provides standard rooms that comfortably house up to four guests, along with special kids' suites designed to accommodate up to five guests. Each room category include separate bath and vanity areas, with a variety of amenities for a more pleasurable stay. Guests are also given the opportunity to enhance their experience with an upgrade to a Skyline View. Enjoy breathtaking vistas from the uppermost floors of this stylish tower, presenting a panoramic view of the skyline.
Standard Double Queen
A welcome retreat for 4, this inviting room offers great storage, separate bath and vanity areas, and a wealth of exceptional amenities.
Two Queen Beds
Room size: 314 square feet
Sleeps up to 4 guests
Standard King
This tranquil hideaway sleeps four. It is here when you return from a day in the parks, offering you a luxurious king bed and a pullout couch, separate bath and vanity areas, and the latest modern conveniences for the utmost in relaxation.
1 King Bed 1 Pullout Couch
Room size: 258 square feet
Sleeps up to 4 guests
Double Queen Skyline View
Your room is on the highest floors of the sleek tower, with sweeping views of Universal Orlando Resort or the city of Orlando. These contemporary style rooms have separate bath and vanity areas and the latest modern conveniences for the utmost in relaxation.
Two Queen Beds
Room size: 314 square feet
Sleeps up to 4 guests
Deluxe Double Queen
These serene rooms offer even more living space to enjoy your vacation. With views of the city or the parks, this room provides plenty of prep-time space.
Two Queen Beds
Room size: 385 square feet
Sleeps up to 4 guests
Deluxe King
These contemporary rooms offer room to lounge about and relax. With views of the parks or the city, this room provides plenty of prep-time space.
One King Bed One Pullout Couch
Room size: 385 square feet
Sleeps up to 4 guests
Kids Suite
This room features a separate interior area for the kids that includes two twin beds that allows you to put the little ones to sleep securely. Simultaneously, you enjoy a few hours of downtime in a separate area offering a king bed and a couch that converts into a deluxe, memory foam bed.
One King Bed One Pullout Couch and Two Twin Beds
Room size: 519 square feet
Sleeps up to 5 guests
Guest Room Amenities
Bedroom
Two queen size bed
flat panel television with HD channels and On demand in-room movies (fees apply)
Mini Refrigerator
Convenience outlets and USB outlets
HVAC controls connected to Smart Room technology, allowing guests to set the desired temperature
Iron and ironing board
In-room safe
In-room wireless high-speed internet access
Guests can upgrade to Premium Plus Wireless Access for $14.95 for up to 8 devices per room and for a 24 hour period from 1pm to 1pm
Telephone
Alarm clock
Bathroom
Two compartments
Compartment one contains a toilet and tub/shower combination or shower providing a retractable clothesline.
Compartment two contains a sink and vanity.
Shampoo, conditioner, body soap and facial soap
Hairdryer – wall mounted
Dining Options
Urban Pantry
Food Hall
Inspired by Asian and European food halls, Urban Pantry at Universal's Aventura Hotel brings you a variety of high-quality dining options, unique themes and visual experiences all in one spot.
Offerings: Take your pick from four distinct stations. Sample the rotating global flavors and organic selections at the roast kitchen. Watch as your burger is grilled to perfection at the burger station or your pie is in the making at the pizza station. Or have a chef cook up a custom wok dish right in front of you at the Asian Station
Service: counter – 3 meals a day food and beverage service. Beer and wine are on tap at each station. And throughout Urban Pantry, grab and go food carts offer various sodas, chips, and some all-natural healthy food items.
Location: Lobby level– 1st floor
Hours: 7am – 11pm
Urban Pantry Menu
Bar 17 Bistro- Rooftop Bar
Light fare restaurant and bar
Offering unique dishes and classic fare, Bar 17 Bistro features custom-crafted cocktails designed to pair with the urban international flavors featured on the menu. One section of Bar 17 Bistro is covered (area with seating for the restaurant service and the Bar), and there is also an open-air section with plenty of space to enjoy the spectacular views.
Offerings: Bar 17 Bistro features incredible mixed drinks (like a Pineapple Turmeric Lemonade, an Almost Sangria, and many more) that will leave you craving. The Food menu will impress you with items like the Braised Pork Belly Bao, Summer Beet & Glazed Fig Salad, and Wagyu Beef Sliders.
Service: Dinner service.
Location: Rooftop– 17th floor (Dedicated elevator from the lobby)
Hours: 4pm – 2am. Food is available from 4 pm – 10 pm
Bar 17 Bistro Menu
Bar Sol
Pool Bar
Offerings: Special Bar Menu
Location: Pool
Hours: 11am – 11pm
Service: Lunch and Dinner Service
Bar Sol Menu
barVentura
Lobby Bar
This breezy and comfortable meeting space is the perfect before or after dinner hangout.
Offerings: Beverages Only
Service: Evening service
Location: Lobby level– 1st floor
Hours: 5pm – 12 am
barVentura Menu
Starbucks
Serving premium coffee, tea, and fresh food items.
Offerings: Beverages and Starbucks food offerings
Service: Open Daily
Location: Lobby level– 1st floor
Hours: 6am – 10pm