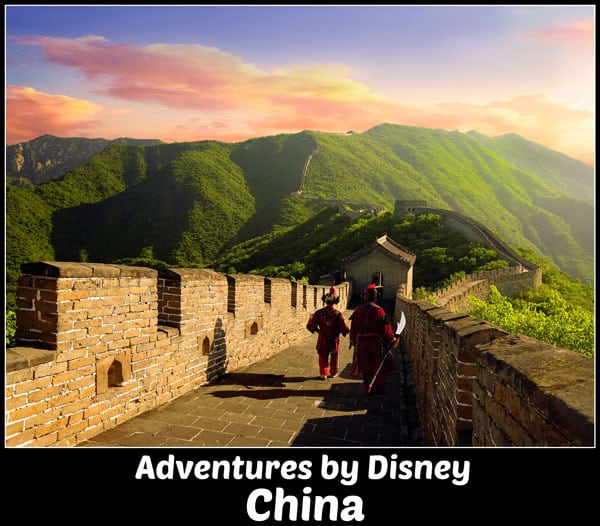 Enchanted China
Marvel at the traditions, natural wonders and vibrant history of China. Discover how it has maintained its rich cultural identity while becoming a force in the modern world as you visit magnificent destinations that include the Great Wall and the Forbidden City, as well as Hong Kong Disneyland and Shanghai Disney Resort!
China Trip Highlights
Hong Kong, Beijing, Xi'an, Guilin, Chengdu, Shanghai – 12 Days/11 Nights
Explore Hong Kong
Discover the vibrant harbor city with an iconic skyline, world-class shops and exciting street scene.
Hong Kong Disneyland & Shanghai Disneyland
Check 2 more Disney theme parks off your bucket list as you immerse yourself in Disney magic at China's Disney theme parks.
Great Wall of China Cable Car Ride
Reach new heights as you ride to Mutianyu for an amazing walk atop this iconic structure.
Victoria Peak
Be awed by panoramic views of Hong Kong's stunning skyline and harbor from the top of the mountain.
Beijing's Ancient & Modern History Tour
Walk through centuries of history as you tour this modern city with a rich past.
Beijing's Temple of Heaven
Tour this massive temple built for emperors to worship the god of heaven.
Panda Visit
Get a rare peek at China's cutest residents on a tour of Chengdu Research Base of Giant Panda Breeding.
Sichuan Opera
Enjoy music, acrobatics and the classic face changing act that has delighted audiences for centuries.
Shanghai Acrobat Show
Experience the excitement of this acrobatic performance and live rock show.
Lijiang River Guilin Boat Tour
Cruise the Li River and take in the scenic landscapes, including the "gumdrop mountains."
Terracotta Warriors & Horses in Xi'an
Marvel at this sculpted army created to protect China's first emperor in the afterlife.
Explore Shanghai
Discover the sprawling skyline, classic architecture and waterfront district of this truly international city.
Tiananmen Square Walking Tour
Learn the rich history of this focal point of celebration and protest with a local guide.
Yu Garden Tour in Old Shanghai
Find peace and inspiration in this 300-year-old garden sanctuary in the heart of Shanghai.
China Adventures by Disney Departures
2023 Season China Dates
Oct 15, 2023 – Oct 26, 2023 – Adult Exclusive
2024 Season China Dates
March 31, 2024 – April 11, 2024
May 5, 2024 – May 16, 2024
May 19, 2024 – May 30, 2024 – Adult Exclusive
June 2, 2024 – June 13, 2024
June 16, 2024 – June 27, 2024
June 30, 2024 – July 11, 2024
July 14, 2024 – July 25, 2024
July 28, 2024 – August 8, 2024
August 25, 2024 – September 5, 2024 – Adult Exclusive
October 13, 2024 – October 24, 2024 – Adult Exclusive
China Adventures by Disney Trip Overview
Accommodations
The Peninsula Hong Kong
The Peninsula Beijing
The Shangri-La Guilin
The Ritz Carlton, Chengdu
The Peninsula Shanghai
Flights
Arrive: Hong Kong International Airport (HKG)
Return: Shanghai Pudong International Airport (PVG)
5 Internal Flights Included
Meals
11 Breakfasts
9 Lunches
7 Dinners
Age
Minimum Age: 6 / Adult Exclusive: +18
Suggested Age: 8+
Newsletter
Stay informed of the latest Adventures by Disney Discounts and Offers. Subscribe to the Magical Notifications weekly newsletter from our friends at The Mouse For Less.
NOTE: After subscribing, you will receive an e-mail asking you to confirm your subscription. This is a standard security feature. Follow the instructions in the confirmation e-mail to complete your subscription.
Book Your Adventures by Disney China Experience
Book your China Adventures by Disney Guided Tour with The Magic for Less Travel and receive our concierge vacation planning assistance and save up to 5% on the price of your Adventures by Disney vacation!