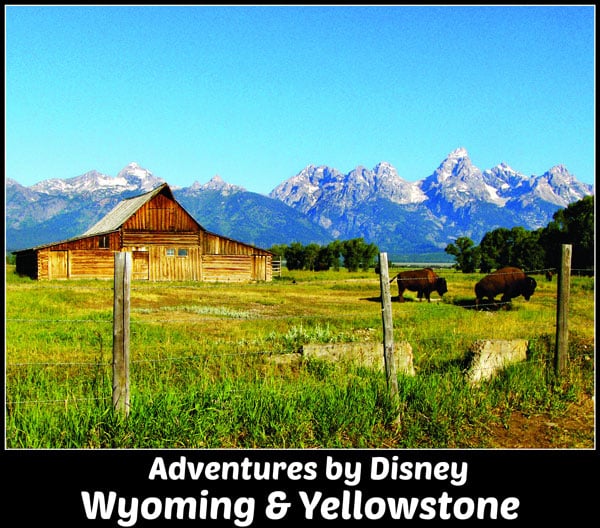 Jackson Hole, Grand Teton & Yellowstone National Parks & Brooks Lake – 7 Days/6 Nights
Adventures by Disney Wyoming and Yellowstone Quest for the West – Here in the heart of the American West, families will learn to ride, raft, fish and rope like true wranglers. And will do it all against the backdrop of some of the west's most impressive landscapes.
Wyoming Trip Highlights
Snake River Whitewater Rafting
Shoot the rapids and keep watch for eagles and other birds overhead.
The Grand Canyon of Yellowstone Hike
Surround yourself with beautiful waterfalls, vibrant colors and natural wonders.
Fountain Paint Pot Trail
Hike a trail lined with hydrothermal features on your way to the multi-colored mud pot.
Hayden Valley
Keep watch for grazing wildlife as you ride through the grassy home to bison, elk and bears.
Brooks Lodge Activities
Spend an adventure-filled day on horseback, fly-fishing, canoeing or shooting archery.
West Thumb Geyser Basin
Discover the natural geothermal phenomena found throughout Yellowstone National Park.
Lower Loop Excursion
Head out to explore thermal features like Old Faithful, as well as the beauty of Grand Prismatic Hot Spring.
Town of Jackson
Explore this scenic town in the Jackson Hole valley known for its Town Square arches made from elk antlers.
Grand Teton National Park
Hit the road with a local expert for a tour of this beautiful national park and its sights.
Old Faithful
Stand in awe at this famed geyser renowned for its timely eruptions and magnificent rainbows.
Geyser-Making Activity
Junior Adventurers get crafty as they create their own geysers—then watch them erupt!
Wyoming Adventures by Disney Departures
2024 Dates
June 16, 2024 – June 22, 2024
June 23, 2024 – June 29, 2024
June 30, 2024 – July 6, 2024
July 4, 2024 – July 10, 2024
July 7, 2024 – July 13, 2024
July 14, 2024 – July 20, 2024
July 18, 2024 – July 24, 2024
July 21, 2024 – July 27, 2024
July 28, 2024 – August 3, 2024
August 4, 2024 – August 10, 2024
August 8, 2024 – August 14, 2024
August 11, 2024 – August 17, 2024
August 15, 2024 – August 21, 2024
August 25, 2024 – August 31, 2024
September 1, 2024 – September 7, 2024 – Adult Exclusive
Wyoming Adventures by Disney Trip Overview
Accommodations
The Wort Hotel
Yellowstone National Park Lodging
Brooks Lake Lodge
Flights
Arrive: Jackson Hole Airport (JAC)
Return: Jackson Hole Airport (JAC)
Meals
6 Breakfasts
5 Lunch
5 Dinners
Age
Minimum Age: 4 / Adult Exclusive: +18
Suggested Age: 7+
Newsletter
Stay informed of the latest Adventures by Disney Discounts and Offers. Subscribe to the Magical Notifications weekly newsletter from our friends at The Mouse For Less.
NOTE: After subscribing, you will receive an e-mail asking you to confirm your subscription. This is a standard security feature. Follow the instructions in the confirmation e-mail to complete your subscription.
Book Your Adventures by Disney Wyoming Experience