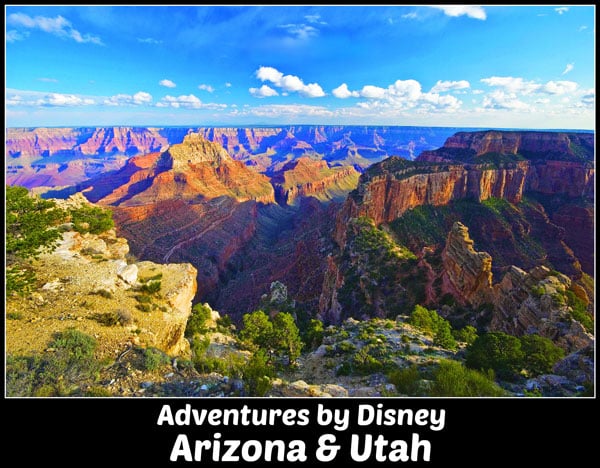 Sedona, Grand Canyon & Arches National Parks & Moab – 8 Days/7 Nights
Southwest Splendors – Embark on an adventure of epic proportions as you experience the awesome expanse of the Grand Canyon, the power of the mighty Colorado River and the quiet majesty of the Southwestern desert.
Adventures by Disney Arizona and Utah – American Southwest Family Vacation Highlights
Grand Canyon National Park Tour – Discover one of the seven wonders of the natural world as a naturalist guide takes you on a walk and drive along the stunning South Rim of Grand Canyon National Park.
Monument Valley Excursions – Climb aboard a climate-controlled mini-coach for an excursion led by a Navajo guide into the beautiful buttes and magical mesas of Monument Valley.
Arches National Park – Step into a surreal landscape featuring over 2,000 sky-scraping sandstone arches and hike to its crown jewel, the Delicate Arch. Learn the geological history of this site that spans millions of years—and marvel at Mother Nature's wild side.
Colorado River Rafting – Travel with your fellow Adventurers, passing scenic wonders as you glide along the mighty Colorado River through red rock canyons. Surrounded by natural splendor, feel your cares float away!
Adventures by Disney Arizona and Utah Accommodations:
Enchantment Resort
Grand Canyon National Park Lodging
Red Cliffs Lodge
Goulding's Lodge
Meals Included: 7 Breakfasts, 4 Lunches, 5 Dinners
Age Requirements: Minimum age 4, Recommended age 6+
Adventures by Disney Arizona and Utah – American Southwest Family Vacation Travel Dates and Itinerary
2020 Season Departure Dates
May 27, 2020 – Jun 3, 2020
Jun 1, 2020 – Jun 8, 2020
Jun 8, 2020 – Jun 15, 2020
Jun 15, 2020 – Jun 22, 2020
Jun 22, 2020 – Jun 29, 2020
Jul 1, 2020 – Jul 8, 2020
Jul 8, 2020 – Jul 15, 2020
Jul 13, 2020 – Jul 20, 2020
Jul 22, 2020 – Jul 29, 2020
Jul 27, 2020 – Aug 3, 2020
Aug 5, 2020 – Aug 12, 2020
Aug 10, 2020 – Aug 17, 2020
Aug 19, 2020 – Aug 26, 2020
Aug 24, 2020 – Aug 31, 2020
Aug 31, 2020 – Sep 7, 2020 – Adult Exclusive
Sep 9, 2020 – Sep 16, 2020 – Adult Exclusive
Sep 21, 2020 – Sep 28, 2020 – Adult Exclusive
Download the 2020 Adventures by Disney Itinerary